Catch Acoustic Groover Daniel Wesley at Bo's Tues. May 16th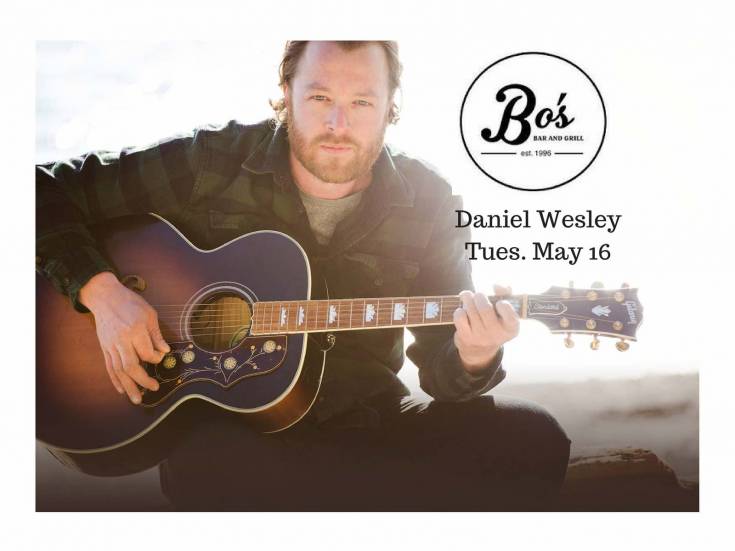 You are in for a treat if you make the trip to Bo's Tuesday night. Take a listen to Daniel Wesley's Ooh Ooh and you'll get the idea.
He's just released a new album so expect to hear some new tracks.
Background on Daniel Wesley:
If making music isn't about having fun, what's the point in doing it? That philosophy sums up Daniel Wesley's new album, I Am Your Man, the 33-year-old Vancouver-based singer/songwriter's seventh studio offering. As he nears the end of his career's first decade, what comes across most vividly on the record – as longtime fans will surely note – is the balance Wesley has found in his life both on and off stage.
I Am Your Man is essentially Wesley returning to his natural strengths as a groove-based acoustic troubadour, following heavier electric experiments on his previous two records. Tracks such as "Beautiful" and "Shake" perfectly recapture the slow burning west coast feel that established Wesley's reputation when he first arrived on the scene in the mid-2000s. Conversely, the lessons he's learned along the way, and a willingness to apply them to his music, meant there was now unlimited potential in the studio.
"Usually my songs are just a reflection of where I'm at in my life," Wesley says. "I was kind of open to new ideas and new opportunities, and I'm really proud of how these songs have come out."
Part of his satisfaction with the results achieved on I Am Your Man was the decision to take extra time to allow the creative process to unfold. The album's 10 tracks equally encompass two separate sessions that took place exactly a year apart. While there are subtle distinctions between these two batches of songs, the record's overall consistency is a tribute to Wesley's artistic maturity.
"I produced this album myself, the first time I'd done that since 2007," he says. "I worked with a handful of producers on my last three records and those were great experiences, but I'd wrapped things up with my last label and it felt like the start of a new chapter, so I decided to do this one on my own. I had lots of time to flesh out the songs with the guys who have been playing with me for the past six years, so they had a good handle on where I was going."
That trusted group of musicians includes Wesley's longtime rhythm section of drummer Tim Proznick and bassist Darren Parris, along with saxophonist Alex Maher and keyboardist/guitarist Mike Kenney. Their shared chemistry is another big reason for I Am Your Man's consistency, and why Wesley enjoyed making this album more than any other in his catalogue.
"I was originally just going to put out an EP of the first session, but I'm an album guy at heart, so I decided to hold off until we could record some more songs," he says. "It was also the first time I'd worked at Greenhouse Studios in Vancouver, which was a blast. The first session took about five days and I couldn't wait to come back."
Out of his second session came the album's title track and other songs like "Speed Bump" and "So True," which Wesley describes as still containing the loose, feel-good vibes of their predecessors, but with an added structure developed over a summer of touring. That extra depth is what truly binds the album together, seamlessly mixing his wide array of folk, reggae, blues and rock influences.
For more about Bo's CLICK HERE
Learn about Daniel Wesley.
See more local entertainment stories.
New Fairview Pump Track is the First of its Kind in Calgary
The Calgary community of Fairview, located in the southeast, is now home to the city's very first asphalt pump track.
Pump tracks, designed for everything from mountain bikes to skateboards, are popular all over the world. "They provide a playground for kids and adults alike, from beginners to professionals, a pump track provides a community with sustainable and fun packed activity for all." (1)
The project began in 2018 as a way to take advantage of a prime piece of vacant park space in the center of the established Fairview community. Located at 7800 Flint Rd SE, next to an off-leash park and a children's playground, the pump track is now a unique component of this well-trafficked area overlooking the city. "Fairview has a few wonderful playgrounds," says Sam Koots, Fairview Community Association Board Director, "so this is a great amenity for older kids, something they can do once they age out of those parks."
A number of charitable partners and local businesses contributed significant funds to the development of the park, and Koots says the community fundraising aspect was quite monumental as well. "There were a lot of recognizable names on the donor list," he says, "the Fairview community really came together to get this built."
Construction officially began on the track in September 2019. After being derailed slightly by the harsh winter, construction resumed in May 2020 and the pump track had its official soft opening on July 17, 2020. Since the fence has come down, the track has quickly evolved into a popular activity destination and social hub, becoming a huge hit with residents of the community and beyond. "It has been crazy busy," says Koots, "people have come from as far as Acme to check it out." A typical day at the park sees everything from young children with their parents to grown adults riding bikes and skateboards, all taking turns barreling around the track for hours on end.

Photo Credit – Calgary Association of Skateboard Enthusiasts (CASE)
Koots says plans for a grand opening to officially announce and celebrate the launch of the track are in motion, but with COVID-19 still a dominant concern, it's difficult to determine precisely when that will take place.
Until then, The Fairview Community Association encourages participants to take advantage of this exciting new community asset and keep riding. To ensure all members of the community and beyond can continue enjoying and accessing the track, the Community Association also encourages riders to take their bikes and boards to the track as much as possible, as opposed to driving, to avoid congestion in the back alleys.
To learn more about the Fairview Pump Track, visit http://fairviewcommunity.ca/pumptrack.
For more stories, visit Todayville Calgary.
We Look Into The One Annual Event Covid-19 Cannot Cancel – Go Skateboarding Day
From an original symbol of menace and mischief subject to criminal bans in certain cities, to a mainstream sport with international competitions and heavy influence in the fashion and music industries, the evolution of skateboarding has been controversial. As a standalone sport, the skateboarding community has built a global network founded on its own unique culture, members and attitude.
"Skateboarding is a sport like no other … There are no teams and no rules. When someone skates well, we all win." – Skateboard Here
Sunday, June 21, 2020 is the 16thannual Go Skateboarding Day (GSD), an international holiday encouraging skateboarders around the world to drop everything and go ride. Created in 2004 by the International Association of Skateboard Companies (IASC), GSD launched in southern California, the "unofficial skateboarding capital, and spread across the globe with the goal of becoming the "grind heard around the world".
Since its inception in '04, Go Skateboarding Day has gained increasing traction in skate communities all across the world, but the focus always remains the same. The IASC encourages people everywhere to "put away your phone, your computer and video games, and go skateboarding".
Although some members of the community don't necessarily believe in the spirit of the holiday – skateboarding should be every day! – the sentiment surrounding the holiday largely reflects a positive, community-building event. In 2019, GSD rallies in major Canadian cities Vancouver and Toronto saw thousands of enthusiastic boarders take to the streets to celebrate, "The idea is that anyone who owns a board comes out and participates."
Although GSD will look different around the world this year due to COVID-19, the show will certainly go on! With all other major summer events and community gatherings cancelled, Go Skateboarding Day 2020 represents a great opportunity to get out, connect with others and have fun while still maintaining distance.
According to Daniel Craig, Chair for the Calgary Association of Skateboarding Enthusiasts (CASE), the organization has not planned any official events due to COVID-19 concerns and regulations, but still encourages Calgary to get out and ride. "Skateboarding is social, it's exercise, and it's a great creative outlet for so many people," says Craig, a skateboarder of 27 years, "I love Go Skateboarding Day. Get out, find a place to push around and do some tricks, enjoy it!"
For more stories, visit Todayville Calgary.