Broken Spirits Distillery – Opening Doors Through Adversity
Starting a business can be a difficult task for every industry, now more than ever. The upfront capital required, real-estate licensing, the infrastructure regulations, fire safety guidelines, the list goes on. Not for the faint of heart. However, there is something amazing about the concept of crafting the perfect product, then aligning that with superb branding and executed by a talented team. Thankfully, this is a positive news story. Where three like-minded entrepreneurs are acting on their passion and motivation to work through adversity and build a business together.
Broken Spirits recently opened their doors to Calgarians, where you and your friends can enjoy highly refined spirits distilled at their location. Being well aware of these challenging times, Mark, Chris and Jeff, in line with the completion of their testing phase, decided that they wanted to bring some positivity to the wider community and open their doors.
Jeff, Mark and Chris met in 1997 while working together at an Outback Steakhouse in Calgary. Building a strong friendship over twenty years, fast forward to two and a half years ago, they found themselves sitting around a table discussing a common interest to create their own brewery. After some thought and inspiration from some of their favourite gins, their interests pivoted to opening a distillery. Tying all of their experience, technical skills and industry acumen together, they felt confident in moving forward with starting their own brand.
We all love a good origin story. After sipping some beautifully crafted gin and in conversation with Mark and Chris, they offer some additional insight behind starting Broken Spirits Distillery.
"As a trio, we have built it up to where we are today. It has always been more about a partnership, building through adversity and keeping our spirits up, which is where the name Broken Spirits originated. Our focus moving forward is now on comradery and the community here"
Located just off of 36th Street NE and the Trans Canada Highway, now open with reduced hours and capacity straight out of the gate. The team at Broken Spirits is welcoming new customers on select days of the week, specifically Thursday and Friday between 4:00pm to 9:00pm and Saturday 3:00pm to 9:00pm. Until the Alberta Health Service guidelines have been lightened, all bars, breweries and distilleries such as Broken Spirits, will continue to put the focus on customer safety as their top priority.
Like a party we are all invited to, Calgary breweries, bars and distilleries alike are one of my favourite examples of a strong community. As I claim to be no expert on this subject, Mark and Chris speak on what community means to them in the wake of their opening:
"We are a community within the three of us, extending to our families who have shown us a lot of support. In addition to that, we are very fortunate to have the location that chose. Even our parking lot is a community within itself with neighbours like Sunny Cider and Heathens Brewing. Even just blocks away, within the craft district that is building here, Toolshed Brewing and Common Crown brewing are building a community of their own."
"Since our opening, we have had people coming in, posting on their social media and we have experienced a lot of interest in supporting businesses in this area. That even expands out of our area in the NE, where we have had visits from the broader craft distillery and brewery community in Calgary. It has been clear there is a real push from a group of people with a common goal – wanting to grow the community and the industry here in Calgary."
Positive feedback is one surefire way to know that it can the right time to hit the ground running with the launch of new products. Fortunately for me as a 'gin guy', I had the opportunity to taste the Broken Spirits gin and their spiced sugar cane spirit. Safe to say with the care Jeff has put into the products, these three guys are on to something great. Chris and Mark offer their thoughts on the initial feedback they have received.
"The feedback has been very positive so far. We have experienced a lot of great comments on our branding and product packaging, designed by a local designer, has really captured our vision and created a brand that our community can connect with."
"We have also been getting really positive feedback on our spirits too. Either mixing it or drinking it straight, hearing customers say they can really connect with the flavours we have instilled in our products. To further that, we have experienced non-gin drinkers simply try our product and end up leaving with a bottle, which is huge."
If you are like me and you love gin, I would highly recommend visiting the Broken Spirits Distillery location and trying it for yourself. If you are more of a rum connoisseur, don't forget to try the spiced sugar cane spirit before you go. Looking forward to learning more about the Broken Spirits brand as it continues to grow and I wish Chris, Mark and Jeff the best moving forward.
If you would like to learn more about the Broken Spirits Distillery or to check out the products and merch they have available, visit their website here or on their social media below.
For more stories, please visit Todayville Calgary
Ford says EV unit losing billions, should be seen as startup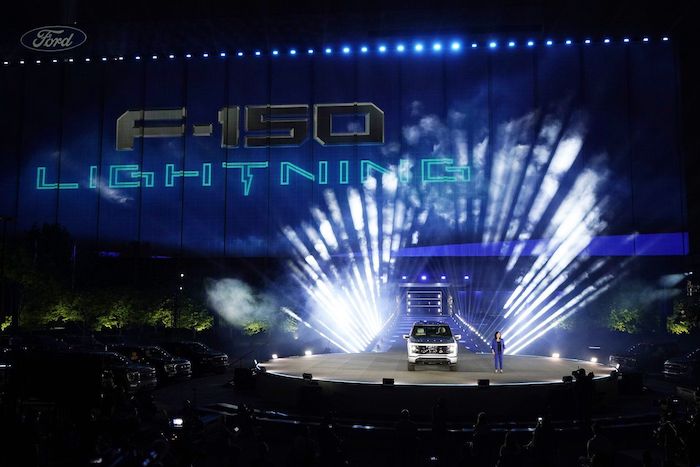 Ford's Chief Executive Engineer Linda Zhang unveils the Ford F-150 Lightning on May 19, 2021, in Dearborn, Mich. Ford Motor Co. announced Thursday, March 23, 2023, that their electric vehicle business has lost $3 billion before taxes during the past two years and will lose a similar amount this year as the company invests heavily in the new technology. (AP Photo/Carlos Osorio, File)
By Tom Krisher in Detroit
DETROIT (AP) — Ford Motor Co.'s electric vehicle business has lost $3 billion before taxes during the past two years and will lose a similar amount this year as the company invests heavily in the new technology.
The figures were released Thursday as Ford rolled out a new way of reporting financial results. The new business structure separates electric vehicles, the profitable internal combustion and commercial vehicle operations into three operating units.
Company officials said the electric vehicle unit, called "Ford Model e," will be profitable before taxes by late 2026 with an 8% pretax profit margin. But they wouldn't say exactly when it's expected to start making money.
Chief Financial Officer John Lawler said Model e should be viewed as a startup company within Ford.
"As everyone knows, EV startups lose money while they invest in capability, develop knowledge, build (sales) volume and gain (market) share," he said.
Model e, he said, is working on second- and even third-generation electric vehicles. It currently offers three EVs for sale in the U.S.: the Mustang Mach E SUV, the F-150 Lightning pickupand an electric Transit commercial van.
The new corporate reporting system, Lawler said, is designed to give investors more transparency than the old system of reporting results by geographic regions. The automaker calculated earnings for each of the three units during the past two calendar years.
Model e had pretax losses of $900 million in 2021 and $2.1 billion last year, and it is expected to lose $3 billion this year. In the past two years Ford has announced it would build four new battery factories and a new vehicle assembly plant as well as spending heavily to acquire raw materials to build electric vehicles.
By the end of this year, the company based in Dearborn, Michigan, expects to be building electric vehicles at a rate of 600,000 per year, reaching a rate of 2 million per year by the end of 2026.
Ford Blue, the unit that sells internal combustion and gas-electric hybrid vehicles, made just over $10 billion before taxes during the last two years. Ford Pro, the commercial vehicle unit, made $5.9 billion during those years, the company said.
For this year, Ford expects Ford Blue to post a $7 billion pretax profit, modestly better than last year. Ford Pro is expected to earn $6 billion before taxes, nearly double its earnings last year, Lawler said.
Ford was to present the new structure, announced last March, to analysts and investors on Thursday. Other business units include corporate, Ford Credit and Ford Next, a new business incubator. Shares of Ford rose 1.8% in Thursday morning trading ahead of the presentation.
Lawler said the company is changing the way it does business, not just doing an accounting exercise.
"After 120 years, we've essentially re-founded Ford," he said. "We're embracing technology and competitive disruption in our industry, fundamentally changing how we're thinking, how we're making decisions, and how we're running the company."
Allow unvaccinated Canadians to cross U.S. border, Poilievre asks President Joe Biden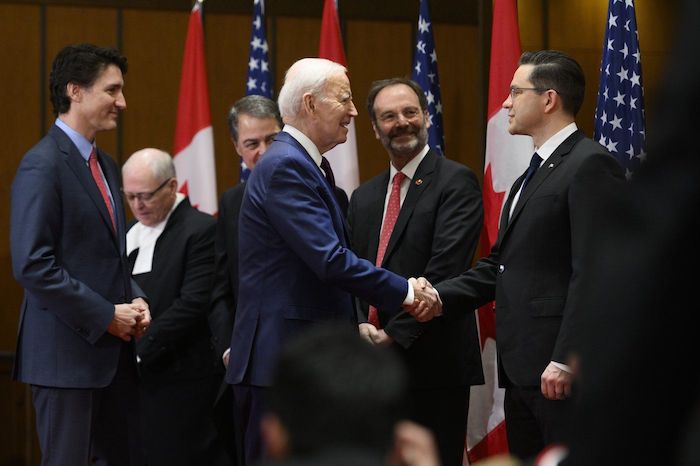 U.S. President Joe Biden shakes hands with Conservative Party of Canada Leader Pierre Poilievre, as Prime Minister Justin Trudeau looks on, during a welcoming ceremony on Parliament Hill in Ottawa, on Friday, March 24, 2023. Conservative Leader Pierre Poilievre says allowing Canadians who are unvaccinated against COVID-19 to cross into the United States was among issues he raised with President Joe Biden. THE CANADIAN PRESS/Justin Tang
By Stephanie Taylor in Ottawa
Conservative Leader Pierre Poilievre said Friday he asked President Joe Biden to remove the U.S. government's requirement that Canadians be vaccinated for COVID-19 before crossing the border.
He told reporters after their meeting that American citizens are no longer required to have their shots and Canada allows unvaccinated Americans to visit.
"There are millions of good, decent, honourable people who, through a personal medical decision, are discriminated against at the border," Poilievre said.
"I encouraged the president to lift those restrictions to allow them freedom of mobility."
Poilievre won the leadership of his party a little more than six months ago by mounting a vocal opposition to COVID-19 health restrictions, including mask and vaccine mandates, but he has since focused his message on cost-of-living issues.
He met with Biden on Parliament Hill Friday during the president's 27-hour visit to the Canadian capital, and later shared a photo of the two online.
Michael Ignatieff was the last Opposition leader to have face time with a U.S president. The former Liberal leader met with former President Barack Obama in 2009. It happened at the airport.
Poilievre said Friday he found Biden wants to be a "friendly" and "decent" neighbour to Canada, and on a personal level, he said he told the president they share Irish heritage.
He said they discussed the need for Canada to bolster its defence systems and "bring fairness" to workers by seeing the U.S. exempt Canada from its Buy American policies.
The Tory leader also said he expressed a need for Biden to axe tariffs on Canadian softwood lumber, arguing that the long-standing dispute saw a brief reprieve under Conservative prime minister Stephen Harper.
"I don't believe that Prime Minister (Justin) Trudeau has pushed and fought on behalf of Canadians," he said.
Before the meeting, Poilievre had shared some unscripted moments with the leader of the free world.
As he stood in a receiving line of Canadian politicians from all parties who were greeting Biden upon his arrival at Parliament Hill, Poilievre introduced himself as the "Leader of His Majesty's Loyal Opposition."
That prompted Biden to question, still shaking Poilievre's hand: "Loyal opposition?"
Poilievre assured him that yes, "we believe that opposition is an act of loyalty in our system."
Biden chuckled, patting Poilievre on the arm.
"We do, too, unfortunately," he said, chuckling.
Later, while addressing the House of Commons, Biden noted that both he and Trudeau appointed cabinets that were half women, making them the first in their respective countries to do so.
Many in the chamber broke out in applause.
Biden noticed that Poilievre and the Opposition Conservatives were not quick to rise, and quipped: "Even if you don't agree, guys, I'd stand up," which Poilievre and others then did.
Asked afterwards about that interaction, Poilievre said only: "We support gender equality for all Canadians."
Poilievre was on the guestlist for a dinner with Biden Friday evening, along with other government ministers, officials and celebrities.
The invitation process came with a dash of partisanship.
Earlier in the day, staff in Poilievre's office were left scratching their heads when they said it had not received an invite from Trudeau's office to attend, and asserted that any suggestion he had refused the invitation was false.
The Prime Minister's Office confirmed it had sent Poilievre notice of the dinner — but the invitation went to a personal email account that notifies senders it is not monitored.
This report by The Canadian Press was first published March 24, 2023.