Breaking School News; Alberta Makes Temporarily Funding Cuts
Due to COVID-19; K-12 education funding temporarily adjusted in Alberta
Below is the full government press release from Saturday March 28, 2020
With in-school classes cancelled indefinitely, funding for K-12 education is being temporarily adjusted to reflect the cost of at-home learning by students during the COVID-19 pandemic. This funding will be restored when in-person classes resume.
While funding for teachers and most other aspects of the K-12 system is being maintained, funding for transportation and some services not being utilized in an at-home learning environment, such as substitute teachers and educational assistants, is being temporarily reduced while in-person classes remain cancelled. Any savings from these adjustments will be re-allocated to support Alberta's COVID-19 response.
These funding adjustments will not negatively impact Alberta's education continuity plan. School authorities will receive the funding they require to continue providing at-home learning opportunities to their students, ensuring they do not fall behind.
"COVID-19 has changed both how we provide student learning, and the operational needs of the education system. I want to stress that this is a temporary arrangement as schools focus on at-home learning. I have full confidence the system will continue to be equipped to successfully deliver our education continuity plan."
Adriana LaGrange, Minister of Education
Any staff impacted by these funding adjustments will qualify for the federal government's enhanced employment insurance program and other support programs for Canadian workers.
Alberta has a comprehensive response to COVID-19, including measures to enhance social distancing, screening and testing. Financial supports are helping Alberta families and businesses.
More to come……
Calgary police identify 15-year-old girl killed in shooting, investigation continues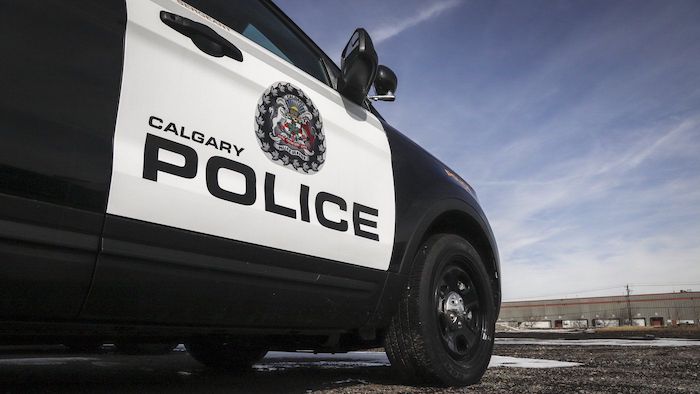 Calgary (CP) – Calgary police have identified a 15-year-old girl who was fatally shot this week as investigators try to determine whether she was the intended target or if it was a case of mistaken identity.
Officers responded to reports of a shooting in an alley in the Martindale neighbourhood early Tuesday morning.
They say the teenager was a passenger in a vehicle when she was shot and that the driver, who was not injured, immediately fled the scene before pulling over to call police.
Police say investigators have received several tips from the public.
They say evidence from the scene leads police to believe it was targeted, but investigators haven't determined whether the occupants of the vehicle were the intended targets.
The girl has been identified as Sarah Alexis Jorquera of Calgary.
"This was a senseless act of violence that took the life of a young girl," Staff Sgt. Martin Schiavetta of the homicide unit said in a statement Wednesday.
"At this point, we have more questions than answers and are working around the clock to hold those responsible accountable. Losing a 15-year-old is a tragic loss for our community, her school, her friends and, most importantly, her family."
Police ask anyone with any information about the shooting to call investigators.
This report by The Canadian Press was first published March 29, 2023.
'A crisis': Calgary charity seeks one-month homes for Ukrainian refugees after influx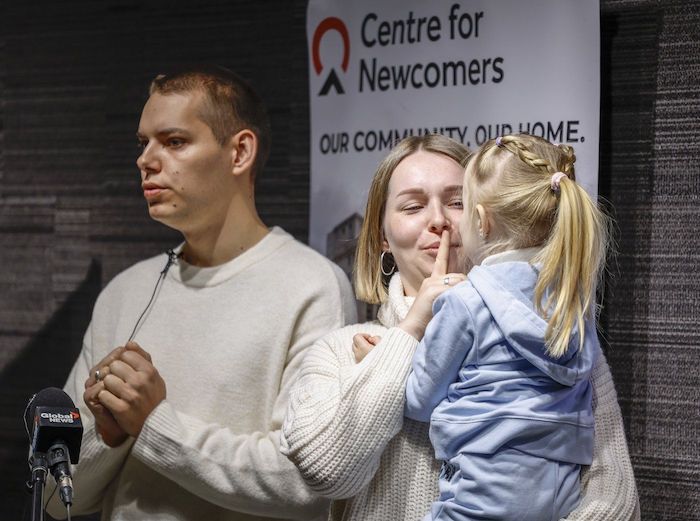 Ukrainian evacuees Dmytro Syrman, left, his wife, Anastasiia, centre, and their four-year-old daughter Varvara attend a news conference highlighting the need for temporary housing in Calgary on Wednesday, March 29, 2023. THE CANADIAN PRESS/Jeff McIntosh
By Bill Graveland in Calgary
After six months under Russian occupation, Dmytro Syrman and his family decided to flee Ukraine for a safer life abroad and are now in Calgary.
The family lived in Dniprorudne, a mining city of 17,000 in southern Ukraine. Syrman worked as a human resources manager at an iron factory.
In August, Syrman, his wife, Anastasiia, and four-year-old daughter Varvara embarked on a six-day, 3,000-kilometre drive to Poland.
"On the 24 of February, when the Russian army attacked Ukraine and occupied our city in March 2022, we lost everything," Syrman said Wednesday.
He said they began planning their escape when they realized Russian soldiers weren't leaving their city.
"We started all of this because we were scared for Varvara," he said. "When Russian bombs were falling near our city it was really scary."
Their home is still under Russian occupation.
For the past year the family stayed in Poland, sent in their paperwork to come to Canada, and two weeks ago arrived in Calgary.
They're now staying with a host family for a month while they look for long-term accommodation and to find jobs.
"We are here and starting a new life. We can't believe about people who don't know us and many helped us. We're really shocked," Syrman said.
The Syrmans were helped by Calgary's Centre for Newcomers, which started a campaign to find 100 hosts for Ukrainian families or individuals for a month while they find housing of their own.
Kelly Ernst, chief program officer with the centre, said there has been a flood of Ukrainians trying to take advantage of a federal program that allows them to temporarily resettle in Canada.
The Canada-Ukraine Authorization for Emergency Travel program has been extended until July and Ernst said he expects people will continue to flee the war-torn country.
"We're in a desperate, dire need at the moment for host homes to try to accommodate the evacuees coming from Ukraine. It's reaching the proportions of being a crisis moment," said Ernst.
He said people arriving elsewhere in Canada are migrating to Calgary because the rents are lower than in larger cities such as Toronto and Vancouver.
Ernst said approximately 450 people have been arriving in Calgary every week from Ukraine and his organization has helped people staying nights in the airport, off the street and at homeless shelters.
Natalia Shem, who is the manager of housing for the Ukrainian evacuees, said it's difficult for the newcomers to find somewhere to live before arriving.
"It's almost impossible to find long-term rent being outside of Canada and people who come here need one month of stay," Shem said. "It's an average time a family can find long-term rent, job and settle down here in Canada."
This report by The Canadian Press was first published March 29, 2023.