For the last eleven months.
Things have been, to say the absolute least, complicated. Never before has one event affected almost everyone on the planet to such a degree. Job instability, mixed with difficulty staying connected with friends and family has been crushing to our collective mental health. To combat despair, we've turned to artists. Netflix, YouTube, Amazon Prime, or maybe just your home collection of stuff on a disc. Just anything to keep our spirits up while we're stuck at home. This means just as much to the artists. It's why most of us do it. A song, some jokes, a podcast, your new favourite movie. We put something into the world just hoping it clicks with someone.
"…nothing can truly replace the energy of gathering
people too closely together to share what we do."
The problem is, artists are being affected by these times more than most. Especially live entertainers. That direct connection with a group of people is gone. And there's no telling if it will ever come back in the same way. Folks who made their living filling a room to perform for are left reeling. It's worse when you consider that many of those people slide into service jobs when times are lean, and those are mostly gone now as well. It's not just about the money though. For as much as you miss going to a concert or any kind of live show, we miss it more. The creative outlet. That precious connection that makes you feel understood. That missing piece hurts. As a budding comedian and show producer who just started gaining traction, it's heartbreaking to get shut down. I'm one of the lucky ones though. I have a solid day job, and a family that I was able to spend my quarantine with. I appreciated my world shrinking down to just them for a while. My pro headliner colleagues had to deal with having the craft they've honed for decades, their passion and livelihood disappear.
Many of us have found other lanes. Something to produce to stay sane and maybe scratch some cash together. Zoom performances, podcasts, socially distanced outdoor shows (when it was warm enough at least). Those are great, and I've seen many really thrive and get creative through the challenges, but nothing can truly replace the energy of gathering people too closely together to share what we do. I hope that all of us can get that back soon.
In the meantime, there are ways to support the people who've helped get you through this if you're up for it. Inquire about booking a Zoom show, or check for physical albums or merch. If that's not in the budget (which is a definitely a thing), many of us have Patreon accounts, or content on Spotify or YouTube. Even just streaming our stuff on silent while you sleep helps! But again, it's not just about the money. Check in with the artists you know, or reach out to the more famous ones you like. Give them some love. It'll make their day.
We miss you too.

You might of missed this, Quarter Life Crisis – Taylor Tomlinson (The Tonight Show, Conan, Comedy Central)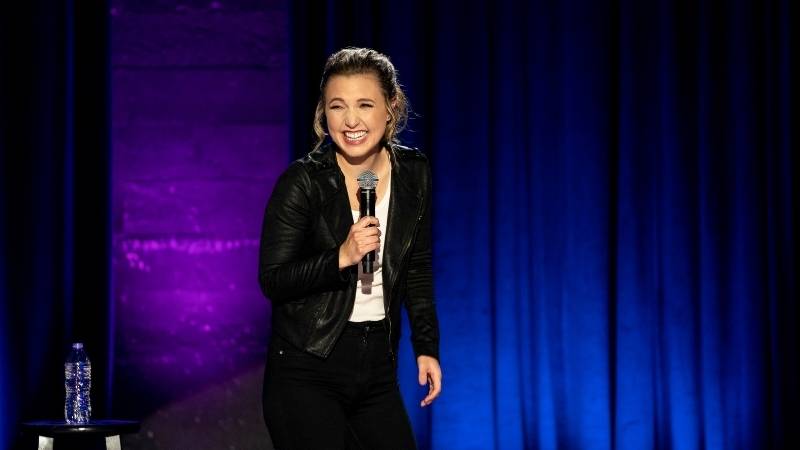 One of the silver linings of this ridiculous year is all the binge watching you could ever want. (Focus on the positive!)
But what to watch? If you need some cheering up, I'm going to curate some of the best stand up comedy from the past year plus to make it all go away, just for a while.
To keep things simple, this list will all be specials that you can find on Netflix. Because at this point, you either have Netflix, or somebody you can mooch Netflix off of. There's more great stuff on Amazon Prime and Crave among other places (Special shout out to Doug Stanhope's "Dying of a Last Breed" on Vimeo if you're into dark stuff), but those platforms are less popular, so Netflix it is.
This list isn't a countdown or anything. Just some great stuff that you may not have seen, that I think you'll like. Ready? Let's go.
#1 –
Taylor Tomlinson – "Quarter Life Crisis"
The first thing you need to know about Taylor, is that she's only 26 years old. Despite that, she's already ten years into a dynamic career. Starting on the Christian circuit as a teen, she stepped out of that as an adult to talk about subjects that mattered more to her as she hit her 20's. Subjects like sex and relationships in the age of dating apps and accessible porn. She wanted to express the young adult experience with total honesty, and that doesn't exactly fly with the church crowd. So she's shifted into the mainstream, and we're lucky she did.

Taylor has a high status persona with an old soul behind her observations, but she isn't afraid to make fun of how not fun she is. Her stage presence is rock solid and energetic, and while I'd describe her as more of a smart "writer" style comic, her act outs pack a punch.
The second thing you need to know is that her writing is AMAZING. Example: "Women always go for men who are just like their fathers, so I keep finding men who don't want to sleep with me".
Other thoughts she shares are about her fear of drugs and alcohol, her relationship with her very religious dad, and watching her friends get married and start families. If you're in your 20's, you'll relate. If you used to be in your 20's, you still will. Trust me. If I'm wrong, it's only an hour of your day, and we all know you can spare the time.

THE COMEDY REWIND – MITCH HEDBERG ON JUST FOR LAUGHS
Join us as we dive back into some of Stand Up Comedy's most timeless comics. Gone but not forgotten.
"I used to lay in my twin size bed and
wonder where my brother was"
-Mitch Hedberg
Mitch Hedberg was one of a very few who could tell a joke that was simply that. A joke. No putdowns or crazy shock value, just one liner after one liner. Check out this clip from Just For Laughs circa 2004.