Why some Infectious Disease experts say COVID-19 will soon be behind us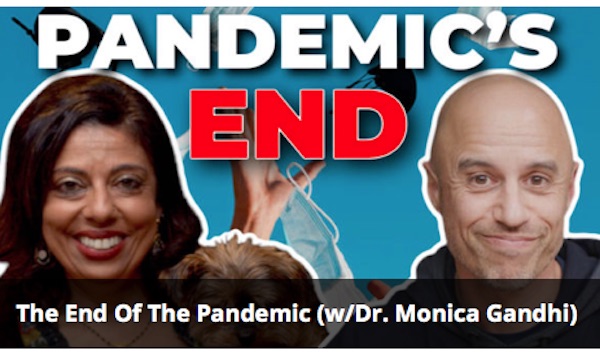 The common belief seems to be the COVID19 pandemic is going to be with us at least until the end of this year and possibly well into 2022.  But some infectious disease experts are making much more aggressive predictions.  In fact Dr. Monica Gandhi (bio below) is already beaming with joy over the data pouring in showing the vaccines spreading throughout the world are working incredibly well.  Enjoy this interview.  It will absolutely help you feel better about the state of our battle against COVID-19.
A UCSF (University of California, San Francisco) infectious disease doctor is convinced this pandemic is ending, and sooner than you think…here's why.
Dr. Monica Gandhi is a professor of medicine at UCSF and here are our other episodes together.
And here's her latest study in the Lancet.
An excerpt from the following video: "So we have tons of PhD epidemiologists who are painting gloom and doom pictures everywhere. Well, you know, first it was this. And then, you know, okay, now we have a vaccine but you know what, the variants are coming. So we're probably gonna have to wear seven masks and stay shut down. And by the way, don't even think about opening schools. Why are you thinking about opening schools? Oh, by the way it's your bad behavior that caused all this death, and so we're gonna shame you. And on top of that, it's never gonna get better. So expect 2023, before we get back to a semblance of what will be a new normal, which will be we'll all be in bubbles. So get those guys out of the picture and go with actual physicians who touch patients. What's your thinking right now? Where are we in this mess?
Dr. Gandhi:  We are just facing like complete dawn of hope and light and love. Like it's gonna be so great. It is getting so great. So what happened, right? Like March 11th was the day that the WHO declared this a worldwide pandemic. November 9th, we got the first press release from the first vaccine. Phase three clinical trial, that fast. And then we've had seven phase three clinical trials. So we have seven vaccines in circulation around the globe that work. And they work exactly using the same protein in different ways using that protein, and they work beautifully, and they all work beautifully against preventing what even made us notice on January 31st, 2019 or December 31st, 2019 that something terrible was happening, which is severe disease. They all work almost 100% to prevent… 100% for hospitalizations. And then like in the 90s to prevent you not even feeling well at home. So they're amazing."
The interviewer is Dr. Zubin Damania.   Trained at Stanford and the University of California, San Francisco, Dr. Damania is the founder of Turntable Health, an innovative primary care clinic and model for Health 3.0.  He produces videos and live shows under the pseudonym "ZDoggMD" which have collected nearly a billion views.
Click play to watch.
Ontario, Alberta follow Manitoba, B.C. in giving AstraZeneca vaccine to 40 and up
Younger Canadians in several provinces are now able to get the Oxford-AstraZeneca COVID-19 vaccine.
Starting today, those aged 40 and over in Ontario and Alberta can get the shot.
Previously, the minimum age to receive AstraZeneca was 55 because of a slightly elevated risk of an extremely rare blood clot disorder.
British Columbia and Manitoba also dropped the age requirement to 40, starting yesterday.
Quebec says it will be lowering the age for AstraZeneca, although it's not clear what that age will be.
Quebec's director of public health says a recommendation from the province's immunization committee is expected soon and could be put into effect this week.
This report by The Canadian Press was first published April 20, 2021.
The Canadian Press
"Give It to Me Straight, Doc" – Bill Maher says time to get politics out of health news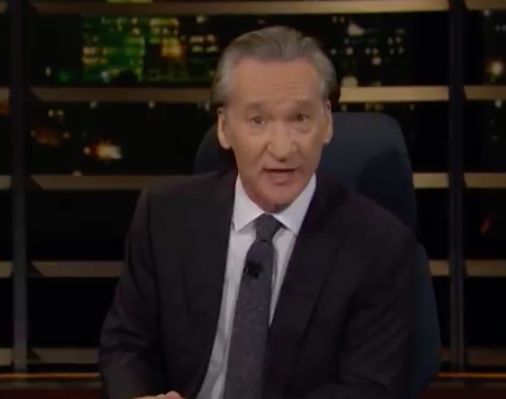 Bill Maher, host of "Real Time" has had enough of the way covid is presented in the media.  Maher says politics shouldn't matter when people need to come together to face a threat.  Unfortunately the delivery of news about covid has become dangerously politicized leading to wide swaths of the population believing incorrect information.
In Maher's words "Liberals often mock the Republican misinformation bubble … but what about liberals? You know, the high-information, behind-the-science people?"
Here's an informative and of course entertaining wake up call from Bill Maher.