Why Bad Climate Legislation Is Worse Than No Climate Legislation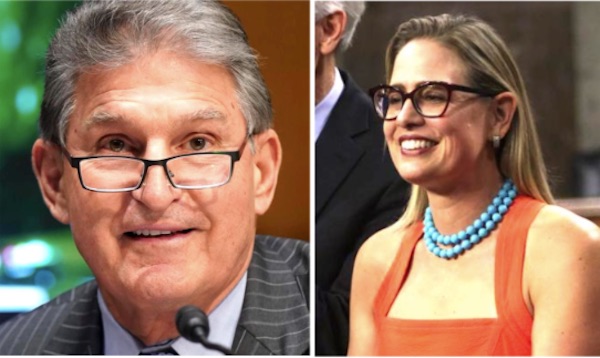 From Michael Schellenberger
Moderate Democratic Senators Joe Manchin & Krysten Sinema Are Right to Oppose the Clean Energy Performance Program
Progressives are angry that moderate Democratic Senator Joe Machin has reportedly opposed the inclusion of climate-related legislation in President Joe Biden's budget "This is absolutely the most important climate policy in the package," said Leah Stokes, a Canadian political scientist who helped write the legislation. "We fundamentally need it to meet our climate goals. That's just the reality."
But that's not the reality. The "Clean Energy Performance Program" is not needed to meet climate goals, and might actually undermine them.
Consider Waxman-Markey. That's the name of the "cap and trade" climate legislation that passed the House but failed in the Senate in 2010. It had a climate goal of reducing U.S. greenhouse gas emissions by 17 percent below 2005 levels by the year 2020. Instead, the U.S. reduced its emissions by 22 percent.
Had cap and trade legislation passed in the Senate, emissions would have declined less than 22 percent, because Waxman-Markey so heavily subsidized coal and other fossil fuels. As the Los Angeles Times reported at the time, "the Environmental Protection Agency projects that even if the emissions limits go into effect, the U.S. would use more carbon-dioxide-heavy coal in 2020 than it did in 2005."
The same thing would likely have been true for the Clean Energy Performance Program, which lock in natural gas. Consider France. According to the Commision de Regulation de L'Energie, €29 billion (US$33) billion was used to purchase wind and solar electricity in mainland France between 2009 and 2018. But the money spent on renewables did not lead to cleaner electricity. In fact, the carbon-intensity of French electricity increased.
After years of subsidies for solar and wind, France's 2017 emissions of 68g/CO2 per kWh was higher than any year between 2012 and 2016. The reason? Record-breaking wind and solar production did not make up for falling nuclear energy output and higher natural gas consumption. And now, the high cost of renewable electricity is showing up in French household electricity bills.
Some pro-nuclear people supported the proposed Clean Energy Performance Program. They claimed it would have saved existing nuclear plants at risk of closure. According to the U.S. Energy Information Administration, the closure of nuclear plants including Diablo Canyon in California, will result in nuclear energy in the U.S. declining by 17% by 2025. If the Program had passed, some pro-nuclear people believe, plants like Diablo Canyon could have been saved.
But the Clean Energy Performance Program would not have saved Diablo Canyon for the same reason it would not have saved Indian Point nuclear plant, which closed in New York, earlier this year: progressive Democratic politicians are forcing nuclear plants to close, and at a very high cost to ratepayers.
If the Clean Energy Performance Program had passed into law, Diablo Canyon's owner, Pacific Gas & Electric, would simply have passed the $500 million to $1.5 billion penalty imposed by the Program onto ratepayers, along with the other billions in costs related to closing Diablo Canyon 40 years earlier than necessary. The same would have happened with Indian Point.
Where there is political support for saving nuclear plants, state legislators and governors save nuclear plants, as they did in Illinois a few weeks ago, and as they have done in Connecticut, New Jersey, and with up-state nuclear plants in New York. In other states, nuclear plants are protected from cheap natural gas by regulated electricity markets. And now, with natural gas prices rising dramatically, any nuclear plants at risk of closure for economic reasons are no longer at risk.
What threatens the continued operation of nuclear power plants, and nuclear energy in general, is the continued subsidization of renewables, which the Clean Energy Performance Program would have put on steroids. Under the program, utilities would have received $18 for each megawatt-hour of zero-emissions energy it produces between 2023 to 2030, on top of the existing $25 per megawatt-hour subsidy for wind energy.
Under such a scenario, notes energy analyst Robert Bryce, a wind energy company "could earn $43 per megawatt-hour per year for each new megawatt-hour of wind energy it sells. That's a staggering sum given that the wholesale price of electricity in New York last year was $33 per megawatt-hour. In Texas, the wholesale price of juice was $22 per MWh."
Manchin is joined in his opposition to the Plan by moderate Democratic Arizona Senator, Krysten Sinema, and understandably so. The legislation would cost Arizona ratepayers nearly $120 billion in additional electricity costs, according to energy analysts Isaac Orr and Mitch Rolling of the American Experiment. "This would result in a 45 percent increase in electricity prices by 2031, compared to 2019 rates," they note.
As troubling, the Clean Energy Performance Program would increase dependence on solar panels made in China by incarcerated Uighyr Muslims living in concentration camps and against whom the Chinese government is committing "genocide," according to the U.S. State Department. New research shows that China made solar panels cheaper through the use of forced labor, heavy government subsidies, and some of the dirtiest coal in the world. The Program would have done nothing to shift production of solar panels back to the U.S.
Nor would the legislation have done anything to internalize the high cost of solar panel waste disposal. Most solar panels become hazardous waste, and create dust from heavy metals including lead, as soon as they are removed from rooftops. A major study published in Harvard Business Review earlier this year found that, when the high cost of managing toxic solar panel waste is eventually accounted for, the true cost of solar electricity will rise four-fold.
As troubling, the continued expansion of weather-dependent renewables will increase electricity costs and blackouts across the United States, as they did in California and Texas. Those renewables-driven blackouts were likely on Senator Manchin's mind when he made his decision to oppose the Clean Energy Performance Plan. He certainly knows about the problems of renewables in Texas and California, since I discussed them directly with Manchin when I testified before his committee earlier this year.
A better approach would be for Congress to seek nuclear-focused legislation to expand nuclear from its current 19% of U.S. electricity to 50% by 2050. It should take as a model the British government's announcement yesterday that it would put nuclear energy at the center of its climate plans. Global energy shortages triggered by the lack of wind in Europe have led nations to realize that any efforts to decarbonize electricity grids without creating blackouts must center nuclear power, not weather-dependent solar and wind.
Environmental Progress and I met with British lawmakers in 2019 to advocate for a greater focus on nuclear. At the time, many British energy analysts, as well as ostensibly pro-nuclear climate activists, Mark Lynas and George Monbiot, were telling the public that their nation did not need more nuclear, as Britain could simply rely more on wind energy, and natural gas. Now, electricity prices are skyrocketing and factories are closing in Britain, due to a bad year for wind.
It was a strange experience to be alone in Britain, without support from supposedly pro-nuclear Britons, in urging lawmakers to build more nuclear plants, but I was similarly alone in many other parts of the world, and got on with the task. Happily, one year later, former Extinction Rebellion spokesperson Zion Lights joined me in advocating for nuclear, and quickly forced the government to agree to a nuclear build-out.
Today, in the U.S., there is a growing grassroots movement for nuclear energy, one which saved nuclear plants, twice, in Illinois, and other states, and is gearing up to save Diablo Canyon nuclear plant in California. Doing so will require a new governor, since the current one, Gavin Newsom, made closing the plant a feature of his sales pitch to powerful environmental groups, including Sierra Club and Natural Resources Defense Fund which are, like Newsom himself, heavily funded by natural gas and renewable energy companies that stand to benefit from the Diablo's destruction.
Leadership at the national level will need to come from Senators Manchin and Sinema. While a significant amount of electricity policy is determined by the states, the Senate can play a constructive role in maintaining the reliability, resiliency, affordability, I testified to Senator Manchin and other committee members. Senator Sinema is from Arizona, a state with the largest nuclear plant in the U.S., Palo Verde, and which is a model of how to make electricity both low in emissions, and in costs.
With the Clean Energy Performance Program now apparently dead, the Congress, led by Manchin and Sinema, should take policy action to not only keep operating the nuclear plants that have been critical to preventing power outages in recent years, but also expand them.
About Michael Shellenberger
Michael Shellenberger is a Time Magazine "Hero of the Environment,"Green Book Award winner, and the founder and president of Environmental Progress.
He is author of the best-selling new book, Apocalypse Never (Harper Collins June 30, 2020), which has received strong praise from scientists and scholars. "This may be the most important book on the environment ever written," wrote climate scientist Tom Wigley. "Apocalypse Never is an extremely important book," says historian Richard Rhodes, who won the Pulitzer Prize for The Making of the Atomic Bomb. "Within its lively pages, Michael Shellenberger rescues with science and lived experience a subject drowning in misunderstanding and partisanship. His message is invigorating: if you have feared for the planet's future, take heart."
Additional Reading:
Why Biden's Climate Agenda Is Falling Apart
Nuclear Plant Closures And Renewables Increase Electricity Prices & Unreliability, Testifies Michael Shellenberger to U.S. Senate
China Made Solar Cheap With Coal, Subsidies, And "Slave" Labor — Not Efficiency
Top warming talks official hopes for 'course correction' and praises small steps in climate efforts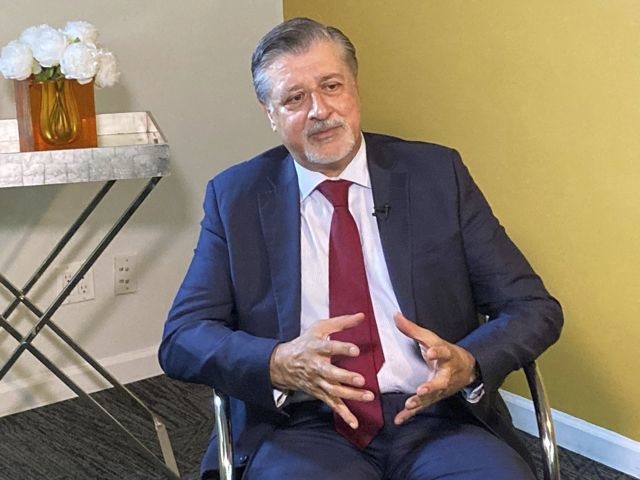 Adnan Amin, CEO and number two official at the upcoming Conference of Parties (COP28) in Dubai, answers questions during an interview, Monday, Sept. 18, 2023, at United Nations Headquarters. Amin said he knows what activists, critics and the head of the United Nations really want – a phase out of fossil fuels that cause climate change. He said it looks unlikely. (AP Photo/Joseph Frederick)
By Seth Borenstein in New York
NEW YORK (AP) — A top official helping to oversee upcoming international climate negotiations hopes to prove critics wrong — and surprise them with a "course correction" for an ever-warming world.
But don't expect that big a turn.
Adnan Amin, the CEO and No. 2 official at the upcoming Conference of Parties (COP28) in Dubai in late November and December, said he also knows what activists, critics and the head of the United Nations really want — a phase-out of fossil fuels that cause climate change. He said it looks unlikely.
Yet Amin said that while an agreement ridding the world of fossil fuels doesn't look likely, a "phase-down of fossil fuels is inevitable."
In an interview with The Associated Press, Amin demonstrated how the leadership of the climate talks is trying to thread a moving diplomatic needle and praised steps in a decarbonizing direction, however small. Amin's boss, the COP28 president, is an oil executive; Amin was the founding director of the U.N.'s renewable energy agency. The talks are being hosted by petrostate United Arab Emirates.
The Kenya-born Amin is quick to defend COP28 President Sultan al-Jaber, pointing out that al-Jaber also runs a renewable energy company and was key in the founding of the U.N.'s renewable energy agency in the UAE. He will surprise critics, Amin said.
In 10 years when critics and others look back at the talks, Amin wants to hear amazement.
"I hope they will be saying that 'we didn't think that an oil producing country could achieve an outcome on climate of this sort. We didn't think that a process that we thought was blah blah ( the words activist Greta Thunberg used to describe climate negotiations ) could achieve an outcome of this sort'," Amin said. "But that was a course correction that the world needed to get us to a place of comfort for all of us."
AN ELABORATE ECOSYSTEM IS IN THE WAY
It all comes down to the role of coal, oil and natural gas, the nations that rely on them and the companies that profit from them.
Amin welcomes fossil-fuel interests to negotiations, while U.N. Secretary-General Antonio Guterres, activists and some scientists literally want them gone. They say a phase-out of fossil fuels is the only way to curb warming to a manageable level.
But given oppositions by some countries and the climate talks requirement to act by consensus – so one nation can stop everything – it's unlikely that a phase-out will be approved, Amin said. He pointed to the desire by some African countries to use fossil fuels to develop. Rich nations already emitted heat-trapping gases to develop, he said, and it's not fair to ask Africa to forego that without massive financial aid to help them leapfrog to clean energy.
Outside experts don't buy that argument.
"We don't need these historic polluters using Africa poverty to promote fossil fuels which will ultimately inhibit Africa's development," said longtime climate analyst Mohamed Adow, director of Power Shift Africa.
Africa, which produces less than 4% of the world's carbon emissions, gets hard hit with extreme weather, such as the rainy storm that triggered Libya's floods and intense droughts, and have fewer resources to cope with disasters.
"If we truly want to be able to tackle climate change, the first thing we need to do is phase out fossil fuels," Adow said in an email. "We don't want UAE to hide behind low expectations of itself because it is an oil country. If it couldn't deliver a radical, decarbonizing COP28 summit it should not be volunteering to coordinate it."
THE DIFFERENCE BETWEEN 'PHASE OUT' AND 'PHASE DOWN'
Climate scientists Niklas Hohne at the New Climate Institute and Bill Hare at Climate Analytics say there's a significant difference between "phase out" and "phase down." They say "phase down" is what the fossil-fuel industry wants, not what the world needs.
"The scale of investment in fossil fuel development by the UAE is the clearest indication of the direction of travel and it is not towards decarbonization but locking in massive fossil gas infrastructure," Hare said.
While a phase-out is crucial, former U.S. State Department climate lawyer Nigel Purvis said Amin is probably right that ending to fossil fuel is likely an impossible ask. That's because it seemed as if major nations like Russia, China and Saudi Arabia were blocking such a move at a recent meeting of rich economies, he said.
Amin said upcoming climate talks aim to be the most inclusive ever, but that also includes the at-times vilified fossil fuel industry.
"We believe that the oil and gas industry needs to be part of the climate equation," Amin said. "We're engaging with them to see if we can get them to commit to, you know, more rapid decarbonization of their operations."
Amin said he understands the angst and anger of young people. It's their future, he says, so they will have more of an official role in this year's negotiations than in the past.
Amin said he will consider the upcoming talks a success if they accomplish four things: fix and increase climate financial aid from rich nations to poor; decarbonize energy systems more; increase funding for nations to adapt to a warming world, especially hunger and health problems; and include more groups in the negotiations.
Fixing climate change is painstakingly slow, he said, but agreements from 2015 and 1997 have produced progress.
"There is a lot of impatience given the scale of the crisis," Amin said. "The multilateral system moves slowly, but it moves."
___
Growing number of forecasts predict oil will reach US$100 this fall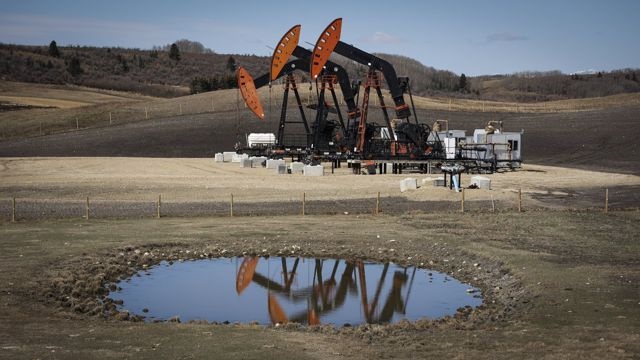 Pumpjacks draw out oil and gas from wellheads near Calgary on Friday, April 28, 2023. A growing number of forecasts are calling for the return of US$100 oil before the end of the year. THE CANADIAN PRESS/Jeff McIntosh
By Amanda Stephenson in Calgary
A growing number of forecasts are calling for the return of US$100 oil before the end of the year — a prospect that could put even more pressure on consumers and make it harder for central bankers to rein in inflation.
North American benchmark crude West Texas Intermediate has surged 30 per cent since June 1 and is hovering this week around US$90 per barrel, its highest point since November of last year. Global benchmark Brent crude was trading higher than US$93 on Wednesday.
In recent days, a number of analysts have revised their forecasts with the view that triple-digit oil prices may now be in the cards for this fall. Bank of America, Citigroup and Goldman Sachs are now all predicting US$100 Brent crude prices before 2024, as is Chevron CEO Mike Wirth, according to a Bloomberg report.
"We're chewing on this right now," said Andrew Botterill of Deloitte Canada, in an interview Wednesday in Calgary, where hundreds of oil and gas executives from around the globe are gathered this week for the 24th World Petroleum Congress.
Botterill said he's currently working on Deloitte's upcoming oil price forecast report and considering whether to revise his own earlier projections higher.
"I can absolutely see it ($100 oil) … I absolutely think we will have moments," Botterill said.
"I can list a lot more reasons why oil will move up right now than down."
Last week, the International Energy Agency predicted that world oil demand is forecast to grow to 101.8 million barrels per day by the end of this year, driven by resurgent Chinese demand.
In addition, Saudi Arabia and Russia recently agreed to extend their voluntary oil production cuts through the end of this year, leading to what the IEA calls a "substantial market deficit."
"We have very firm global demand right now," Botterill said.
"And as we get into the winter, that's always a big consumption season as you start to see heating demand … So that really has us looking at how much we might see that (price) strengthening."
Surging oil prices in the months ahead will likely make efforts by the Bank of Canada and other central bankers to get inflation under control more challenging.
According to Statistics Canada, Canada's annual inflation rate has risen for two consecutive months, with higher gasoline and energy prices the major driving factor.
Fuel price tracking website GasBuddy.com says the average gasoline prices in Canada Wednesday was $1.67 per litre, nearly 15 cents higher than the 2022 average.
"Energy costs play a big role in all of our lives, and they're certainly a big part of the inflation calculation for Canada," Botterill said.
"With these firm prices, will we see that soften some of the demand? Will you and I turn our thermostat down, drive a little less? I hope so, but it's the big (global) demand picture that's really continuing to grow."
However, Canadian energy companies are well-positioned to benefit from higher prices, said Lisa Baiton, president of the Canadian Association of Petroleum Producers on Thursday.
"The outlook is really bullish, for the foreseeable future," she said. "You're seeing a lot of activity, some M&A and consolidation. Companies are well-capitalized, and they're willing to put their capital at play."
Many Canadian oil and gas companies reaped record profits in 2022 due to the post-Ukraine invasion oil price spike. They were also criticized by environmentalists for directing the bulk of those profits into returns for shareholders, rather than investing in major emissions reduction projects.
But Baiton said Canadian companies are at a disadvantage to their American counterparts, who have access to an aggressive suite of government financial incentives for the deployment of technologies such as carbon capture and storage.
"Our members are ready to deploy capital into next-gen decarbonization projects. But again, capital is mobile – it will go to where there's the greatest rate of return," she said.
Keith Stewart of Greenpeace Canada said whether or not energy companies choose to invest in decarbonization projects, $100 oil may actually speed up the global energy transition.
"High oil prices are a double-edged sword for the oil industry, because while they mean big profits today, they also make alternatives like energy efficiency, electric vehicles and heat pumps much more attractive," Stewart said.
In a research note, Eight Capital analyst Phil Skolnick said for the full year 2024, he continues to forecast an average WTI price of US$86 per barrel and an average Brent price of US$90.
But he is also bullish on oil prices for this fall, pointing out that OPEC's global demand forecast for 2023 is a record 103 to 104 million barrels per day — even higher than the IEA's forecast.
"If OPEC's prediction turns out to be correct, the Q4/23 supply deficit may be the biggest in more than a decade," Skolnick wrote.
This report by The Canadian Press was first published Sept. 20, 2023.