Whistleblower shares his role in "Covert military operation observing UK citizens during the pandemic"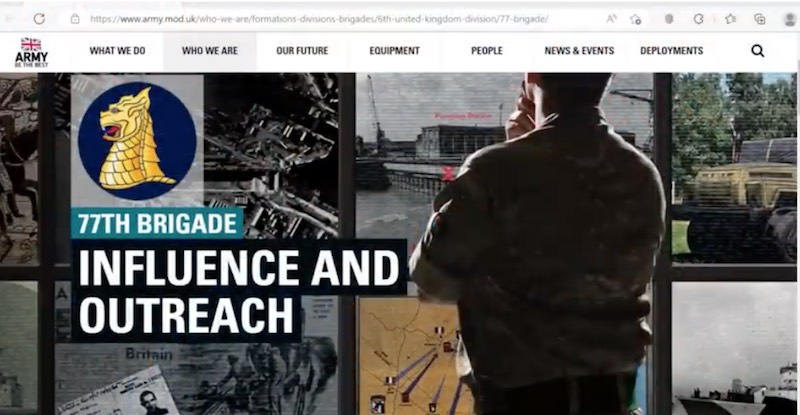 In his video presentation Monday, British Health Researcher Dr. John Campbell took a break from his daily dive into the data. Instead he highlighted a breaking news story in the UK about a secret military operation.
A former member of the "77th Brigade" told Britain's Daily Mail he was brought in to serve on the unit during the pandemic. Although their official task was to uncover foreign interference, the whistleblower says they spent their time monitoring "our own concerned citizens" who were criticizing lockdown policies and other government responses to the pandemic.
While there may have actually been some foreign social media campaigns attempting to sway opinions in Britain, the 77th Brigade instead "compiled dossiers on public figures such as ex-Minister David Davis", as well as journalists Peter Hitchens and Toby Young.
The information compiled by the 77th Bridage was "reported back to No 10." The whistleblower says government ministers then pushed social media platforms to remove or downplay this information and "promote Government-approved lines."
This is all very disconcerting for Dr. Campbell who has found some of his own posts during the pandemic have been deleted. Campbell finds the government's effort to thwart a healthy learning environment extremely disturbing.
Dr. John Campbell's presentation notes with links
The 77th Brigade is part of the British Army
https://www.army.mod.uk/who-we-are/fo…
77th Brigade is an agent of change; through targeted Information Activity and Outreach we contribute to the success of military objectives
Mail on Sunday and Big Brother Watch, official government admission
Chief of the Defence Staff General Sir Nick Carter https://www.youtube.com/watch?v=FRRGQ…
Up front I would say that our role has been entirely in support of the heroic health care workers on the front line, with humility being very much our watchword in how we give that support.
https://ukdefencejournal.org.uk/77th-…
Last year, Chief of the Defence Staff General Sir Nick Carter revealed that, 77th Brigade was involved in countering misinformation online relating to Coronavirus
https://www.telegraph.co.uk/news/2023…
The Army's "information warfare" unit Monitored covid lockdown critics
The 77th Brigade, specialist to counter disinformation, and other online activity deemed harmful to the UK, assisted other government units Such as The Counter Disinformation Unit, was part of the Department for Digital, Culture, Media & Sport (DCMS)
The Cabinet Office's Rapid Response Unit, launched in March 2020
Social media posts were scrutinised for accuracy
Mail on Sunday (whistleblower) It is quite obvious that our activities resulted in the monitoring of the UK population … monitoring the social media posts of ordinary, scared people These posts did not contain information that was untrue or co-ordinated – it was simply fear I developed the impression the Government were more interested in protecting the success of their policies than uncovering any potential foreign interference
A government spokesman
Online disinformation is a serious threat to the UK, which is why during the pandemic we brought together expertise from across Government to monitor disinformation about Covid. They did not target individuals or take any action that could impact anyone's ability to discuss and debate issues freely.
https://www.dailymail.co.uk/news/arti…
Targeted politicians and high-profile journalists
They compiled dossiers on public figures, such as ex-Minister David Davis, who questioned the modelling behind alarming death toll predictions, as well as journalists such as Peter Hitchens and Toby Young.
Their dissenting views were then reported back to No 10.
Mr Hitchens
Military operatives compiled dossiers on journalists including the Mail's Peter Hitchens Mr Davis, (member of the Privy Council)
It's outrageous that people questioning the Government's policies were subject to covert surveillance
Questioned the waste of public money.
Freedom Convoy leaders' lawyers argue defendants encouraged peaceful protesting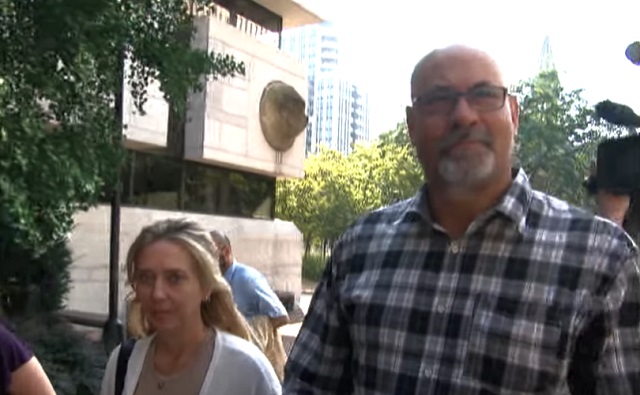 Freedom Convoy leader Chris Barber's legal counsel argued that text messages he sent to both police and fellow protesters during the convoy prove he was not encouraging people to commit crimes
On day 30 of the trial against Freedom Convoy leaders Tamara Lich and Chris Barber, the defense detailed to the court how text message exchanges from one of the leaders showed he was trying to ensure protestors were as respectful as possible and wanted to work with police.
According to a day 30 update from the Democracy Fund (TDF), which is crowdfunding Lich's legal costs, defense counsel for Barber, Diane Magas, said that a text conversation between Barber and an "individual known as 'Big Baller,'" show that "Barber expressed his efforts to cease honking and persuade other truck drivers to follow suit," in attempt to abide by law enforcement's request.
Magas also highlighted how a text message exchange between Barber and an Ottawa Police Services (OPS) officer, asking for a "slow roll" on Parliament Hill, "received police support."
"These instances, according to Magas, illustrated Barber's intent for a lawful protest," noted TDF.
Magas questioned the Crown's allegation that the leaders had planned a conspiracy, noting a February 12, 2022, agreement letter between the convoy protesters and the mayor's office.
"She questioned whether the Crown implied the mayor's office was part of the alleged conspiracy," noted TDF.
"Magas highlighted a TikTok video on February 16, 2022, with Barber and Canadian lawyer Keith Wilson, where Wilson emphasized that the declaration of the Emergencies Act still permitted peaceful protests. Magas concluded her submissions by asserting that, considering the totality of evidence, the court couldn't find an agreement for the alleged conspiracies without speculation."
In response, the Crown's counsel said that a "directed verdict would be appropriate if there were no evidence of criminality," but again argued for their Carter application to proceed.
On Monday, which was Day 28 of the trial, the defense argued that a Crown request to make it so that criminal charges against one leader should apply to the other leader as well, and vice versa, should not be allowed to take place, as there is no evidence the pair worked in a conspiratorial manner.
The defense teams for Lich and Barber told the court they intended to bring forth two applications, the first being a call to dismiss the Crown's "Carter application."  
The Crown's so-called "Carter Application" asks that the judge consider "Barber's statements and actions to establish the guilt of Lich, and vice versa," TDF stated.  
TDF noted that this type of application is very "complicated" and requires that the Crown prove "beyond a reasonable doubt" that there was a "conspiracy or plan in place and that Lich was a party to it based on direct evidence."  
On Wednesday in court, the Crown claimed that they did not think of the protests as violent, but "disputed the defense's characterization of the protests as peaceful."
The Crown claimed that non-violent protests could still be "disruptive and result in criminal charges," as noted by TDF, adding that the court should consider limitations to Charter rights when looking at charges made against the leaders.
In court, Judge Heather Perkins-McVey reminded the Crown that not everyone involved in the Freedom Convoy was working together. The Crown agreed this was the case.
On Day 29, Lich's legal counsel argued that her use of the rallying cry "hold the line" during the 2022 protests did not imply she was calling for people to engage in illegal activity.
Lich and Barber are facing multiple charges from the 2022 protests, including mischief, counseling mischief, counseling intimidation and obstructing police for taking part in and organizing the anti-mandate Freedom Convoy. As reported by LifeSiteNews at the time, despite the non-violent nature of the protest and the charges, Lich was jailed for weeks before she was granted bail.   
The defense's application came after the Crown abruptly decided to end its case last Monday, telling the court it would not call forth any new witnesses.   
In early 2022, the Freedom Convoy saw thousands of Canadians from coast to coast come to Ottawa to demand an end to COVID mandates in all forms. Despite the peaceful nature of the protest, Prime Minister Justin Trudeau's government enacted the Emergencies Act on February 14. 
During the clear-out of protesters after the EA was put in place, one protester, an elderly lady, was trampled by a police horse, and one conservative female reporter was beaten by police and shot with a tear gas canister.  
Lich and Barber's trial has thus far taken more time than originally planned. LifeSiteNews has been covering the trial extensively.  
Both 'unspecified' and COVID deaths skyrocketed in Canada after mass vaccination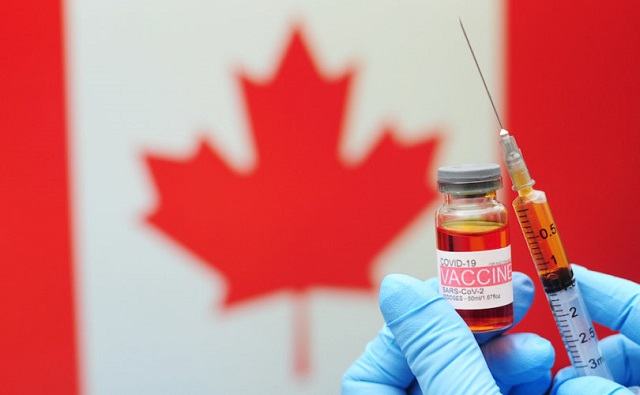 'These numbers should be front-page news'
A newly released government report shows that deaths from both COVID-19 and "unspecified causes" surged following the release of the so-called "safe and effective" vaccines.
On November 29, People's Party of Canada (PPC) leader Maxime Bernier, citing a November 27 report by Statistics Canada, pointed out that deaths from COVID increased in 2022, after the COVID vaccine was introduced, while deaths due to "unspecified" causes also skyrocketed.
"Not only were there more official COVID deaths in 2022 than in 2021 and 2020 despite the fact that 85% of Canadians had by then received a supposedly 'safe and effective' vaccine," Beriner wrote on X, formerly known as Twitter.
Here are more shocking data on the number and causes of deaths in Canada released earlier this week by StatsCan.

Not only were there more official covid deaths in 2022 than in 2021 and 2020 despite the fact that 85% of Canadians had by then received a supposedly "safe and… pic.twitter.com/ePFQkUoEnt

— Maxime Bernier (@MaximeBernier) November 30, 2023
"But the number of deaths due to 'Other ill-defined and unspecified causes of mortality' skyrocketed from 3,378 in 2019 to 9,471 in 2021 and to 16,043 in 2022!" he added.
"What happened in 2021 that could have caused this explosion of unexplained deaths??" he questioned.
"These numbers should be front-page news," Bernier said. "We were bombarded daily with data about deaths during three years. But the lying media are completely ignoring it."
According to the StatsCan report, 15,890 and 14,466 Canadians died from COVID in 2020 and 2021 respectively. In 2022, 19,716 Canadians died from the virus, despite an allegedly "safe and effective" vaccine having been given to Canadians en masse beginning February 2021.
In addition to COVID deaths, as Bernier noted, deaths with an "unspecified" or "ill-defined" cause also skyrocketed at the same time. In 2020, just 6,841 Canadians died from "unspecified" or "ill-defined" causes. In 2022, after the mass vaccination campaign, deaths in this category clocked in at 6,043.
The Trudeau government, with the help of the Department of Health, heavily promoted the COVID jabs, which were rushed to market. It is still promoting the shots, this time the recently approved booster.
In 2021, Trudeau said Canadians "vehemently opposed to vaccination" do "not believe in science," are "often misogynists, often racists," and questioned whether Canada should continue to "tolerate these people."
A recent study done by researchers at the Canada-based Correlation Research in the Public Interest found that 17 countries have found a "definite causal link" between peaks in all-cause mortality and the fast rollouts of the COVID shots and boosters.
LifeSiteNews reported how the Polyomavirus Simian Virus 40 (SV40), which is a monkey-linked DNA sequence known to cause cancer when it was used in old polio vaccines, has been confirmed by Health Canada to be in the Pfizer COVID shot, a fact that was not disclosed by the vaccine maker to officials.
In November, LifeSiteNews reported about an internal memo from the nation's health department that shows that officials have refused to release data concerning internal audits related to the COVID crisis that indicate "critical weaknesses and gaps" in its response to the so-called pandemic.
LifeSiteNews has published comprehensive research on the dangers of receiving the experimental vaccine, including heart damage and blood clots.