Whistle Stop Cafe owner challenging lockdown and authorities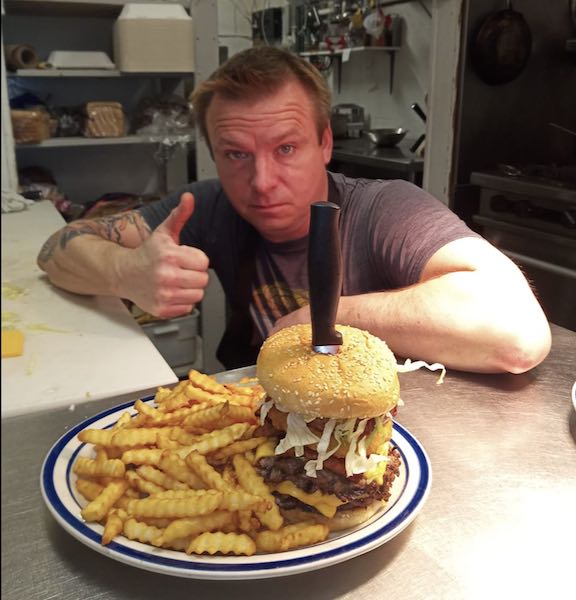 Just a few months ago Mirror, Alberta might have been referred to as UCP heartland. But things seem to be changing quickly. One of the hottest spots in the area is Chris Scott's Whistle Stop Cafe. The owner, Chris Scott opened The Whistle Stop in the middle of Alberta's second lockdown back in January. Still facing legal action from that lockdown, Chris didn't hesitate to announce he would also be defying Alberta's third lockdown of indoor dining as soon as that was announced. Hundreds of supporters showed up on the weekend. They were treated to music, a beer garden, as well as both outdoor patio, and indoor dining options.
As expected The Whistle Stop was visited by an AHS inspector and RCMP members who noted the violations and informed Mr. Scott of impending legal actions against The Whistle Stop Cafe. All this hasn't slowed Scott down one bit. As of Tuesday morning, the cafe is open and serving customers (who are warned by staff they could be charged for violating indoor dining restrictions) and Chris Scott is planning for another busy weekend. Scott addresses his massive social media following daily. His Tuesday morning address shows just how committed he remains despite the obvious impending showdown sure to take place in the coming days between Scott and AHS as well as the RCMP.
In his facebook post, the owner of The Whistle Stop Cafe almost seems to be daring Premier Jason Kenney to make a move:
Good morning everyone! It's been a busy, stressful couple days for us here. I'm not going into details as they're irrelevant to our vision of serving delicious food, to beautiful people
today could be a very big day for us here at the Whistle Stop Cafe in Mirror, Alberta. We've got a lot on the go including planning this coming weekends festivities here. Live music, karaoke, and wonderful food prepared with care and attention to detail. All of us here believe strongly in taking every precaution with the way we handle food. As a food "service," provider our number one priority is ensuring that what we serve its fresh and safe. We also believe in your choice to either venture out in this dangerous world or stay home and limit your exposure to the thousands of risks we encounter every day. Nobody here will ever judge you for making your own choice. As most of you know, Alberta Health Services suspended our food handling permit yesterday, via EMAIL. Now I could have ignored the email and said I didn't recieved it and made them come out here and deliver themselves, but I didn't. AHS inspectors are not well received these days. And I'm happy to consider them as human beings and keep them out of situations where they may be subject to abusive language and threats. So I accepted the email as it was written and acknowledge the suspension of my permit. However, as a man and a human being I have the right to engage in commerce. I have the right to Life, Liberty and security. These rights are not conditional on any agency "permitting," them. We continue to follow best practices in regards to purchase, storage, and preparation of our food. And we continue to maintain a clean environment in which to serve or consume said food. We will not continue to be bullied into submitting to garbage, harmful, baseless restrictions forced on the people of Alberta by those who will never suffer the consequences of their own actions. We are OPEN for business. And we have some great specials today!
Breakfast- Eggs Kenney served with a side of disobedience. 2 eggs poached one way, then changed to whatever we feel like making up at the time. We will give you ham, sausage, and bacon with your eggs Kenney but then we're going to take back half of it and tell you is for your own good. Comes with hashbrowns on the side, but only if you submit to our stupid rule of clapping three times and saying the word, "knee," (as in the Knights who say, knee. Because it's ridiculous and changes nothing.) $5.00 plus a fee of $7.95 for the permit to eat.
Lunch special today is a UCP burger. Our delicious classic burger! But like our government it will be served open and two-faced with an egg on its face. Comes with delicious freedom fries! $11.95
Soup today is Hinshaw chicken noodle. Chicken soup is good for you! And since Dr. Hinshaw seems to think she's the only person who knows what's good for us I figured it was an appropriate name.
Supper special is whatever you want. We will prepare you anything you like! Because what you put in your body, and where you choose to eat and do business is YOUR CHOICE!!! Keep in mind our kitchen is small so please don't go crazy
our supper special is FREE! And if you feel like donating to our cause we would be very happy to accept it. I heard something about "plague rats," so all donations will go towards cleaning supplies and a consultation with an exterminator because we want ALBERTA TO REMAIN RAT FREE!!!
We're looking forward to seeing you today!! We NEED YOU HERE. We need your support! We need to push back as hard as we can, knowing that we may get sick but doing OF OUR OWN ACCORD!!
Sending love and freedom from the Whistle Stop Cafe in Mirror
Firm handshakes, hard lines: Trudeau, Biden to talk protectionism, Haiti, migration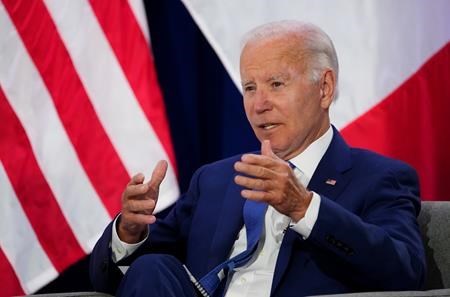 WASHINGTON — He's hell-bent on restoring blue-collar American manufacturing to its former glory, considers free trade a dirty word and wants Canada to wade voluntarily into a failed, gang-ravaged state that's a quagmire waiting to happen.
To be sure, Joe Biden is no Donald Trump. But he doesn't always make it obvious.
The U.S. president arrives in Ottawa tonight on a whirlwind 24-hour visit — a significantly less elaborate itinerary than first envisioned in the Prime Minister's Office — two full years since becoming commander-in-chief.
"This will be the first true, in-person bilateral meeting between the two leaders in Canada since 2009," said White House National Security Council spokesman John Kirby.
The first year of Biden's term focused on rebuilding Canada-U.S. relations following Trump's divisive term in office. The second focused on meeting obligations, "including prioritizing orderly and safe migration through regular pathways," Kirby said.
"Now, heading into the third, this visit is about taking stock of what we've done, where we are and what we need to prioritize for the future."
While he's far less undiplomatic and publicly combative than his both-barrels predecessor, Biden's first two years in the Oval Office produced more than enough political headaches for Prime Minister Justin Trudeau.
Friday's meetings may not offer much remedy.
High on Canada's wish list will be frank talk on Buy American, the age-old protectionist doctrine resurrected by every 21st-century president short of George W. Bush and one of Biden's favourite domestic political messages.
"The president is very committed to policies that create jobs in the United States, and we don't take issue with that policy," said Kirsten Hillman, Canada's ambassador to the U.S.
"What we say is … when you apply it to Canada and deeply integrated Canada supply chains, it does not serve your policy purpose. It does the exact opposite."
Fully 60 per cent of the physical goods that Canada sells stateside "go into the manufacturing of other products," and much the same is true of what Canada buys from the U.S., she added.
"So if we start carving each other out of our supply chains, the economic impact on jobs in our own country is going to be enormous. We're shooting ourselves in the foot, essentially — both countries."
Canada is also likely to be playing defence on Haiti, the impoverished, quake-ravaged Caribbean nation on the island of Hispaniola that has devolved into a failed state since the 2021 assassination of president Jovenel Moïse.
Roving gangs of marauders now control more than half of Port-au-Prince, the capital city of a country in the grips of a cholera outbreak with little access to medical help, a near-total lack of public security and a powerless interim government.
The Biden administration, its hands full with Russia's war in Ukraine, the rise of China and other great-power concerns, wants Canada — home to a large diaspora of French-speaking Haitians, mostly in Quebec — to take a lead role.
"It's a fair amount of pressure," said Carleton University professor Stephen Saideman. "The reality is that Trudeau doesn't want to do this, and so he comes up with whatever arguments he can to deflect this."
"I am hopeful … that Canada will be able to step in and take some leadership in Haiti, because that will matter in Washington," said Gordon Giffin, who served as Bill Clinton's envoy to Ottawa from 1997 to 2001.
"Taking that one off of our menu would be a big help to the U.S. administration."
Though it might seem simplistic at the highest levels of intergovernmental relations, the quid pro quo approach is foundational to how countries get along and manage various irritants in the relationship, he suggested.
"I do think it's a prototypical example of the United States saying, 'We need you to help us out on this one,'" Giffin told a panel hosted by the Americas Council and the Council of the Americas.
He recalled the frequent interactions between his old boss and Jean Chrétien, who was prime minister while Clinton was in the White House and a man Giffin described as "the consummate dealmaker."
Chrétien "looked for places where Bill Clinton needed a little bit of help," Giffin said.
"I would very quickly hear, 'OK, we're going to do this, Gordon, but for that, I need this,'" he said in his best Chrétien drawl. "I'm sorry, that's just human nature, and it's part of the deal."
National Security Council spokesman John Kirby would not say Wednesday whether Biden intends to make a direct demand of Trudeau on Haiti.
"They share a concern about the dire situation down there from a security and humanitarian perspective — this is not something that is unfamiliar to either the prime minister or the president," Kirby said.
"As for a multinational force or anything like that, I don't want to get ahead of the conversation here. But as we've said before, if there's a need for that, if there's a place for that, that's all going to have to be worked out directly with the Haitian government and with the UN."
Kirby also played down expectations on another big Canadian ask: renegotiating the Safe Third Country Agreement, a 2004 treaty between the two countries that many blame for a recent spike in irregular migration.
On issues of migration, "we're well aware of Canadian concerns. We have concerns of our own," Kirby said. "It's a hemispheric, shared regional challenge. So I have no doubt that they'll discuss it."
Senior government officials in Ottawa say the discussion on Haiti will involve the two leaders, but not Haitians themselves. Trudeau has so far focused on sanctions, helping Haitian authorities with surveillance support to track gang activity, and building a political consensus on how the West can best help.
Saideman, who has previously worked with the U.S. Department of Defense, said Ottawa is trying to avoid that at all costs. "This government does not want to suffer tremendous costs or cement tremendous risks."
He noted that Canada's largest deployment is currently in Latvia and Ottawa has agreed to expand its presence to shore up that country's border with Russia.
Saideman said it would be impossible to expand that force while leading an intervention in Haiti, particularly because each deployed unit generally requires a second unit undergoing training and a third recovering from the previous rotation.
In addition, gang violence would be significantly more risky than past missions aimed at preventing clashes between warring armies, such as in Bosnia or Cyprus.
"I'm not saying we shouldn't do it, but I can see why the government is cautious about it," said Saideman, who is director of the Canadian Defence and Security Network.
"In Haiti, this has not been the first rodeo," he said. "The previous missions didn't fix things, didn't lead to a lasting solution."
This report by The Canadian Press was first published March 23, 2023.
— With files from Dylan Robertson in Ottawa
James McCarten, The Canadian Press
Anholt tabbed to lead Canada's world junior squad after success with U18 team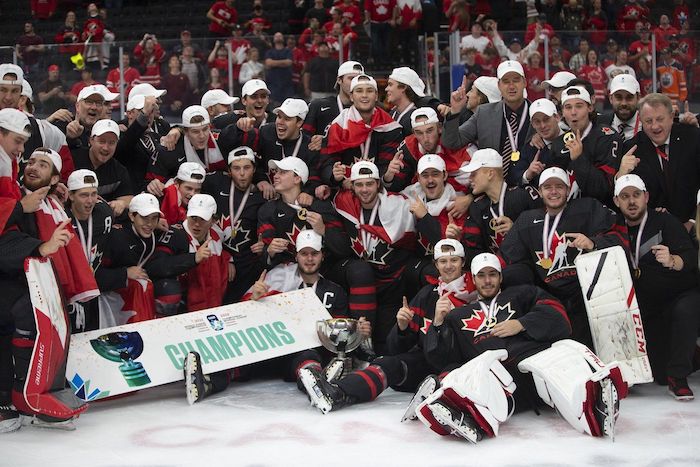 Canada celebrates the win over Finland IIHF World Junior Hockey Championship gold medal game action in Edmonton on Saturday August 20, 2022. THE CANADIAN PRESS/Jason Franson
Calgary – Peter Anholt has been tasked with helping Canada win a third straight world junior hockey championship after two successful seasons leading the country's under-18 program.
Anholt, who heads the front office of the Western Hockey League's Lethbridge Hurricanes, is one of three Canadian Hockey League general managers tabbed by Hockey Canada to oversee its men's under-17, under-18 and under-20 programs in 2023-24.
He takes over the world junior program from Ottawa 67's GM James Boyd, who helped Canada win two titles over the span of six months.
Canada beat Finland 3-2 in overtime to win the 2022 championship in Edmonton, which was held in August after being postponed from its traditional December/January slot due to the COVID-19 pandemic.
The Canadians repeated with a 3-2 overtime win over Czechia on Jan. 5 in Halifax.
The 2024 world junior championship begins Dec. 26 in Goteborg, Sweden.
Hockey Canada also announced Wednesday that Dave Brown of the Ontario Hockey League's Erie Otters will guide the men's under-17s this season, while Cam Russell of the Quebec Major Junior Hockey League's Halifax Mooseheads will take over Anholt's former position with the U18 team.
The three will work alongside Hockey Canada's hockey operations staff as part of the organization's "Program of Excellence" management group.
Duties include assisting with player and coach selection, and providing input during camps and tournaments.
Brown will lead the U17 team through the 2023 World Under-17 Hockey Challenge. Canada lost 2-1 to the United States in the final of last year's event in Langley and Delta, B.C.
Russell, meanwhile, will look to help Canada to a second consecutive Hlinka Gretzky Cup title. Canada won its 23rd gold medal at the best-on-best U18 tournament last year in Red Deer, Alta., with Anholt at the helm.
Canada did not participate in the 2021 event due to the pandemic, but won that year's U18 worlds.
"All three individuals bring a wealth of CHL experience to our program," Scott Salmond, Hockey Canada senior vice-president of hockey operations, said in a statement. "We look forward to having them work alongside our athletes and staff while leading our men's national teams next season."
This report by The Canadian Press was first published March 22, 2023.