When Leadership Fails: Add Panic And Stir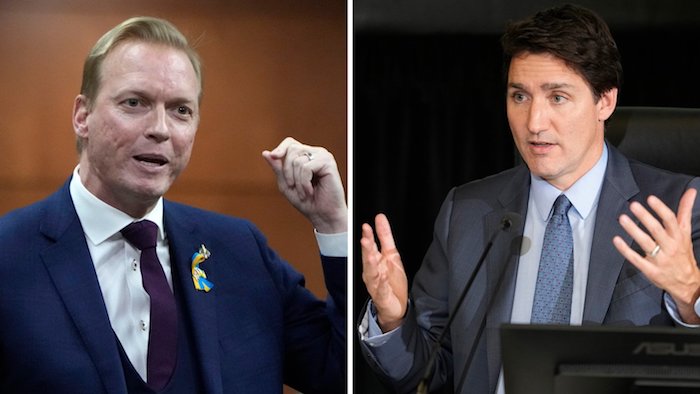 High comedy this week from pearl clutchers in the Land of Woke. They are currently having a sacred cow about the crackdown on Chinese protesting brutal Covid restrictions in that country. Indignation and virtuous rage being the popular responses. These would be the same people who lustily cheered Prime Minister Justin Trudeau employing mounted police while seizing bank accounts of truckers protesting Covid restrictions in February. Because honking.
Yes, panic is in the eye of the beholder. As a legal standard it leaves a little something to be desired. But in Canadian politics you take what you can get when trying to whip up an emergency. And do your best to censor the rest.
The Public Order Emergency Commission and the new Alberta Sovereignty Act both require that the Canadian public see some imminent threat to justify shifting the status quo. In the case of the interminable POEC proceedings a perceived sense of urgency— a threat to national security— convinced the prime minister to adopt sweeping powers to financially crush a rowdy band of truckers who parked on Ottawa's Wellington Street for three weeks or so.
Despite no significant police or jurisdictional body publicly urging him to pull the pin on the Emergency Measures Act— besides a legal opinion no one is allowed to see— Trudeau saw his dramatis persona as the last bulwark against chaos. Drama teacher as hero. So he went full Duchy of Fenwick.
Forget that the Ottawa Police Service, the OPP and RCMP were finally operating as a joint command, working on the plan that would finally clear the capital's streets later in the week. Trudeau called in the lawyers and the bankers to stifle dissent. And portrayed himself as put-upon Lincoln by rebels.
The problem in stoking this panic is that the Ottawa segment of the pushback by truckers was the least significant of three major Covid pushbacks in February/ March 2022. The most serious— the blockade of the Ambassador Bridge between Windsor, Ont., and Detroit, Michigan— was wound up through negotiations and a few tow trucks in a matter of days.
The second— the blockade of the vital Coutts, Alberta, crossing to the U.S.— was more vexing, with Ottawa and the Alberta's government passing the hot potato on the problem. There were allegations of armed vigilantes and irreparable harm to Canada/ U.S. trade. But this, too, was settled without bloodshed or mounted police charging into crowds. Or the Emergency Measures Act.
In both cases leadership prevailed. The third episode was the truck protest on Wellington street that spiralled out of control when civic, provincial and federal authorities all expected some one else to solve a traffic problem. From the prime minister— who deigned to meet the unwashed mass of truckers— down to the Ottawa police chief, avoidance, not leadership, seemed the solution.
In comparison to the two other crises, it would be hard to describe what Trudeau faced as a national crisis. The airport, train station, stores, vital utilities and Parliament itself functioned as they had under the government's own restrictive Covid regulations. The protesters were not that far removed from the homeless encampments in public parks, sidewalks and under bridges that refused to budge for six months or more. (Okay, the truckers honked horns instead of criminal drug dealing and sexual assault.) The homeless-crew protests were as thoroughly political in their goals and methods as were the Convoy bunch.
For the PM, however, the images of Bouncy Castles and open-air concerts broadcast to the world were intolerable. Embarrassing. Galling. "The protesters didn't just want to be heard, they wanted to be obeyed," he said. "The situation was out of control, with the potential for violence, not just in Ottawa but across the country."
And he'd done nothing to create this conflagration, he claimed. In the POEC hearings, using his glassy Montgomery Clift voice, Trudeau swore under oath he'd never described the protesters as anti-science misogynists and racists. He then declared himself satisfied at having stanched the alt-right hordes, locking up their leaders and braving the sarcasm of the foreign press.
His purchased media concurred, projecting public urination and honking trucks into armed white supremacy. They made up arson stories. Pollsters, too, told him Canadians in general didn't like the image of the plebes who deliver their crudités and cheap Chinese clothing acting like Trump Americans. This was a can't-miss.
He saw panic, he'd looked it in the eye, and now he was "serene". He also knows that in in the contemporary "Victims 'R Us" culture he can get away with anything he damn well pleases if it creates panic. Hell, he'd called Canadians genocidal at the UN, and no one flinched. Who'd start holding him accountable now?
Alberta's new premier Danielle Smith has the opposite "panic" problem. She has little assurance that the agitated conditions she cited Tuesday will warm her province to the Alberta Sovereignty Act. But to get them to go along she must rile up enough of the Conservatives traditional base that Ottawa is coming to to destroy the oil patch, seize their guns and impose more harsh Covid lockdowns.
As opposed to Trudeau, Smith does not have a media sussing out Putin and Confederate flags for her. The same Edmonton-based opinion makers harassed her predecessor Jason Kenny into resignation over his handling of the Covid protocols since 2020. (No surprise that Smith rapidly cashiered the upper echelons of Alberta's healthcare bureaucracy and championed the non-vaccinated citizens who, she said, had been rendered second-class citizens for rejecting what we now know was a flawed and perhaps dangerous vaccine program.)
Smith's biggest impediment to creating indignation— in what is now a far more progressive electorate— is the recent boom in Alberta's financial situation. Put simply, the province is again awash in cash, the government is declaring a $4 billion-plus surplus and Albertans are once again engaging in their traditional Hawaii, Palm Springs and Scottsdale retreats.
Smith is already spreading out that largesse to families, senior citizens, gas prices and more. Will it work? "The Land Is Strong But Ottawa Is Wrong" is a wobbly campaign slogan to take into next spring's provincial election. Her polling is terrible, and the sale on Alberta Sovereignty is a long shot.
Maybe Saskatchewan will join in, but who knows? When you play with the panic bull you sometimes get the horn. Unless you're Justin Trudeau and you have Jagmeet Singh in your pocket. Then you're "serene".
Sign up today for Not The Public Broadcaster newsletters. Hot takes/ cool slants on sports and current affairs. Have the latest columns delivered to your mail box. Tell your friends to join, too. Always provocative, always independent.
Bruce Dowbiggin @dowbboy is the editor of Not The Public Broadcaster A two-time winner of the Gemini Award as Canada's top television sports broadcaster, he's a regular contributor to Sirius XM Canada Talks Ch. 167. Inexact Science: The Six Most Compelling Draft Years In NHL History, his new book with his son Evan, was voted the seventh-best professional hockey book of all time by bookauthority.org . His 2004 book Money Players was voted sixth best on the same list, and is available via http://brucedowbigginbooks.ca/book-personalaccount.aspx
Will Cable Cord Cutting Shock Pro Sports Back To Its Senses?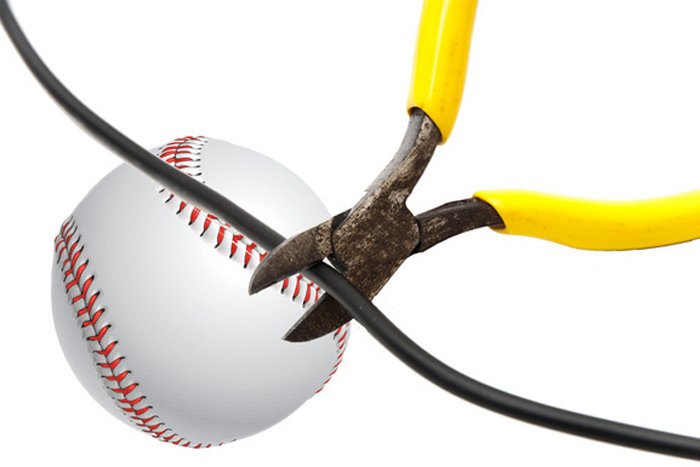 If there's one constant in modern sports it's bewilderment at how high salaries have risen for elite athletes. Where a million dollars a year was once the "unheard-of" threshold for salaries, today's stars are easily taking home 20, 40, even 50 million a year under the new economy in sports. Even college athletes, once forbidden to accept remuneration, are cashing in millions for their name, image or likeness.
When people complain about overpaid athletes to IDLM we simply say the money is in the business, who else do you think should get the cash? Ditto for franchise values, where the Denver Broncos recently sold for a staggering $4.65 B. and the Washington Commanders might fetch $6B.
Largely the infusion of riches in pro sports has come from TV and digital-rights contracts between leagues and regional sports networks (RSN). Those RSNs are the carriers of the local and regional teams. Packaged through cable or satellite carriers they deliver valuable programming dollars to leagues. And for smaller media markets they are a vital source of revenue to keep up with the big boys whose ancillary revenues are pumped by many more customers.
As just one example, the MLB St. Louis Cardinals are currently earning about $66 million a year from their 15-year, $1B deal they signed with Fox Sports in 2015. There are 18 other teams on Sinclair/Diamond local TV deals, all of whom rely on RSNs to play New York salaries in Pittsburgh or Kansas City.
In Canada, as opposed to the American model, regional sports contracts are held directly by either TSN or Sportsnet, national carriers. The monopoly status has suppressed revenues to Canadian NHL, MLB or NBA teams relative to the deals cut in large markets such as New York's tri-state area, southern California or Chicago.
Recently TV rights packages values were boosted by the arrival of Amazon, YouTube and Google which began to compete with traditional networks for U.S. broadcast rights. But now RSNs are threatened by the cord-cutting trend that sees American and Canadian consumers dumping their traditional bundlers of services to go à la carte digital directly with the producers of programming. ( In Canada the DAZN network has gone head-to-head with TSN for NFL games on a digital deal with the league.)
This past week the American cable giant Comcast reported a year-over-year 11 percent loss in its customer base. That's about two million Americans saying "I can do without the middle men and the useless channels. I want to subscribe directly to the producers of the material I want to see." From a peak of 110.5 million customers in 2013 the Comcast market is estimated to drop as low as 65 million customers by 2025.
In part this is consumers shedding programming bundles they never watch and bloated subscription fees as they tighten their belts. It's also a reflection on the Netflix streaming revolution sparked by Covid-19 lockdowns that saw locked-down consumers get used to the convenience of directly streaming programming from Netflix or Amazon Prime or Disney without paying for a raft of useless channels.
Advertisers have noticed, too. They are headed to streaming services, where their messages can be more targeted to desired audiences than cable TVs scattershot approach.
The impact is being seen in the U.S. where Diamond Sports Group, which controls a huge portion of the pro sports RSNs, is said to be headed to bankruptcy court to restructure its $8.6B in debt. "There are a lot of business and financial terms and policies to work through," says Deadspin, "but the long and short of it is that DSG is likely going to skip an interest payment it owes, which should be enough for them to get to the bankruptcy claim they've been rumored to be after for a while now."
Bloomberg reported that if they file for bankruptcy it could "potentially put at risk crucial broadcasting rights revenues" for major North American sports networks. Greg Boris, a sports management professor at Adelphi University summed up the looming disaster for pro sports. He told The Score that RSNs have "been a golden goose. You remove cable TV from the scenario, and franchises are worth a fraction of what they are today, players make a fraction of their salaries today… the boom has been going on for almost 30 years. But the vast majority of the people that pay never watch (services they purchase). That's been the model."
Leagues are now investigating what to do if the RSN model collapses. Currently the leagues operate direct streaming services for customers wishing to watch out-of-town games not involving their local team. They could simply add the RSN rights too these streams.But direct-to-consumer can be very costly. The Disney+ operation was thought to be a slam dunk, but now management at Disney admits it will be a few years before the operation gets out of the red. American carrier Comcast launched the Peacock network as an outlet for NBC content. It lost $2.5B in 2022 and projects to lose another $2B in 2023. Similar startups such as CBC Gem have been flops.
Direct-to-consumer is also not the easy money machine that RSNs were. If a league or a team operates a direct customer service it takes on the responsibility of signing up and maintaining its customer base. That means dealing with the fickle fans who might drop his/ her package to an NHL, NFL, MLB or NBA team for a few years till the club improves.
That could be a disaster for underperforming teams like MLB's Pirates or NHL Vancouver Canucks who had the assurance that, while their programming sucked, the other offerings on the cable package were worth customers retaining the service. Direct-to-consumer could, however, be a ray of hope for fans of bad teams that force clubs to finally get serious about producing a winning product.
This potential financial shortfall is probably one of the reason pro sports has so fervently embraced sports betting— to the annoyance of many fans. If the TV money goes, they'll need every dollar they can find to pay out the contracts they've been issuing with impunity the past decade.
Sign up today for Not The Public Broadcaster newsletters. Hot takes/ cool slants on sports and current affairs. Have the latest columns delivered to your mail box. Tell your friends to join, too. Always provocative, always independent. https://share.hsforms.com/16edbhhC3TTKg6jAaRyP7rActsj5
Bruce Dowbiggin @dowbboy is the editor of Not The Public Broadcaster A two-time winner of the Gemini Award as Canada's top television sports broadcaster, he's a regular contributor to Sirius XM Canada Talks Ch. 167. Inexact Science: The Six Most Compelling Draft Years In NHL History, his new book with his son Evan, was voted the seventh-best professional hockey book of all time by bookauthority.org . His 2004 book Money Players was voted sixth best on the same list, and is available via http://brucedowbigginbooks.ca/book-personalaccount.aspx
East Germany's Triumphant Comeback Over Woke West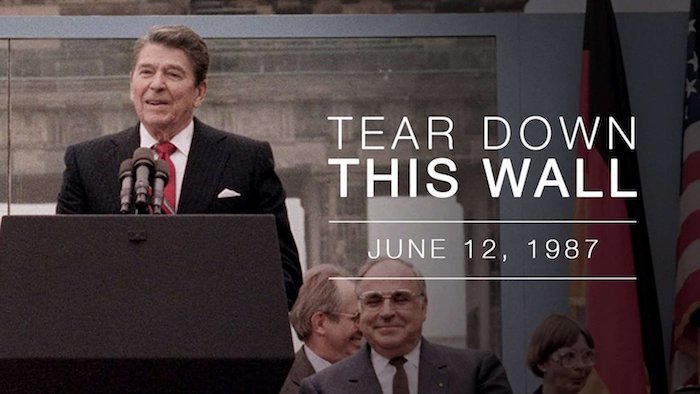 "Mr. Gorbachev… tear down this wall."— Ronald Reagan
News Item: California lawmakers pushing legislation that would impose a new tax on the state's wealthiest residents — even if they've already moved to another part of the country.
It's nostalgic to remember the euphoria in 1991 when the Berlin Wall crumbled. After decades in the shadow of nuclear war, everyone believed Western values had triumphed when the Wall came down. Freedom of movement reigned. Authoritarian rule had been delegitimized. Individual dignity was restored. Never before would the grey spectre of East Germany cast its shadow on the world.
Now it's clear that, in fact, East Germany has won. The #WEF charter now tells people in the West that they actually lost WWII and the Cold War due to their privileged racism. Totalitarian European zealots backed by social-media Stasi are again running the show. Sadly, it seems to be working.
WEF "Mr. Big" Klaus Schwab can hardly wait: "Just think of the amazing 4th Industrial Revolution, aka singularity and transhumanism, whose technology includes AI, IoT, and genetic engineering!
With the WEF (confabbing in Davos) and United Nations calling the tune, free speech and freedom of movement are being subordinated to elite cadres of the unelected State in public and private spheres. Digital ID that would have made Erik Honeker jealous are being pushed by Canada's PM. People who wish to express opinions or dissent with the ruling class must pass through a Checkpoint Charlie gauntlet of apprehended disloyalty and suspected subversion.
A typical sample: the Scottish government's new Green manifesto "A holistic behaviour change approach – The ask". Addled by climate-fever dreams, the Scottish Government is planning on reducing the use of private cars in the country by 20 percent. "By rethinking how we use our cars and reducing the number of daily journeys we take, we can help make Scotland a healthier, fairer, greener place to live and significantly contribute towards Scotland reaching net zero".
This is not a suggestion. This will be the government using coercion to reduce citizens' access to the roads. (That's the "fairer" part.) Employing the intimidation template used for Covid-19 and its vaccines, they will let public snitches and scolds police the dissent. As happened with Covid, the quaking Greta Thunberg media will fall in line.
The Scots are not alone among First World nations employing the heavy hand. (Ironically, Scotland is ancestral home of Adam Smith, the father of free-market capitaltiism, and David Hume, a prophet of personal freedom.) Far from it. Remember Australia's Tribute To Xi re-education camps, scooping up Covid-19 dissenters for sequestration in isolated barracks? This, in the sun-splashed, fun-loving Land Down Under?
Here in Justin Trudeau's Canada, punishment hotels were employed on returning citizens to keep the population suitably frightened. If a few truckers decided that health passports, ArriveCan and non-vaccinated pariahs were an affront to 150 years of Canadian tradition? Employ media stooges and the banks to get them back in line. Get the RCMP to show weapons caches that had nothing to do with the border crossings. Dissemble.
For a nation as large as Canada Trudeau knows that restricting car mileage is impractical. So he cleverly does the next best thing. Jack the rate of tax as a climate devotional. Restrict fossil fuel consumption with the felicitously named Carbon Tax. Drive up the price of gas till citizens are forced onto crappy subways and buses to be preyed upon by junkies and mental patients.
The Liberal plastics-elimination program announced by former Greenpeace stuntman Stephane Guilbault is typical. When finally cornered on specious evidence that the road to hell in paved with plastic straws, the minister had to concede no such evidence actually exists beyond a few NGO websites. No matter. It seemed right and re-directed the sheeple to more snitching and signifying on CBC. It's all done in the sacred name of climate, but the real goal is control of the government/ corporate nexus. Facts no longer matter.
It was all so easy-peasy. And if a few eggs were broken in making this omelette? The memory hole will seal up behind it. Novak Djokovic will be invited back to play tennis and pretend-normal will resume. Having established this new standard for abuse, we must nows pretend that all those police busting churches and barbecue joints was a hallucination.
As Matt Taibbi writes, the past six or seven years, "has been like being trapped in a fugue state, where reality is kaleidoscopic, memory is elusive, and moments of clarity sometimes more jarring than reassuring. To be reminded of what we were told day after day for years, after being trained to forget, is like waking from an unpleasant dream, prompting thoughts like, "Did that really happen?"
A perfect example of this disorientation is Leana Wen, the New York Times health reporter who'd led the charge on every form of Covid panic. Confirming data that would have gotten others banned 18 months ago she now tells CNN we've been vastly overcounting COVID deaths, outlining the crucial distinction between deaths "with COVID" and deaths "from COVID." Duh.
As Taibbi describes: "… the pandemic was reported not as a collective problem to be solved, but a horror movie to be passively experienced. This is a media approach we see deployed in a variety of issues from fake news to 'sonic weapons', one that trains frightened audiences to endorse extreme solutions and outsource thinking to authorities."
In case the frightened relent, there will be poisoned comebacks for what passed as normal since the Schwabians declared The Reset. Currently the U.S. Department of Justice is attempting to restore the CDC airline mask mandates that roiled the Excited States for two-plus years. This despite president Joe Biden, the document king, declaring Covid over last summer.
Still, the midwits like Chrystia Freeland and camp followers like Tony Blair and John Kerry keep flocking to the Davos CEO carnival. And what does WEF achieve worldwide— other than attract the fashionable and fatuous? Dilbert creator Scott Adams charts a WEF success story:
"They watched Norway create a fund, took credit for the work of members, mobilized coalitions, bragged about the work of signatories, teamed with others, signed a compact to develop a framework which will allow the measurement of a long-term approach, agreed to six principles, and endorsed a plan. How would the planet survive without all of that?"
How indeed in the tourist haven of East Germany? Ein prosit!
Sign up today for Not The Public Broadcaster newsletters. Hot takes/ cool slants on sports and current affairs. Have the latest columns delivered to your mail box. Tell your friends to join, too. Always provocative, always independent. https://share.hsforms.com/16edbhhC3TTKg6jAaRyP7rActsj5
Bruce Dowbiggin @dowbboy is the editor of Not The Public Broadcaster A two-time winner of the Gemini Award as Canada's top television sports broadcaster, he's a regular contributor to Sirius XM Canada Talks Ch. 167. Inexact Science: The Six Most Compelling Draft Years In NHL History, his new book with his son Evan, was voted the seventh-best professional hockey book of all time by bookauthority.org . His 2004 book Money Players was voted sixth best on the same list, and is available via http://brucedowbigginbooks.ca/book-personalaccount.aspx