April 30th: Premier Kenney releases Alberta's Relaunch Strategy
From the Province of Alberta
Below is the full release and information on Alberta's phased relaunch plan
Alberta's safely staged COVID-19 relaunch
A phased relaunch will put Albertans' safety first as we gradually reopen closed businesses and services and get people back to work.
"I'm confident Albertans will approach relaunch with the same adaptability and resilience they have shown throughout the COVID-19 pandemic. We will move forward together with care and common sense, knowing tough times are still ahead. We will support and protect vulnerable Albertans and keep them safe as we build our province back up one stage at a time." Jason Kenney, Premier
It is because Albertans have acted responsibly, respecting public health advice, that we have been able to limit the spread of COVID-19, keep localized outbreaks within the capacity of our health-care system, and now take the first incremental steps to reopen some businesses and services.
Early actions
The plan to move forward requires careful and ongoing monitoring and respecting all guidelines outlined by the chief medical officer of health:
Alberta Health Services will resume some scheduled, non- urgent surgeries as soon as May 4.
Dental and other health-care workers, such as physiotherapists, speech language pathologists, respiratory therapists, audiologists, social workers, occupational therapists, dieticians and more, will be allowed to resume services starting May 4, as long as they are following approved guidelines set by their professional colleges.
Recognizing the role that access to the outdoors and recreation in the outdoors plays to Albertans' sense of well- being, access to provincial parks and public lands will be re- opened using a phased approach, beginning with:
Vehicle access to parking lots and staging areas in parks and on public lands opening May 1.
Opening a number of boat launches in provincial parks on May 1 and working to have them all open by May 14. Check albertaparks.ca for the status of boat launches.
Government is working hard to make campsites available as soon as possible, with the goal to have as many open as possible by June 1 so Albertans can enjoy our parks while adhering to current health orders. At this time, sites are open to Albertans only. Check albertaparks.ca for updates.
Group and comfort camping will not be offered. Campground facility access restrictions to areas such as showers, picnic and cooking shelters will also be posted to albertaparks.ca.
Alberta Parks' online reservation system will be available May 14 to book site visits beginning June 1. Out-of-province bookings will not be processed.
No washrooms or garbage pickup will be available within provincial parks at this time. These services will be available as soon as Alberta Environment and Parks brings staff back. These seasonal positions represent an important opportunity for Albertans to secure employment during challenging economic times.
Fire bans in parks, protected areas and the Forest Protection Area remain in place.
No off-highway vehicle restrictions are currently in place. Local restrictions may be required if the risk for wildfires increases.
Private and municipal campgrounds and parks can open with physical distancing restrictions, under their own local authority.
Golf courses can open on May 4, with restrictions including keeping clubhouses and pro shops closed. On-site shops and restaurants can open in stage one, consistent with other businesses and retailers.
Requirements to move to next stage; Additional restrictions will be lifted in stages when safe.
Before we move to stage one, several safeguards will be put in place:
Enhancing our nation-leading COVID-19 testing capacity at the highest level in Canada.
Robust and comprehensive contact tracing, aided by technology, to quickly notify people who may have been exposed.
Support for those who test positive for COVID-19, to enable isolation and effectively contain the spread.
Stronger international border controls and airport screening, especially for international travellers.
Rules and guidance for the use of masks in crowded spaces, especially on mass transit.
Maintaining strong protections for the most vulnerable, including those in long-term care, continuing care and seniors lodges.
A rapid response plan is in place in the event of possible outbreaks of COVID-19. This includes outbreak protocols to quickly identify close contacts in order to stop spread, making testing widely available including testing those without symptoms in outbreak settings, and providing temporary housing for isolation and other necessary supports for anyone at risk.
Physical distancing requirements of two metres will remain in place through all stages of relaunch and hygiene practices will continue to be required of businesses and individuals, along with instructions for Albertans to stay home when exhibiting symptoms such as cough, fever, shortness of breath, runny nose, or sore throat.
"There are signs that our collective efforts of physical distancing, good hygiene practices, and staying home when advised are helping to slow the spread. However, we must guard against complacency and be patient to ensure the sacrifices we have already made to contain the virus are not wasted by carelessness as we gradually reopen businesses and services." Deena Hinshaw, chief medical officer of health
Further opening in stages
Progress to Stage 1 will occur once health measures are achieved to the satisfaction of the government based on the advice of the chief medical officer of health, as early as May 14.
Stage 1 highlights:
With increased infection prevention and controls, to minimize the risk of increased transmission of infections, some businesses and facilities can start to gradually resume operations as early as May 14:
Post-secondary institutions will continue to deliver courses, however how programs are delivered – whether online, in-person, or a blend – will be dependent on what restrictions remain in place at each relaunch phase.
The use of masks will be strongly recommended in certain specific crowded public spaces, like mass transit, that do not allow for physical distancing (two metres apart).
Still not permitted in stage 1:
Gatherings of more than 15 people. (Gatherings of 15 people or fewer must follow personal distancing and other public health guidelines.)
Arts and culture festivals, major sporting events, and concerts, all of which involve close physical contact.
Movie theatres, theatres, pools, recreation centres, arenas, spas, gyms and nightclubs will remain closed.
Visitors to patients at health-care facilities will continue to be limited.
In-school classes for kindergarten to Grade 12 students.
Recommendations:
Non-essential travel, especially travel outside the province, is not recommended.
Remote working is advised where possible.
Stage 2 highlights:
Timing of this stage will be determined by the success of Stage 1, considering the capacity of the health-care system and continued limiting and/or reduction of the rate of infections, hospitalization and ICU cases.
Will allow additional businesses and services to reopen and resume operations with two metre physical distancing requirements and other public health guidelines in place. This includes:
Potential kindergarten to Grade 12 schools, with restrictions.
More scheduled surgeries, including backlog elimination.
Personal services, such as artificial tanning, esthetics, cosmetic skin and body treatments, manicures, pedicures, waxing, facial treatments, massage and reflexology.
Permitting of some larger gatherings (number of people to be determined as we learn more about the levels of risk for different activities) in some situations.
Movie theatres and theatres open with restrictions.
Visitors to patients at health-care facilities will continue to be limited.
Still not permitted in stage 2:
Nightclubs, gyms, pools, recreation centres, and arenas will remain closed.
Arts and culture festivals, concerts, attendance at major sporting events and other mass gatherings will continue to not be permitted.
Recommendations:
Non-essential travel is not recommended.
Stage 3 highlights:
Timing of this stage is to be determined based on the success of stages 1 and 2 and will involve:
Fully reopening all businesses and services, with some limited restrictions still in place.
Permitting larger gatherings (number of people to be determined).
Permitting arts and culture festivals, concerts and major sporting events with some restrictions.
Permitting nightclubs, gyms, pools, recreation centres and arenas to reopen with restrictions.
Resuming industry conferences with restrictions.
No restrictions on non-essential travel.
Quick facts
Relaunch stages will also include an evaluation and monitoring period to determine if restrictions should be adjusted up or down. Triggers that will inform decisions on the lessening or tightening of restrictions include hospitalizations and intensive care unit (ICU) occupancy.
Confirmed cases and rates of new infections will be monitored on an ongoing basis to inform proactive responses in localized areas of the province.
Decisions will be applied at both provincial and local levels, where necessary. While restrictions are gradually eased across the province, an outbreak may mean that they need to be strengthened temporarily in a local area.
Faith-based organizations are an essential part of the lives of Albertans. They continue to be able to practice, subject to public health direction, including mass gatherings and physical distancing. Government is working with faith-based organizations to learn from past outbreaks and provide guidance related to specific practices including singing and other traditions to ensure safety while supporting social connection.
More features om www.todayville.com
United Conservatives jump out to early lead in tight Alberta election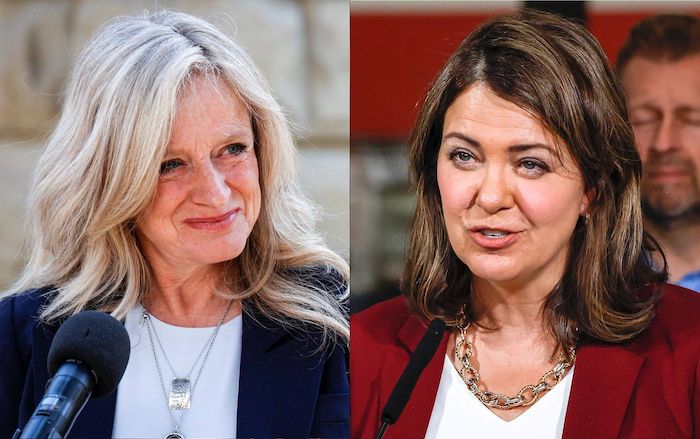 By Dean Bennett
Alberta's United Conservative Party jumped out to a lead over the NDP in early returns Monday in what was forecast to be a tight race in the provincial election.
Danielle Smith's UCP was holding strong in its traditional rural strongholds while Rachel Notley's NDP was faring well in Edmonton, where it won all but one seat in 2019.
Early results were still mixed in the key battleground of Calgary.
The UCP is seeking a second mandate while the NDP is fighting to regain the majority government it lost to the UCP in 2019.
Polling have suggested a close contest between the two parties, with support for smaller parties falling off.
Advance polls set a record of 758,540 votes cast, eclipsing the previous record of more than 700,000 in 2019.
The campaign has taken place alongside a record-breaking spring for wildfires in Alberta. Ten communities were under evacuation orders Monday.
Elections Alberta set up alternate voting locations for those displaced. Evacuation was added as an eligible reason to vote by special ballot and mobile voting stations were placed in evacuation centres.
Calgary has been seen as the campaign's battleground and half of the top 10 advance polling stations were in that city. Two were in Edmonton suburbs.
To win, the NDP would have to continue its dominance in Edmonton, flip the majority in Calgary and hope for some help in smaller cities, while defeating scores of UCP incumbents including cabinet ministers.
The NDP needs to swing 20 seats in the 87-seat legislature.
The UCP won 63 seats under then-leader Jason Kenney in 2019 to 24 for Notley's NDP.
Polls suggest the UCP should continue its near total domination in rural areas and smaller centres, giving it a cushion of up to 40 or so seats to reach the 44 needed to form a majority government.
The month-long campaign has been dominated by the economy and health care.
Albertans are struggling with high costs for consumer goods, a shortage of family doctors and long waits in emergency rooms.
Smith has promised to keep Alberta the lowest-tax regime in Canada.
Her government, she says, would introduce a law to mandate a referendum before any personal or corporate income tax hikes. There would also be tax changes to benefit those making more than $60,000 a year, at a cost of $1 billion annually to the treasury.
The NDP promised to maintain Alberta's status as Canada's lowest tax regime. It pledged to end the tax on small businesses and raise the corporate income tax to 11 per cent from eight per cent, which it says would help pay for investments in health and education while keeping the books balanced and maintaining the lowest corporate rate in Canada.
The NDP also promised legislation to counteract UCP policies that hiked the cost of utilities, auto insurance, a range of fees and tuition.
Both leaders promised to preserve the publicly funded health system while creating more primary care teams — physicians accompanied by related specialists such as nurses and therapists — so more Albertans are able to access a family doctor and not clog emergency wards for care.
Polls showed trust was a key issue, with Notley viewed more favourably than her party and vice versa for Smith.
Smith was dogged during the campaign by past comments she made comparing those who took the COVID-19 vaccine to credulous followers of Adolf Hitler. A report also came out mid-campaign from the province's ethics commissioner that concluded Smith undermined the rule of law by pressuring her justice minister to end the criminal court case of a COVID-19 protester.
This report by The Canadian Press was first published May 29, 2023.
Police looking for these 3 suspects after Super 8 Motel in Innisfail robbed early Monday morning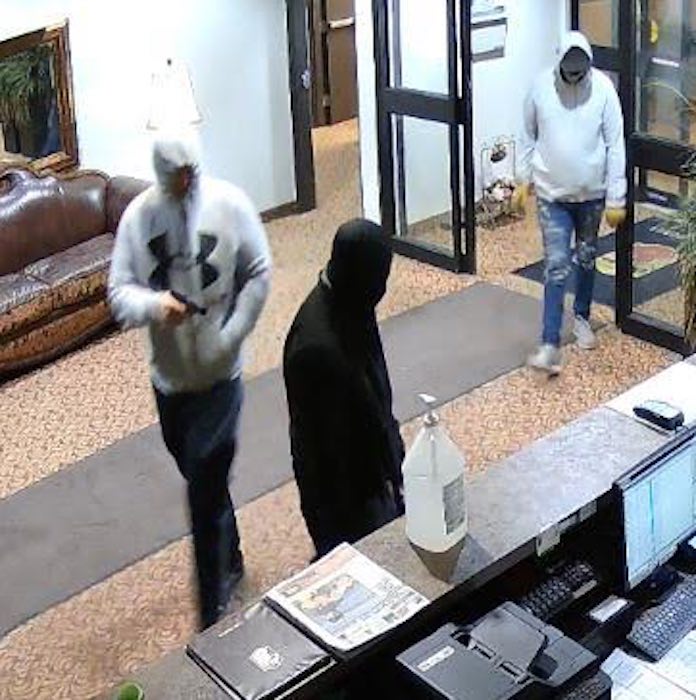 Innisfail RCMP investigate robbery
Innisfail Ala. – On May 29, 2023, at approximately 4:10 a.m., the Super 8 motel in Innisfail was the victim of an armed robbery. Three male suspects entered the hotel, two of which had firearms. Money was demanded from the manager. All three left the motel in a vehicle which is described as:
Chevrolet Dura Max truck
Sliver
Lifted
The suspects are described as:
Suspect #1: Caucasian male, tall and muscular. Wearing jeans and a grey Under Armour hoody. He was carrying a pistol.
Suspect #2: Caucasian male, short. Wearing all black. He was carrying a sawed off shotgun
Suspect #3: Caucasian male tall with a chubby belly. He was wearing a grey hoody, jeans and a black ball hat.
If you have information about this incident, please call the Innisfail RCMP at 403-227-3341 or call your local police. If you want to remain anonymous, you can contact Crime Stoppers by phone at 1-800-222-8477 (TIPS), by internet atwww.tipsubmit.com, or by SMS (check your local Crime Stoppers www.crimestoppers.ab.ca for instructions).