Urging political action, Cafe Owner Chris Scott instructs tens of thousands of followers to bring down Premier Kenney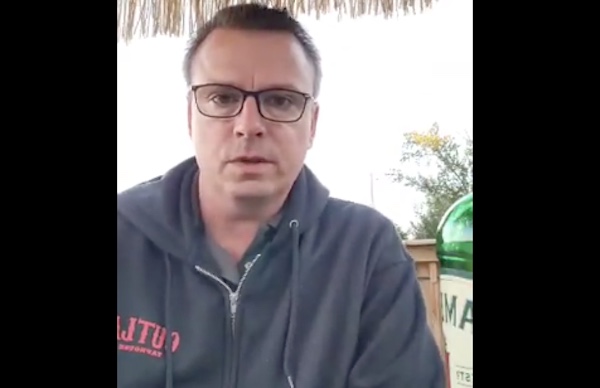 Shortly after Premier Kenney announced the latest covid 19 restrictions, a frustrated Chris Scott took to social media to vent and to urge Albertans to get politically active.  Chris Scott, owner of The Whistle Stop Cafe in Mirror may be a small town cafe owner, but he commands a huge audience of over 45,000 followers on Facebook.   Many of them are politically active.  Many others soon will be.  That's if they take on the challenge from Scott who urged all Albertans to get involved with Alberta's Conservative party and influence the local Constituency Associations to start a movement to close this chapter of Premier Kenney's political life, the way the Premier will undoubtedly be closing another round of businesses who won't survive this next round of mandates.
To see what else Chris Scott is up to, click here to see the Whistle Stop Cafe Facebook Page.
Regulator lays charges against Tidewater Midstream for acidic water release
CALGARY — The Alberta Energy Regulator has laid charges against Tidewater Midstream and Infrastructure Ltd. for a release of acidic water in west-central Alberta.
The regulator says the release occurred in Oct. 2019 at Tidewater's Ram River sour gas processing plant near Rocky Mountain House. 
It says the acidic water flowed into a nearby creek.
Calgary-based Tidewater has been charged with 10 violations under the Environmental Protection and Enhancement Act, including releasing a substance to the environment that caused or may have caused an adverse effect. 
The regulator also alleges that Tidewater failed to report the release of the acidic water as soon as possible, and failed to take all reasonable measures to repair and remedy the spill.
Tidewater is scheduled to appear in court on Dec. 8 in Rocky Mountain House.
This report by The Canadian Press was first published October 21, 2021.
Companies in this story: (TSX:TWM)
The Canadian Press
Alberta's top doctor says COVID-19 cases receding but vigilance needed at Halloween
EDMONTON — Alberta's chief medical officer of health says COVID-19 case numbers in the province continue to recede.
But Dr. Deena Hinshaw cautions that the hospital situation remains precarious given the high number of patients.
And she says Albertans can't afford to let up on health restrictions, particularly with Halloween coming up.
There were 770 new cases of COVID-19 Thursday for a new total of 10,434 active cases.
There were eight more deaths, bringing that total to 3,014.
Alberta Health Services says there are 912 people in hospital with COVID-19, and that 201 of them are in intensive care.
Alberta remains under gathering restrictions for indoor and outdoor events, and Hinshaw says it's important to stick to those limits at Halloween.
Hinshaw urged those setting out candy for trick or treaters to not use bowls, but to set out the candy spaced apart on a surface like a blanket.
She says those who want to have a Halloween party should consider a small gathering of vaccinated people.
"This is not the year for large Halloween parties," Hinshaw said.
"If you're planning a Halloween gathering try to have it outdoors and make sure the limit of no more than 20 people is observed."
Hinshaw noted that last Oct. 31 there were 5,600 active COVID-19 cases, about half the current total. There were 141 people in hospital with the illness a year ago.
Alberta continues to battle a fourth wave of the pandemic.
It has more than doubled the normal number of 173 critical care beds and has had to cancel thousands of non-urgent surgeries to handle the surge.
Opposition NDP Leader Rachel Notley says with winter coming and COVID-19 still circulating, the province needs to provide stable funding to social agencies for winter emergency shelters.
"All people deserve to live in dignity and have a safe place to call home," said Notley. "These calls are urgent. It's getting cold outside, and our northern winter will be here soon."
This report by The Canadian Press was first published Oct. 21, 2021.
The Canadian Press