Trudeau's Pandemic Accord: Selling Canada By The Pound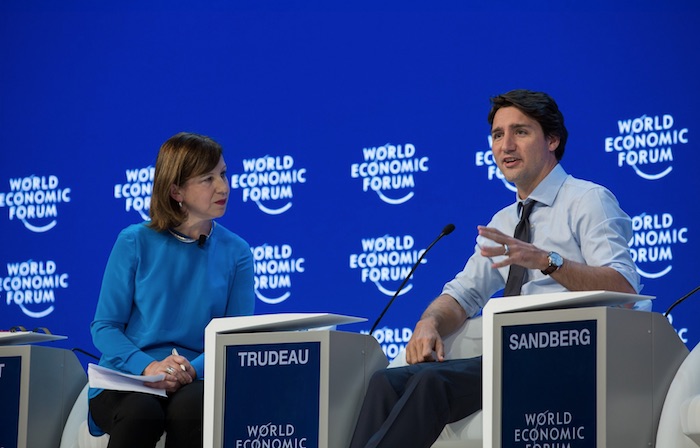 "The #PandemicAccord process is at the very beginning of a multiyear Member State led negotiation, which will only be finalised in 2024 after multiple public hearings around the world. And all voices will be heard"–@DrTedros WHO
Some are born great. Some have greatness thrust upon them. Then there's Justin Trudeau, the Trust Fund Fruit-Loop. You know you're out of your depth. Worse, you know that everyone else knows you're out of your depth. You know that they know you have a resumé thinner than consommé. You have multiple skeletons hidden back at the ski chalet. They only want you for your name.
So what do you do to win respect? You rent yourself out to the fashionable, the witty wind therapists, the glib retainers of the media. The unelected armies of NGOs and Davos cowboys who live off free money and private jets. The positively furious grad-school Marxists.
"Make me into a man," cried Pinnochio. "Not this wooden son of Margaret Trudeau that I am now." So his handlers got to the work of making chicken salad from chicken… er, stuff.
Making the Pinocchio conversion much easier was how a tattered Liberal Party, the party his father had helped to crater, was looking around for something, anything, to retrieve their hustle from the dread Stephen Harper. So Trudeau literally threw himself into the arms of the calculating Cape Breton fixer Gerald Butts and a coterie of Kinsey-style influencers and leeches.
Using Justin's coming-out performance as the sobbing son at Papa Pierre's casket, they put him on a trajectory to dominate Instagram and eTalk. The urban hives of Vancouver, Toronto, Ottawa and Montreal were tired of apologizing to their progressive pals elsewhere for a leader who wore sans-a-belt pants and gloried in policy. The Hill Media Party wanted someone with a little sizzle.
His fixers' only instruction? "Shut you mouth and keep your hands to yourself." This proved difficult for Justin. But an acquiescent media corps buried his sexual faux pas faster than Hunter Biden burying his meth lab.
So Justin boxed the hapless Patrick Brazeau to firm up his macho bonafides. He did cupcake photo apps with his soon-to-be-estranged wife in glossy U.S. periodicals. He stopped openly dreaming of the Communist Chinese government model. Voilà. Trudeau the Younger won the prize.
Ensconced as PM, Justin resorted to his entitled past, taking free trips from the Aga Khan, getting jiggy with a female reporter, calling off the Mounties' investigating Quebec's SNC Lavalin. And sucking up big time to the global elites by destroying Canada's energy industry. Always protected by media he'd paid off in advance.
To make up for lost Liberal seats in future elections he recruited the hapless Jagmeet Singh and his NDP faculty club into a non-aggression pact. He was free to embrace all the fashionable frippery of the Woke radicals. With another term— and Singh— in hand it came time last fall to pay off his real constituents: the Reset Regime. The suits who give him gravitas. Luminaries such as WEF honcho Klaus Schwab, who bragged at having "penetrated" Trudeau's cabinet.
Enter the WHO's wildly ambitious Pandemic Accord. Never heard of it?
According to WHO director-general Dr. Tedros, the Chinese puppet running the WHO, the Pandemic Accord is an urgent project. "The last few years have taught us about our own collective fragility and the threat to economies and security of not working together… The essence of the proposed #PandemicAccord is to improve cooperation, coordination, and the sharing of data, information, biological materials and lifesaving tools."
If you're looking to parse that word salad, rest assured that the Pandemic Accord will not be consulting local knowledge the next time a virus rolls through. It will be "one size fits all" lockdowns, vaccines and travel restrictions mandated in Europe. And the funding for the Accord will be a sinkhole, not unlike the current UN.
(If you're thinking this surrender of sovereignty is just a Justin thing, 154 other sheep nations have also signed up for this "1984" tribute. Australia's PM Scott Morrison sums up the enthusiasm for Covid Kool-Aid on the pandemic treaty: "The WHO should have those powers and authorities," he announced. For an intellectual non-entity like Trudeau this is a train he needs to get on board. He'll get to hang with the big guys.)
Now if you haven't heard of the Pandemic Accord, you're not alone. Because it has the power to upset naïve citizens, the arrival of this monstrosity has been covered up by the war in Ukraine. Wondering if the Bono was why Trudeau kept flying to Ukraine? In part, yes.
But he was also meeting with European leaders and global financiers about the Accord and handing over sovereignty to unelected suits. And how he can get a piece of the action when he leaves the PMO. You didn't know his stint as PM was simply a job application to hanging with the globalist crowd? What are you, a trucker? Shame on you.
While Skippy is burnishing his CV in Europe, in his home province the Quebec government has decided now is the time to squeeze non-Francophones again. "Bill 96 would impose tougher language requirements on small businesses and companies in federally regulated industries, such as banking and telecommunications, as well as governments and schools.
If passed, companies with 25 employees or more would be subject to "francization" — government certification that use of French is generalized in the workplace — down from 50 currently. The bill also assigns new powers to the French language watchdog and sets tighter language rules for professional orders.
The cost for a roughly 50-employee company would range between $9.5 million and $23.5 million, according to estimates from the Canadian Federation of Independent Business. The bill is expected to pass before the legislature breaks for the summer."
It'll all be fuelled by a snitch culture that turns neighbours against each other and on companies. To help Premier François Legault navigate any legal or Charter issues, the PM has said they'll move the deck chairs so it can pass without a problem.
But that and soaring gas prices is all just a sideshow for Trudeau. The big action— and respect— lies in Europe. And he can't wait for you to give him a lucrative send-off.
Bruce Dowbiggin @dowbboy is the editor of Not The Public Broadcaster (http://www.notthepublicbroadcaster.com). The best-selling author was nominated for the BBN Business Book award of 2020 for Personal Account with Tony Comper. A two-time winner of the Gemini Award as Canada's top television sports broadcaster, he's also a regular contributor to Sirius XM Canada Talks Ch. 167. His new book with his son Evan Inexact Science: The Six Most Compelling Draft Years In NHL History is now available on http://brucedowbigginbooks.ca/book-personalaccount.aspx
The Cooler: Harper Attempts To Pacify CPC Over Poilievre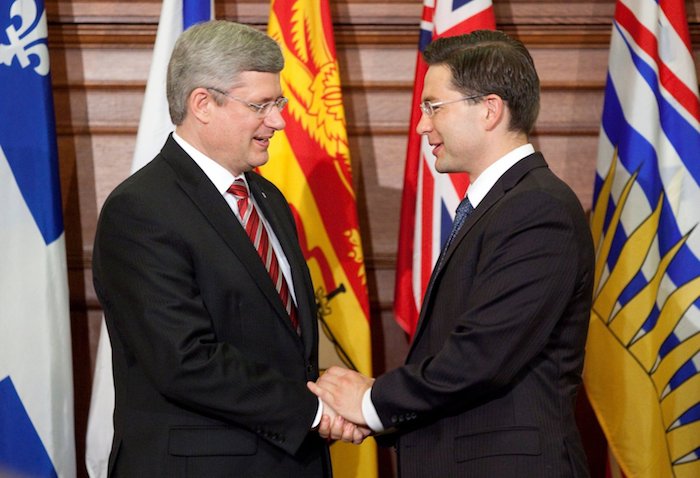 As demons go, Stephen Harper always left something to be desired. While the media and his political opponents painted a picture of a diabolical schemer bent of hoarding power, Harper mostly bored ordinary Canadians. For all the strenuous efforts of newsrooms and chat rooms tapping him as Trump, The Harp lacked a certain je ne sais quoi when it came to ruthless maniacs.
So the sudden re-appearance last month of Canada's previous PM to throw his support to Pierre Poilievre in the Conservative Party leadership race took on a sinister tone with the usual suspects. Harper's brand of lukewarm western populism was taken out for another thrashing. CBC typically quoted a Dutch political scientist Hans Mudde as saying, "Populism presents a Manichean outlook, in which there are only friends and foes." Etc.
In truth it is likely Harper emerged from the business of making money to bless Poilievre's massive lead in the CPC leadership for several reasons. The most obvious is that he recognizes the inevitability of Poilievre's win and wishes to deny the media an electoral horse race orgy till September.
But mostly it is to signify that despite the Toronto Star and CBC's histrionic protests, Poilievre will be a populist more in Harper's own image than that of Donald Trump. He only appears radical to the pearl clutchers of urban Toronto.
You can understand why the Family Compact is agitated by Poilievre. With their Golden Boy Justin Trudeau imploding and Poilievre talking about removing the Bank Of Canada governor and stripping CBC of funding, this threatens to get out of their control. Not even the RCMP can bail out Justin now. Harper's benediction is meant to still that radicalism in the mind of Tory voters.
But as we wrote on May 22, 2022, Poilievre himself is unafraid to thrash about in the Trumpian waters. He's rejecting further debates, walling himself off from the Trudeau-funded media. "Poilievre has channelled the voters' disgust with Trudeau and the Ottawa status quo epitomized by the Trucker Convoy. That disgust includes the grandees of his own party who foisted Scheer and O'Toole on the nation .
Their 2022 candidate is the well-worn place holder Jean Charest, failed Conservative and tainted Liberal premier of Québec from 2003 to 2012. Charest's policy chest sounds like a throwback to the days when language battles and Québec sovereignty were the burning issues. He's pro-choice, and he knocks PP for supporting the Truckers.
In the (first) debate, Poilievre did not spare Charest. "Now, Mr. Charest learned about the trucker convoy on CBC like other Liberals… He believes I should be cancelled from this leadership race, and disqualified, his words, because I don't share his Liberal viewpoint."
"That is the kind of cancel culture and censorship that you would expect from Justin Trudeau, but instead we're getting it from this liberal on this stage." He then slammed Charest on his Quebec Liberal party's alleged acceptance of illegal donations during his time as Québec premier. And his ties to Huawei. "The average trucker has more integrity in his pinky finger than you had in your entire scandal-plagued Liberal cabinet,"
It was red meat for frustrated Conservatives who finally see a champion in the manner of Florida governor Ron DeSantis, a tiger who won't back up in the face of Andrew Coyne huffing and puffing about nasty truckers. It resounds with Conservatives who refuse to accommodate themselves to a Liberal reality.
Naturally this brought out the Conservatives version of Charlie the Tuna. They want Tories with good taste, not Tories who taste good. They're appropriating all the Donald Trump derangement beloved by Canadian pack Media.
"Yesterday's debate was embarrassing for our party," said CPC leadership candidate Scott Aitchison. "The fighting, yelling and screaming. The partisan cheap shots at fellow Conservatives. We will never win another election if this is how we talk to each other and Canadians."
Yeah. Because all the "fighting, yelling and screaming" is why Canadians refused to vote for Scheer and O'Toole. Erstwhile Ontario leader Patrick Brown, who took a powder in the debate, also played the Stop Shouting card. "After watching the debate, I can't help but wonder: how can any of these candidates expect to unite our party and expand our Conservative coalition if they're already adopting a scorched-earth approach?"
Reform Party founder Preston Manning also demurred. "Stay away from the personal attacks that only poison the party well and reinforce the public's negative perception of party politics."
Have these people noticed that, while the CPC plays rock/paper/scissors, the Liberals are waging drone war on them? Like Republicans— who talk tough and then support Democrats sending g $40 B in untraceable money to Ukraine— the CPC has a credibility problem.
They want to win the government. To do so they need to penetrate southern Ontario and urban areas of Montreal and the Lower Mainland B.C. The leaders of the party— prompted by the Hill press corps— insist that you can beat Trudeau by using a feather duster on him.
Poilievre— a bilingual Alberta product who represents an Ottawa riding— dares to disagree. (He says he would fire the Bank of Canada governor if elected prime minister). He's willing to go over the heads of the CBC chattering class and Liberals pollsters who offer unwanted advice such as: "Conservatives must ask themselves if they are falling victim to the ease of stoking and selling the politics of anger," says pollster Tim Powers.
The outcome of a Poilievre leadership may be another schism between Reform elements and establishment Ottawa TV panel figures. But Poilievre's attitude in the face of Trump phobia will remain much like the irascible John Diefenbaker who blew out of the West in 1957, defying the status quo, to win the PMO twice. In the face of blowback from those quivering at Liberal omnipotency Dief opined, "You can't stand up for Canada with a banana for a backbone."
Bruce Dowbiggin @dowbboy is the editor of Not The Public Broadcaster (http://www.notthepublicbroadcaster.com). A two-time winner of the Gemini Award as Canada's top television sports broadcaster, he's a regular contributor to Sirius XM Canada Talks Ch. 167. Inexact Science: The Six Most Compelling Draft YearsIn NHL History, , his new book with his son Evan, was voted the eighth best professional hockey book of by bookauthority.org . His 2004 book Money Players was voted seventh best, and is available via http://brucedowbigginbooks.ca/book-personalaccount.aspx
See No Evil, Hear No Evil: We've Been Here Before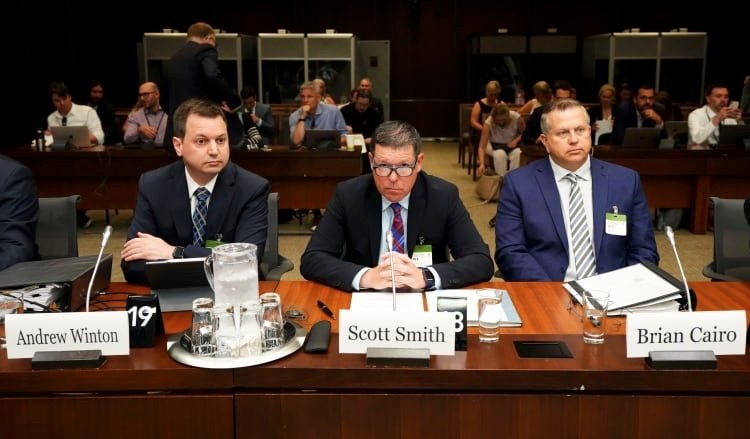 Sign up today for Not The Public Broadcaster newsletters. Hot takes/ cool slants on sports and current affairs. Have the latest columns delivered to your mail box. Tell your friends to join, too. Always provocative, always independent.
The news from the Hockey Canada sexual scandals keeps getting uglier. Sponsors are abandoning an organization thought beyond reproach just a year ago. Politicians are roasting HC executives. The IIHF is to determine whether it should withdraw tournaments from Canada till the mess is cleaned up. And the NHL is fretting that it houses sexual assault suspects— some big stars— from as far back as 2003.
The current parliamentary hearings over the 2018 WJHC champions have made HC toxic— its women's team is expressing disgust with the organization. that represents them. The story is hampered by the fact that nothing has been proven or even alleged by police. The process has existed in a world of non-disclosure agreements and allegations and media distortions of the facts. (We're told there are videos of the incident yet no one in the Ottawa hearings seemed to mention them.)
Faced with the uncertainties and player refusals to cooperate Hockey Canada threw up its hands and paid off the complainant. The public is baffled. Who are the players involved? Who is innocent? Who is guilty? What is the evidence? Why did this stay hidden? How did Hockey Canada miss so badly?
So far the picture is opaque. Can we ever believe in the sports body again? Currently hockey is being used as a metaphor by all sorts of political actors to push narratives about male privilege and social inequality. What has been consistent is the excellent reporting (again) of TSN's Rick Westhead and Katie Strang in The Athletic. Their dogged research and courage in exposing these stories is exceptional.
What's also consistent is the tardy response of the mainstream hockey press that is now finally coming around to this story. There are hundreds of reporters and media outlets that seem to cover everything that moves in the sport. Yet a story that implicates the names of the current Conn Smythe winner and other young NHL stars— without vindicating them— is festering.
It's not the first time in recent memory. In June of 2021— when sexual assault allegations on the 2010 Stanley Cup champion Chicago Blackhawks emerged— we asked, "Most damning is where were the dozens of hockey "insiders" in the media during this time? The people we are told have their ear to the ground on all things happening in the league? Why did it take till 2021 for Rick Westhead (TSN) and Katie Strang (The Athletic) to unearth the poorly hidden story during the NHL's postseason semifinals.
Isn't this the same media that swore it would never ignore this sort of story— no matters how much it hurt friends and sponsors— when the Graham James and Dave Frost stories emerged? Aren't these the same networks that went wall-to-wall on the earlier stories when they surfaced, trying to make up for their negligence about sexual abuse in hockey during the past?
Sadly, the hockey media culture is the same one we encountered in the 1990s when, along with Carl Brewer, Sue Foster and Russ Conway, we exposed the corruption between the league and NHL Players Association director Alan Eagleson on a range of subjects from player pensions to collective bargaining to Canada Cup fraud.
That story had lain dormant for a generation despite the repeated calls by Brewer for investigations into the cozy relationship between the league and Eagleson. Media with NHL sponsorships or broadcast deals would rather have eaten glass than reported what they saw.
Thanks to the digging of Conway, Foster and CBC Toronto the truth emerged in the mid 1990s. Eagleson was convicted of fraud and NHL president John Ziegler was replaced by Gary Bettman. A familiar pattern then ensued. When the facts (about James or Frost) became too hard to deny the negligent media put on the hair shirt, condemning corruption and vowing to never allow its negligence to happen again.
Later, they grew even tighter with the people they covered, inking enormous broadcast deals or sponsorship contracts that have drawn them ever closer to hockey power centres.
The NHL (went) into omertà mode when asked how it countenanced the alleged behaviour of Chicago team management in ignoring a sexual predator and then giving him a letter of recommendation. Stan Bowman, the son of NHL Hall of Fame member Scotty Bowman, is not answering questions yet. But as general manager of the U.S. Olympic men's hockey program for 2022 he will have to offer some explanations if he's to keep the post. [he's since been removed from both posts.]
Former Montreal Canadiens GM Marc Bergevin, who was a Chicago player at the time, says, "I was not part of any meeting & I was not part of any decision & I was not aware of what was going on at the time. You can go on the record with that." Done.
One would like to take the league and their snoozing media at their word that they will do better in covering these abuse stories in the past. Sadly, there is little reason to believe this contrition after so many false starts in the past."
As we are seeing, the false starts continue.
Bruce Dowbiggin @dowbboy is the editor of Not The Public Broadcaster (http://www.notthepublicbroadcaster.com). A two-time winner of the Gemini Award as Canada's top television sports broadcaster, he's a regular contributor to Sirius XM Canada Talks Ch. 167. Inexact Science: The Six Most Compelling Draft YearsIn NHL History, , his new book with his son Evan, was voted the eighth best professional hockey book of by bookauthority.org . His 2004 book Money Players was voted seventh best, and is available via http://brucedowbigginbooks.ca/book-personalaccount.aspx