The Great Reset doesn't care if you believe it exists and Canada is on the front line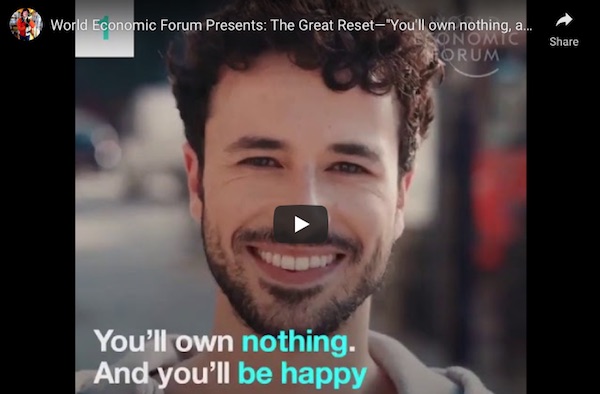 If you're among the many people (can is possibly be the majority?) who still believe The Great Reset is an unfounded conspiracy theory, this article is for you.
The Great Reset 'conspiracy theory' has been around for years. If you don't know what it is, here's a brief explanation. It basically submits that some of the world's wealthiest and most powerful people are using some of the world's largest companies (which they own) as well as many of the world's richest nations (which they run) to execute a plan to completely change the way our society works (which they don't like very much). The theory is, these people who refer to themselves as "the elite" are planning to cripple the power of nation states and concentrate that power in a world governing body (like the World Economic Forum). This new powerful "elite" would exercise control over everyone, everywhere. They will completely change our supply chains, our economic systems and our energy systems in an effort to unite the world to protect the environment. There's more to it, but that gets in most of the main points.
So this is the "theory". But is there a "conspiracy" around this?
According the the Merriam-Webster Dictionary 'conspiracy' means simply "The act of conspiring together". The Oxford dictionary spices that up a little. According to Oxford, 'conspiracy' means "A secret plan by a group of people to do something harmful or illegal". Seems like it's going to be easier to prove the Merriam-Webster version, but by the end of this article you'll see how the Oxford definition might just work as well.
When it comes to all of the people who are not actively conspiring to change the world, there are roughly four categories of understanding The Great Reset. Either you:
Have no idea there is a Great Reset
Accept there is a Great Reset, but doubt the ability and the organization of the people conspiring.
Accept there is a Great Reset, accept the ability of the conspirators, but either agree with their intentions, or at least not oppose their intentions due to your concern for a more fair economic system and an impending world devastating environmental disaster.
Accept there is a Great Reset, and oppose the intentions of the conspirators because you personally value individual freedoms above everything else.
Group 1 is huge. Recent US polling shows half of Americans aren't even aware of the Great Reset. It's not like the people behind the reset aren't writing and talking about it. It's just that at least half of Americans haven't seen them do it. That means we need to establish how it is possible in this age of information, that information of this magnitude is not being distributed to everyone. This part of my explanation is critical to understanding how very intelligent people can be completely unaware of information other people take for-granted.
It all comes down to this. We've all experienced the vast chasm of division and hatred in society of late. In this atmosphere of doubt and suspicion, there is really only one one thing in the entire world that absolutely everyone can believe in. President Donald Trump is a capital A a-hole. Even the "Don" would likely agree with that, right? But here's the thing. When the rude TV star began his stunning run through the primaries, the world quickly divided between those who backed Trump and those who absolutely despised the orange tsunami.
How did this happen? Well a very large number of people, many of them living in 'middle' America had had it with the quality of the people running, to run America. When a second Clinton announced a Presidential bid they collectively shouted NOOOO. Then they set out in search of the exact opposite of the establishment. They found it in an orange sun rise of vitriol, emerging over the high rises of Manhattan. When Donald Trump threw his hair, ehem.. his hat into the ring, they had their guy. It wasn't because of his experience, or that they believed he was ultimately qualified for the job. Trump's crowning quality was the exact thing most people hate about him. You see it was that massive, bulbous, all encompassing ego that was the key. Only someone with an ego this out of control would be capable of resisting and even going on the attack against the oncoming onslaught of opposition from the embedded establishment and the mainstream media who despise him with a passion.
Trump will likely claim differently, but he didn't invent divisiveness. The world was already moving in this direction. But like every huge event in history, it all starts with one bullet, one border crossing, and sometimes one very unusual Orange head of hair. Camps divided around Trump's blinding ego. Guess which side the establishment was on? Guess which side the media was on? Guess what this would mean to the distribution of information?
Personally, when the orange glow emerged from Manhattan I tuned out. Not understanding what was happening, I dismissed the orange storm as a weather system that would fizzle out when people got sick of it. I tuned out of mainstream media because I only had so much time for the gong show that was (and remains) the media coverage of the orange blowhard. This is what saved me. I had to go looking elsewhere for information. I would soon find there was more information here, and different takes on the information everyone 'knows'.
If you still depend on mainstream media you may not know or have time for an entire new world of information that has developed on the internet over the last few years. Comedians who used to turn to late night TV to analyze the daily news through humour (I understand they are still there), have turned to long form and as it turns out, extremely informing conversations in a series of compelling podcasts. They are joined by former media types and some pretty sharp up and coming minds. While their late night and daytime TV competition unite in their humorous hatred of all things Donald, these longer form conversations have tended to go deeper, due simply to the length of the presentation. Conversations often run past two and three hours, and "sound bites" are more like 5 to 15 or even 30 minute explanations of single issues. Yes it is wise to avoid a number of them, just like you would avoid a number of TV programs, but you dismiss many others at your own expense.
You don't need to agree with them to find them compelling. They are talking about events, people, and issues (including The Great Reset) you will not even find on regular mainstream media. It is not uncommon for these podcaster / interviewers to be covering topics that my friends who rely on mainstream media won't hear about for months, or even years. A great example of this is the Hunter Biden laptop. If you've been paying attention to this new online media, you'd have known about this since the fall of 2020. For those who rely on regular media, they only discovered the exact same information when it was finally confirmed by the New York Times in March of 2022. The fact they call this breaking news is hilarious (and disturbing) for those who read the original articles from the New York Post, about 20 months ago! Here's a link to a retrospective look at Biden laptop news from The NY Post from December 2020!
Now on to The Great Reset. If you haven't already clicked on the link in the fist sentence of this article here's another opportunity.
OK now at least you know The Great Reset is a real thing. So we move on to people who find themselves in group 2 which doubts that the Reset will ever amount to any actual resetting. This group would say these 'elites' live really far away, and they're probably harmless to us because it's not like they have any control over us. Not in our country. Well. That all depends on how far away you live from people like Canada's Deputy Prime Minister Chrystia Freeland. Canada's Deputy PM is also on the Board of Trustees of the WEF. If that's not a conflict of interest, they probably need to redefine conflict of interest. Don't take it from me. Take it from the founder of the World Economic Forum Klaus Schwab. (You mean the Klaus Schwab who researched, wrote, and published the book COVID-19: The Great Reset, less than 6 months after Covid-19 was a thing?.. Yes. that's the guy.) In this short video from way back in 2017 Schwab brags about the success of a WEF program called Young Global Leaders. In Schwab's own words, the WEF has "penetrated" Canada's federal cabinet. Sounds kind of conspiratorial.. and a little bit less like a theory when he says it.
If we want to know if this should be disturbing to us we need to know what Earth's elites are planning for us. Well the WEF was kind enough to tell us exactly what The Great Reset will mean to.. well.. the rest of us. This (in)famous video reveals just how different life will be for the average person by 2030. It doesn't say how "the elite" will live, though we can expect they'll have slightly different rules. Alas, I'm getting ahead of myself. Here's a list of the 8 things the WEF has been kind enough to let us know we need to prepare for by 2030. I understand this video originally came out in 2016. I first saw it in 2020. In five years it's been circulated widely. Though it's no longer featured on the WEF website, there are copies all over the internet.
Recap:
1) We'll own nothing. Ouch. (Obviously the elite will own everything and since they're smarter than us we'll be very happy to know they're taking care of us so well). It's being said by opponents of this idea that people who own a bit of land are perhaps the greatest risk to this environmental movement. It's bad for the environment for us to own property or even your own home. Especially because we decide what happens there. Do we keep animals? Do we cut down trees or burn around on recreation vehicles or inefficient farm machinery? All bad for the environment. All that will change.
2) The US will no longer be the world's superpower. (Hmmm… Don't these things often change after brutal wars?) Regardless instead of one superpower, there will be a few important nations. Wonder if that will make the world more secure, or less secure?
3) They plan to use 3D printers to make human organs (lucky for us).
4) We will not be allowed to eat meat very much anymore (cows and pigs and sheep are bad for the environment). Hey, speaking of conspiracies, I mean series of seemingly related facts that are probably just random.. Did you know Bill Gates is the largest private owner of 'farmland' in the United States? Not sure when the software magnate and WEF "Agenda Contributor" took up farming. I'm sure none of this is related to what Mr. Gates is going to allow us to eat in the future (nervous smile). Although Gates also happens to be a big investor in synthetic meat. Did I mention he's an 'agenda contributor' with the WEF?
5) One billion people in the world will have to move due to climate change (Not sure if that applies to the beach homes of the elite). (Also not sure why scientists and engineers will stop doing what they've always done and help us cope and adapt if conditions are changing quickly and significantly.)
6) Polluters will have to pay to emit carbon dioxide. We already know how this feels in Canada.
7) We will be prepared to travel in space (I'm ready to go now). The logic here is that the earth will be so ruined by us, that we better be prepared to go destroy an entirely different planet. What could go wrong?
Finally and maybe most disturbing of all..
8) Western Values will have been tested to the breaking point. Some probably like the sound of that. But in the history books I've read, when a society's values are tested "to the breaking point" that tends to look incredibly violent and warlike. (In my opinion number 8 is going to be really challenging to accomplish at the same time as the everybody will be happy part in number 1. Maybe that's why they put them so far apart in their list.). By the way, you have to wonder what they mean by "western values"? Is this finally being enlightened enough to turf Christianity and those silly laws that western societies adopted from those traditional religious beliefs. Can't wait to find out what the new traditions will be! This outta go over well (Imagine Jerry Seinfeld saying that.)
OK. If you don't find this a tad disturbing that might mean you are personally in favour of The Great Reset. It's still a free country so that's just fine with the rest of us. However the introduction video above is very much prior to the official launch of The Great Reset. That took place in the opening months of the Covid-19 pandemic. It would be better to judge how this is actually going to work by looking at how this New World Order (that's what they're calling it now) is unfolding. Now that the resetters have been resetting for about two years, how's it going so far? Here's a report from Glenn Beck. Glenn is a conservative pundit and broadcaster. If you follow the mainstream media you will know him as a radical far right conservative (and maybe a lunatic). If you don't see Beck through that filter you will acknowledge that he sometimes says very interesting things. Things like this. By the way, pay attention to the background behind the speakers at this "world government" conference. Then ask yourself if this group might be planning a new world order.
It's puzzling that the Canadian media doesn't give this any coverage. I guess there are simply more important things to talk about than whether our own federal cabinet is working in our interest or in the interests of really rich people who plan to OWN EVERYTHING in just a few short years. Oh this is probably nothing but you may have heard about the federal NDP party making a deal to secure the federal government right up to 2025. That party is lead by the guy who now is Co-Prime Minister Jagmeet Singh. Guess what?
Speaking of Canada. You may find this conversation between the British podcast sensation Russel Brand and Nick Corbishley interesting. Nick is the author of Scanned: Why Vaccine Passports and Digital IDs Will Mean the End of Privacy and Personal Freedom. As Canadians it is interesting to hear how people in other countries are seeing The Great Reset, and how Canadians are "world leaders". Yippee?
If you've managed to find your way through the longest article ever, you will certainly now be able to acknowledge The Great Reset or New World Order exists. The question now is, do you believe this is a good thing or do you think we should resist it as things were working pretty well before they launched this? We can get into that later. At the very least the massive number of people who dismissed the "conspiracy theorists" as slightly insane will see there is a reason many people are concerned. In the end, as all philosophers know we need to establish the facts, before we can decide whether we agree with them or not.
Finally my wise friend Garett reminded about the joke that's been circulating for many months now on social media. Every time it turns out another conspiracy theory was actually a conspiratorial fact, someone passes it around again. If you haven't seen it yet it might help with your outlook in the future. Goes like this. "What is the difference between a conspiracy theory and the truth? — About 6 months!"
Eye Protection Wasn't Misdirection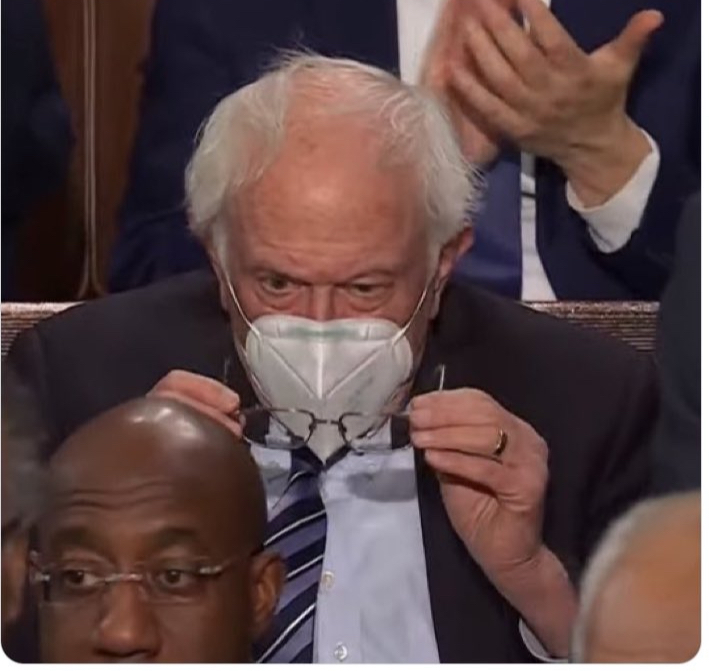 "If you have goggles or an eye shield, you should use it." ~ Anthony Fauci, July 30th, 2020
We had heard enough from Fauci by the time this comment was made in mid-2020 to begin automatically tuning out his frequently contradictory advice. What if we had given weight to this comment and explored why he began recommending goggles (yet never donned them himself)?
While I'm not surprised that the inner anatomy of the face including ocular ducts and connectivity within structures aren't common knowledge, I expected more of a reaction from the medical community regarding Fauci's push for eye protection. Not only do medical professionals take extensive coursework on human anatomy — they are required to meet annually with an Industrial Hygienist for fit tested, hazard-specific kit for each exposure setting , including ocular protection. This testing process requires going into detail about each exposure setting and required donning and donning practices within the scope of their professional duties.
Instead of elaborating on his recommendation, Fauci just publicly hushed on the issue and folks carried on, obediently masked up yet entirely neglectful of their nasolacrimal ducts. Shame, shame.
These are the structures of the lacrimal apparatus connecting ocular and nasal pathways. Basically, the eye drains into the nasal cavity. None of the talking heads of the medical community ever seem to bring up that these parts of the body connect with one another, and while we hear about masks ad nauseam three entire years after the onset of the SARS-CoV-2 pandemic, no one is arguing with strangers on the internet about goggles.
Bernie Sanders was recently praised for being the only person at the February, 2023 State of the Union donning a (sub-grade, non-mitigating) respirator, but eye spy something fishy. It was noted that he kept removing his glasses, as they were fogging up.
Those who have donned respirators have experienced that exhale emissions are generally redirected out of the nose bridge (or out of side gaps if improperly sealed). This is the exhale emission plume create by a fitted, unvalved N95 respirator:
This plume of warm, moist respiratory emissions is what causes glasses to fog. This is precisely why I continue to argue that masks are NOT source control for respiratory aerosols, because these apparatuses are not designed nor intended to protect others from your emissions, but solely for protection of the wearer. The ASTM agrees with me on this matter:
The American Society for Testing and Materials (ASTM) Standard Specification for Barrier Face Coverings F3502-21 Note 2 states, "There are currently no established methods for measuring outward leakage from a barrier face covering, medical mask, or respirator. Nothing in this standard addresses or implies a quantitative assessment of outward leakage and no claims can be made about the degree to which a barrier face covering reduces emission of human-generated particles."
Additionally, Note 5 states, "There are currently no specific accepted techniques that are available to measure outward leakage from a barrier face covering or other products. Thus, no claims may be made with respect to the degree of source control offered by the barrier face covering based on the leakage assessment."
So does it matter if your neighbor's exhale emissions are directed in your face for the duration of your 6-hour flight?
Absolutely. Imagine sitting between these two fine fellas with your eyes exposed, and their emission plumes directed right in your face.
In mitigation of aerosol hazards, eye protection is a standard part of required kit, because those from the correct domain of expertise, Industrial Hygiene, know enough about human anatomy to remember the interconnectivity of facial structures.
Ocular transmission of SARS-CoV-2
There has been a great deal of focus on respiratory protection since the start of the pandemic, but ocular transmission was already established for SARS-CoV-1.
"SARS-CoV-1 has been shown to be transmitted through direct contact or with droplet or aerosolized particle contact with the mucous membranes of the eyes, nose and mouth. Indeed, during the 2003 SARS-CoV-1 outbreak in Toronto, health care workers who failed to wear eye protection in caring for patients infected with SARS-CoV-1 had a higher rate of seroconversion."
We are beginning to see mounting research on ocular transmission for SARS-CoV-2 emerge, as well, traveling through the nasolacrimal duct from the eye, draining into the sinus cavity.
"There is evidence that SARS-CoV-2 may either directly infect cells on the ocular surface, or virus can be carried by tears through the nasolacrimal duct to infect the nasal or gastrointestinal epithelium."
"The nasolacrimal system provides an anatomic connection between the ocular surface and the upper respiratory tract. When a drop is instilled into the eye, even though some of it is absorbed by the cornea and the conjunctiva, most of it is drained into the nasal cavity through the nasolacrimal canal and is subsequently transferred to the upper respiratory or the gastrointestinal tract."
"SARS-CoV-2 on the ocular surface can be transferred to different systems along with tears through the nasolacrimal route."
Seldom did ocular exposure result in eye infection, while systemic infections occurred regularly. Ocular exposure cannot always be determined as the point of contact for this reason, as an eye infection does not always coincide with systemic infection.
The nasolacrimal duct is often discussed in ocular transmission research, but this is not the sole ocular transmission pathway discussed.
"There are two pathways by which ocular exposure could lead to systemic transmission of the SARS-CoV-2 virus. (1) Direct infection of ocular tissues including cornea, conjunctiva, lacrimal gland, meibomian glands from virus exposure and (2) virus in the tears, which then goes through the nasolacrimal duct to infect the nasal or gastrointestinal epithelium."
Additionally, research is being conducted on the usage of ocular secretions in transmitting SARS-CoV-2.
"Then here comes the question, whether SARS-CoV-2 detected in conjunctival secretions and tears is an infectious virus? Colavita et al inoculated Vero E6 cells with the first RNA positive ocular sample obtained from a COVID-19 patient. Cytopathic effect was observed 5 days post-inoculation, and viral replication was confirmed by real-time RT-PCR in spent cell medium. Hui et al also isolated SARS-CoV-2 virus from a nasopharyngeal aspirate specimen and a throat swab of a COVID-19 patient. The isolated virus not only infected human conjunctival explants but also infected more extensively and reached higher infectious viral titers than SARS-CoV."
According to this study, ocular secretions were highly infectious.
"The ocular surface can serve as a reservoir and source of contagion for SARS-CoV-2. SARS-CoV-2 can be transmitted to the ocular surface through hand-eye contact and aerosols, and then transfer to other systems through nasolacrimal route and hematogenous metastasis. The possibility of ocular transmission of SARS-CoV-2 cannot be ignored."
This paper also has a focus on aerosols coming into contact with ocular mucosa.
"Once aerosols form, SARS-CoV-2 can bind to the ACE2 on the exposed ocular mucosa to cause infection. In order to prevent aerosols from contacting the eye surface, eye protection cannot be ignored."
An additional area explored in this analysis discusses rhesus macaques wherein solely those inoculated through the ocular route became infected.
"If the ocular surface is the portal for SARS-CoV-2 to enter, where does the virus transfer after entering? An animal experiment reveals the possible nasolacrimal routes of SARS-CoV-2 transfer from the ocular surface. Five rhesus macaques were inoculated with 1×106 50% tissue-culture infectious doses of SARS-CoV-2. Only in the conjunctival swabs of rhesus macaques inoculated via conjunctival route could the SARS-CoV-2 be detected. Conjunctival swabs of the rhesus macaques that were inoculated via intragastric or intratracheal route were negative. Three days post conjunctival inoculation, rhesus macaques presented mild interstitial pneumonia. Autopsies showed that SARS-CoV-2 was detectable in the nasolacrimal system tissues, including the lacrimal gland, conjunctiva, nasal cavity, and throat, which connected the eyes and respiratory tract on anatomy."
An additional macaque study had similar findings.
"Deng et al. showed that SARS-CoV-2 infection could be induced by ocular surface inoculation in an experimental animal model using macaques. Although the researchers detected the virus in conjunctival swabs only on the first day after inoculation, they continued to detect it in nasal and throat swabs 1-7 days after the inoculation. Their findings demonstrated that the viral load in the airway mucosa was much higher than that in the ocular surface. They euthanized and necropsied one of the conjunctival inoculated-animals and found that the virus had spread to the nasolacrimal system and ocular tissue, nasal cavity, pharynx, trachea, tissues in the oral cavity, tissues in the lower-left lobe of the lung, inguinal and perirectal lymph node, stomach, duode-num, cecum, and ileum. They also found a specific IgG antibody, indicating that the animal was infected with SARS-CoV-2 via the ocular surface route."
While the nasolacrimal route is the primary focus in most current research, the blood-retinal barrier (BRB) is also discussed as a possible pathway.
"Once it reaches the ocular surface, SARS-CoV-2 could invade the conjunctiva and iris under the mediation of ACE2 and CD147, another possible receptor for SARS-CoV-2 on host cells. De Figueiredo et al described the following possible pathways. After reaching blood capillaries and then choroid plexus, the virus reaches the blood-retinal barrier (BRB), which expresses both ACE2 and CD147 in retinal pigment epithelial cells and blood vessel endothelial cells. Since CD147 mediates the breakdown of neurovascular blood barriers, the virus can cross the BRB and enter into blood."
RSV
There has been a push recently to bring back masks for Respiratory Syncytial Virus (RSV), especially in schools, as this pathogen largely impacts youth populations, yet ocular transmission is a proven method of infectivity for RSV.
In this paper, intranasal dosing of the given pathogen resulted in onset of illness for nearly all respiratory pathogens studied. It reviews transmission routes and minimum infective dose for Influenza, Rhinovirus, Coxsackievirus, Adenovirus, RSV, Enteric Viruses, Rotavirus, Norovirus, and Echovirus, including ocular transmission.
"The infective doses of rhinoviruses in the nose and eyes are thought to be comparable because the virus does not infect the eyes but appears to travel from the eyes to the nasal mucosa via the tear duct."

"Hall et al. (1981) investigated the infectivity of RSV A2 strain administered by nose, eye, and mouth in adult volunteers. They reported that the virus may infect by eye or nose and both routes appear to be equally sensitive. A dose of 1.6 × 105 TCID50 infected three of the four volunteers given either into the eyes or nose while only one out of the eight were infected via mouth inoculation, and this was thought to be due to secondary spread of the virus."

"RSV A2 had poor infectivity when administered via the mouth but was shown to infect by eye and nose and both routes appear to be equally sensitive to the virus."

"Bynoe et al. (1961) found that colds could be produced almost as readily by applying virus by nasal and conjunctival swabs as by giving nasal drops to volunteers."
Would masks save schools from RSV circulation? Most kids have robust immune systems, with a very, very small percentage of the youth population undergoing chemotherapy or taking immunosuppressives, who usually are not on campus for in-person learning. But for those seeming protection and in-person instruction, we must not set them up for immune bombardment by offering a false sense of security while feigning ignorance of other viable transmission routes. Masks are not the answer.
Summary
Ocular transmission of respiratory pathogens hasn't been a focal point of study, but with other pathogens and mounting research on SARS-CoV-2 showing such ease of systemic onset for this transmission route, more attention should be given to this area of research.
Consider all of the people you've seen donning masks or respirators over these past three years, assured in the merit of their virtue. How many still got sick? Did you ever once see someone donning goggles? Are we ever going to get around to discussing exhaustion of the hierarchy of controls, or are actual mitigating measures too taboo, too fringe?
TLDR: Ocular transmission is a viable method of transmission for SARS-CoV-2. Masks are not source control. Even N95s aren't going to fix this. And all child masks are unregulated, untested, unethical, and unsafe, with zero efficacy, fit, term of wear, or medical clearance standards, and with ocular transmission being a proven route of transmission for RSV, masks aren't going to fix that issue, either.
NHL: Everyone Wears The Ribbon Part Deux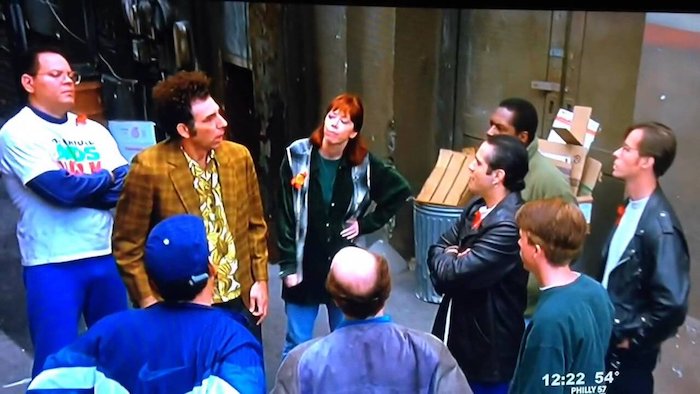 In the classic 1987 Seinfeld episode The Sponge, Kramer is harassed by AIDS Walk organizers for refusing to wear a ribbon as he walks in the event
VOLUNTEER: But you have to wear an AIDS ribbon.
KRAMER: I have to?
VOLUNTEER: Yes.
KRAMER: Yeah, see, that's why I don't want to.
VOLUNTEER: But everyone wears the ribbon. You must wear the ribbon!
KRAMER: You know what you are? You're a ribbon bully (walks away).
Kramer supports AIDS research, but he doesn't support meaningless symbols. So some aggressive AIDS walkers eventually track him down and beat him in an alley for not going along with the mob. Comedian and curmudgeon George Carlin summed up Kramer's resistance: "Religion is like a pair of shoes…..Find one that fits for you, but don't make me wear your shoes." But these days you must wear the shoes of the cool kids or suffer the consequences.
Naturally, progressives pushing their myriad causes fail to see the irony— even as they laugh at the skit. Since when was it a cultural crime that 100 percent of people don't agree on any position? You don't demand everyone eat meat, worship God or write with your left hand. Why do we demand unanimity on Woke catechism? But white- guilt liberals now look for any excuse for indignation.
The last group you'd have expected to adopt the You Must Wear A Ribbon tactic is the NHL. But no, the league that forgot Don Cherry is once again forcing its sanctity on players who dare to say "No, thanks" to wearing LGBTQ+2 sweaters as part of inclusivity promotions. This time San Jose goalie James Reimer said his Christian religious beliefs preclude him from taking part in their costume drama.
Needless to say the cascade of "homophobia" and "intolerance" cries from the AIDS walkers… er, the LGBTQ+2 media lobby… came down on Reimer's head. His team and the league huffed and puffed about their virtue, but, thankfully, declined the calls for Reimer to be perp-walked to centre ice. Social media was another story, insisting he wear the ribbon.
Here's what we wrote in January, the last time the NHL virtue soldiers jammed their holiness down other people's throats over a Philadelphia Flyer who said, "Nyet". "As Canada's Justice Minister in the 1960s, Pierre Trudeau articulated the essence of liberal tolerance with his "government has no place in the bedrooms of the nation". Sixty years later, PET's son Justin would like to amend that to "the government has no place in the bedrooms of the nation— unless those people are saying nasty things about me."
What once was a proud definition of liberty has transformed into a confidence game run for the Woke elite and its friends in the Media Party. Example this week: The Philadelphia Flyers— in keeping with their conversion to ESG colossus— staged a Gay Pride night. As part of the promotion they wore rainbow-coloured jerseys in warmup.
All except Ivan Provorov, who is Russian Orthodox. His religion is not slack-jawed with Progressive awe at same-sex marriage. So (while he wished no one ill), he refused to join the parade. Cue the Church ladies of the sporting press. "Adam Proteau: Ivan Provorov has the right to any opinion he chooses. And we have the right to have any opinion on Ivan Provorov that we choose. Like this: he's a shameful human being whose homophobia is only going to get more shameful over the years."
Fine. Then answer this: If an NHL team held a Christian night, and players were forced to wear jerseys with a crucifix, would you defend a player who opted out because of his conscience? Or would you go full Proteau and say he's a "shameful human being whose religious intolerance is only going to get more shameful over the years"?
No one in the chattering class wants to take that on, of course. They don't see that rights that work for them also must work for people they consider heretics… Meanwhile, the unwashed mass… responded with their wallets. Provorov jerseys sold out on the NHL Shop and Fanatic."
But your elites want everyone to wear the ribbon. Or take a vaccine. Or wear a mask. Or, in the case of this December column, the NHL announcing it's now a non-binary league. "… the NHL's sudden conversion to trans orthodoxy is also highly instructive on how deep the tentacles of this ideology have attached themselves in ordinary culture. The NHL? Men-as-women playing against biological women? Until this radical chic agitprop thrust itself to the fore the last few years this was unthinkable for the NHL or its fans. Laughable. Fantastical.
But now you have a league HQ embedded in the heart of Manhattan— where the global media, business and arts community have already succumbed to the intimidation of cultural blackmail. The NHL's sponsors, suppliers, broadcast partners and just plain neighbours have also taken the Trans Kool Aid. At some point the NHL's surrender must have seemed inevitable— even for a league that asks its employees to never back down to bullies.
Seeing Bettman— who has epitomized stubborn resistance in his denial of the science of CTE brain trauma— crumble before the forces of approved speech is instructive to those who think this leaky scow can still be turned around quickly. Or that the forces of objective media might raise a whimper about being."
Media so embedded in its own vanity it hurts. "Sticks and stones may hurt journalists' bones but names are first-degree murder. So save a prayer for poor Mr. Bettman. He held out longer than some before accepting the white guilt hemlock. Having known his desire to be the longest-serving commissioner in history he's probably now wishing he'd quit his job three seasons ago. Because he'll never wash away his cisgender privilege now."
It's telling that the thought police have made organized religion an underdog. James Reimer wanted nothing more than to be left alone with his Christian beliefs. In 2023 that is enough to get you cancelled.
Sign up today for Not The Public Broadcaster newsletters. Hot takes/ cool slants on sports and current affairs. Have the latest columns delivered to your mail box. Tell your friends to join, too. Always provocative, always independent. https://share.hsforms.com/16edbhhC3TTKg6jAaRyP7rActsj5
Bruce Dowbiggin @dowbboy is the editor of Not The Public Broadcaster A two-time winner of the Gemini Award as Canada's top television sports broadcaster, he's a regular contributor to Sirius XM Canada Talks Ch. 167. Inexact Science: The Six Most Compelling Draft Years In NHL History, his new book with his son Evan, was voted the fifth-best professional hockey book of all time by bookauthority.org. His 2004 book Money Players was voted sixth best on the same list, and is available via http://brucedowbigginbooks.ca/book-personalaccount.aspx