Three quarters of Albertans are double vaccinated. Province launches third booster shot.
Vaccine eligibility expands, milestone hit
More than 75 per cent of eligible Albertans are now fully immunized against COVID-19 while thousands more Albertans are now eligible for a third COVID-19 vaccine dose.
Starting Oct. 6, Albertans age 75 and older and First Nations, Inuit and Métis people age 65 and older can begin booking for a third dose at least six months after their second dose.
Acting on the recommendations of the Alberta Advisory Committee on Immunization, Alberta is one of the first provinces in Canada to offer third doses of vaccine to these age groups. Older Albertans, along with those who are immunocompromised or in seniors supportive living, are receiving third doses because of their increased risk of hospitalization, death or other severe outcomes from COVID-19.
Health officials will continue to monitor all emerging evidence on vaccine effectiveness across Canada and around the world.
"We are pleased to offer additional protection for those Albertans who are most at risk of serious illness from COVID-19. Getting fully vaccinated is not only important to help protect yourself and others, but is also vital to protecting our health-care system."
"We know that COVID-19 can be especially dangerous for our older populations and continue to do everything we can to keep them safe. Over three-quarters of eligible Albertans are now fully immunized. I encourage everyone to think of their family, friends and neighbours and get fully vaccinated as soon as possible."
"The data shows that seniors may experience waning immunity approximately six months after their second dose. A third dose will be beneficial for our elderly population to ensure they have the best protection from COVID-19 as we move through this fourth wave. At this time, the evidence does not support a need for additional doses for the general population, but we continue to monitor the data and will adapt as new evidence emerges."
Double dose milestone hit
Currently, 75.1 per cent of eligible Albertans are fully vaccinated against COVID-19 after receiving two vaccine doses.
In addition, 84.5 per cent of eligible Albertans have received at least one dose. More than 500,000 first, second and third doses have been administered since Sept. 3.
All eligible Albertans are strongly encouraged to get fully vaccinated soon as possible to protect themselves, their families and their communities.
Albertans eligible for third doses
In addition to Albertans aged 75 and older, and First Nations, Métis and Inuit people aged 65 and older, third doses are available for seniors living in congregate care. These individuals are at the highest risk of severe outcomes and potential spread within congregate living sites, and will receive their doses on-site.
A number of immunocompromising conditions also qualify for an additional dose at least eight weeks after a second dose. For a full list, visit alberta.ca/vaccine.
Additional mRNA doses are also available to Albertans who are travelling to a jurisdiction that does not accept visitors who have been vaccinated with Covishield/AstraZeneca or mixed doses.
Anyone in the general population who receives a complete two-dose COVID-19 vaccine series can be confident that they have strong protection against severe illness and hospitalization due to COVID-19.
Booking a third-dose appointment
Eligible Albertans aged 75 and older and First Nations, Metis and Inuit persons living off-reserve can book appointments for third doses at participating pharmacies and physician clinics by using the booking system at alberta.ca/vaccine. Albertans can also call 811, participating pharmacies or participating physicians' offices, or find a community pharmacy providing walk-in vaccinations.
Individuals aged 65 and older who live on a First Nations reserve will be able to access third doses through local public health clinics on-reserve.
If you are deemed ineligible due to your age, or six months has not passed since receiving your second dose, you will be asked to re-book when eligible.
Outdoor gathering restrictions
To reduce the spread of COVID-19, an updated public health measure will apply to all outdoor private social gatherings effective Oct. 6:
Outdoor private social gatherings are limited to a maximum of 20 people, with two-metre physical distancing between households at all times. This is a decrease from the previous limit of 200 attendees.
All other previously public health measures remain in place at this time.
Additional information on all the public health measures is available at alberta.ca/covid19.
A look at Alberta Premier Danielle Smith's new cabinet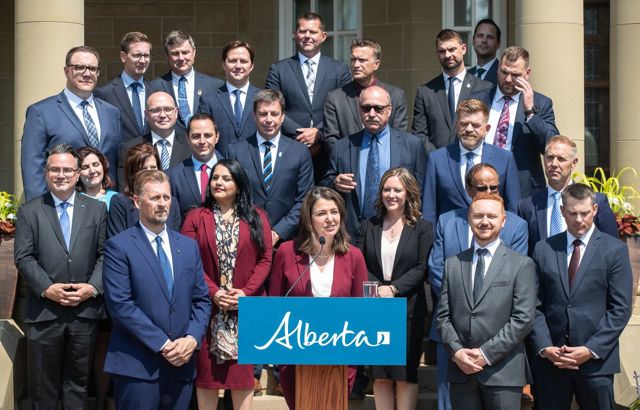 Premier Danielle Smith introduced her cabinet Friday, the second one since taking over as United Conservative Party leader in October. Here are the changes at a glance:
Second in command: Mike Ellis retains his Public Safety and Emergency Services portfolio but is also now deputy premier.
Big promotions: Mickey Amery moves from Children's Services to Justice; Nate Horner moves from Agriculture and Irrigation to Finance; Adriana LaGrange already had a heavyweight title in Education but now takes on enormous responsibilities in Health.
New faces: RJ Sigurdson joins cabinet for the first time in Agriculture and Irrigation; Searle Turton is new in Children and Family Services; Dan Williams gets his first cabinet seat in Mental Health and Addiction.
Returning vets: Jason Nixon, the environment minister and government house leader under former premier Jason Kenney, is back in cabinet handling the Seniors, Community and Social Services post. Ric McIver, dropped from Smith's first cabinet, returns in his old job of Municipal Affairs. Muhammad Yaseen, a former associate minister of immigration, now has full cabinet rank as minister of Immigration and Multiculturalism; Tanya Fir, former economic development minster under Kenney, is back in Arts, Culture and Status of Women portfolio.
Same faces, new jobs: Rebecca Schulz (Environment and Protected Areas), Brian Jean (Energy and Minerals), Nathan Neudorf (Affordability and Utilities), Joseph Schow (Tourism and Sport), Demetrios Nicolaides (Education), Rajan Sawhney (Advanced Education), Matt Jones (Jobs, Economy and Trade), Peter Guthrie (Infrastructure).
Same faces, same jobs: Nate Glubish (Technology and Innovation), Dale Nally (Service Alberta and Red Tape Reduction), Devin Dreeshen (Transportation and Economic Corridors), Todd Loewen (Forestry and Parks).
This report by The Canadian Press was first published June 9, 2023.
Alberta Premier Danielle Smith shuffles familiar faces into new cabinet roles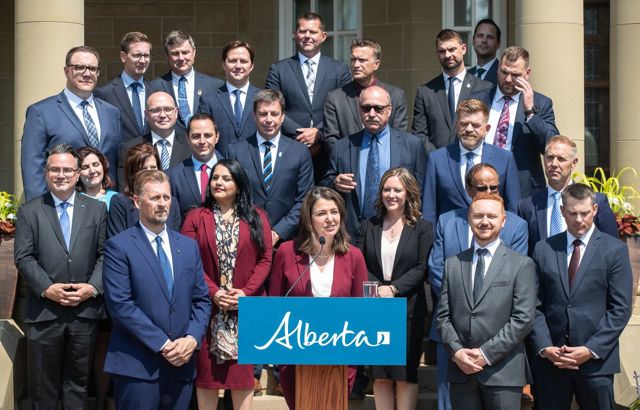 Alberta Premier Danielle Smith introduced her new cabinet Friday, shuffling familiar faces, tinkering with some titles, keeping former leadership rivals close while welcoming back two exiled political veterans.
Smith's 25-member team – down from 27 in her first cabinet last fall – were sworn in during a ceremony at Government House.
"I am so pleased to have this team working with me to deliver on the promises we made to Albertans during the election," Smith said in a news release.
"These are not just our government's priorities, they are Albertans' priorities. The next four years start today, and I can't wait to get back to work with each of my cabinet colleagues."
Nate Horner has been tapped to lead Finance, Mickey Amery takes over in Justice and Adriana LaGrange moves to Health from her old job in Education.
Brian Jean, Rajan Sawhney, Todd Loewen and Rebecca Schulz — all contenders in the United Conservative Party leadership — return to Smith's cabinet table.
Jean will head up Energy and Minerals, Sawhney takes over Advanced Education and Schulz is to lead Environment and Protected Areas.
Loewen returns in the newly renamed Forestry and Parks job.
Smith lost a lot of cabinet experience when veteran ministers retired or were defeated in last month's election. Two returning stalwarts, Jason Nixon and Ric McIver, were dropped from Smith's original cabinet Oct. 24 but are back at the table.
Nixon is in charge of Seniors, Community and Social Services. He was the top lieutenant to former premier Jason Kenney, serving as government house leader and Environment minister. After Kenney quit and Smith took over, Nixon was still viewed in caucus as part of the discredited Kenney administration and was moved to the backbenches.
McIver, with a decade of experience in the legislature under multiple portfolios, is back in his old job of Municipal Affairs.
Other cabinet ministers are also back with big promotions.
Amery, with no cabinet experience until Smith appointed him Children's Services minister last year, takes a big leap forward to Justice.
One of three lawyers in Smith's 48-member caucus, Amery inherits a controversial portfolio. He is the fifth person to hold the job in the last four years under the UCP.
One former UCP justice minister, Kaycee Madu, was found to have tried to interfere in the administration of justice by calling up Edmonton's police chief to complain about a traffic ticket.
Last month, the province's ethics commissioner concluded Smith sought to undermine the rule of law by pressuring Amery's predecessor, Tyler Shandro, to drop a criminal case against a protester at a U.S. border blockade.
LaGrange's Health job is viewed as critical, as Smith pledged to reduce wait times for emergency care and surgeries and to make changes to ensure more Albertans can see a family doctor.
Horner, who earned plaudits for his work in Agriculture and Irrigation, will have to navigate keeping Alberta's books balanced while also finding money to pay for a $1-billion-a-year tax reduction pledge promised by Smith.
Demetrios Nicolaides effectively switches classrooms, moving from Advanced Education to Education.
Matt Jones moves from Affordability and Utilities to the new Jobs, Economy and Trade.
Rick Wilson returns as Indigenous Relations minister. With Nicolaides and LaGrange switching portfolios, he is the only minister named in Kenney's original 2019 cabinet to be in the same job four years later.
Mike Ellis has emerged as a key lieutenant to Smith. The former Calgary police officer returns in the Public Safety and Emergency Services portfolio but is also her deputy premier. He is expected to play a pivotal role in Smith's promised legislation to force addicts into treatment as a last resort.
Devin Dreeshen stays in place as minister for Transportation and Economic Corridors.
Calgary member Tanya Fir's roller-coaster political career is back on the upswing, heading to the newly renamed Arts, Culture and Status of Women ministry.
Fir was part of the Kenney's original cabinet as Economic Development minister, but was dropped from cabinet, brought back in as a Jobs minister only to be dropped by Smith in October.
The Status of Women portfolio is also back on the rise after falling from a cabinet portfolio to an associate ministry under Kenney, then out of cabinet altogether under Smith.
Smith has said because the NDP took all 20 Edmonton seats in the election, she will rely more on cabinet ministers Nate Glubish, Dale Nally and Searle Turton, who represent constituencies near the capital.
Glubish remains in Technology and Innovation and Nally stays as minister for Service Alberta and Red Tape Reduction.
Turton, a second-term member, gets his first cabinet job in the renamed Children and Family Services ministry.
Nathan Neudorf is no longer deputy premier or Infrastructure minister, taking over Affordability and Utilities.
Peter Guthrie moves from Energy to Infrastructure.
Joseph Schow returns as government house leader and as minister for the new Tourism and Sport position.
Calgary backbencher Muhammad Yaseen, previously an associate immigration minister under Kenney, attains full cabinet rank as minister for Immigration and Multiculturalism.
Dan Williams, a second-term MLA, gets his first shot in cabinet with Mental Health and Addiction.
RJ Sigurdson gets his first cabinet assignment, taking over from Horner in Agriculture and Irrigation.
The job titles remain the same for the most part with some slight revisions. Loewen, for example, loses the Tourism responsibility from his old job.
The Jobs, Economy and Northern Development portfolio has dropped Northern Development and will add in Trade responsibilities instead.
The Seniors title, dropped last fall by Smith, returns in Nixon's new job.
The Skilled Trades and Professions portfolio has been dropped all together.
There is still no dedicated Labour ministry.
The government is set to return to the house in October and faces a large 38-member Opposition NDP that, along with sweeping Edmonton, took a big bite out of UCP support in Calgary.
The NDP now represents more than half the seats in Calgary.
Smith's caucus will also be further reduced.
While the UCP won 49 seats in the election, Smith said newly elected Lacombe-Ponoka member Jennifer Johnson is not welcome in caucus given her public comments late last year comparing transgender students to feces in cookie dough. Johnson will sit as an Independent.
UCP member Nathan Cooper is expected to return as Speaker, meaning Smith's team will have an even slimmer majority in the 87-seat legislature.
This report by The Canadian Press was first published June 9, 2023.