The PM Who Tells "Made-Up" Stories To The World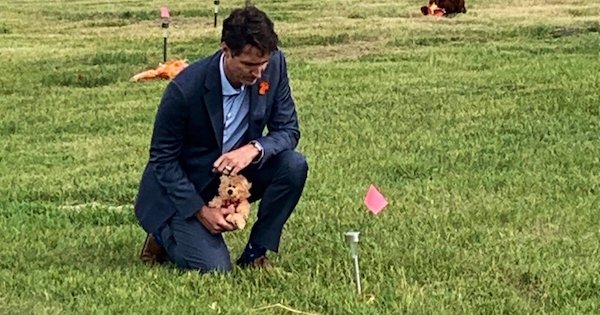 Here's a pro tip for Erin O'Toole if he wants to become PM. Promise you will never, under any circumstances, fly the flag at half mast on Canada Day.
Seems like a no-brainer, right? Well, not if you're Justin Trudeau in the throes of white liberal guilt over residential schools. On July 1 he ordered that the national colours be taken to half-mast to honour the rez children who he said had recently be "discovered" in unmarked mass graves.
To emphasize the "perfidy" of the people who'd abandoned these children to the cold earth the trust-fund product posed, head bowed, with a teddy bear at a Saskatchewan cemetery. This was to underline the message he'd been pitching for years to the international community: Canada had executed a genocide on the native peoples of Canada. His nation was inherently evil.
That's the way his paid-off media pals saw it, too. In the papers and on electronic media there were anguished calls for criminal charges, investigations of the Catholic Church. The suddenly uncovered "mass graves" (sudden to them at least) were proof of denying the past. Woke Toronto journalists competed for who could damn the killers of the Rez kids, who'd supposedly been murdered and dumped in shallow graves behind the school at midnight.
David Butt, a Toronto criminal lawyer writing in the Globe and Mail, claimed "The discovery of thousands of unmarked graves of Indigenous children on the sites of former residential schools…looks and smells like criminal activity." Activist firebrand Robert Jago said anyone questioning the validity of his own genocide allegations should be considered equivalent to "Holocaust denial" and punished as a hate-speech purveyor.
International media— pumped by Canadian activists— jumped at the story, too. Here's the UK Independent headlining "mass graves" being discovered and hinting darkly that TB deaths at rez schools wasn't accidental.
Just one problem. The 751 graves in Saskatchewan are well known and may contain white families, too, says Cowessess First Nation band member Irene Andreas . "There is no 'discovery' of graves. We buried our dead with a proper funeral. Then we allowed them to Rest In Peace…To assume that foul play took place would be premature and unsupported.
"All your elders have knowledge of every grave. The Band office has records from the Bishop's office, the Church board and from cemetery workers who were in charge of digging graves and burials… So please, people, do not make up stories about residential school children being put in unmarked graves. No such thing ever happened."
In his brilliant analysis of the evidence that Trudeau and Singh hype, Hymie Rubenstein (who taught and wrote about Indigenous and other cultures at the University of Manitoba for 31 years) says there has never been verified proof of even a single child killed in the century-plus the residential schools operated. No name, no body, no second-hand witnesses.
Furthermore, the sobering death rates of Rez children were in line with the terrible mortality rates for children from all causes in the years the schools were employed from 1870-2000 . (For example, researchers found that all the Alberta native children waiting for entrance into residential schools in 1912 carried TB.)
As for the charge of secretive burials, children who attended the schools testified to having attended Christian burials for children who died. There was no disrespect in their burials. On the the issue of "unmarked graves', native bands rarely marked graves after mourning the dead both young and old. That's if they marked them at all. Chief Joe Pierre of the ʔaq'am in Cranbrook, explained, "Graves were traditionally marked with wooden crosses and this practice continues to this day in many Indigenous communities across Canada. Wooden crosses can deteriorate over time due to erosion or fire which can result in an unmarked grave."
No matter. Trudeau is happy to foment international rage against the Church and the politicians of the day if it helps him get re-elected in September. His teddy-bear stunt served to deflect from his abject failure on the indigenous-peoples file and his high-profile firing of Kwak'wala member Jody Wilson Raybould as his justice minister. As always he knew a sympathetically curated media lie would be around the world before the facts (in Churchill's words) could ever get their pants on. His purchased press would see to that.
The man who wants another mandate as PM so he can vilify Canada to the world has plenty of political cover. The NDP leader Jagmeet Singh, the bespoke socialist, visited the Saskatchewan cemetery to claim, "This is a crime of genocide, the worst crime possible. And what we need to do is prosecute it like a crime." Looking to create an election issue he demanded an independent prosecutor.
There is bad news for Singh's pandering demand that charges be laid now using modern ground-penetrating technology. Kisha Supernant of the University of Alberta explained to the National Post, "What the ground-penetrating radar can see is where that pit itself was dug, because the soil actually changes when you dig a grave." But bodies or evidence of foul play? As Supernant notes, the technology "doesn't actually see the bodies (or coffins). It's not like an X-ray."
The final and most damning charge levelled by Trudeau and the radicals against their own nation is that of genocide. That from 1867- present Canada conceived and perpetrated a slaughter on the order of the Nazi Holocaust (1940-45) or the Armenian massacre (1915-17) or the Rwandan mass killing of Tutsis (1994). Despite the fervent support of progressive media they have fallen short.
According to the UN Convention's formal post-1948 commentary, "To constitute genocide, there must be a proven intent on the part of perpetrators to physically destroy a national, ethnical, racial or religious group. Cultural destruction does not suffice." The Truth and Reconciliation Commission's Final Report, in 2015, tried hard to equate the treatment of natives in residential schools with genocide, before settling for the legally inert term cultural genocide, one Trudeau, Singh and the Canada haters immediately abridged to genocide.
While that has spurred radicals to destroy the name and statues to John A. Macdonald, the facts don't support a charge of genocide against him and successive government. As Rubenstein points out, "Macdonald quadrupled Ottawa's native budget to deal with the crippling Western famine in the early 1880s. This event was caused by the collapse of the Prairie bison herds, an outcome over which Canada had absolutely no control; nonetheless, Macdonald mustered substantial government resources to meet the challenge.
"Consider also that Ottawa successfully vaccinated almost the entire native community against smallpox at great expense and effort, virtually wiping out this highly contagious killer among a people with no natural immunity to the disease." Hardly sounds like the actions of a government intent on genocide.
This led Irwin Cotler, chair of the Raoul Wallenberg Centre for Human Rights and former Minister of Justice and Attorney General of Canada, to note, "If we say everything is a genocide, then nothing is a genocide."
Certainly the pain and tragedy felt by many Rez school children was real. And their treatment in regards to cultural and language issues, in the fullness of time, looks unacceptable by today's standards. Like the 100,000 British Home Children shipped to Canada in the same era to work as indentured slaves to farmers and others— often against their parents' wishes— there are many unknown graves of those who didn't survive. It is a period we devoutly wish we had to do over again.
But the memories of those children are stained by the self-serving political theatrics of today's politicians who seek to run a country they're spent years denigrating to the world. Remember on September 20 that a vote for Trudeau and Singh is a vote for those who exploit innocent dead.
Bruce Dowbiggin @dowbboy is the editor of Not The Public Broadcaster (http://www.notthepublicbroadcaster.com). The best-selling author of Cap In Hand is also a regular contributor to Sirius XM Canada Talks Ch. 167. A two-time winner of the Gemini Award as Canada's top television sports broadcaster, his new book Personal Account with Tony Comper is now available on http://brucedowbigginbooks.ca/book-personalaccount.aspx
Could AI Make Yesterday Into Today For Culture, Sports & Politics?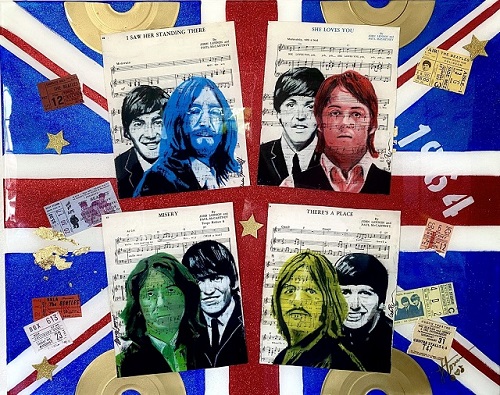 On a recent trip to the Fredericton Playhouse to see PEI's splendid The East Pointers we couldn't help but notice amongst the coming attractions an appearance by the Glenn Miller Orchestra. As far as we know, Miller disappeared over the British Channel in 1944 on his way to play a concert for the troops post D-Day.
Since then a succession of people have carried his musical heritage under the Miller name. Most of them have joined Miller in the great bandstand in the sky. It is safe to say that the number of people who heard anything by Miller himself live are virtually nil. Still, someone is still buying tickets to hear A String of Pearls, Pennsylvania 6-500, Chattanooga Choo-Choo and In The Mood.
Perhaps it was serendipity but seeing that Miller was still a thing came shortly after the arrival of a final Beatles song "Now and Then". It's not as long ago as the final Glenn Miller original cut, but "Now and Then" is the first original Beatles music since the 1970s. Which is when this lacklustre John Lennon composition was born from a demo cut by Lennon.
Its provenance has been talked about by Beatles obsessives ever since. Frankly they'd be excited to hear Lennon/ McCartney read the Liverpool phone book. (Which won't be any less underwhelming than this song.) Now And Then stayed out of the public realm, probably because George Harrison (d. 2001) hated it, and the recording was scratchy at best.
But thanks to the officious Paul McCartney cleaning it up in the studio and AI producing a catchy video to accompany the song "Now and Then" is on the Billboard chart with a bullet. Where it will probably stay for a while. No doubt this artful dodge will put the idea of reviving other dead musical icons into the heads of their colleagues and supporters.
The AI variations already extend past music. "@ilumine_ai This has been my first test of an experiment I'm doing, which is why it might feel a bit rough. It might not seem like it, but this video shows a single, uncut take at normal speed, where I move through a 3D stage that I am generating at will and in real time."
Can some clever soul use AI to create a new Humphrey Bogart movie using previous material? What about reviving Katherine Hepburn from her many films? Could Glenn Miller suddenly emerge from the mists to lead his band in Fredericton? We already know about The Beatles.
There ramifications, says cartoonist/commentator Scott Adams.. "If you let ChatGPT answer without constraints, it gives you the "approved narrative," also known as bullshit. In other words, you can use AI to give you any answer you want on political questions by manipulating the allowed "experts."
No wonder the Screen Actors Guild went on strike this year to protect the properties of stars dead and alive. What security will they have if AI makes them redundant? AI is, in the words of Hunter S. Thompson, "a cruel and shallow money trench, a long plastic hallway where thieves and pimps run free, and good men die like dogs. There's also a negative side."
To say nothing of the AI implications for sports. Can AI replicate the greatest of the past? Already there's a slightly cheesy commercial running in which present-day Wayne Gretzky counsels 18-year-old Wayne Gretzky on the future. But could AI create a better NHL mixing Gretz, Gordie Howe, Bobby Orr and Bobby Hull with the best of today? A league with no injuries, no travel fatigue, no bad coaching? Ditto for the other leagues. An NFL with Joe Montana, an NBA with Michael Jordan, an MLB with Barry Bonds?
In Canadian politics AI could revive Pierre Elliot Trudeau to assist his dimwitted son ("Interest rates are at historic lows," PMJT, 2020). Bill Davis could bring back the days of Blue Ontario. Ralph Klein could recreate the Alberta Advantage. If someone younger and more charismatic pops up you can use them in the present. With an AI figure waiting in the wings for when the real politicians eventually screw up.
In the US-AI, the leading candidates for U.S. president in 2024 are creakingly old. Democrats are in a lather over Joe Biden's decrepit state as he hit 81 this week (he'd be 87 when a possible second term ended). Polls show Americans are not fooled by the grinning Amphetamine Joe staggering up the stairs of Air Force One.
Republicans are alternatively exhilarated and exhausted by the prospect of loopy 78-year-old Donald Trump carrying their banner next November. With Trump it's less age than instability. Were he remotely stable he'd be leading Biden by 15 points in the polls.
In the Senate and House of Representatives octogenarian and nonagenarian members are literally dying at their desks for want of term limits. Across the political spectrum voters and media are asking, "Is this the best we can do?" Some recall the movie Dave where Kevin Kline plays a doppelgänger for a comatose U.S. president. Maybe that might work?
Or what if AI could revive JFK or Ronald Reagan in their primes? Or John McCain and Ruth Bader Ginsberg? "Now and Then" would be an appropriate slogan for re-inserting these tried & true political figures into the present, using their former selves to re-craft today's arguments. (We've seen how it might work since most believe that Biden is simply the conduit for a third Obama term.)
Anything has to be better than two old guys who could've heard "I've Got A Gal In Kalamazoo" when it was originally released by Glenn Miller in 1942.
Sign up today for Not The Public Broadcaster newsletters. Hot takes/ cool slants on sports and current affairs. Have the latest columns delivered to your mail box. Tell your friends to join, too. Always provocative, always independent. https://share.hsforms.com/16edbhhC3TTKg6jAaRyP7rActsj5
Bruce Dowbiggin @dowbboy is the editor of Not The Public Broadcaster A two-time winner of the Gemini Award as Canada's top television sports broadcaster, he's a regular contributor to Sirius XM Canada Talks Ch. 167. Inexact Science: The Six Most Compelling Draft Years In NHL History, his new book with his son Evan, was voted the seventh-best professional hockey book of all time by bookauthority.org . His 2004 book Money Players was voted sixth best on the same list, and is available via http://brucedowbigginbooks.ca/book-personalaccount.aspx
Political Football: The Always-Barking Dog of Bilingualism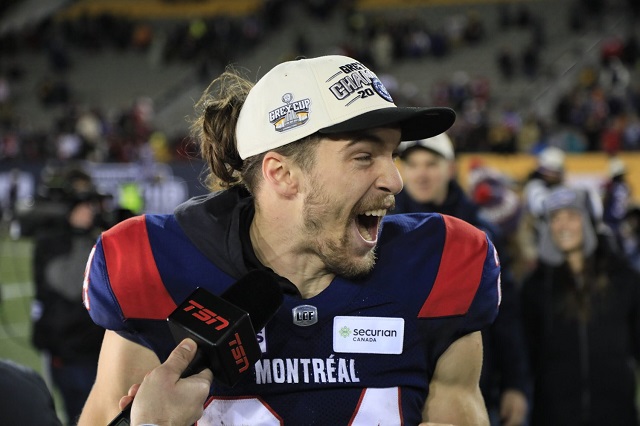 "But you know what, man, keep your English, because we're grabbing the Cup, and we're bringing it to Montreal, and we're bringing it to Quebec, and we're bringing it home!"— from the French rant by Montreal Alouette Marc-Antoine Dequoy
While the 110th Grey Cup win by Montreal over favoured Winnipeg was a classic comeback, it's now being tainted by an issue that's much older than 110 years. Canada's bilingualism/ biculturalism debate. Having already relegated the game to cable-only TSN/ RDS the CFL must have decided that— who cares— we are in Hamilton, Ontario. Why bother with all that annoying bilingual signage?
After all, no one cares that the American band Green Day is playing at halftime of the game when any number of Canadian acts are available for the gig. Who's going to bitch about a few advertisements? Reality check, aisle three. Language grievance is always in season in Québec.
As the French media covering the game noted in the days before the game the signage around the stadium was exclusively English-only. Didier Orméjuste of RDS observed en français, "The CFL is supposed to be a bilingual league but there is not one Coupe Grey sign in the stadium. Can't say I'm surprised."
The league crest at centre field read CFL only. Not LFC. Considering the efforts the CFL has made prostrating itself before the federal policy of bilingualism (for which it receives public money) it was inexcusable. It was a firing offence. Caught with their pants down the CFL rustled up a few signs around Tim Horton's Field and led PA announcements with French. But the damage was done.
Which led to the impassioned rant by Als player Marc-Antoine Duquoy in the moments after the Als' dramatic comeback win. He has since backed off a bit on his comments, saying "I just felt disrespected for me and for my province and for my heritage." Since then Québec media has pummelled the league for its obtuse behaviour.
Anglo Quebecker Andrew Potter wrote, "The message it sends to Quebecers is this: If the rest of Canada can't be bothered, why should they?" Memo to Potter: Not sure where you have been, but the rest of Canada dropped cultural football a while ago as a remnant of another time. They don't care.
Let's be honest, the official bilingual policy we've had was a dry run for the Carbon Tax. It has been a multi-billion dollar sinkhole foisted on the country by Justin Trudeau's daddy. Like all top-down policies it is permanent and immutable. And useless at its stated goal. Quebec clearly doesn't need it. The ROC resents it.
In cloistered Ottawa it still has a political status that far outstrips its usefulness to the nation. While the Trudeau/ Singh cabal are slashing defence spending, no one dares divert a dime from chasing a failed dream of cultural harmony. At these prices, who needs bilingual postal workers in Moose Jaw? Or Anglo bureaucrats in Granby?
It currently serves as a fig leaf to protect the Liberal strongholds of Anglo Quebeckers and Francophone minorities in the Maritimes and Manitoba. In Québec at least, the majority francophones have steadily eroded any sense of language fairness in the province's education, business or cultural sectors. The latest is a crushing tuition hike for out-of-province (read: Anglo) students.
The harried Anglos remaining in the province after decades of diaspora are like the white Rhodesians, voting against their best interests in the faint hope that the Liberals will save their dwindling numbers and make it Expo 67 again.
Living in Quebec, Duquoy can be forgiven for thinking that ROC is as obsessed with B&B as are the hyper-vigilant tongue troopers in Québec, who turn every slight into an excuse for more cultural purity. In fact, the ROC is far more concerned with Québec's permanent dependency on equalization money at the expense of the energy industry it works so fervently to destroy.
The quid pro quo that underpinned the 1960s dreams of B&B— that acceptance of French everywhere would still Québec's drive for sovereignty— is now Alberta and Saskatchewan pointing out the double standards in the current federation while asking, "Why can't we make like Québec with a pension plan, police force and control over immigration?"
Hate to break it to Potter and Duquoy, but most in the West would gladly negotiate a new deal with Québec to re-shape the hollow dream that is Trudeau's Canada. Keep hockey, but work out a deal the way Czechia and Slovakia did to live peaceably in their own way. Make Québec pay for its vanities while ROC hashes out a new working arrangement that reflects the current zeitgeist.
Yes, the CFL booted their Grey Cup presentation. From a business point of view insulting a significant part of your base was capotée. But in its ineptitude the league held up a mirror to the country that thinks you can make this potage of Canadian denial and American cultural pre-eminence still work.
Now, if we can just get Randy Ambrosie and his pals to drop Trudeau's Diversity delusion from its values we might be onto something really valuable.
Sign up today for Not The Public Broadcaster newsletters. Hot takes/ cool slants on sports and current affairs. Have the latest columns delivered to your mail box. Tell your friends to join, too. Always provocative, always independent. https://share.hsforms.com/16edbhhC3TTKg6jAaRyP7rActsj5
Bruce Dowbiggin @dowbboy is the editor of Not The Public Broadcaster A two-time winner of the Gemini Award as Canada's top television sports broadcaster, he's a regular contributor to Sirius XM Canada Talks Ch. 167. Inexact Science: The Six Most Compelling Draft Years In NHL History, his new book with his son Evan, was voted the seventh-best professional hockey book of all time by bookauthority.org . His 2004 book Money Players was voted sixth best on the same list, and is available via http://brucedowbigginbooks.ca/book-personalaccount.aspx