THE HALFTIME REPORT News from the Alberta Sports Hall of Fame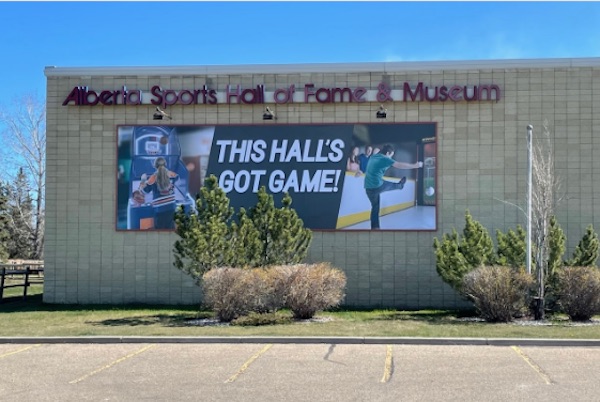 ASHFM Staff Supporting Their Favourite Alberta Teams
The Battle of Alberta was fantastic. Let's do this again soon! This is the first time the Edmonton Oilers and the Calgary Flames have met during the NHL Playoffs since 1991. The Alberta Sports Hall of Fame had a ton of fun creating a number of different ways for Albertans to learn about and participate in the rivalry.
We created a poll where visitors to the museum placed a sticker on our board to indicate which Albertan NHL team they cheer for. Those unable to stop in were encouraged to comment on our social media posts, telling us their team, so we could place the sticker for them. Both teams had over 200 votes, with the total climbing higher each day.
We also highlighted some of our honoured members who have played for, or been associated with either of these teams, such as Wayne Gretzky, Michael Vernon, Glen Sather, and Peter Maher.
Other initiatives include Jersey Day, where visitors who come in on a Battle of Alberta game day wearing a Flames or Oilers jersey get 50% off of their admission into the museum, highlighting iconic BoA moments through Youtube, and more!
This newsletter is sponsored by the RBC Foundation.
Honoured Member in Focus: Wayne Bowes and Bob Daku
Wayne Bowes and Bob Daku began playing racquetball together in 1969, after meeting at the Lethbridge YMCA. They dominated the Canadian Open Men's Doubles in racquetball from 1974 to 1982. Together, they won nine consecutive national titles.
Besides their national titles, this team won numerous Alberta crowns and competed at the 1974 World Amateur Racquetball Championships. They won two more titles, in 1984 and 1985, and then retired from competitive racquetball with eleven of thirteen national titles.
For more information about this team, please see their Honoured Member Profile, linked below.
Provincial Sport Organization: Alberta Racquetball Association
The Alberta Racquetball Association's vision is to make racquetball accessible to all Albertans and to be a national leader in programming, athlete development, and good governance.Its mission is to facilitate the participation and enjoyment of racquetball through the delivery of programs, access to resources, the development of coaches and officials, and support to clubs and affiliates.
They strive to build a strong future and legacy for racquetball by supporting competitive athletes, fostering lifelong participants and aim to increase involvement and accessibility at all levels through promotion, advocacy, and funding.
Artifact in Focus!

The artifact that we are highlighting is a racquetball racquet. The cover is made of faux, brown, leather.
Next time you're driving down the QEII you will notice the new billboard on our building! Our new billboard reads "This Hall's Got Game," and is visible from Highway 2.
Honoured Member Theo Fleury Visits ASHFM
Honoured Member Theo Fleury stopped by the Alberta Sports Hall of Fame recently to film a promotional video.
To learn more about Theo Fleury, please click on the link to his profile below.
Leave a legacy​
The Alberta Sports Hall of Fame needs your support to continue the ongoing preservation of Alberta's sports history and the development of museum exhibits. We are grateful and appreciative of the generosity of our supporters and friends. We would be happy to assist you in choosing how your personal legacy will be fulfilled and the many options available. Here is some information on donating shares to ASHFM and the benefits to you as a donor.
Copyright © 2021 The Alberta Sports Hall of Fame, All rights reserved.
Our mailing address is:
Alberta Sports Hall of Fame
#102 – 4200 Highway 2
Red Deer, AB T4N 1E3
(403) 341- 8614
[email protected]
Elks down Tiger-Cats 29-25 for first win of CFL season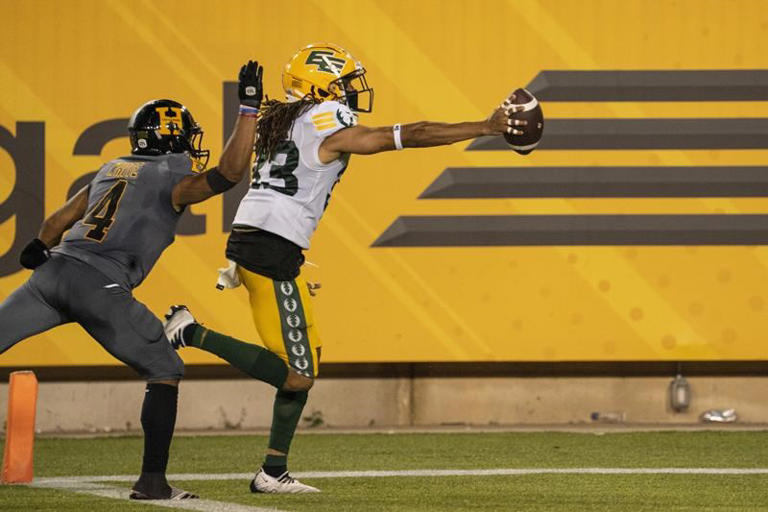 HAMILTON — Tre Ford was in his happy place Friday in Hamilton.
The Edmonton Elks quarterback got a win in his first career CFL start 30 minutes down the Queen Elizabeth Highway from his hometown of Niagara Falls, Ont.
The Elks came from behind to beat the Tiger-Cats 29-25 in front of 20,233 at Tim Hortons Field.
"To come back to Hamilton and have all my family watching me get that first start and that first win has been fantastic," Ford said.
Among Ford's supporters were his wife, parents, sister, sister-in-law and mother-in-law, his high school football coach from A.N. Myer Secondary, his University of Waterloo head coach Chris Bertoia, eight of his former university teammates and more friends.
Ford was shaky at times as the Elks trailed by 13 points early in the second half.
But the 2021 winner of the Hec Crighton Trophy winner that goes to the most outstanding Canadian university football player threw a game-tying touchdown pass to Kenny Lawler early in the fourth quarter.
The winning play for the Elks (1-3) arrived with 1:38 remaining when defensive back Scott Hutter tackled Hamilton quarterback Dane Evans and knocked the ball loose.
Jalen Collins recovered for a 14-yard touchdown.
"I saw him tackle him and thought, 'please punch the ball out," Collins said. "All we needed was an opportunity to close the game out. We were fighting all night. It was ugly."
The winless Tiger-Cats opened a season with four straight losses for the first time since 2017 when they started 0-8.
"I want to apologize to all the guys. I put both home losses on me," Evans said. "I just have to take care of it, and we win the game."
Evans was 20-for-31 in passing for 197 yards and a touchdown throw. He was intercepted twice.
Ford's numbers didn't sparkle, although he did rush for 61 yards on six carries. The 24-year-old competed 15 of 26 passes for 159 yards and a touchdown. He was intercepted once.
Edmonton's defence helped out with interceptions by Sheldon Brady and Matthew Thomas, as well as the pivotal late-game recovered fumble by Collins.
"A big shout out to the defence," Ford said. "They won us that game. They made what, three or four turnovers? They did super well.
"I have room for improvement. I'm not going to complain because we did win. But I'm going to hit the film room to see what I can critique and where I can get better."
Hamilton went after the rookie with various blitzes in the first half.
"My legs are going to open things up for my arm," Ford said.
Ford credited teammate and quarterback Nick Arbuckle, who started in Edmonton's three losses this season, for advising him during the game on defensive reads.
"He's been like that since day one, even though we're competitors for the position," Ford said.
He admitted to early jitters as Hamilton led 16-6 after the first quarter and 19-9 at halftime.
"I always get nervous for the first play of every game," Ford said. "I think it's a good thing because it means I care and that I want to win."
Evans hit Steven Dunbar for a 21-yard strike, and Lawrence Woods returned a kickoff of 72 yards for Hamilton's first-half touchdowns.
Edmonton's Kai Locksley scored on a one-yard plunge.
Elks kicker Sergio Castillo made two of his three field-goal attempts, while Hamilton counterpart Michael Domagala nailed his three and gave the Ticats at lead with a 33-yarder with 3:10 remaining in the game
"We're not good enough right now," Hamilton head coach Orlondo Steinauer said. "We're not executing at the level which needs to happen. We're just not making those plays we need to make."
This report by The Canadian Press was first published July 1, 2022.
Tim Wharnsby, The Canadian Press
Calgary Stampede receives $10M from federal government to aid recovery from pandemic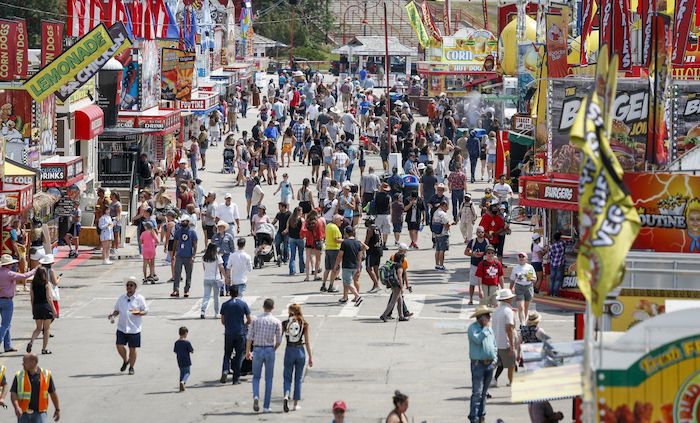 Calgary – The Calgary Stampede has received more than $10 million from the federal government to help it bounce back after last year's event was scaled down due to the COVID-19 pandemic.
A report to the city this week showed the Stampede had an operating loss of $8.3 million in 2021.
Last year's Stampede ran at half capacity because of COVID-19 public health measures and was cancelled all-together the year before.
Daniel Vandal, the federal minister for Prairies Economic Development Canada, says the money aims to support a full-scale Stampede to deliver the "authentic western experience" this year.
He says it would also help to reignite Alberta's visitor economy.
The 2022 Stampede is set to run from July 8 to 17.
"Festivals large and small were hard hit during the pandemic," Vandal said in a news release. "They are events where families and friends come together and take in the exciting atmosphere.
"The tourism industry is facing a strong comeback providing quality jobs across the country, showcasing stunning landscapes and offering exciting experiences right here in Alberta."
The federal government also provided about $1.8 million for four other tourism projects in southern Alberta: Charmed Resorts, Cochrane Tourism Association, Heritage Park and Tourism Calgary.
This report by The Canadian Press was first published June 30, 2022.