The Canadian Northern Railway's legacy at Big Valley, Alberta.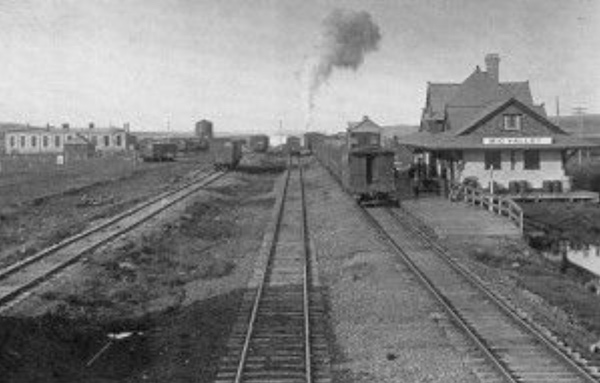 By Shawn I. Smith, Canadian Northern Society
It's a Saturday afternoon in June in the quiet Village of Big Valley. Visitors admire the splendid heritage railway depot and gardens at the end of main street. Two blocks south is a historic grain elevator – a classic Canadian symbol standing tall above the prairie landscape. To the east across the tracks are large stark concrete walls, visibly reminiscent of Stonehenge. "What are those curious walls?" is often asked. Then the sound of a locomotive whistle breaks the silence, creating a scene out of the 1950's when a vintage passenger train pulls into town, and the train crew scurries about on the platform unloading its cheerful patrons.
While not obvious to the guests who have enjoyed the 21-mile excursion train ride from Stettler aboard the Alberta Prairie Railway, the scene that unfolds on summer days in Big Valley is part of a legacy left by two dynamic railroaders who over a century earlier had an ambitious and grand vision for Western Canada. Today, both active and abandoned rail lines in central Alberta, related historic structures and sites, and indeed the communities that owe their existence to the Canadian Northern Railway (CNoR) share this common heritage.
Since the completion of the Canadian Pacific Railway in 1885, railways have been inextricably linked with the development of western Canada. After Confederation the new Dominion Government quickly recognized that without railways real settlement would not take place in the sparsely populated North West.
Energy, Enterprise, and Ability
The CNoR (Canadian Northern Railway) was a product of two Canadian-born railroaders with CPR roots. William Mackenzie and Donald Mann met during the 1880's while the senior road was under construction in the Selkirk Mountains. Their "Energy, Enterprise, and Ability" – which would become the railway's motto would lead to a partnership in contracting, steamship lines, and a 9,500-mile transcontinental railway empire that served seven provinces and included the Duluth Winnipeg and Pacific Railway in the U.S. The two were knighted for their achievements in 1911.
Branch lines were the key to the CNoR strategy.The Vegreville to Calgary branch – chartered in February 1909 by CNoR subsidiary Alberta Midland Railway – was the company's key north-south spine through Alberta. The portion between Vegreville and Drumheller was opened for service in 1911. While it had the appearance of a typical prairie branch line, its primary purpose was to carry steam and domestic heating coal from mines at Brazeau and Drumheller to growing prairie markets.
The fact that the line traversed a region of great agricultural potential for both grain and cattle farming was an added benefit. In typical fashion, grain elevators were located every five to ten miles – the distance being established around the practical ability for a livestock team to haul a load of grain and return in one day's time from the growing number of homesteads clustered around each delivery point.
The Battle River Subdivision along with further line completions in 1914 to Calgary and Strathcona respectively provided the CNoR with an effective intercity freight route, albeit longer than those of its competitors.
The Brazeau Branch, extending 176 miles west from the junction at Warden to the Nordegg Collieries was extremely important to the CNoR which depended largely on this supply of steam coal for terminals across the West. The subsequent extension of the Goose Lake line at Munson became an important link from Calgary to Saskatoon. All of these CNoR lines were financed using provincial bond guarantees.
By May of 1912 mixed trains crewed by Big Valley men were running north to Vegreville and south to Drumheller. Another run to Rocky Mountain House was added in June. A Second Class depot was erected that year and a five-stall roundhouse and turntable were complete by April of 1913.
By late 1913 a Railway Post Office Car service had been established on the line, and Big Valley was home to 14 locomotives and an equal amount of engine service and train crews. Assistant Superintendent Thomas Rourke oversaw terminal operations that included a train dispatching office.
By September 1917 fourteen mines were operating in the Drumheller Valley producing 250 carloads of coal every 24 hours. Drumheller was without question the "Powerhouse of the West." Big Valley's railroaders were kept busy 24 hours a day operating the trains that pulled the coal out of the valley.
After being selected as the CNoR terminal, Big Valley boomed. By 1919, its population had increased to over 1025, with some 325 souls working for the CNoR. At its peak, the company's payroll included 26 train and engine crews, a shop staff of 40, and a Bridge and Building crew averaging 45 employees, managed by Frank Dewar. There were 8 sectionmen, and at the station an Agent, operators round the clock, yard clerks, and the train dispatcher. Four to five carman conducted car repairs and inspections.
Coal from Brazeau was piled in a huge stockpile almost a block long on the east side of the yard. A gravel pit operation north of town at Caprona was established to provide aggregate for line ballasting on all of the CNoR area lines. Steam shovels kept this operation steady, mining volumes often equating to 100 carloads per day.
Big Valley's early railroaders were a colourful lot. Many came and went, and with the Big Valley collieries in production by 1914 shipping coal as far east as Ontario – night life in town could be wild. Assistant Superintendent Rourke, a former baseball player in the Detroit Tigers minor league system, was responsible for putting together the "Big Valley Bugs" – made up almost entirely of railroaders – who in 1918 put together a resounding victory over the high-flying Edmonton Red Sox.
The National
During the First World War, financial problems caught up with Mackenzie and Mann and their rapidly expanding enterprise. Despite profitable western lines such as the Vegreville and Brazeau branches, lack of traffic on the transcontinental lines, burdensome debt, and the negative impacts of the War would result in the company being "nationalized" by the Dominion Government in 1918. The rival Grand Trunk Pacific (GTP) Railway would fare even worse, having been placed into receivership in 1919. These events led to the creation of today's Canadian National (CN).
The new CN was confronted with the task of rationalizing the CNoR and GTP lines throughout western Canada. Consolidation was affected by the elimination of duplicate facilities and improving services by combining portions of the former competing lines. Construction of track connections joining the Brazeau branch with he former GTP Tofield to Calgary line at Alix were opened for service in 1922.
Connections were also made between the Battle River Subdivision and the former GTP mainline at Ryley. Geographically the GTP divisional point at Mirror was seen as central to the operations of the Brazeau branch vs. Big Valley. Coal that had originally moved over the Brazeau line to Warden then northward was now diverted over the new connection at Alix via Mirror which became the new home terminal for crews running west.
The new routing via Alix saved a distance of over 50 miles between Brazeau and Saskatoon. The former GTP south of Camrose also became the CN's north-south main line through Alberta.
This consolidation led to the significant decline of Big Valley as a railway town. While the company kept a small number of train crews assigned to both freight and passenger service, by 1925 the exodus to Mirror, Edmonton, Drumheller, and Hanna began. It was reported that over 100 railroaders' homes were moved out of the village, some of which continue to exist in Mirror today. In what was known as the "Battle of Big Valley" – the unions fought the company's decision hard but were left with little compensation for their relocation expenses after the issue went to arbitration in the late-1920's with the decision going with the company. By the onset of the depression, Big Valley's population had dropped by some 500 souls to 445.
It is without question that the old Canadian Northern Railway's reason for existence in central Alberta has changed dramatically since its arrival in 1910. Coal is no longer used to heat our homes – and in fact its use is considered sinful by some!
Packages ride on trucks, and people drive their own cars and trucks instead of riding mixed trains and Nos. 25 and 26 to get to Calgary or Edmonton.
While huge volumes of grain still move on trains – these are now loaded in modern high capacity elevators capable of loading 100 cars or more in 12 hours or less. The original steel rails that remain in service between Stettler and Big Valley are therefore of historic testament to Mackenzie and Mann and their great accomplishment. In fact, this section of track is the sole operating survivor of many similar "60-pound" branch lines that have now been re-laid or abandoned across the prairies. And almost incredibly one can still experience a passenger train ride over these vintage rails, pulling into Big Valley just as travellers did one hundred years ago.
Provincial funds help build biofuel plant at Lethbridge reducing emissions equivalent to 41,000 homes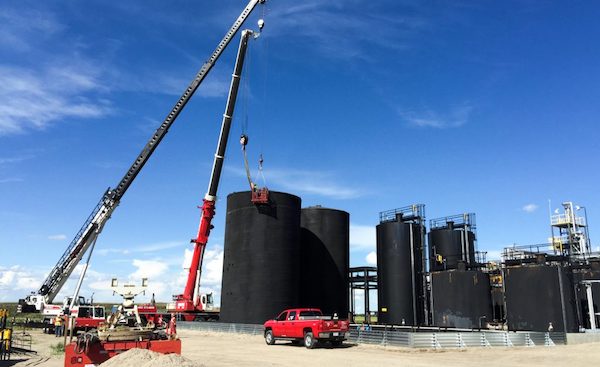 Diversifying the economy with cutting-edge tech
The Technology Innovation and Emissions Reduction (TIER) fund is supporting a new facility in southern Alberta that will create jobs and cut emissions by transforming agricultural waste.
Alberta's government is using $4.7 million from the TIER fund through Emissions Reduction Alberta to create a $28.6-million facility in Lethbridge that will produce an estimated 70 million litres of high-value renewable fuel. This facility will be the first of its kind in Canada, turning local agricultural waste, inedible animal fats and used cooking oil into biodiesel fuel and glycerin.
The facility will buy more than $375 million of local feedstock from farmers over the next five years, generating about $500 million in revenue and supporting up to 130 local jobs in fields like engineering, construction and transportation. It will also cut about 224,000 tonnes of emissions each year – the same as reducing emissions from the electricity used by 41,000 homes.
"Alberta is home to world-renowned expertise on cutting agricultural emissions, and the Canary Biofuels facility is another world-class project Alberta's government is supporting to diversify the economy and create jobs. I'm pleased to see the expansion of another groundbreaking Alberta-based technology that is cutting emissions and getting Albertans back to work."
The facility's biodiesel will have up to one-third the carbon intensity of petroleum diesel. The renewable fuel produced at the facility has also been pre-sold to a leading Canadian supplier of biodiesel whose customers include fuel retailers, wholesalers, distributors and fleet managers across Canada and the United States. This builds on Alberta's strong record of environmental, social and governance actions.
"As world leaders in agricultural emission reductions, Alberta farmers will be key beneficiaries of the renewable diesel produced at this facility. Projects like this showcase the steps Alberta is taking to diversify the economy with cutting-edge technology and to create local jobs and opportunities."
"Emissions Reduction Alberta continues to identify and invest in opportunities that accelerate the innovation required to strengthen Alberta's economy and reduce greenhouse gases. Canary's project will create new revenues for western Canadian agricultural producers and help meet the growing North American demand for biodiesel. This project is another example of what can happen when government, industry and entrepreneurs come together to deliver better economic and environmental outcomes."
This funding is part of the province's commitment of up to $750 million for emissions reduction and economic diversification programs and projects through the TIER fund and other funding that will directly support about 9,000 jobs and inject $1.9 billion into Alberta's economy.
"Canary Biofuels is Alberta's first Generation 2 biodiesel producer with its flagship facility in Lethbridge. Canary is excited to lead the path in Alberta in abating emissions through sustainable waste-based biodiesel production that supports the energy and agriculture industries in Alberta and the Prairies. Canary would like to thank all its investors and partners, including the Government of Alberta, for their tremendous support. Canary is proud to support Alberta in creating new jobs and helping Alberta industry on its journey to net zero."
"Canadian canola is used in biofuel production around the world because it's a low-carbon, sustainable and renewable resource. We are excited to see more investment in Lethbridge that will directly benefit canola farmers and Alberta's agriculture value chain."
"Canary Biofuels will provide long-term diversified business opportunity for R.K. Heggie Grain and Transmark. Local canola producers will have direct market access to the growing biofuel industry, and the livestock industry will get a much-needed supply of canola meal. Canary Biofuels is natural fit with R.K. Heggie Grain and Transmark to provide the company with feedstock for the plant and rail infrastructure to the get finished product to international markets."
TIER funding
The TIER system is funded by large industry that pay into the fund when they do not meet emissions targets. Alberta is using the TIER fund for a range of programs that are reducing emissions, boosting the economy and getting Albertans back to work.
Quick facts
The new Canary Biofuels facility is expected to be operational by fall 2021.
TIER helps industrial facilities, which account for more than 60 per cent of Alberta's total emissions, find innovative ways to reduce emissions and invest in clean technology to save money and stay competitive.
Emissions Reduction Alberta invests revenues from TIER to accelerate the development and deployment of innovative clean technology solutions.
Since 2009, Emissions Reduction Alberta has committed $649 million toward 204 projects worth $4.5 billion that are reducing emissions, creating competitive industries and leading to new business opportunities in Alberta. These projects are estimated to deliver cumulative reductions of almost 35 million tonnes of emissions by 2030.
Sentencing delay for men found guilty of flouting Alberta COVID-19 rules
CALGARY — Sentencing arguments for an Alberta pastor and his brother found guilty of contempt after deliberately violating COVID-19 health orders have been put over until September.
Artur Pawlowski and his brother Dawid Pawlowski were arrested in May and accused of organizing an illegal gathering as well as promoting and attending an illegal gathering. 
The arrests came after court orders were granted allowing Alberta Health Services and police to arrest and charge anyone who advertised gatherings that would breach health restrictions. 
Last month, Justice Adam Germain ruled that Alberta Health Services had proven "nearly to absolute certainty" that the two Calgary men were "guilty beyond a reasonable doubt of contempt."
Discussions on possible sanctions were set for Tuesday, but the lawyer for the Pawlowskis asked for a delay since Alberta Health Services was preparing further affidavits against her clients.
The health provider has indicated it will be seeking 21 days of jail time for the two men.
Germain granted the delay to make sure that defence lawyer Sarah Miller had time to prepare her arguments.
"Frankly, on a matter of this nature, where you have what some legal authorities might describe as an almost public contempt, bordering on criminal contempt … I'm going to give her every opportunity to vigorously defend her clients," said Germain.
Alberta Health Services has indicated it is seeking 21 days of jail time for the two men.
The judge said the delay might give the court a better understanding of COVID-19 in remand centres and provincial correction institutions.
"There are people who doubt the COVID-19. I can look at the death or morbidity statistics as much as any other judge and it's a real issue," Germain said.
"If COVID is running wild in the institutions, we don't want the 21-day jail sentences that you've asked for."
Germain said he might consider the "unique risks" of someone going to jail. He said the Pawlowskis' lawyer could have a number of arguments for why they're not vaccinated, including illnesses that prevent vaccinations.
"Maybe there's an outbreak in the prison system. All of those things may influence the decision."
The case is to return to court Sept. 13.
This report by The Canadian Press was first published July 27, 2021.
Bill Graveland, The Canadian Press