Sylvan Lake's Castle of Dreams
Local House Holds Romantic History (interview with Mrs. Ada Hagerman, Sylvan Lake News, January 27, 1981)
If you're heading to Sylvan Lake this weekend, take a walk around. There's some amazing local history.
It almost reads like a Harlequin romance but it happened here in Sylvan Lake back in 1905. She came from "royalty" in France, fell in love with a commoner and married. Taboo in those days, she was ordered to get out of the country but was given all the money she desired. This was the beginning of a unique historical event not to be excluded from Sylvan Lake history books. Evidence of the romance now lies in a stone castle located on 50A Street.
When Mr. and Mrs. Archambeau left France in disgrace, they came to Sylvan Lake with a dream to build themselves a home which was almost identical to the bride's royal fortress. After years of toil and hard labour, their dream was fulfilled. Local resident Ada Hagerman told the News of problems the young couple ran into before their dream finally became a reality. A young girl at the time, Mrs. Hagerman related incidents she remembered when the building was being constructed as rather comical.
"The Archambeaus started building their castle in 1905 or 1906," she said. "At first they built a raft made of a plank and two logs and pushed it up and down the lakeshore picking up special rocks for the castle." Aided by another couple, the men then dragged stones on a deer hide nailed to a pole to the building site while the women carried what they could in their arms. Progress, of course, was slow. It all changed one day, though, when the Archambeaus saw a wheelbarrow and what it could do.
Mrs. Hagerman laughingly said the couple were so intrigued with the device they went home and built one themselves. There was a problem, though. The wooden wheelbarrow did not work as well as they had expected. They had built a six-sided wheel! After advice and a new wheelbarrow from Mrs. Hagerman's father, the problem was solved. But before convenience of a wheelbarrow came, about seven feet of the castle had already been constructed.
Although Mrs. Archambeau had money, for the first two years the couple could only work with wood and nails. Finally, in 1910, they were able to build a cement house adjacent to the castle.
Mrs. Hagerman said the couple used to keep goats up in the castle. After going to a sale one day and buying the critters, they realized they had no place to keep them until a shed and fence could be built. The logical think seemed to be carrying them up to the castle.
Years later, tragedy struck the Archambeaus. Mr. Archambeau died of what residents thought was cancer, although no one was ever sure. Childless, Mrs. Archambeau returned to France and was never heard from again. But history of the castle was to go on being told from decade to decade. Throughout the years it has been used as a 'honeymoon castle' for both local and city residents and has passed from owner to owner.
There is no one currently living in the castle, but the adjacent Holbrook Cottage has allowed the Archives to install a signpost as part of our Legacy Trail Walking Tour – Preserving the Past for Future Generations.
Read some other stories about Sylvan Lake's history – Click here.
Published by Todayville originally on September 4, 2017
Marion Thompson
Sylvan Lake & District Archives
5012 – 48 Avenue, Lower Level, Municipal Government Building
Sylvan Lake, AB T4S 1G6
Tickets on sale! The Red Deer Kinsmen Dream Home Lottery is back for 2022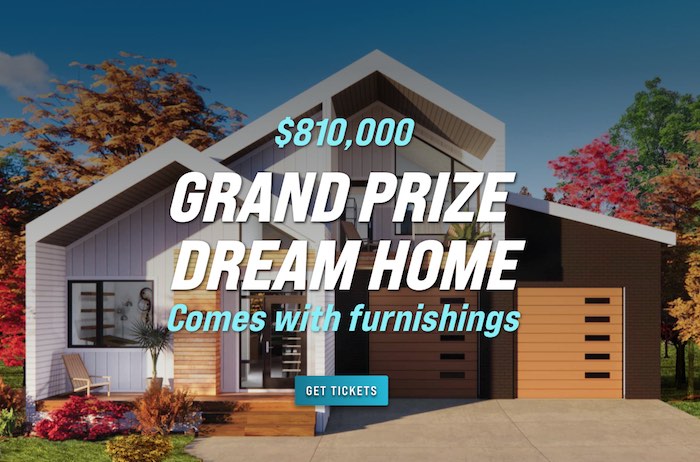 For 42 years, the Red Deer Kinsmen Dream Home Lottery has been raising funds for the Red Deer community. As a proud volunteer-based organization, all proceeds for the Lottery go to support local groups, programs and initiatives in Red Deer and surrounding areas. Albertans can once again help the Red Deer Kinsmen share the winning and make a local impact by supporting this important annual community event.
"The Dream Home Lottery is the cornerstone of the Red Deer Kinsmen's contribution to the community's greatest needs. Many of the new playgrounds and sporting facilities you see are funded completely or partially with funds raised by the Lottery" – Leonard Sisco, Lottery Chairperson.
This year's lottery is offering 117 amazing prizes valued at over $900,000. The Grand Prize Dream Home by Alair Homes is in the community of Timberlands
and is valued at $810,000, including furnishings. It features a Scandinavian modern style with vaulted ceilings, a private upstairs master retreat with its
own south-facing balcony, and 2 sizeable bedrooms on the main floor. To encourage supporters to buy their tickets early, there is a brand-new Buick Encore GX AWD OR $25,000 up for grabs as an Early Bird prize. The deadline to qualify for this additional Early Bird draw is December 29th
Other amazing prizes include vacations, epic experiences, home renovation packages, exercise equipment, and much, much more.
Tickets are $100 each, 5 for $150, 15 for $250 or the best chance to win package at 50 for $350.
Also back again this year is the ever-popular 50/50 Cash Raffle where one lucky ticket holder will take home half of the total ticket sales. Last year's winner took
home a whopping $157,395 in cash.
Tickets are $10 each, 10 for $25, 25 for $50 or 50 for $75.
Red Deer Kinsmen Dream Home Lottery License #575571 / 50/50 Cash Raffle License #575572
The final ticket deadline for both lotteries is February 2nd. The final draws will be held February 16, 2023.
Tickets can be purchased online at reddeerkinsmenlottery.com or by calling 1.833.511.3863.
2022 Red Deer Kinsmen Dream Home Lottery
• This is the 42nd year of the lottery and the 41st Dream Home. Support local and have a chance to win!
Prizes
EARLY BIRD PRIZE
• #1 – 2022 Encore GX AWD OR $25,000 CASH – Deadline: December 29, 2022
o Draw will take place on January 12, 2023, at Stride Management Corp. (12:00 pm)
**Only tickets purchased before 11:59 pm on Dec 29, 2021, will be eligible for the Early Bird
GRAND PRIZE DREAM HOME
The Viking by Alair Homes – 388 Timberlands Drive, community of Timberlands Red Deer, AB
• Valued at $810,000! With furnishings.
ADDITIONAL PRIZES
• 117 prizes worth over $900,000 to be won!
• Prizes include vacations, home renovations, epic experiences, exercise equipment, tech, cash, and so much more!
THE 50/50 CASH RAFFLE
• Win half of an ever-increasing jackpot!
• Tickets are easy to buy – 1 for $10, 10 for $25, 25 for $50 or 50 for $75. Purchasers are not required to purchase a ticket in the Red Deer Kinsmen Dream Home Lottery to purchase tickets in the 50/50 Cash Raffle lottery.
• For a list of charities that benefit from the 50/50 Cash Raffle, please visit reddeerkinsmen.com
Final Draw
• Ticket Cut-off is February 2, 2023 (11:59 pm)
• Final Draws will take place February 16, 2023 at Stride Management Corp. (11:00 am)
Red Deer Kinsmen Dream Home Lottery Licence #606030 / 50/50 Cash Lottery Licence #606031
TICKET PRICES
1 for $100 • 5 for $150 • 15 for $250 and our best value 50 for $350
**Minimum prize value is $100**
Cause
Since 1937 The Red Deer Kinsmen have helped support a multitude of local charities and initiatives in the Red Deer community and surrounding areas. The need is greater than ever this year. Proceeds raised from our generous supporters help improve the lives of thousands of in our community. Go to https://reddeerkinsmenlottery.com/cause/ for a full list of our partners.
Call Toll Free 1-833-511-3863
Order Online: reddeerkinsmenlottery.com
Local artist records original song for Remembrance Day with video showcasing Red Deer's military history
Editor's note: This article was published in 2020. It was extremely popular in the Central Alberta region so we wanted to circulate it again this year, now even more poignant with the war in Ukraine. The video uses many images that are familiar to Central Albertans and pays tribute to Central Alberta soldiers who have deployed internationally over the years.
This spring, a singer and songwriter friend of mine from Red Deer, Shelly Dion, came to me with a song idea that had, in her words, been "knocking around in my head for the past 30 years". She said that she really wanted to pay her respects to the people who sacrificed their lives and livelihoods to go to war.
The song is called "Lay Me Down", and it's a very fitting song for this time of year. We decided to get together and record a simple version of the song. Then I sent her off to see musical wizard, Red Deer's Heath West of Medodius Design. Heath came up with some excellent improvements and we recorded it in his studio this fall.
As Honorary Colonel of 41 Signal Regiment in Alberta, I'm always looking for opportunities to promote the military, our Regiment's members, and of course at this time of year, to acknowledge the sacrifice made by the men and women who serve in the Canadian Armed Forces. "Lay Me Down" hit all the right notes.
With some help from Counsellor Michael Dawe, long-time archivist for the City of Red Deer, I gained access to some wonderful historic photos that helped me to tell some of the stories of Red Deer's military history. At the same time, I wanted to help the members of our Regiment honour the many local members who have volunteered to put their lives and careers on hold to deploy internationally to places like Afghanistan, Golan Heights, Bosnia-Herzegovina, Croatia, and more recently Ukraine and Latvia. This project allowed me to both profiles some local history and recognize our more modern history. Thanks to WO Drew Adkins of 41 Signal Regiment for his help in coordinating photos from our wall of fame inside Cormack Armoury.
The above video is the result. Take some time to learn about our local military history. Do you know who Cormack Armoury is named after? You'll also learn about local members of 41 Signal Regiment (2 Sqn), many of whom actively serve in the Armed Forces today. You may even know some of them as neighbours, friends, and co-workers. Please take a moment to acknowledge their service, and on November 11th, attend a service, and at the very least, take a moment at 11 AM to be silent and consider how lucky we are to be at peace in our country.
"Lay Me Down" is written and performed by Shelly Dion and produced and engineered by Heath West. Musicians: Bagpipes Glenn MacLeod, acoustic guitar Heath West, electric guitars Lloyd Lewis, drums Phil Liska, Bass Doug Gagnon.
Click to read more on Todayville.