Suspect challenged Red Deer RCMP with bow and arrows before shooting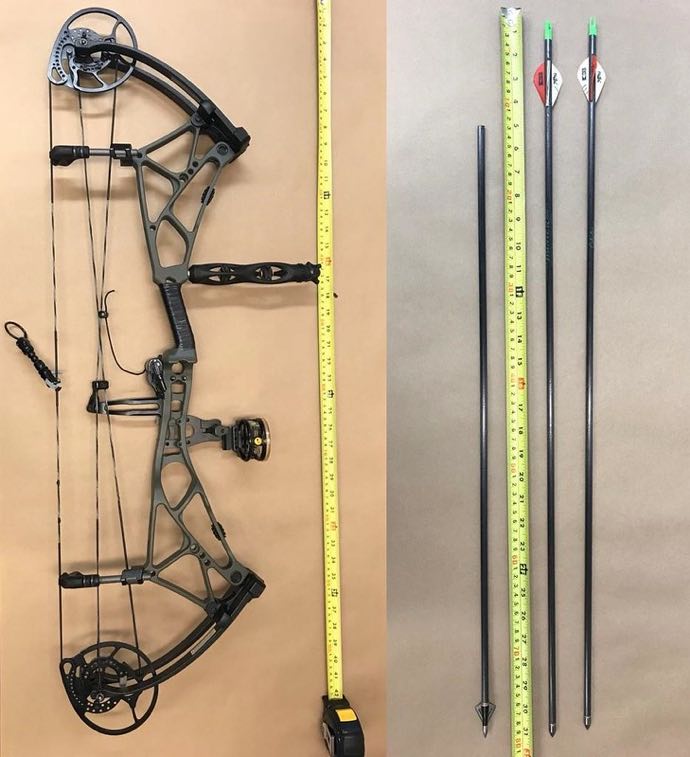 News Release submitted by the Alberta Serious Incident Response Team and Red Deer RCMP
Investigation into Red Deer RCMP officer-involved shooting continues
On May 24, the Alberta Serious Incident Response Team (ASIRT) was directed to investigate the circumstances surrounding an officer-involved shooting that took place that same day in Red Deer, and resulted in the death of a 46-year-old man.
On that day at about 8:50 p.m., the Red Deer Royal Canadian Mounted Police (RCMP) received several calls reporting an erratic driver operating a grey Volkswagen Jetta. The vehicle was located by RCMP a short time later entering the parking garage of the Red Deer Regional Hospital. Both the responding RCMP member and the driver and lone occupant of the Jetta, the 46-year-old man, exited their vehicles, whereupon the police officer began speaking with the man. The officer called for backup, which arrived a short time later while attempts to communicate with the man continued. At this time, a confrontation occurred between the man and the police officers on scene which resulted in several members of the RCMP discharging their service firearms. During this confrontation, the man sustained gunshot wounds, and RCMP members provided first aid to the man until the arrival of EMS, who pronounced the man dead at the scene.
Video evidence obtained by ASIRT shows the man was in physical possession of a compound bow following his exit from the vehicle and at the time of the confrontation. Following the incident, a compound bow and several arrows were recovered from the scene and have been seized as exhibits by ASIRT investigators.
ASIRT is seeking witnesses to this incident, and asks any members of the public who may have witnessed the events inside the parking garage, or who may have video of the incident, to please contact investigators at 403-592-4306. ASIRT's investigation will examine the actions of police during this incident, while the RCMP will maintain responsibility for the investigation into the man and his actions. With ASIRT's investigation underway, no further information will be released at this time.
ASIRT's mandate is to effectively, independently and objectively investigate incidents involving Alberta's police that have resulted in serious injury or death to any person, as well as serious or sensitive allegations of police misconduct.
UCP backbencher fined $15K by Elections Alberta for funding violations
EDMONTON — A United Conservative backbencher has been fined $15,000 by Elections Alberta for a variety of offences including filing false financial statements.
Devinder Toor, the legislature member for Calgary Falconridge, was penalized for fundraising and spending infractions both as a candidate for the party nomination and well as in the 2019 election.
The 10 violations also include exceeding expense limits and accepting a prohibited contribution from a numbered company of which Toor had been a director.
Toor, a first-time MLA, won the constituency seat by just 91 votes over the rival NDP.
The NDP,  in a news release, called on Toor to resign, saying the infractions display a conscious effort to circumvent the rules and call into question his integrity and fitness for public office.
Toor could not be immediately reached for comment. 
This report by The Canadian Press was first published July 28, 2021.
The Canadian Press
CP Rail reports record second quarter revenues of $2.05 billion
CALGARY — Canadian Pacific Railway Ltd. reported record second quarter revenues of $2.05 billion Wednesday.
The Calgary-based railway reported earnings of $1.25 billion for the three months ended June 30, up from $635 million in the same period last year. CP Rail's adjusted earnings per share were $1.03, a 27 per cent increase from $0.81 last year and a second quarter record.
The company also declared a quarterly dividend of $0.19 per share, payable in October.
The company's operating ratio, a key measure of railroad efficiency where a smaller number is better, increased by 301 basis points to 60.1 per cent from 57.0 per cent. Included in that metric are $308 million in expenses related to CP's efforts to acquire Kansas City Southern.
In May, KCS formally backed a merger offer from CP rival, Montreal-based Canadian National Railway Co. KCS paid a US$700-million termination fee for backing away from its previous agreement to be purchased by CP.
CP says it is continuing its application process to acquire KCS, in case the CN deal is terminated or CN cannot otherwise acquire KCS.
This report by The Canadian Press was first published July 28, 2021.
Companies in this story: (TSX:CP)
The Canadian Press
Note to readers: This is a corrected story. An earlier version incorrectly referenced the termination fee KCS paid to CP.