Suspect challenged Red Deer RCMP with bow and arrows before shooting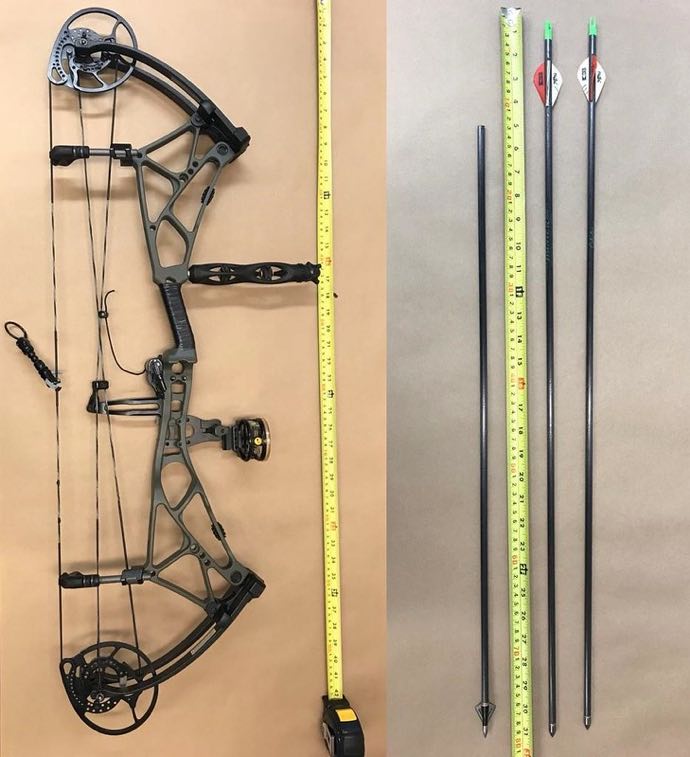 News Release submitted by the Alberta Serious Incident Response Team and Red Deer RCMP
Investigation into Red Deer RCMP officer-involved shooting continues
On May 24, the Alberta Serious Incident Response Team (ASIRT) was directed to investigate the circumstances surrounding an officer-involved shooting that took place that same day in Red Deer, and resulted in the death of a 46-year-old man.
On that day at about 8:50 p.m., the Red Deer Royal Canadian Mounted Police (RCMP) received several calls reporting an erratic driver operating a grey Volkswagen Jetta. The vehicle was located by RCMP a short time later entering the parking garage of the Red Deer Regional Hospital. Both the responding RCMP member and the driver and lone occupant of the Jetta, the 46-year-old man, exited their vehicles, whereupon the police officer began speaking with the man. The officer called for backup, which arrived a short time later while attempts to communicate with the man continued. At this time, a confrontation occurred between the man and the police officers on scene which resulted in several members of the RCMP discharging their service firearms. During this confrontation, the man sustained gunshot wounds, and RCMP members provided first aid to the man until the arrival of EMS, who pronounced the man dead at the scene.
Video evidence obtained by ASIRT shows the man was in physical possession of a compound bow following his exit from the vehicle and at the time of the confrontation. Following the incident, a compound bow and several arrows were recovered from the scene and have been seized as exhibits by ASIRT investigators.
ASIRT is seeking witnesses to this incident, and asks any members of the public who may have witnessed the events inside the parking garage, or who may have video of the incident, to please contact investigators at 403-592-4306. ASIRT's investigation will examine the actions of police during this incident, while the RCMP will maintain responsibility for the investigation into the man and his actions. With ASIRT's investigation underway, no further information will be released at this time.
ASIRT's mandate is to effectively, independently and objectively investigate incidents involving Alberta's police that have resulted in serious injury or death to any person, as well as serious or sensitive allegations of police misconduct.
Pembina to pocket $350 million after terminating acquisition of Inter Pipeline
CALGARY — Pembina Pipeline Corp. will pocket a $350-million break fee after terminating its acquisition of Inter Pipeline Ltd.
The move follows Inter Pipeline's board advising that it would no longer recommend that shareholders support the deal after rival Brookfield Infrastructure Partners LP upped its hostile takeover bid for the Calgary-based Inter Pipeline.
Inter Pipeline had resisted Brookfield's bid after signing a friendly all-stock deal to be bought by Pembina that would have seen its shareholders receive half a Pembina share for each Inter Pipeline share they hold.
Prominent shareholder advisory firm ISS recommended that Inter Pipeline investors reject the company's proposed sale to Pembina and instead support the takeover by Brookfield after Inter Pipeline's largest shareholder upped its offer to $16 billion, including debt.
Pembina's CEO Mick Dilger says he's disappointed by the outcome as the logic of a combination with Inter Pipeline remains "unparalleled" and the value creation impossible to replicate.
He says the company will continue to seek growth opportunities through other acquisitions.
"Pembina remains optimistic about its future, including the profitability of our existing business given foreseeable sector tailwinds, as well as with tremendous flexibility to pursue an ever increasing and more diverse set of opportunities for growth, some of which we were able to highlight and advance during this process," he stated.
Inter Pipeline subsequently said it is open to working with Brookfield to reach a "mutually agreeable transaction."
This report by The Canadian Press was first published July 26, 2021.
Companies in this story: (TSX:IPL, TSX:PPL, TSX:BIPC)
The Canadian Press
Yamamoto among four players to receive qualifying offers from the Edmonton Oilers
EDMONTON — The Edmonton Oilers extended qualifying offers to forwards Tyler Benson, Cooper Marody and Kailer Yamamoto as well as goalie Stuart Skinner on Sunday.
Benson, 23, has one assist in seven career NHL games. He was selected in the second round. No. 23 overall, in 2016.
Marody, 24,was originally drafted by the Philadelphia Flyers in 2015 and has appeared in six career NHL contests.
The 22-year-old Yamamoto had eight goals and 13 assists in 52 games with Edmonton last season. The '17 draft pick has 20 goals and 32 assists in 105 career NHL contests.
Skinner, 22, played in one game with Edmonton last year. He was drafted by the Oilers in 2017.
This report by The Canadian Press was first published July 25, 2021.
The Canadian Press