Suspect challenged Red Deer RCMP with bow and arrows before shooting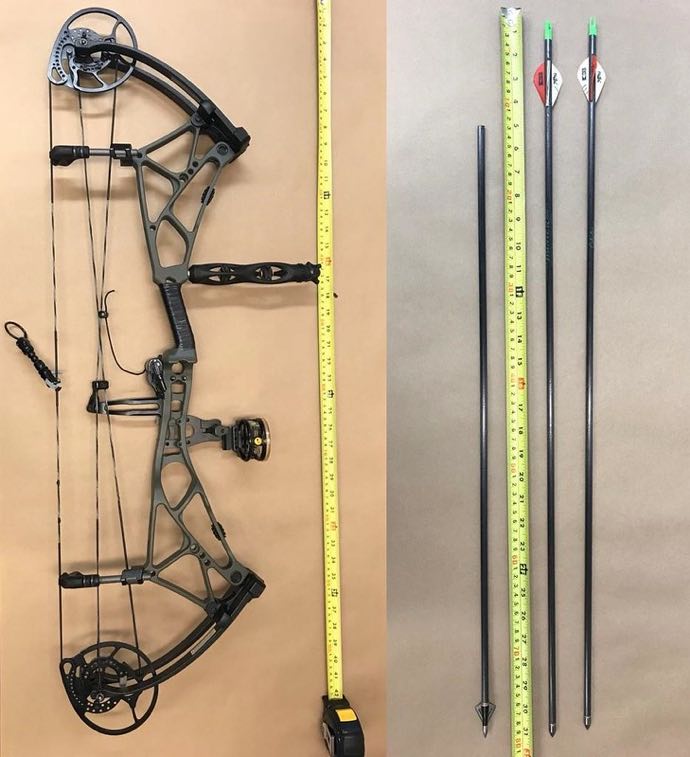 News Release submitted by the Alberta Serious Incident Response Team and Red Deer RCMP
Investigation into Red Deer RCMP officer-involved shooting continues
On May 24, the Alberta Serious Incident Response Team (ASIRT) was directed to investigate the circumstances surrounding an officer-involved shooting that took place that same day in Red Deer, and resulted in the death of a 46-year-old man.
On that day at about 8:50 p.m., the Red Deer Royal Canadian Mounted Police (RCMP) received several calls reporting an erratic driver operating a grey Volkswagen Jetta. The vehicle was located by RCMP a short time later entering the parking garage of the Red Deer Regional Hospital. Both the responding RCMP member and the driver and lone occupant of the Jetta, the 46-year-old man, exited their vehicles, whereupon the police officer began speaking with the man. The officer called for backup, which arrived a short time later while attempts to communicate with the man continued. At this time, a confrontation occurred between the man and the police officers on scene which resulted in several members of the RCMP discharging their service firearms. During this confrontation, the man sustained gunshot wounds, and RCMP members provided first aid to the man until the arrival of EMS, who pronounced the man dead at the scene.
Video evidence obtained by ASIRT shows the man was in physical possession of a compound bow following his exit from the vehicle and at the time of the confrontation. Following the incident, a compound bow and several arrows were recovered from the scene and have been seized as exhibits by ASIRT investigators.
ASIRT is seeking witnesses to this incident, and asks any members of the public who may have witnessed the events inside the parking garage, or who may have video of the incident, to please contact investigators at 403-592-4306. ASIRT's investigation will examine the actions of police during this incident, while the RCMP will maintain responsibility for the investigation into the man and his actions. With ASIRT's investigation underway, no further information will be released at this time.
ASIRT's mandate is to effectively, independently and objectively investigate incidents involving Alberta's police that have resulted in serious injury or death to any person, as well as serious or sensitive allegations of police misconduct.
Province wants everyone in Alberta to get a third shot
Expanding COVID-19 booster to all Albertans 18-plus
Expanded availability of third doses of COVID-19 vaccine will help Albertans increase their protection against COVID-19.
Starting Dec. 2, all Albertans aged 60 and older can book appointments for a booster dose of mRNA vaccine six months after receiving their second dose. First appointments will be available beginning Dec. 6.
All other Albertans aged 18-plus will be notified when the next age group is able to book appointments. Additional age groups will be announced as quickly as possible.
"I am pleased that we can offer booster doses to more Albertans. Millions of Albertans have rolled up their sleeves to have their best protection against COVID-19. While two doses continues to provide strong protection against severe outcomes, we will continue to push the federal government for supply to ensure all Albertans can receive their third doses to continue limiting COVID-19 infection and transmission."
"With the winter season increasing transmission risks, and more Albertans approaching the six-month milestone since receiving their second dose, the evidence supports expanding booster doses to add an additional layer of protection. Vaccines continue to be our best protection against COVID-19, and I continue to encourage Albertans to book their first, second and third doses as soon as they are eligible."
Current evidence indicates that vaccine effectiveness against COVID-19 infection appears to wane over time. While individual protection against severe outcomes remains strong after two doses for most people, there are still many in our communities who are completely unprotected, and third doses will help boost population protection and limit the spread of COVID-19.
Expansion of booster dose eligibility was informed by the advice of the Alberta Advisory Committee on Immunization.
Booking for booster doses
Effective Dec. 2, eligible individuals can book appointments for third doses online with participating pharmacies by using the Alberta vaccine booking system. Albertans can also call 811, participating pharmacies or participating physicians' offices. The first appointments will be available starting Dec. 6.
Booster eligibility is based on birth date. Albertans who are 59 turning 60, and First Nation, Métis or Inuit individuals who are 17 turning 18, are asked to not book appointments before their birthday.
Albertans who were previously eligible for third doses continue to be able to book their appointments.
Albertans eligible for additional doses
Albertans eligible for additional doses now include:
Eligible at least six months after receiving their second dose:
Albertans aged 60-plus
First Nations, Métis and Inuit people aged 18-plus
Health-care workers providing direct patient care and who received their second dose less than eight weeks after their first dose
Individuals who received two doses of AstraZeneca or one dose of Janssen vaccine
Eligible at least five months after receiving their second dose:
Seniors living in congregate care
Eligible at least eight weeks after receiving their second dose:
Individuals with eligible immunocompromising conditions
Quick facts
To date, 378,507 Albertans have received a third dose of COVID-19 vaccine.
84.1 per cent of eligible Albertans 12 years of age and older have received two doses of COVID-19 vaccine while 88.8 per cent have received at least one dose.
Cargill, union reach tentative deal that could avert strike at High River meat plant
CALGARY — The union representing workers at the meat-packing plant that was the site of one of Canada's largest COVID-19 outbreaks says it's reached a tentative deal with Cargill Inc., just days before a looming strike deadline.
The United Food and Commercial Workers Union Local 401, which represents about 2,000 workers at the Cargill meat-packing plant in High River, Alta., said Wednesday it is recommending its members accept the latest contract offer from the company.
In a statement on its website, the union said the new contract offer, if ratified on Saturday, would be the best food processing contract in Canada.
"It is a dramatic improvement from the offer that union members saw last week and will significantly improve Cargill workers' lives," the statement said.
In an email, Cargill spokesman Daniel Sullivan said the company is offering a six-year collective agreement that includes retroactive pay, signing bonuses, a 21 per cent wage increase over the life of the contract and improved health benefits.
"We remain optimistic we can [ratify the] deal before the strike deadline and encourage employees to vote on this offer," Sullivan said.
Cargill and the union have been at loggerheads for some time over issues related to wages as well as health and safety. Workers voted 98 per cent last week against Cargill's previous offer, and the union had said workers would strike on Monday if a contract agreement couldn't be reached.
In addition to a significant wage increase, the proposed deal being recommended now also offers workers a $1,000 signing bonus and a $1,000 "COVID-19 bonus," the union said Wednesday. It also contains "significant contract provisions to facilitate a new culture of health, safety, dignity, and respect in the workplace."
In May of 2020, Cargill's High River plant was the site of a major workplace-related outbreak of COVID-19. More than 900 workers tested positive for the virus, and three deaths were linked to the outbreak.
The Cargill High River plant processes 35 per cent of Canada's beef production.
This report by The Canadian Press was first published Dec. 1, 2021.
Amanda Stephenson, The Canadian Press