Referendum will help Albertans kickstart national conversation about unfair Equalization, Danielle Smith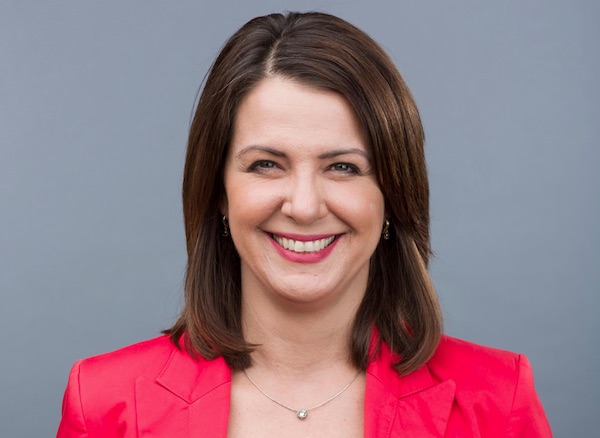 Equalization referendum…
During the Stampede I met a pollster doing some polling on the equalization referendum in the fall. It has me worried. If the vote were held today there would be a lot of undecided. While it would likely still pass, we need the vote to be resounding so there can be no mistake how Albertans feel they are being treated.
For those of us who are diehard activists, voting "Yes" to remove equalization from the Constitution is a no brainer. When Brian Jean first proposed it I thought it was a waste of time. What's is the point of having the province vote on a federal program? I initially thought.
Then Jean explained it to me in an interview and I thought the strategy was brilliant. By voting yes to delete a section of the Constitution it gets the ball rolling for a bigger conversation about Alberta's role in Confederation. Under our parliamentary system – advised by court rulings and conventions – constitutional scholars say a "yes" vote will initiate a process that will unroll across the country. The federal government will be obligated to negotiate with Alberta in good faith and the other provincial legislatures will be compelled to consider a similar question in their provincial legislatures.
Here's how it would work…

Here's what could happen if we have a yes vote.
The other provinces will be compelled to consider and vote on the issue. If there are 7 out of 10 representing 50 per cent of the population it will be removed from the Constitution.
Admittedly, this is an unlikely outcome. I think we could convince AB, BC, SK, ON and NF that we are all being similarly hosed under the existing equalization program, but how would you ever convince net recipients such as QC, NS, PEI, NB and MB? Still, it would get a national conversation going about why the net payers are so frustrated.
If we don't get others to agree, the principle of equalization stays in the Constitution, but we have a meaningful two-way dialogue about how it should be restructured, and that means designing it so QC no longer receives any money through the program from the rest of us.
I told you I went to the Fairness Alberta breakfast over the Stampede. Executive Director Bill Bewick is doing a terrific job digging into the numbers and explaining how absurd the entire program is.
Consider this: Newfoundland and Labrador is on the brink of bankruptcy and doesn't qualify for equalization. Quebec has been running surpluses and paying down debt and they receive $10 billion from the program.
If I had my druthers, my starting point would be that only small provinces should be allowed to qualify for equalization. I think PEI has it particularly tough – attempting to run all the provincial programs that are available in other provinces with a population the size of Red Deer. Providing a top up for provinces in this situation is what the program should be all about. I want Islanders to have the same quality of health care, education, social services and infrastructure as we do.
But we need to be frank about this. The equalization formula has been manipulated and massaged mainly so federal politicians can give money to Quebec. Maybe it began with good intentions, as francophones began to assert themselves and their right to operate their businesses primarily in French and needed a hand up to catch up. Maybe it was justified when Quebeckers were sharply divided on whether it was worth it to stay in Canada, as evidenced by the 50-50 referendum result in 1995.
But today, it's just taking advantage. In fact, it's bordering on abuse.
Quebec is taking advantage of our goodwill…

Last week, Quebec's Environment Minister Benoit Charette announced that Quebec would be rejecting a $14 billion project that would have seen GNL Quebec bring liquefied natural gas from Western Canada – principally Alberta – to Port Saguenay, Quebec so it could be exported on to Europe and Asia. Charette said it did not meet his standards for the environment:
"The promoter has not succeeded in demonstrating this, on the contrary," he said, adding that the government is worried it would discourage natural gas buyers in Europe and Asia from moving to cleaner energy sources. "This is a project that has more disadvantages than advantages."This is truly the last straw for me. If the Quebec government hates our energy industry this much and is actively working to destroy our natural gas industry I'm done with appeasement.
On the contrary, Minister…
Liquefied natural gas offers the best opportunity to reduce greenhouse gas emissions around the world. It is already "the cleaner burning fuel" as the ads used to say when I was growing up. It can easily replace coal in power plants and reduce greenhouse gas emissions in both China and India (which are adding coal-fired powerplants at a rate that dramatically exceeds the addition of wind and solar power everywhere in the world). Coupled with carbon capture and storage (underground) or utilization (for useful products including carbon nanofibre, concrete, industrial minerals, alcohol and ethylene) the greenhouse gas emissions problem can be solved. It is also going to be the base fuel for the new and emerging hydrogen economy, which will power all the heavy transportation we need to continue operating our global trade economy – marine vessels, trucks, trains, maybe even airplanes one day.
I am tired of placating the fantasy that our modern industrial economy is going to be powered by wind and solar and nothing else. Yes, hydrogen now offers a meaningful way for wind and solar to store the energy they produce, finally moving them towards being a reliable source of energy for our power grid. But once you've generated hydrogen at a wind or solar site, how do you transport it anywhere so it can be used for other purposes? The natural gas business can move it in pipelines. You can't move hydrogen on powerlines.
But wind and solar are also not carbon neutral until concrete, steel, fibre glass, rare earth materials and transportation are carbon neutral. Wind and solar are not more environmentally friendly until they stop killing migratory birds and bats. Wind and solar are not environmentally neutral until we find a way to recycle them at the end of use (rather than dumping everything in a landfill).
If Quebec wants to interfere with the development of our resources, damage our economy and cost us jobs, I refuse to send them any more of our money. We cannot continue being economically hobbled by Quebec and damaged by federal government policy and expected to keep on shipping out dollars to Quebec. I would be delighted to see a financially independent, strong Quebec paying for their subsidized day care all on their own.
If they want to stand on their own two feet, bravo, let's help them out. Let's cut off the money pipeline.
Let's help Quebec become financially independent…
Fairness Alberta has said three simple changes could cut the cost of the program in half and make sure Quebec is cut off almost entirely.
Stop adjusting the program to increase expenditures with GDP growth. This just makes logical sense. As provinces get wealthier and develop more own-source revenue they should need fewer federal transfers.
Adjust the payments to take into account inflation and different costs of delivering services in different provinces. It's a lot more expensive to hire a nurse in Alberta than in PEI, for instance.
Add four cents to Quebec hydro. Quebec subsidizes electricity rates which lowers the amount of revenues available to government. Imagine if Alberta sold oil and natural gas below market value and then asked Ottawa to make up the shortfall. It's bananas.
None of this negotiation can happen unless Albertans send a strong message that they have had it with the status quo.
Voting yes in the referendum means you are voting to eliminate or renegotiate. Voting no means you are happy being treated as the doormat of Confederation. Vote yes and make sure to tell your neighbours and friends to also.
Because as Bill points out on his Fairness Alberta website, this particular program is only one way that extra money gets transferred out of Alberta. As of 2019, Alberta has transferred nearly $325 billion to the rest of the country. We have to start changing this. Equalization is just the start.
'All about the campfire': Campers adjust their plans with fire bans in place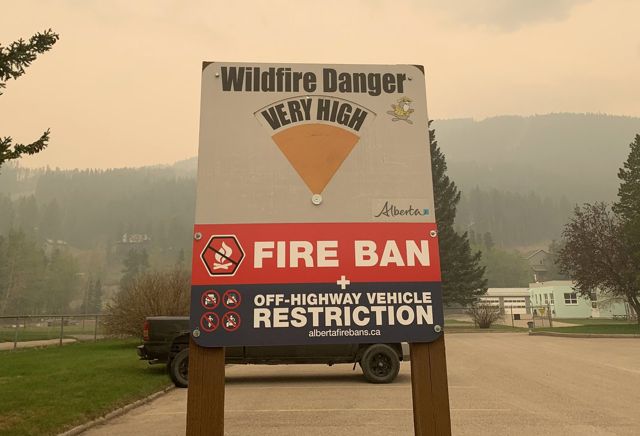 Blairmore area wildfire warning signage is shown in this handout image provided by the Government of Alberta Fire Service. As fire bans continue in many provinces, businesses selling camping gear and firewood are seeing a shift in demand. THE CANADIAN PRESS/HO-Government of Alberta Fire Service
By Ritika Dubey in Edmonton
Jade Najam was getting excited about camping during the May long weekend, sitting around the campfire late into the night with his family and sipping hot chocolate.
"Camping is all about the campfire. Just surfing the fire and sitting around the fire," said Najam. "Sitting around the campfire is the most important part of our evening."
But Alberta's fire ban, which was put in place in early May, still hadn't been lifted. Najam called off the plans to go camping in the wilderness, deciding it was better to stay home instead.
Fire bans began rolling in after hot, dry weather took over much of Canada early in the season — starting in Alberta, Saskatchewan and British Columbia, now expanding to the Maritimes. While Saskatchewan and Alberta have lifted the bans in some regions, people in the Prairies have been monitoring the wildfire season closely.
Companies that supply camping enthusiasts have been seeing trends change.
Najam, who is the managing director of Smart Firewood Products, based in Leduc, Alta., says demand usually picks up around mid-April and continues until mid-October.
"This May, I'm not even at five per cent of what I did last year in sales," he said.
Najam said his company provides "truckloads" of firewood to national parks in Alberta every year, while serving locals with retail firewood in his yard.
"My semi-truck full of firewood didn't even get out of the yard," he said of the current season.
One outdoor outfitter, meanwhile, is seeing a jump in sales for propane gas outdoor firepits.
"People have to look at things a bit differently when planning their camping trip due to fire bans," said Mike Eerkes, general manager at a Mountain Equipment Company store in Edmonton.
He said campers are opting for alternatives that don't get the classic smoky-wood campfire but still provide a warm glow.
For propane fires, Eerkes said, "All you need is a propane firepit, a propane tank and some gas in it."
The biggest advantage to propane fire is that "you can have it," he said. "They're fully compliant with the fire bans."
However, he acknowledges that propane fires are not fuel efficient, based on his experience. He suggested buying larger, refillable propane tanks for cost-effectiveness.
Overall, Eerkes said he hasn't seen a remarkable shift in the sales of camping gear overall.
"It's certain the fires are going to have some effect … but I'm not convinced we're seeing a massive downturn in people going camping this year."
A private campground about 100 kilometres southwest of Halifax has been getting cancellations since the fire ban and camping bans in wooded areas of Nova Scotia earlier this week.
"When fire bans are in place, it's the private campground's choice to follow the fire ban to not," said Minseo Kim, manager of the Little Lake Family Campground in Lunenburg, N.S. "But for this fire ban, private campgrounds have to listen as well.
"This has never happened before. We never faced this issue."
Kim said the cancellations will not have a huge effect in the coming weeks, partly because the peak season begins in July and the campground also has an open space outside of the wooded area.
He is hoping the fire ban lifts soon for overnight campers.
Nova Scotia imposed the fire ban on Monday, with Prince Edward Island following Tuesday.
Chris Nuttall-Smith, the author of the newly released book "Cook It Wild," said campers don't really need campfires to enjoy the outdoors or prepare meals.
A longtime backpacker and camper, Nuttall-Smith said fire bans are not a "huge limitation" for cooking outdoors with alternatives like backpack stoves available.
Nuttall-Smith, in his book, shares 75 recipes to cook in the wild, with up to 65 of them possible without a campfire, he said.
"Some of the best trips that I've ever taken are in places where you're never allowed to have a campfire," he said. "I don't think a lot of people miss it."
He recommends campers making due without fire this season bring pre-prepared food and enjoy the outdoors.
"You can find so much beauty out in the wild at dusk, after dark, like looking at the fireflies, looking at the stars. There is so much to do."
This report by The Canadian Press was first published June 2, 2023.
—-
RCMP chopper pilot pulls off amazing helicopter rescue of missing woman west of Innisfail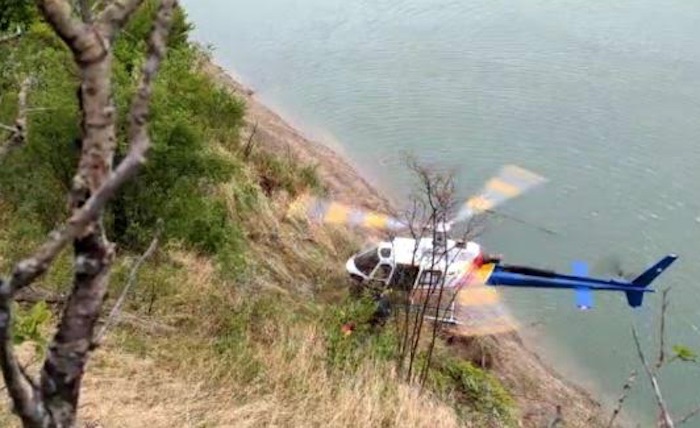 News release from Innisfail RCMP
Innisfail RCMP seek public assistance in locating missing elderly female – Update #3
Innisfail, Alta. – RCMP would like to provide additional details and clarify some information with regards the search efforts and the ultimate rescue of Lorraine Vandenbosch who went missing from Dickson Point Campground on May 29, 2023.
Upon locating Lorraine as she emerged from a heavily wooded area, rescue teams had difficulties transporting her due to a steep embankment. Alberta RCMP Air Services were again up to the task in supporting rescue efforts by landing in the difficult location and transporting Lorraine . She was taken for medical assessment and ultimately transported by STARS to hospital. Lorraine remains confused about her ordeal and RCMP have few details at this time.
Background
June 1, 2023
Innisfail RCMP seek public assistance in locating missing elderly female – Update #2
Innisfail, Alta. – RCMP are please to report that after 4 days of searching, Lorraine Vandenbosch has been located by rescue teams alive and in good spirits.
The RCMP helicopter located Lorainne this morning at approximately 9:30 a.m. walking out of a heavily wood area near the Dickson Trout Pond.
Lorainne is receiving precautionary medical attention and is with her family.
RCMP would like to thank the tireless effort of all involved in this search: Red Deer County SAR, Rocky Mountain House SAR, Sundre SAR, Wetaskiwin SAR, Red Deer County Patrol, Innisfail Fire Dept, Red Deer County Fire Dept, Spruceview Fire Dept, Alberta Conservation Officers, Raven Crime Watch and Mounted Horse volunteers.
RCMP would also like to thank the organizations that provided food to the teams, Spruceview Bakery and Red Deer Costco. This support allowed the rescue teams to continue working long hours.
Background
Innisfail RCMP seek public assistance in locating missing elderly female – Update
Innisfail, Alta. – Innisfail RCMP continue to search for Lorraine Vadenbosch who went missing from the Dickson Point Campground at Glennifer Lake yesterday. RCMP with assistance from Red Deer County, Sundre, and Rocky Mountain House Search and Rescue teams are actively searching the area.
While search teams continue to search, we are asking residents in the Glennifer Lake, Dickson, Spruce View, and nearby areas, to check your properties including treed outcroppings and outbuildings for Lorraine.
If you have any information regarding the whereabouts of Lorraine, please contact the Innisfail RCMP Detachment at 403-227-3342. If you want to remain anonymous, you can contact Crime Stoppers at 1-800-222-8477 (TIPS), online at www.P3Tips.com or by using the "P3 Tips" app available through the Apple App or Google Play Store.
May 29, 2023
Innisfail RCMP seek public assistance in locating missing elderly female
Innisfail. Alta. – Innisfail RCMP are seeking public assistance in locating a missing elderly female. Lorraine Vandenbosch (78), a resident of Didsbury, was last seen on May 29, 2023, at 10:30 a.m., at the Dickson Point Campground at Gleniffer Lake. Lorraine may be confused and there is great concern for her safety.
Lorraine is described as:
5 feet tall
Red hair
Light complexion
Last seen wearing white pants, white and black shirt, black runners and a cream colored hat
If you have any information regarding the whereabouts of Lorraine, please contact the Innisfail RCMP Detachment at 403-227-3342. If you want to remain anonymous, you can contact Crime Stoppers at 1-800-222-8477 (TIPS), online at www.P3Tips.com or by using the "P3 Tips" app available through the Apple App or Google Play Store.