Red Deer South Conservative MLA is a one man opposition party within government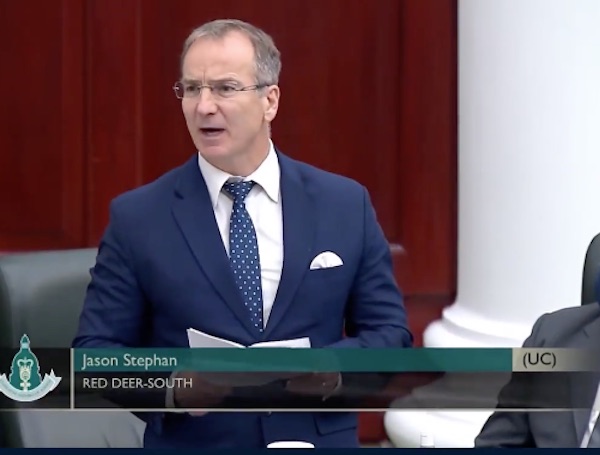 Jason Stephan may be treading on thin ice with his government as the backbench MLA stood in the Legislature this week t0 challenge his own government.. again. Backbench government MLA's tend to disappear for long periods of time waiting for a shot to get into cabinet and make decisions that affect the province. These MLA's spend time on committees trying to influence the cabinet decision makers and ultimately the Premier. Stephan is having none of that. The Red Deer South MLA has repeatedly taken his own government to task when he doesn't agree with the actions they're taking.
The latest example took place in the Legislature Thursday when Jason Stephan rose to challenge Health Minister Jason Copping on Section 1 of the Charter which says "limits to fundamental freedoms must be justified." In this extraordinary exchange Health Minister Jason Copping repeated government talking points while Stephan demanded answers on whether the province has subjected any of the public health restrictions to due diligence to ensure they meet requirements set out in the Charter of Rights.
In this amazing exchange between members of the same government, MLA Stephan challenged Minister Copping on due diligence, restrictions against children, and restrictions against people who test negative or have protective antibodies due to the fact they've already survived covid.
CP NewsAlert: Calgary police issue Amber Alert for missing two-year-old boy
Calgary police have issued an Amber Alert for a two-year-old boy.
They say Hawkin Gerald Thomas was taken from the downtown area at about 2:30 p.m. following a supervised visit with his mother, 40-year-old Tamara Jean Vanderjagt.
Police say they are concerned for the boy's welfare.
Hawkin is described as white with blond hair and he was last wearing a red sweater, green boots and dark camouflage sweat pants.
His mother is described as white with blue eyes, bright short red hair, about five foot four inches tall, and she was wearing a black hoodie and red pants.
She was driving a brown 2017 Mitsubishi Outlander with Alberta licence plate NLY 991.
The car was last seen heading west on 9 Avenue Southeast going past Blackfoot Trail.
The Canadian Press
Alberta's Kenney to talk supply chain issues, pipelines at U.S. governors meeting
EDMONTON — Alberta Premier Jason Kenney says he will travel to Washington to discuss issues including COVID-19 and pipelines with American leaders.
Kenney says he wants to talk about cross-border supply chain issues, including a ban by both countries on entry by truckers not vaccinated against COVID-19.
Kenney says the ban further aggravates supply bottlenecks and leads to higher prices for consumers.
He says he will also lobby to increase access to the U.S. for Canadian oil through transborder pipelines.
The National Governors Association meeting begins Friday and hosts governors from across the United States.
Alberta is opening three new trade and investment offices in Chicago, Denver and Seattle and expanding its office in Washington.
This report by The Canadian Press was first published Jan. 27, 2022
The Canadian Press