Red Deer "chop shop" bust nets treasure trove of stolen goods
From Red Deer RCMP
Red Deer RCMP make arrest during TRAP search warrant 
In the month of September, the Red Deer RCMP's Crime Reduction Team (CRT) conducted a Targeted Response to Auto Theft Project (TRAP).
As a part of the project, CRT obtained a search warrant for a suspected "chop shop" at a property in Chiles Industrial Park. Upon executing the warrant, CRT recovered a 2019 Jeep Compass, stolen out of Red Deer, that was in the process of being stripped for parts, and a 2012 Keystone Travel Trailer stolen out of British Columbia. In addition to the vehicles, a number of external hard drives, computers, bikes, and other stolen items were seized.
"These targeted projects are a very effective tool in reducing crime and making arrests," says Corporal Matthew Strader, Red Deer RCMP. The recent TRAP project resulted in 75 arrest warrants being executed, 45 charges laid and 14 Provincial violation tickets issued.
Ahmed Moawad (37) of no fixed address was charged with 14 offences in relation to the operation in Chiles Industrial Park, which included:
Possession of property obtained by crime over $5,000
Possession of weapon for a dangerous purpose
Careless use of a firearm
Unauthorized possession of a restricted firearm
Possession of a controlled substance
Illegal possession of government documents
Failure to comply with release conditions (x4)
He was remanded into custody after a judicial hearing and will be appearing in Red Deer Provincial Court on Oct. 14, 2020.
Bail hearing continues today for teen accused in Calgary officer's hit-and-run death
CALGARY — A bail hearing for a teen accused in the hit-and-run death of a Calgary police officer will continue today.
The hearing began Tuesday for the 18-year-old accused, who was 17 at the time of the offence on Dec. 31.
He has been charged with first-degree murder and cannot be named under the Youth Criminal Justice Act.
Police have said Sgt. Andrew Harnett was hit and dragged while attempting to stop an SUV after noticing its plates didn't match its registration.
Harnett died later in hospital.
Police allege the accused youth was driving the SUV and a 19-year-old man was a passenger in the vehicle.
The 19-year-old has also been charged with first-degree murder.
Prosecutor Doug Taylor told the court Tuesday that he plans seek an adult sentence for the youth if he's convicted, which would be life in prison with no eligibility of parole for 10 years.
He later told reporters why the Crown is opposed to the suspect's release.
"Simply put, the Crown's position is that the young person ought to be detained for both the safety and the protection of the public and to maintain confidence in the administration of justice," Taylor said.
This report by The Canadian Press was first published Jan. 20, 2021
The Canadian Press
Police organized crime team takes down trafficking network supplying drugs to inmates at Bowden Institution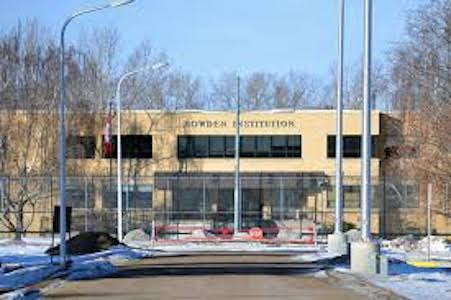 From ALERT – Alberta Law Enforcement Response Team
Project Evolve Dismantles Drug Trafficking Network
Eleven people have been arrested for their alleged role in a drug trafficking network, which operated in the Edmonton area and extended into the Bowden Institution.
Project Evolve was a lengthy and multi-faceted investigation led by ALERT's Edmonton's organized crime team, with the assistance of Correctional Service Canada, St. Albert RCMP, Morinville RCMP, Innisfail RCMP, Edmonton Police Service, and Winnipeg Police Service.
"I want to sincerely thank law enforcement for their incredible job in disrupting a significant drug trafficking network within Alberta's correctional system," said Kaycee Madu, Alberta Minister of Justice and Solicitor General. "ALERT has done a remarkable job partnering with federal, provincial and municipal law enforcement to remove deadly drugs like fentanyl from our prisons. This kind of organized criminal activity has no place in the correctional system."
A total of 60 criminal charges have been laid against 11 suspects allegedly involved in trafficking drugs in the Edmonton area. ALERT alleges the network conspired to smuggle drugs into the prison system and had established connections to Bowden Institution.
Project Evolve resulted in the seizure of drugs and cash worth an estimated $300,000. Search warrants were executed at homes in St. Albert and Edmonton, with the following evidence being seized:
35 grams of fentanyl;
88 grams of methamphetamine;
620 grams of cocaine;
1,341 grams of a cocaine buffing agent;
1,745 grams of cannabis;
a handgun with its serial number removed; and
$206,000 cash.
"This was a very well-organized, well-coordinated group. Their drug activities jeopardized community safety and hurt communities big and small," said Staff Sgt. Blayne Eliuk, ALERT Edmonton. "And by introducing drugs into the prison system, this substantially put the health and safety of not only inmates, but also corrections staff and officers, at risk."
"Organized crime groups who traffic in illicit drugs destroy lives, homes and communities. Drugs and drug addiction contribute to spinoff crimes such as theft and break-and-enters, which result in citizens feeling less safe. Investigations such as this are a positive step towards reducing crime in St. Albert and keeping the community safe," added Const. M-J Burroughs, St. Albert RCMP.
"I'd like to thank ALERT and my team at Bowden Institution for their combined efforts on Project Evolve. Partnerships such as this one between ALERT and Correctional Service Canada demonstrate intergovernmental departments working together to keep Canadians safe," said Lawrence Hartigan, Warden of Bowden Institution.
Project Evolve concluded on December 17, 2020, with several arrests:
David Klassen, a 31-year-old man, currently incarcerated;
Nicolas Moores, a 29-year-old man from Edmonton;
Garreth Curry-McCallum, a 23-year-old man from St. Albert;
Jesse Riedlhuber, a 23-year-old man from Morinville;
Brendan Baer, a 23-year-old man from St. Albert;
Tyler Kemps, a 25-year-old man from Edmonton;
Nolan Arndt, a 24-year-old man from St. Albert;
Tyler Willimont, a 24-year-old man from Edmonton;
Jessa Brianne Ivicak, a 23-year-old woman from Edmonton;
Kolby Gordon, a 23-year-old man from St. Albert; and
Chayce Anthony Krause, a 26-year-old man, currently incarcerated.
Both Klassen and Krause were incarcerated at Bowden Institution during the course of the investigation. Moores is currently serving a federal sentence under the jurisdiction of the Correctional Service Canada as the result of a conviction from a previous and unrelated ALERT investigation.
A full list of charges is available for download here.
Project Evolve began in June 2019.
Members of the public who suspect drug or gang activity in their community can call local police, or contact Crime Stoppers at 1-800-222-TIPS (8477). Crime Stoppers is always anonymous.
ALERT was established and is funded by the Alberta Government and is a compilation of the province's most sophisticated law enforcement resources committed to tackling serious and organized crime.