Rays Of Sunshine In MLB's Pointless Lockout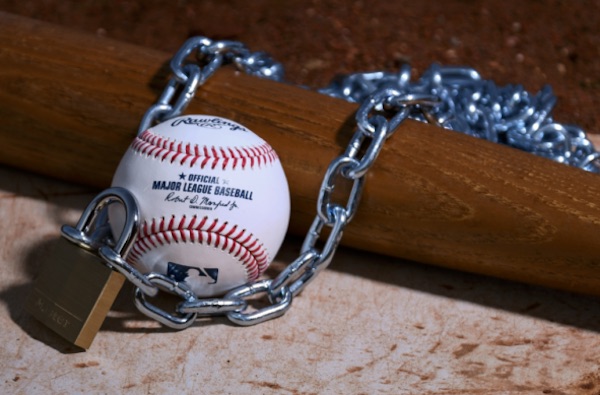 If you're a baseball fan planning on going to 2022 spring training to see your favourite team you might want to pause before booking a flight or hotel room. In case you didn't see the news, MLB has locked out its players again as the two sides jockey for a new collective bargaining agreement.
"We hope that the lockout will jumpstart the negotiations and get us to an agreement that will allow the season to start on time," says MLB owners commissioner Rob Manfred. "This defensive lockout was necessary because the Players Association's vision for Major League Baseball would threaten the ability of most teams to be competitive. It's simply not a viable option." Sure. Go with that.
Understand that for baseball fans the words collective-bargaining agreement are as welcoming as a reminder that you're due for a colonoscopy. Labour actions of the past have ruined seasons and— in the case of the Montreal Expos— doomed a franchise. (See: 1994 lockout )
"The Expos were widely regarded as the best team in baseball that season, prohibitive favorites to win the World Series for the first time in franchise history. Once play resumed, the cash-strapped Expos tore apart their contending team, shipping off their best players in trades for lesser prospects in most cases." By 2005 they had moved to Washington.
Since that 1994 disaster MLB has managed to avoid losing playing time to strikes/ lockouts. But the pressure has been building since the sport rejected the notion of a salary cap in favour of a much-less-restrictive luxury tax on free-spending terms. While the NHL, NBA and NFL operate more stringent salary cap systems, baseball has gone its own way in controlling salaries.
Concurrent with that has been an explosion of revenues for MLB, sending salaries and franchise values into the stratosphere. (See my book Cap In Hand for a full history of salary-cap economics and how a return to freer player markets is the future of the business.)
In a sign of how loose the financial reins have become, Max Scherzer's $43-million annual salary with the New York Mets is more than the entire payroll of two MLB teams. With no minimum payroll, Pittsburgh and Baltimore are free to lap up their 1/30th share of MLB's lucrative digital/ TV package, logo rights and other baubles.
Meanwhile players are concerned that while the stars become rich as Saudi princes the working class of the sport is not getting a proper share of the revenues. They claim owners are using devious practices to delay players getting to arbitration and free-agency. And they decry owners tanking for better draft picks or simply to make money.
None of this says that an early solution is imminent should the sides get past the next few weeks. The only lever for players is cancelling games, and there are none scheduled till next February (spring training) and late March (regular season). Likewise players are paid their salaries only during the regular season, meaning no player will lose any money till the games begin. Translation: They're not panicking either. So expect the real negotiating to start in February as camps set to open for 2022.
The hiccup in the debate over highly paid superstars and exploding payrolls is the Tampa Bay Rays. The definitive "small MLB market" Tampa has found a way to get to the 2020 World Series and the 2021 ALDS using a formula that involves dumping their name players (Evan Longoria, Blake Snell, David Archer) and culling prospects and rejects from other clubs.
While teams like the Blue Jays, Mets, Yankees, Dodgers and Angels are profligate spenders on big names, Tampa throws around nickels like they were manhole covers. The Rays are so frugal that they're proposing their summertime games be played in Montreal.
You want more? The cash-strapped Rays traded their stopper at the 2021 trade deadline— even as they led the majors in wins. They virtually invented the notion of reducing the value of starting pitching by creating the "bullpen" day, in which they start a relief pitcher and followed him with a series of other situational pitchers. Picking through the bargain bin they found inexpensive rejects and burnouts on other staffs and thrust them into their lineup.
As Mack Cerullo of Yahoo Sports noted, the Rays used 39 different pitchers last season; of the nine relief pitchers on Tampa Bay's opening-day roster, only three remained at season's end. The team's three All-Stars, Joey Wendle, Mike Zunino and Andrew Kittredge, made a combined $5 million last year. Brandon Lowe, Randy Arozarena and Austin Meadows, the heart of their batting order, made less than $3.7 million among them.
Despite cutting corners the Rays had the No. 1 ranked system in baseball starting 2021. By season's end prized rookies Wander Franco, Arozarena, Luis Patino and Shane McClanahan were all keys to TB getting to the ALDS. When they get too expensive the Rays will likely trade them for prospects or let them walk in free agency.
(Although the Rays tarnished their Scrooge reputation by signing the brilliant young Franco an eleven-year, $182 million contract extension, with a club option of $25 million for a twelfth year.)
Which begs the question: why are the tall foreheads of MLB shutting down the sport to save a system that has worked so well for Tampa? There is a ready template to compete and prosper in smaller markets. Why is this news to other owners? Likely it's easier to lock out players than do the heavy lifting of the Rays. With no threat of losing a franchise via relegation (as in soccer) or being cut off from the MLB gravy train why bother?
So prepare for months of crocodile tears from owners that MLBPA's demands "would threaten the ability of most teams to be competitive". And prepare to hold your nose when they say they've solved the Grand Old Past-Time.
Bruce Dowbiggin @dowbboy is the editor of Not The Public Broadcaster (http://www.notthepublicbroadcaster.com). The best-selling author was nominated for the BBN Business Book award of 2020 for Personal Account with Tony Comper. A two-time winner of the Gemini Award as Canada's top television sports broadcaster, he's also a regular contributor to Sirius XM Canada Talks Ch. 167. His new book with his son Evan Inexact Science: The Six Most Compelling Draft Years In NHL History is now available on http://brucedowbigginbooks.ca/book-personalaccount.aspx
Dramatic? Yes. But 1972 Was Not The Greatest Hockey Ever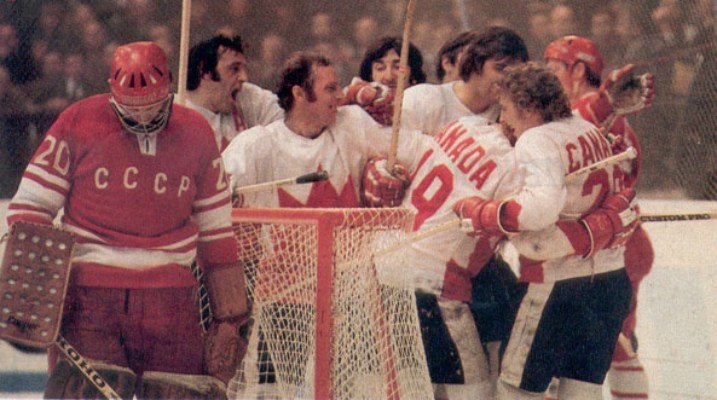 Sign up today for Not The Public Broadcaster newsletters. Hot takes/ cool slants on sports and current affairs. Have the latest columns delivered to your mail box. Tell your friends to join, too. Always provocative, always independent.
One of the advantages of being alive for an extended period is how you develop a filter for propaganda. Experiencing seminal sports events in real time affords the ability to separate hype from history. Perhaps the greatest sports events for Canadians of a certain age were those in September 1972, when— as a first-year student at U of Toronto— we cut classes to watch the national mental trauma of The Showdown Series.
Even 50 years after the emotional tumult of Canada/USSR, it's fair to say that it was a drama unlike any other. It legitimized International hockey competition. In an age when a 36-inch TV was a luxury, hockey sticks were made of wood and Foster Hewitt was still semi-coherent the eight-game matchup between Canada's top NHL stars and the "amateurs" of the Soviet Union delivered as a clash of cultures. Many who weren't there call it the greatest hockey ever played.
The greatest hockey ever? Certainly the Soviets played their best. But the Slap Shot quality of Canada's winning effort could not hold a candle to the 1987 Canada Cup squad that beat a Soviet team in a three-game final as the USSR was collapsing. Without Bobby Orr, Bobby Hull and Gerry Cheevers in the 1972 lineup— and lulled into complacency by homer media— Team Canada squandered its obvious advantages by arriving out of shape for Game 1.
Neither were they prepared mentally for the political consequences of eight games on two continents over 26 days in September. How high were tempers and how damning the criticism? The late Rod Gilbert's own brother called him "a disgrace" after Canada suffered an embarrassing 7-3 defeat in the opener. While time has soothed frayed tempers the Summit Series was not Canada at its best psychologically. To be blunt, Canada's top stars were their often own worst enemies when adversity appeared.
That's been largely forgotten today as fans smooth out the team's rough edges. Perhaps the best example of revisionism was Phil Esposito's pouting, whiny screed after Canada lost Game 4 in Vancouver. Espo was pure entitlement, demanding that fans ignore the ill-tempered, slap-dash attitude of their heroes. While sycophantic journalists have re-fashioned the Johnny Esaw interview as a call to arms, it was more like a put-upon call to Canadians for pity.
Almost as egregious was the deliberate injuring of Soviet star Valeri Kharlamov, the speedy winger (think Pavel Bure) who had destroyed Canada with his skill. And so Bobby Clarke went full Ogie Ogelthorpe, breaking Kharlamov's ankle in Game 6 with a cynical slash. Kharlamov tried to continue, but he was done as a factor in the remaining games. (Years later series star Paul Henderson admitted, "I really don't think any part of that should ever be in the game."
Then there was the late Jean Paul Parisé's intimidating assault on controversial referee Josef Kompalla in Game 8. Frustrated about calls in the final game, Parisé charged at Kompalla with his stick raised. Just before he brought the stick down on Kompalla he pulled back. Parisé was ejected, but it proved an ugly moment mitigated only by Henderson's later heroics.
To say nothing of Alan Eagleson's obstreperous behaviour skittering across the ice with a raised finger after reportedly escaping the KGB. He was matched by Bill Goldsworthy's raised finger at Game 8's end. Espo's repeated "choke" signs at bemused Soviets. Or the four Canadian players who jumped ship before the series switched to Moscow. It was high drama. The greatest hockey? No.
Thanks to Canada's globalist PM Pierre Trudeau, Canada was looking to break its image as an imperial chattel of Great Britain. The series was a springboard to that for many. But Canada had to win. My friend Bob Lewis, who covered the series for Time magazine, is excellent in the Icebreaker documentary at presenting the trauma for a vulnerable Canada. The country headed for a federal election in October wondering how a defeat might hurt Trudeau's chances. (The win didn't keep Trudeau from losing his majority.)
The 50th anniversary, like previous anniversaries of the 1972 series, has produced documentaries and films reliving the moments with surviving players and journalists who were there in the flesh. While neither CBC's four-part series Summit 1972 nor Icebreaker: The '72 Canada Soviet Summit Series breaks any new ground on the Cold War climate, they do serve as a reminder to anyone born after the Series of the cultural impact of the showdown with a feared nuclear rival. And it uses the latest technology to clean up video and audio that was being lost to time.
The principal difference between the two productions— besides length— is the scoreboard of which players on the two teams appear in each documentary. Who gets Ken Dryden? Who nails down Phil Esposito? Who gets Vladislav Tretiak? The greatest impression is the age of the surviving men now (10 Team Canada members have passed away) who look more like WW II vets than hockey heroes.
Sadly, the producers of Icebreaker also include extensive interviews with convicted felon Alan Eagleson, who stole the glory from Joe Krycka and Fred Page of the Canadian Amateur Hockey Association who originally negotiated the series. The corrupt Toronto lawyer then pushed them aside in his position as player agent and NHL Players Association director. Yes, he was part of the series, but allowing him to restore his integrity via a starring role in this documentary makes for tough watching.
So for those beleaguered by a modern world, the 1972 retellings will be a balm with a happy ending— like when Esposito met noted USSR hockey fan and cold-blooded dictator Vladimir Putin years later. "Mr. Esposito, I thought you hated all Russians," Putin remarked. "Mr. Putin, I did until my daughter married one," Esposito replied.
For others it might fill in the stories told by now-deceased relatives and friends who saw it all. And for aging Boomers, whose proxy was carried by Team Canada 1972, the throwback will be a reminder that something of worth more than bell bottoms and sideburns emerged from their glory days.
Bruce Dowbiggin @dowbboy is the editor of Not The Public Broadcaster (http://www.notthepublicbroadcaster.com). A two-time winner of the Gemini Award as Canada's top television sports broadcaster, he's a regular contributor to Sirius XM Canada Talks Ch. 167. Inexact Science: The Six Most Compelling Draft YearsIn NHL History, , his new book with his son Evan, was voted the eighth best professional hockey book of by bookauthority.org . His 2004 book Money Players was voted seventh best, and is available via http://brucedowbigginbooks.ca/book-personalaccount.aspx
Losing His Timing This Late In His Career: Send In The Clown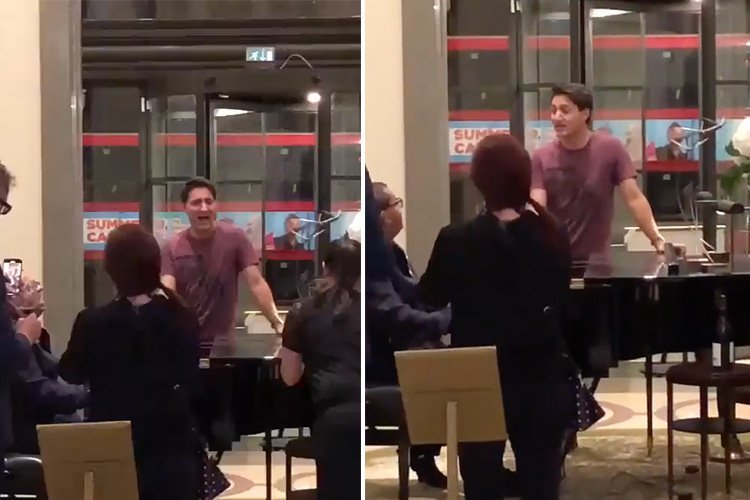 Sign up today for Not The Public Broadcaster newsletters. Hot takes/ cool slants on sports and current affairs. Have the latest columns delivered to your mail box. Tell your friends to join, too. Always provocative, always independent. https://share.hsforms.com/16edbhhC3TTKg6jAaRyP7rActsj5
"Although your baby/ May be/ Keen on a stage career/ How can I make it clear/ That this is not a good idea." Noel Coward
The latest theatre of the absurd from Canada's prime minister Justin Trudeau has received mixed reviews. For reasons best known to himself and his circle of advisors, Trudeau thought it might be a swell idea on the eve of Queen Elizabeth's funeral to go the lobby bar in his swank 5-star London hotel for some kick-ass karaoke and first-growth Bordeaux.
In keeping with his reputation as failed thespian Trudeau imagined that belting out Bohemian Rhapsody for an audience in the lobby bar would be a suitable tribute to the rock band Queen. And, by extension, Queen Elizabeth II who was, at that moment, about 40 hours from being entombed at Windsor Castle. Did he know he'd be filmed in this Canada's Got No Talent? Debatable.
The reaction was not. Many Canadians, to use Trudeau's own expression, did not experience it the same way as the PM and his jolly choristers. Disrespectful would probably be the best word to describe the leader of a Commonwealth nation making a prat of himself yet again in the performing arts. (Remind me, where was NZ PM Jacinta Ardern performing the same night? Did Jamaican PM Andrew Holness have a gig?)
If the urge of ululate was so strong, could he not have restricted his Freddy Mercury tribute to a private room, far from prying eyes? Did any of his advisors hint that, after his Bollywood and Ali Baba disasters, maybe going small might be a better tack? Or at least wait till after the solemn ceremony? So far, no one is talking.
But there were those supporting the erstwhile boy soprano. "@jake_naylor Yup, the Queen would have been real upset about the Prime Minister of Canada, who she called "extraordinary" to meet, playfully singing a song from a band — founded by Brian May, Commander of the Most Excellent Order of the British Empire — that played her Platinum Jubilee Party."
Others said that, in the spirit of a good old Irish wake, it should be all singing and dancing and reminiscing about meetings with Her Majesty and the Corgis on official business. After all, funerals are sad events. Why make them more sad? Raise your voice in praise of a life well lived.
Well, yes. And no. First, the insult was not to the dead Queen. It was to her grieving family. Second, there can be little doubt that the period of mourning, ended by the state funeral, was a throwback to an earlier time, say the 19th century, when the passing of a regent called for maximum dirge and decorum. To those, like us, captivated by the pomp and ceremony of mounted Life Guards, admirals in full garb and princes by the bushel, the funeral march to Windsor was evocative and splendid.
A suitable tribute to a woman who'd bridged the gap between the stoic Windsors (née Battenburgs) and the age of social media. If it's possible to have made that vast transition with dignity and purpose, Queen Elizabeth did. She withstood the righteous anger of the Irish, Africans and Asians who were trampled by her nation's Empire— and pacified much, but not all, the hate.
And so we saw the stricken faces of King Charles III and his subjects at their loss. Prince Andrew's shame at having not lived up to his mother's example as he romped with the execrable Jeffrey Epstein. Princess Anne, always passed over, yet more capable than her siblings, conducting herself with dignity. Meghan— enough said.
It was as heavy as it can get. So maybe, like the PM, those who advocate for a ceilidh have the right idea. Many put it in their wills that no sadness should be tolerated when they pass on. Prop Her Majesty up in the corner, then drink and dance till the dawn. Have a party. Why so sad?
Or maybe we are meant to mourn. That we need to mourn. Having seen the range of options with our own deceased parents and now our friends, grieving is a natural state. Joined with family and friends it girds us for what is to come in our own lives. Anglican minister Matt Kennedy offered on Twitter why it might be best to take this contemplative route.
"15h I've presided over funerals in which families, trying to honor the wishes of their departed loved ones, have wanted to bring in balloons, play rock and roll, tell wild stories about the deceased's youth…all in the effort to run from grief and mourning and solemnity.
But the human soul yearns to mourn in the face of death. It must be done. It cannot be avoided or suppressed. Death is the great enemy that divorces body from soul, the union we all know in the depths of our being that should never have been torn apart… No one needs to conjure up new words or songs or things to say. Words have been given to us, and acts, and ceremonies, and hymns that allow us to grieve and yet not as those who have no hope.
If you have been moved by the queen's funeral, that is because the queen in her wisdom loved her family and people well. She gave herself to the ancient ceremonies knowing these would be salve for the hearts of those who loved her and give glory and honor to her Lord."
Ironically, Justin came to prominence at his father's funeral, weeping openly beside Pierre's casket. His grief bonded him to many Canadians. Now, however, he's decided that warbling, "Galileo, Galileo" in a London bar is more suitable. His choice. But we liked the young Trudeau's decision better.
Bruce Dowbiggin @dowbboy is the editor of Not The Public Broadcaster (http://www.notthepublicbroadcaster.com). A two-time winner of the Gemini Award as Canada's top television sports broadcaster, he's a regular contributor to Sirius XM Canada Talks Ch. 167. Inexact Science: The Six Most Compelling Draft YearsIn NHL History, , his new book with his son Evan, was voted the eighth best professional hockey book of by bookauthority.org . His 2004 book Money Players was voted seventh best, and is available via http://brucedowbigginbooks.ca/book-personalaccount.aspx