Raise a glass to celebrate Canadian Beer Day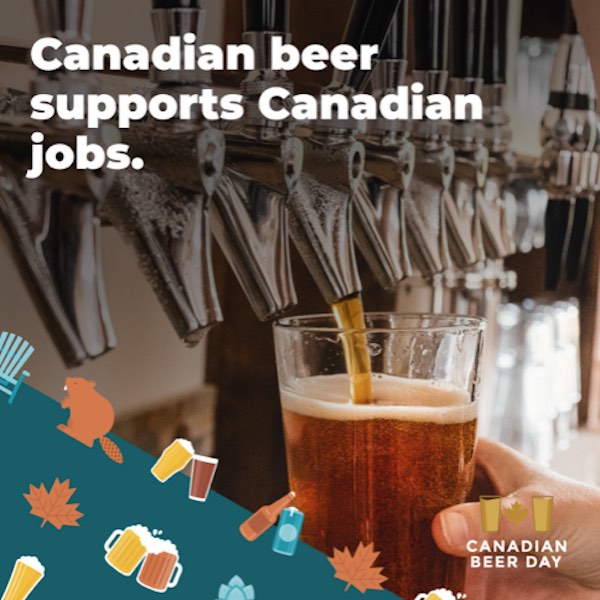 The third annual day dedicated to Canadian beer and our local brewing industry – Canadian Beer Day – is today – Wednesday, October 6, 2021, with coast-to-coast celebrations at local breweries, pubs, restaurants and at home with family and loved ones. Canadian brewers, beer enthusiasts, and the hardworking Canadians connected to the production and sale of beer across the country are raising a glass to #CheersAgain on this #CDNBeerDay – recognizing the positive impact beer has on our culture, communities, lives and economy.
First started in 2019, Canadian Beer Day is dedicated to celebrating beer and the thousands of Canadians involved in the brewing, selling, delivering, serving – and enjoying – Canada's favourite beverage loved by millions across the country. The celebration, which occurs every year on the Wednesday before Thanksgiving, recognizes and celebrates beer and breweries in Canada and the workers directly involved in beer's supply chain – agriculture, manufacturing, transportation, and hospitality.
"Beer brings Canadians together, and it's been a part of our country's culture and communities for generations. The last 18 months have been a challenging time for Canadians and businesses, specifically those in hospitality and tourism, making beer's role in bringing friends and family together more important than ever," said Dana Miller, Interim Director, Communications and Engagement for Beer Canada.
"Whether in a small or larger group this year, we hope that Canadians will join us in safely supporting our brewers, restauranteurs, barley farmers and all those connected to beer by raising a glass of your favourite Canadian-made beer today," Miller added.
This year, Canadian Beer Day launched an initiative to fundraise for Food Banks Canada to help fellow Canadians struggling with food insecurity, especially during COVID-19. Apparel has been sold online to beer fans across the country, and Beer Canada will match all proceeds with a donation being made shortly after October 6.
Canadian brewers directly employ over 19,000 Canadians, and approximately 149,000 jobs across Canada's hospitality, tourism, agriculture and manufacturing sector are supported by the production and sale of beer.
Canadian Beer Day is all about celebrating the beverage Canadians love, and the positive contributions brewers make to local communities across the country throughout the year. To find out more, visit www.canadianbeerday.ca.
QUICK FACTS
· 85% of the beer consumed in Canada is made here.
· Approximately 149,000 Canadian jobs are supported by the production and sale of beer.
· Over 19,000 Canadians work in breweries across the country.
· Canada is home to over 1,200 breweries.
· Beer contributes $13.6 billion to Canada's GDP annually.
ABOUT BEER CANADA
Beer Canada is the voice of the people who make our nation's beers. Our members account for 90% of the beer produced in Canada. The sale of beer supports 149,000 Canadian jobs, generates $14 billion in Gross Domestic Product and $5.7 billion in government tax revenues.
Rosier financial picture expected as Alberta delivers second-quarter budget update
EDMONTON — Alberta's finance minister is expected to deliver some good news on the province's budget today when he releases the second-quarter update.
Travis Toews says the economic outlook is improving across the board and not just in Alberta's mainstay oil and gas sector.
A surge in oil and gas prices has helped Alberta's bottom line since Toews predicted an $18-billion deficit when he introduced the budget back in February.
That deficit projection has since been halved to less than $8 billion.
Opposition NDP finance critic Shannon Phillips says the higher energy prices will help.
But Phillips says Toews still needs to present a plan to help families dealing with the double whammy of a 4.7 per cent rise in inflation on top of higher user fees, bills and insurances rates imposed under Premier Jason Kenney's United Conservatives.
This report by The Canadian Press was first published Nov. 30, 2021.
The Canadian Press
Exporting Publicly Funded Jobs is Bad for Alberta.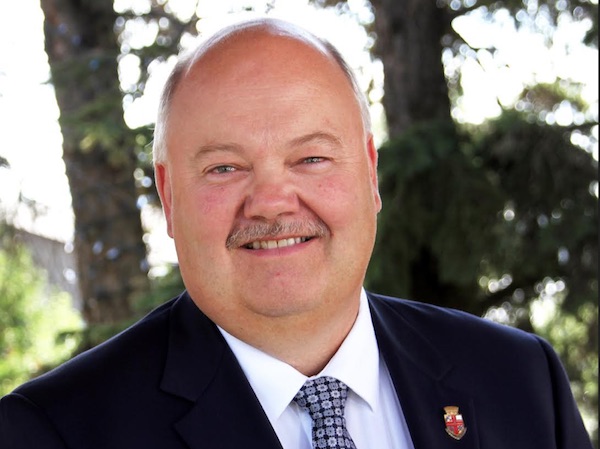 This article is submitted by The City of Lacombe
Mayor Grant Creasey
Recently, the Mayor of the Town of Athabasca, Colleen Powell, outlined what she described as a battle with implications for all Alberta. The problem she described was the decision by the Board of Governors of Athabasca University (AU) to adopt a "near-virtual" model. This model effectively takes well-paying rural Albertan jobs in her community and outsources them to communities like Victoria, Toronto – or anywhere else the institution approves. Over 10 years, this decision will reduce employment in that community by nearly 500 high quality jobs, according to Mayor Powell's opinion column submitted to the Edmonton Journal.
A similar battle is brewing in the City of Lacombe. Our largest employer, Alberta Financial Services Corporation (AFSC), has opted to pass a 'Work Away Policy,' essentially allowing staff to work remotely, anywhere in Canada.
Our Council has significant concerns with this decision, as it erodes employment opportunities both provincially and locally. Further, this policy change is not compliant with the formative legislation of AFSC.
It is important to remember that Athabasca University, and AFSC, were deliberately placed in our respective communities to promote rural development and viability. Premier Lougheed had a vision for Alberta that included locating publicly funded entities beyond the Edmonton and Calgary metropolitan regions – he recognized that strengthening rural Alberta strengthens all of Alberta.
As outlined in letters to our local MLA, as well as the Minister of Jobs, Economy and Innovation, the Minister of Agriculture and Forestry, and Premier Kenney, the City of Lacombe believes this Alberta Crown Corporation policy is bad for Lacombe and the province as a whole. While the letters outlining our concerns have gained limited traction, we believe Albertans should be aware of the implications when organizations outsource jobs away from rural communities like Lacombe and Athabasca.
AFSC's decision is against the Agriculture Financial Services Regulation; the governing document of the crown corporation. The regulation designates "Lacombe, Alberta as the location in Alberta at which the head office of the Corporation will be situated." Like AU, AFSC was intentionally placed in our community to support economic viability in smaller rural communities – and indeed it did, bringing highly-skilled and highly-paid employees to our community for years. Simply stated, AFSC's "Work Away Policy" disadvantages Lacombe and negatively impacts our local economy. It increases commercial vacancy and results in less overall commercial investment.
For this reason, I want to publicly thank Mayor Powell for speaking out on the damage caused when large publicly-funded institutions outsource Albertan jobs from the communities that rely on them, into other provinces.
These changes should concern us all, and we hope that Albertans will agree. Exporting publicly funded, high quality jobs from small Albertan communities to Toronto, Vancouver, or Montreal is ultimately harmful and will damage the economic viability of not only Athabasca and Lacombe, but all of Alberta.