Province freezes funds for doctors and launches process to work out a new funding formula
New physician funding framework announce
Alberta will maintain physician funding at $5.4 billion, the highest level ever, and implement its final offer to the Alberta Medical Association (AMA) to avoid $2 billion in cost overruns.
Existing terms will remain in place until March 31, 2020. A new funding framework will then be introduced, in a multi-year process that will require consultation with the AMA at all stages. The new framework will make changes proposed during negotiations to prevent cost overruns, align benefit programs and administrative fees with those of comparable provinces, and improve services for patients.
The eleven consultation proposals will also be implemented on March 31. This includes phasing in changes to complex modifiers, reducing the rate physicians can charge for this billing code to $9 from $18, for a period of one year before the code is removed in 2021-22. In summer 2020, at the direction of the Minister of Health, the Government of Alberta will also introduce a new alternative relationship plan (ARP) with built-in transition benefits to encourage physicians to move from fee-for-service to a three-year contract.
"Our province is facing cost overruns of $2 billion in the next three years due solely to physician compensation. If left unaddressed, these costs would impede efforts to reduce surgical wait times, improve mental health and addiction services, and expand the number of continuing care beds. Despite repeated efforts, the AMA failed to put forward alternatives that would hold the line on physician compensation. The new framework announced today will prevent cost overruns, allow our province to improve services for patients, and still ensure that Alberta's doctors are amongst the highest paid physicians in all of Canada."
Background
The new funding framework will maintain government's current level of spending on physicians at $5.4 billion.
The new funding framework avoids anticipated cost overruns of $2 billion over the next three years.
Alberta has been spending more on physician salaries than other provinces, yet most of its health outcomes are below national averages.
A doctor in Alberta earns approximately $90,000 more than a doctor in Ontario and physicians' fees have almost tripled since 2002.
Elements of the new funding framework
Changes to Alberta's complex modifier billing system. The rate physicians are able to charge for complex modifiers will be reduced to $9 from $18 for a period of one year before this billing code is removed in 2021-22. Once the new framework is fully phased in, physicians will be able to bill an additional fee after spending 25 minutes with a complex patient case. Alberta remains the only province in Canada that allows for a top-up payment for complex visits.
Removal of the comprehensive annual care plan from the list of insured services. Currently, physicians can also bill for a similar consultation called a comprehensive annual visit. No other province in Canada compensates physicians twice for annual care consultation.
Implementation of a new daily cap, modelled after a cap in place in British Columbia, of 65 patients per day. Large patient loads can contribute to physician burnout and may compromise patient safety and quality of care.
Removing physician overhead subsidies from all hospital-based services. Physicians who work in AHS facilities should not be billing for overhead costs that their community physician colleagues face, such as leases, hiring staff and purchasing equipment.
Ending of clinical payments, or stipends, by AHS to physicians. This change ends duplication of payments to contracted physicians.
Timeline
In September 2019, government provided notice to the AMA that it intended to begin negotiations on the AMA Agreement. The notification provided time for the AMA to prepare its proposals.
In November 2019, negotiations began with the AMA to reach a new agreement; government began consultations on 11 proposed changes to the schedule of medical benefits (SOMB, or "insured services").
In January 2020, negotiations and consultations proceeded with no agreement reached. Mediation, on both the negotiation and consultation proposals, began January 31 and continued into February.
The parties were not able to reach an agreement during mediation.
Government will implement its final offer from the negotiating table, including the 11 consultation proposals, on March 31.
Alberta says first steps to reform provincial health delivery system coming this fall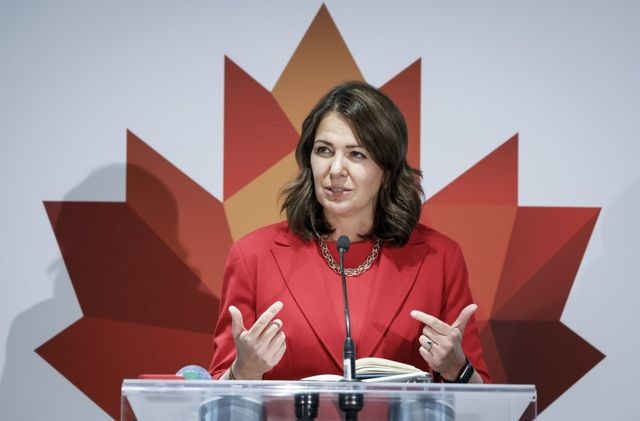 Alberta Premier Danielle Smith speaks to the media in Calgary, Monday, Sept. 18, 2023. Smith says the first steps are coming this fall to reconfigure Alberta's health delivery system – a plan the Opposition calls a recipe for more chaos from a government fresh off turning lab testing into a debacle. THE CANADIAN PRESS/Jeff McIntosh
By Dean Bennett in Edmonton, Alberta, Canada
Premier Danielle Smith says the first steps are coming this fall to reconfigure Alberta's health delivery system — a plan the Opposition calls a recipe for more chaos from a government fresh off turning lab testing into a debacle.
"We will not delay," Smith told mayors, councillors and other local leaders at the Alberta Municipalities convention Friday.
She said Health Minister Adriana LaGrange is to present her proposal to Smith and cabinet Wednesday on how to decentralize Alberta Health Services.
"If we get the cabinet approval and the caucus approval, we would be moving on some of that direction in the fall so that we are prepared for the new budget cycle in February."
Smith has directed LaGrange to revamp the structure of Alberta Health Services, better known as AHS, saying it needs to be more responsive to regional needs and focus more on direct hospital care.
She has said LaGrange will look at whether AHS still needs to be in charge of non-acute functions such as midwifery, primary care staffing and continuing care.
Alberta finished centralizing its health system 15 years ago to create AHS.
Smith has made AHS reform the centrepiece of her leadership.
Last year, she fired the governing board of AHS and replaced it with a single administrator. She blamed the agency for failing to step up during the COVID-19 pandemic as hospitals came close to being overrun with patients.
Opposition NDP Leader Rachel Notley said Smith's plan is only going to make things worse, particularly given the province abandoned last month its attempt to fully privatize community lab services after the changes resulted in long waits for tests in Calgary and southern Alberta.
"People all across this province are struggling to get access to lab (testing) now because of the dysfunction of this UCP (government)," Notley told reporters after her speech to Alberta Municipalities delegates.
"Overlaying more disorganization on top of that is a recipe for further undermining our health care and our public health care.
"There is not a single solitary thing that this UCP government has done under (former premier) Jason Kenney's leadership or Danielle Smith's leadership that has made our health care better."
Alberta Municipalities represents and speaks for villages, towns and cities that make up about 85 per cent of the province's population.
Wetaskiwin Mayor Tyler Gandam, the newly elected president of Alberta Municipalities, said they're hoping for changes and improvements to fix doctor shortages and emergency rooms forced to limit their operating hours.
"I was speaking with members of council from Ponoka and hearing that their emergency room had been shut down nearly 20 times this year so far," Gandam told reporters.
"The last thing that a person should be worrying about is whether or not the emergency room is going to be open or an ambulance is going to able to respond to their call when they need it."
The convention focused mainly on calls for more funding from the province.
On Thursday, delegates voted 98 per cent on a motion calling on the province to roll back years of municipal funding cuts on infrastructure.
The association says the province has cut both per capita spending and the percentage of total budget spending for years, resulting in about $1.3 billion less investment in community infrastructure per year that needs to be returned, particularly as the province continues to attract thousands more newcomers a year.
Smith said she will look at ways to get more money to municipalities to help bring property taxes down along with more one-time funding from recent budget surpluses to help accelerate capital projects.
"'I've watched it happen many times that we're very generous (and) increase the funding when times are good, and then when times turn the other way, we ask you to take a pretty big haircut, and that puts a lot of extra pressure on you," Smith told the delegates.
This report by The Canadian Press was first published Sept. 29, 2023.
Man dies in Edmonton mall parkade after standing up through car sunroof: police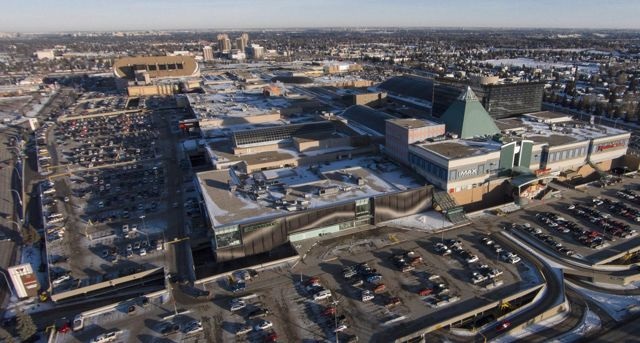 The West Edmonton Mall is shown on Sunday, Feb. 22, 2015. Edmonton police say they are investigating the death of a man in a parkade at the mall after he stood up through the sunroof of a car and was struck by a beam. THE CANADIAN PRESS/Ian Jackson
Edmonton
Edmonton police say they are investigating the death of a man in a mall parkade after he stood up through the sunroof of a car and was struck by a beam.
Officers responded to the call Thursday at West Edmonton Mall.
They were told a sedan had been travelling through the mall parkade when the 18-year-old passenger stood up.
As the car passed underneath a ramp, the man was struck by a concrete beam.
Emergency workers treated the man at the scene and took him to hospital, but he died of his injuries.
The 17-year-old male driver and 15-year-old female passenger were unhurt.
Police say speed and impairment are not believed to be factors.
This report by The Canadian Press was first published Sept. 29, 2023.