Police seeking public assistance to identify suspect in sexual assault
Police seeking public assistance to identify suspect in sexual assault
from Edmonton Police Service
The Edmonton Police Service is looking for information leading to the identification of a suspect in a sexual assault.
At approximately 6 p.m. on Aug. 27, 2021, at a retail store in the area of Terwillegar Drive and Windermere Boulevard, it was reported to police that a male suspect followed a 15-year-old female into the store, approached her from behind, and lifted her skirt. The male reportedly fled the store and drove away in a white truck.
Sept. 9 update: the suspect has been identified and his photo has been removed from this news release
Police are asking anyone who may have information about the identity of the suspect pictured to call the Edmonton Police Service at 780-423-4567 or #377 from a mobile phone. Anonymous information can also be submitted to Crime Stoppers at 1-800-222-8477 or online at www.p3tips.com/250.
Alleged bank robber flees into Edmonton home and takes hostages, police say
EDMONTON — Police in Edmonton say a suspect who fled the scene of a bank robbery entered a home and is holding hostages.
A police tactical team remains outside the home on the city's north side this evening.
Police are asking people to stay away from the area.
They say in a news release that the bank robbery happened several blocks away and that the suspect went into a home they say was "not associated to him."
Police say he remains inside the home with an "unconfirmed number of hostages."
The news release adds that police would provide more information later this evening.
This report by The Canadian Press was first published Monday, Nov. 29, 2021.
The Canadian Press
Two Million Dollar Drug Bust in Edmonton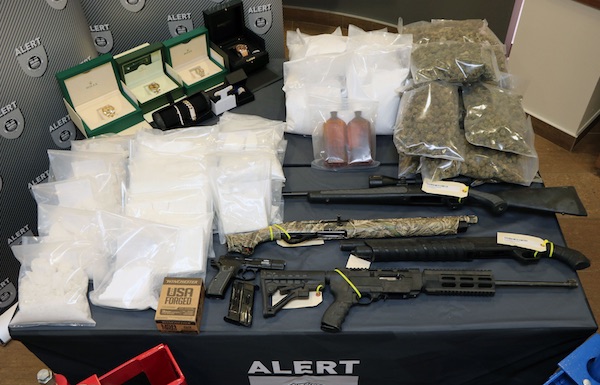 News Release from ALERT (Alberta Law Enforcement Response Team)
Project Elk concludes with eight arrests, millions in drugs and assets seized
A two-year cross-Canada drug trafficking investigation has concluded with eight Edmonton suspects facing charges. ALERT seized roughly $2 million in drugs, cash, and proceeds of crime.
Project Elk was a lengthy investigation into an Edmonton-based drug trafficking network that was involved in drug importation. Eight suspects were arrested and charged in October 2021 with offences ranging from drug and firearms related, to conspiracy to commit an indictable offence, to commission of an offence for a criminal organization.
The suspects are scheduled to make their initial court appearances on November 25, 2021.
"Project Elk will prove to be significant disruption to drug markets in Edmonton and other communities in northern Alberta. The negative impacts of drug trafficking are multi-faceted and connect back to societal harms such as gang-related violence, theft, property crimes, and healthcare implications," said Inspector Kevin Berge, ALERT Edmonton.
ALERT Edmonton's organized crime team spearheaded the investigation in November 2019, and Project Elk also involved the assistance of the Edmonton Police Service, and specialized RCMP units from Alberta, Saskatchewan, and Ontario.
In August 2020, ALERT intercepted a six-kilogram cocaine shipment that originated in Toronto. The seizure precipitated a series of search warrant executions in which six homes in the Edmonton were searched and one home in Strathcona County.
Project Elk resulted in the seizure of:
Five firearms;
10 kilograms of cocaine;
17 kilograms of a cocaine buffing agent;
4.7 kilograms of meth;
2.9 kilograms of cannabis; and
$135,000 cash.
In addition, ALERT seized roughly $200,000 in offence related property, including three vehicles, jewelry, diamond rings, and Rolex watches.
"The drug trade doesn't pay in the end. If you're not shot, you're ending up in jail, and you're only hurting the people around you. It's not the glamourous lifestyle that is fictionalized for the sake of TV and movies," said Berge.
A total of 35 criminal charges have been laid against:
Tyshawn Walters, 29-year-old man from Edmonton;
Kashane Walters, 34-year-old man from Edmonton;
Kariyawasam Kariyawasam, 39-year-old man from Edmonton;
Tyree Malcolm, 28-year-old man from Edmonton;
Levi Collinge, a 39-year-old man from Edmonton;
Boris Derpich, 43-year-old man from Edmonton;
Stacey Sharpe, 35-year-old woman from Edmonton; and
Trevor Bellows, 31-year-old man from Edmonton.
Members of the public who suspect drug or gang activity in their community can call local police, or contact Crime Stoppers at 1-800-222-TIPS (8477). Crime Stoppers is always anonymous.
ALERT was established and is funded by the Alberta Government and is a compilation of the province's most sophisticated law enforcement resources committed to tackling serious and organized crime.