Fall commercial vehicle inspection takes more than half of vehicles checked out of service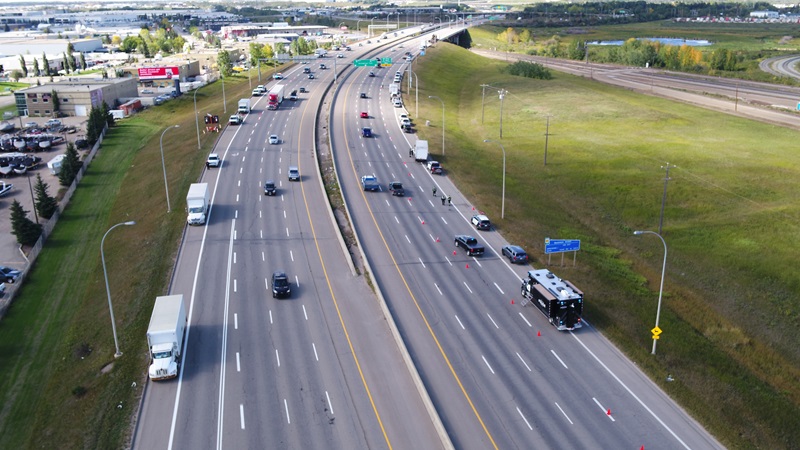 September 17, 2021
The EPS Commercial Vehicle Investigation Unit (CVIU) pulled 112 commercial vehicles off the road for failing to meet various safety compliance regulations during its recent three-day fall inspection event.
Aerial view of the fall 2021 commercial vehicle inspection
From September 14-16, 2021, CVIU resumed its fall commercial vehicle inspection for the first time since 2019. Working with partners including the Provincial Sheriffs, RCMP, Calgary Police Service, AGLC, Fuel Tax Enforcement and Peace Officers from local counties and Grande Prairie, officers inspected a total of 216 commercial vehicles at three sites around the city. The results are as follows:
65, or 30% of the total 216 vehicles inspected passed the inspection.
112, or 52% of the vehicles were declared out of service, meaning the vehicle had a defect that was an immediate risk to the safety of other road users.
39, or 18% of the vehicles required non-urgent attention.
In total, 601 violations were discovered, resulting in 174 tickets being issued for a total of $56,376.
28 vehicles were towed due to their dangerous condition.
71 breath tests were also administered, resulting in one warning.
Two charges were laid for suspended driving.
Comparing these statistics to those from the 2019 inspection, the out of service rate has increased by 10 per cent, with a similar number of inspections conducted. (In 2019, 231 inspections were completed compared to this year's 216.)
The most dangerous vehicle inspected was a U.S. semi-truck towing heavy trailers that was found to have unsecured cargo, as well as mechanical issues that included brakes and trailer attachment points. The vehicle was towed to a licensed inspection facility and ordered to have a complete annual inspection.
"The bulk of our inspections this year looked at commercial vehicles traveling in and around the City of Edmonton," says Sgt. Dave Beattie, with EPS CVIU. "It's important to note that despite the one very dangerous semi truck we found, most of the long-distance highway trucks we see are in safe condition. So while the results are not indicative of the transport industry as a whole, it shows that there is work to be done within certain sectors. It is my hope that future operations like this, combined with education and collaboration with industry advocates, such as the Alberta Motor Transport Association (AMTA) will go a long way to improving the safety of the commercial vehicles operating on our roads."
For more information on commercial vehicle inspections and the EPS Commercial Vehicle Investigation Unit, visit https://www.edmontonpolice.ca/trafficvehicles/trafficsafety/commercialvehicles
Sister alleges 'gross negligence' behind fatal police shooting of Edmonton bystander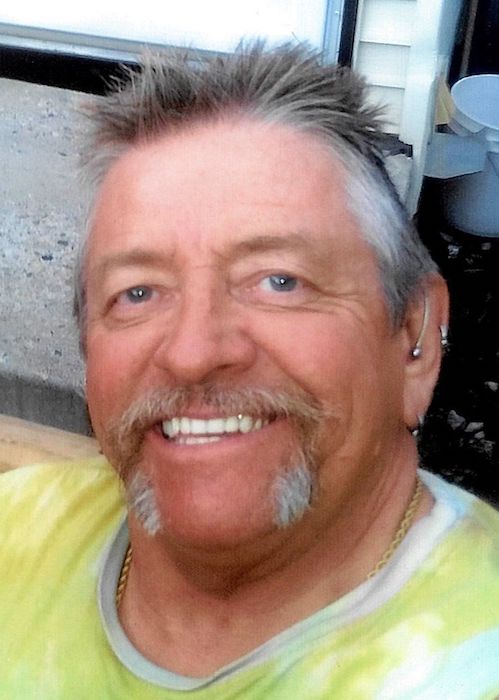 By Angela Amato in Edmonton
A woman says her brother was sitting by his TV in his basement suite last February when he was killed by a stray police bullet, calling it the result of "gross negligence" from officers responding to a robbery.
Susan Bandola says her 59-year-old brother, James Hanna, had recently moved into the apartment in downtown Edmonton after becoming the building's on-site manager. She said that he had been homeless for a time couch-surfing.
"He was just getting his life together and then this happens."
Police have said a stray bullet struck "an innocent person not involved" while officers were shooting at a suspect in an armed robbery at a liquor store.
The provincial police watchdog, the Alberta Serious Incident Response Team, has said officers chased the 36-year-old robbery suspect on foot and shot him. ASIRT said the suspect's firearm was fake.
Police have said shortly after, they discovered a resident in the adjacent building had also been struck. ASIRT has said officers administered CPR until paramedics arrived.
"I think James was dead by the time they found him," said Bandola, a registered nurse, who thinks officers did CPR because witnesses were watching.
Bandola said Hanna was sitting in a chair facing the television when he was hit.
"Had his chair been in any other place, he wouldn't have been hit," she said.
Bandola said an autopsy report she obtained showed the bullet that hit Hanna, blew out the base of his hand, went through his left lung, hit his heart and landed in his right lung.
When Bandola went to the apartment after her brother's death, she spotted six bullet holes in the side of the building, five of which hit Hanna's suite.
"It's senseless," said Bandola. "I have been there at 6:30 at night. People were coming home from work. They're walking down the street."
The shooting took place across light-rail transit tracks near MacEwan University.
"It could've been a bloodbath," Bandola said.
Hanna had been an active member of Narcotics Anonymous for 10 years, Bandola said, adding he would often be accompanied by addicts during his day-to-day activities as a way to keep them clean and occupied before they received treatment.
"He was very proud that he'd been clean for 10 years and still working his program," said Bandola, who also said Hanna was proud to be Métis.
"He was very kind to animals and children. He was big on hugs," Bandola said, adding he loved to travel and had been to Africa and Europe.
Bandola said during Edmonton's heat waves, Hanna would hand out bottled water to homeless folks downtown.
ASIRT declined to comment as its investigation is ongoing, but said it anticipates the investigation will be complete in the next few months.
An ASIRT spokesperson said after it completes its investigation, the agency's executive director will review it and decide whether to recommend criminal charges.
The spokesperson said a high number of cases and not enough staff have caused delays.
Bandola contacted personal injury lawyer Norm Assiff after her brother's death and plans to take legal action once the ASIRT report has been released.
"This was just horrific," Assiff said. "Should have never happened. There are so many ways that this could have been avoided."
Assiff said Alberta's Fatal Accident Act ensures surviving next of kin receive $82,000, but he thinks a life is worth much more.
"Obviously this is not something that the family is looking to get rich on," said Assiff.
"If we don't do something about it, don't bring it to the public's attention, don't bring it to the court's attention, don't bring it to the police's attention, what's to stop it from happening again?" he said.
Bandola said she does not believe Edmonton police took the shooting seriously.
"What really makes me angry is that there was no formal apology to my father," Bandola said, adding their 82-year-old father was deeply affected.
Edmonton police Chief Dale McFee said during a Feb. 24 news conference that the shooting was difficult for everyone involved — "especially, in something like this where somebody, an innocent person not involved in this, has lost a life. That's not anything anyone ever signs up for."
Edmonton police spokeswoman Cheryl Sheppard said in an email that all officers involved have completed the mandatory the reintegration program and that they have returned to their roles. The police service would not say when the officers were put back on duty ,but said that they may have never been taken off in the first place.
EPS said that they require officers to take firearms training once a year on top of an annual qualification.
Bandola said she thinks about her brother every day.
"I think about wanting justice for James and how if it would have been anybody else, how he would want justice for them."
This report by The Canadian Press was first published Nov. 9, 2022.
Flames burned 3-2 at home by Oilers comeback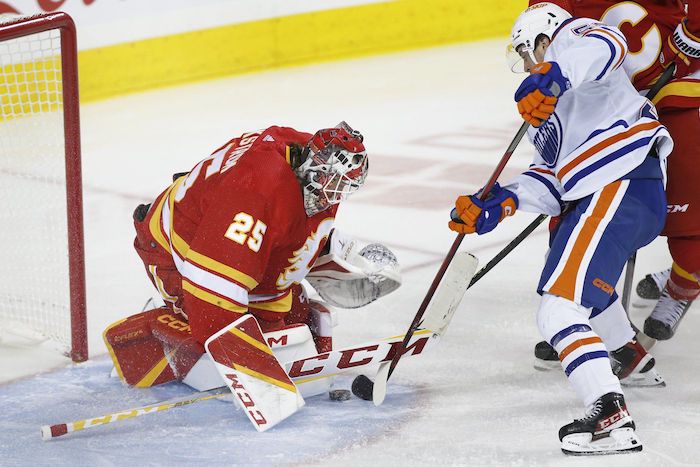 By Darren Haynes in Calgary
Zach Hyman scored twice, including the game winner at 12:24 of the third period, as the Edmonton Oilers came from behind for a 3-2 NHL victory over the Calgary Flames on Saturday night.
Connor McDavid, who also added two assists, had the other goal for Edmonton (6-3-0), which has won three in a row.
Mikael Backlund and Brett Ritchie replied for Calgary (5-2-0).
Stuart Skinner made 40 saves to earn the win and improve to 2-1-0.
Jacob Markstrom, who had 22 saves, suffered his first loss of the season. He is 4-1-0.
Looking to bounce back from a dismal playoffs performance against the Oilers last spring in which he gave up 24 goals in five games for an .852 save percentage, Markstrom was excellent for 2 1/2 periods stopping all but one of 23 shots as Calgary nursed a 2-1 lead.
Late in the second, he got his shoulder on a dangerous chance by Ryan Nugent-Hopkins after he was set-up by McDavid on an odd-man rush created by McDavid's stealing of the puck from Nazem Kadri in the neutral zone.
Five minutes into the third, the Oilers threatened again with Nugent-Hopkins again the triggerman in front, but Markstrom kicked out a pad to turn the puck aside and keep the score 2-1.
But at 9:02, Edmonton defenceman Cody Ceci rimmed the puck in from centre and after Markstrom went out of his net in an attempt to stop the puck behind the net but failed, he couldn't get back into the net and set and McDavid's quick shot went under his arm, tying the game.
On the game winner just over three minutes later, Edmonton pressure led to a turnover in front and McDavid's centring attempt deflected off Hyman's skate and into the net.
Calgary had broken a 1-1 tie 16:06 of the second on Ritchie's third of the season as the Flames' fourth line connected.
That's three goals in seven games for Ritchie, matching his goal total from last season, which came in 41 games. The rugged winger hasn't topped four goals in a season since 2017-18 with Dallas when he notched seven.
Scoreless after the first period, Calgary grabbed the lead short-handed at 4:14 of the second with Backlund getting loose down the wing and firing a shot past Skinner.
Less than 30 seconds later, Backlund got in alone, pulling Stewart out of position with a move to his left, but in attempting to set up Lindholm in front, the pass went into his skates and he wasn't able to get much of a shot.
Right after with the two Flames penalty killers caught up ice, Edmonton quickly transitioned up ice with Leon Draisaitl dropping the puck to McDavid who zipped a cross-ice pass to Hyman, who supplied the finish.
POWER PLAY SHOWDOWN
The game featured two of the league's top two power plays with Edmonton entering the night ranked second and the Flames sitting fourth. The Oilers went 1-for-4 making it nine games in a row with a goal on the man advantage.
Calgary, which is getting it done with a completely overhauled top unit with Nazem Kadri, Jonathan Huberdeau and Tyler Toffoli replacing Matthew Tkachuk, Johnny Gaudreau and Sean Monahan, went 0-for-3.
BATTLE OF ALBERTA NEARLY OVER
After finally meeting last year in the playoffs for the first time over 30 years, the two rivals only face each other three times this season and two of those games are now done.
Calgary won 4-3 two weeks ago in Edmonton. The season series wraps up Dec. 27 when the Oilers return to the Saddledome.
UP NEXT
Oilers: Open a three-game homestand on Tuesday against the Nashville Predators.
Flames: Eight straight games at home continues Tuesday when the Seattle Kraken pay a visit.
This report by The Canadian Press was first published Oct. 29, 2022.