Fall commercial vehicle inspection takes more than half of vehicles checked out of service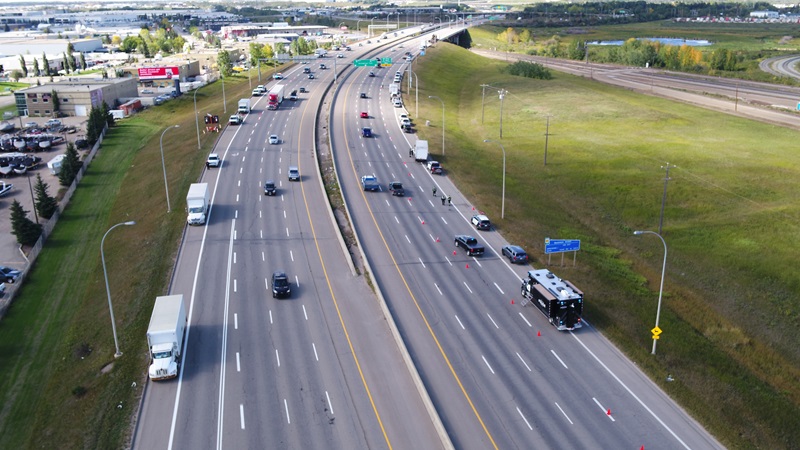 September 17, 2021
The EPS Commercial Vehicle Investigation Unit (CVIU) pulled 112 commercial vehicles off the road for failing to meet various safety compliance regulations during its recent three-day fall inspection event.
Aerial view of the fall 2021 commercial vehicle inspection
From September 14-16, 2021, CVIU resumed its fall commercial vehicle inspection for the first time since 2019. Working with partners including the Provincial Sheriffs, RCMP, Calgary Police Service, AGLC, Fuel Tax Enforcement and Peace Officers from local counties and Grande Prairie, officers inspected a total of 216 commercial vehicles at three sites around the city. The results are as follows:
65, or 30% of the total 216 vehicles inspected passed the inspection.
112, or 52% of the vehicles were declared out of service, meaning the vehicle had a defect that was an immediate risk to the safety of other road users.
39, or 18% of the vehicles required non-urgent attention.
In total, 601 violations were discovered, resulting in 174 tickets being issued for a total of $56,376.
28 vehicles were towed due to their dangerous condition.
71 breath tests were also administered, resulting in one warning.
Two charges were laid for suspended driving.
Comparing these statistics to those from the 2019 inspection, the out of service rate has increased by 10 per cent, with a similar number of inspections conducted. (In 2019, 231 inspections were completed compared to this year's 216.)
The most dangerous vehicle inspected was a U.S. semi-truck towing heavy trailers that was found to have unsecured cargo, as well as mechanical issues that included brakes and trailer attachment points. The vehicle was towed to a licensed inspection facility and ordered to have a complete annual inspection.
"The bulk of our inspections this year looked at commercial vehicles traveling in and around the City of Edmonton," says Sgt. Dave Beattie, with EPS CVIU. "It's important to note that despite the one very dangerous semi truck we found, most of the long-distance highway trucks we see are in safe condition. So while the results are not indicative of the transport industry as a whole, it shows that there is work to be done within certain sectors. It is my hope that future operations like this, combined with education and collaboration with industry advocates, such as the Alberta Motor Transport Association (AMTA) will go a long way to improving the safety of the commercial vehicles operating on our roads."
For more information on commercial vehicle inspections and the EPS Commercial Vehicle Investigation Unit, visit https://www.edmontonpolice.ca/trafficvehicles/trafficsafety/commercialvehicles
'Always remember': Funeral held for 2 Edmonton police officers killed on duty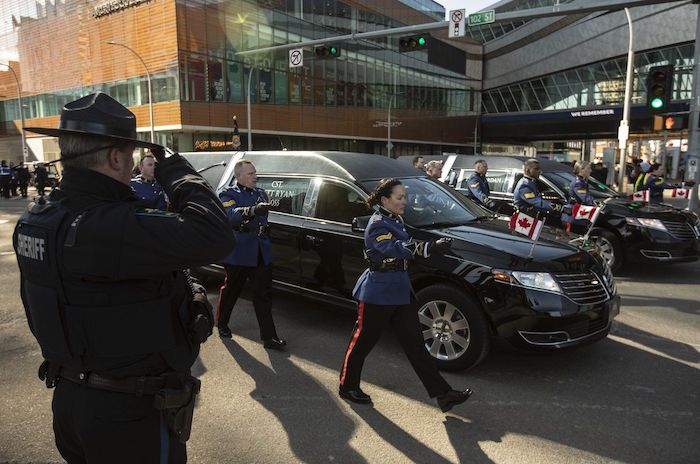 A sheriff salutes during a procession for Edmonton Police Service Const. Travis Jordan and Const. Brett Ryan in Edmonton on Monday, March 27, 2023. The officers were killed in the line of duty on March 16, 2023. THE CANADIAN PRESS/Jason Franson
By Ritika Dubey and Angela Amato in Edmonton
Two police officers killed in the line of duty were honoured Monday at a regimental funeral with tears and tales of off-key crooning, birdies and beers, laughs and contagious joy.
Thousands of officers gathered with family members to say a formal goodbye to Edmonton police Const. Travis Jordan, 35, and Const. Brett Ryan, 30, at Rogers Place arena, the home area of the Edmonton Oilers.
"I'll remember his smile, his wheezy laugh — we've been told we laugh the exact same way. I will always remember how excited he was when Brett found out he was going to be a dad, and I know that is one memory I will never lose," Ryan's pregnant widow, Ashley, said in her eulogy.
"You will live on in baby Ryan and they will know every last detail about how special you were to so many people and, most importantly, to me. I love you forever. I'll miss you always."
Jordan's widow, Annie, stood silently beside police chaplain Roy Langer as he read her parting words.
"We didn't have one hard day in 11 years," she said through Langer.
"The world was really ours. We had already started leaving our mark in some many different places."
The officers were shot at multiple times while responding to a family dispute on March 16. Police said the shooter, 16, then shot and wounded his mother during a struggle for the gun, before shooting and killing himself.
Jordan was remembered by colleagues as a valued officer of almost nine years, working to join the tactical squad. He came to Edmonton from Nova Scotia so he could realize his childhood dream of becoming an officer.
Sgt. Perry Getzinger and Sgt. Chris Gallahger remembered Jordan, or T.J., as a "great dog dad" to canines Teddy and B.J.
They recalled an excellent, ultracompetitive golfer who will live on in happy memories of lost balls and fairway trash talk from their "Birdies and Beers" golf trip.
Brodie Sampson, a childhood friend, said people who knew Jordan "were able to experience (his) kindness, contagious joy and unparalleled positivity even in the face of hardships."
"(It) gets us through these hard times now," he added.
Ryan, born in Edmonton, had more than five years' service with the force after working as a paramedic.
Ashley Ryan recalled life with the man with "a crooked little grin," who got up in the morning to have coffee and read the news in his fuzzy slippers, "because he was such an old man at heart."
Her husband, she said, loved skydiving, baseball and their dogs, even the one who chewed up their couch.
Garett Ryan said his older brother loved trips to Las Vegas and Mexico, eating donairs and Baconator burgers. He remembered driving around with his brother, windows down belting out Kenny Chesney country music songs.
"I often called him my big little brother because that's how much I looked up to him."
The caskets were brought to Rogers Place in two hearses that inched their way through the downtown from the legislature under bright sun amid chill winds. They were followed by officers from across the country.
They marched eight abreast, arms swinging amid the pipes and drums of interspersed marching bands while onlookers lined the streets. Some held up placards with painted blue hearts, others placed their right hands over their hearts.
"We're here to support all of the first responders but in particular our son, who is a police officer with Calgary Police Services," said Jim Funk, who attended the procession with wife, Chris.
"We feel so sad, especially for the families of the two officers, but that extends out to the whole first responder family nationwide."
Said Chris Funk: "It's probably the worst nightmare families can experience."
Two caskets, each draped in a Canadian flag, were carried into the arena on the shoulders of Edmonton police pallbearers.
The service was not open to the public but was livestreamed and broadcast outdoors at the Ice Plaza next to Rogers Place.
Dozens shivered in the cold to watch, including 15-year-old Charlie Dennis, whose father is an Edmonton officer.
"It's nice to know that there are people around that would care and would show up," she said.
Police continue to investigate the circumstances of the shooting and have said the same gun was used days earlier at a nearby Pizza Hut, leaving a man injured.
Police had also been called to the teen shooter's home in November, apprehending him under the Mental Health Act before taking him to hospital for an assessment.
The day of the shooting, the boy's mother called saying she was having trouble with her son. Police said there was no indication he had a gun or that the officers were walking into a high-risk or dangerous situation.
There have been 10 officers killed in the line of duty in Edmonton.
The most recent previous death was of Const. Daniel Woodall, who was shot in 2015 trying to enter the house of a suspect wanted for criminal harassment.
This report by The Canadian Press was first published March 27, 2023.
— With files from Dean Bennett
Statements from the family members of Constables Travis Jordan and Brett Ryan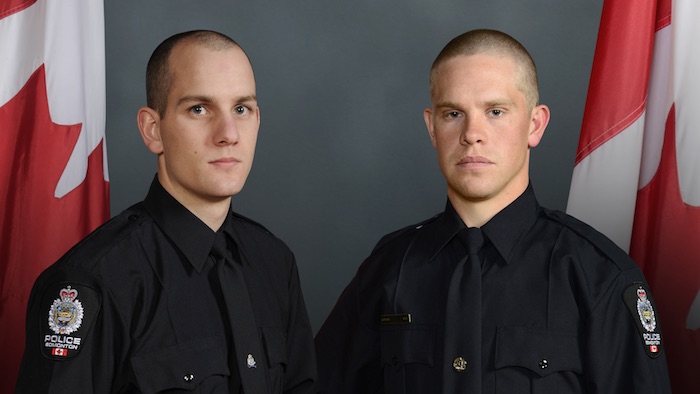 Statements submitted by the Edmonton Police Service
Ryan Family Statement
We want to thank the public for the overwhelming outpouring of support they have provided our family, and Brett's EPS and first-responder family, during this extremely difficult time. Grieving the sudden loss of a beloved member of our family is ineffable. Brett was a husband, a son, a brother, an uncle, and a father-to-be. He was a multi-talented individual, dedicated friend, respected colleague, active community member and volunteer, and compassionate first responder whose calling was to help those in need. His absence is profound, and we, along with his brothers and sisters in blue, will miss him. We have had the incredible experience of witnessing the extraordinary support a city can provide a family in their most significant time of need. Thank you for your selflessness expressed through thoughtful words, blue ribbons, touching tributes, acts of kindness, and much more. As we prepare to say our farewell, we thank you for respecting our privacy and for continuing to do so in the coming days and weeks as we grieve this tremendous loss.
Jordan Family Statement
We want to take this opportunity to express our sincere appreciation to the public for the extraordinary lengths you have gone to support our family, and Travis' EPS family, in this time of great tragedy. We are beyond words as we continue to grieve this unspeakable loss. Travis' sense of adventure was boundless and led him to a life well-lived. He was a son, a husband, a brother, and a loyal friend. Alberta may have called to his heart, but the East Coast ran through his veins. His family roots in Nova Scotia have deep ties to the province filled with friends, family and loved ones. We want to extend our thanks for their continued love and support and pay homage to them for the profound effect they had on his life. He was passionate about giving back to his communities, and his willingness to help was limitless—all the makings of a great police officer and an even greater human being. This loss has cast an enormous void in our lives, and we, along with his EPS brothers and sisters, will miss him fiercely. The incredible outpouring of support we continue to receive in this city and across the country has not gone unnoticed and is deeply appreciated. We thank you for respecting our family's privacy during this difficult time and for continuing to do so in the days ahead as we prepare to say farewell to a great man.