Fall commercial vehicle inspection takes more than half of vehicles checked out of service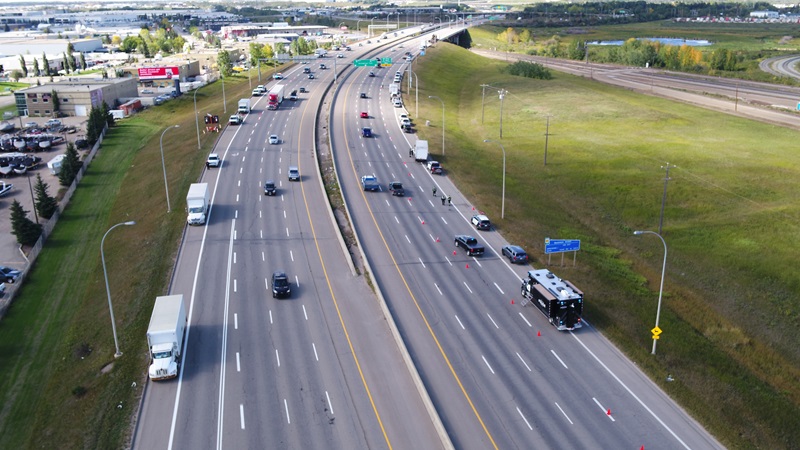 September 17, 2021
The EPS Commercial Vehicle Investigation Unit (CVIU) pulled 112 commercial vehicles off the road for failing to meet various safety compliance regulations during its recent three-day fall inspection event. 
Aerial view of the fall 2021 commercial vehicle inspection
From September 14-16, 2021, CVIU resumed its fall commercial vehicle inspection for the first time since 2019. Working with partners including the Provincial Sheriffs, RCMP, Calgary Police Service, AGLC, Fuel Tax Enforcement and Peace Officers from local counties and Grande Prairie, officers inspected a total of 216 commercial vehicles at three sites around the city. The results are as follows:
65, or 30% of the total 216 vehicles inspected passed the inspection.
112, or 52% of the vehicles were declared out of service, meaning the vehicle had a defect that was an immediate risk to the safety of other road users.
39, or 18% of the vehicles required non-urgent attention.
In total, 601 violations were discovered, resulting in 174 tickets being issued for a total of $56,376.
28 vehicles were towed due to their dangerous condition.
71 breath tests were also administered, resulting in one warning.
Two charges were laid for suspended driving.
Comparing these statistics to those from the 2019 inspection, the out of service rate has increased by 10 per cent, with a similar number of inspections conducted. (In 2019, 231 inspections were completed compared to this year's 216.)
The most dangerous vehicle inspected was a U.S. semi-truck towing heavy trailers that was found to have unsecured cargo, as well as mechanical issues that included brakes and trailer attachment points. The vehicle was towed to a licensed inspection facility and ordered to have a complete annual inspection.
"The bulk of our inspections this year looked at commercial vehicles traveling in and around the City of Edmonton," says Sgt. Dave Beattie, with EPS CVIU. "It's important to note that despite the one very dangerous semi truck we found, most of the long-distance highway trucks we see are in safe condition. So while the results are not indicative of the transport industry as a whole, it shows that there is work to be done within certain sectors. It is my hope that future operations like this, combined with education and collaboration with industry advocates, such as the Alberta Motor Transport Association (AMTA) will go a long way to improving the safety of the commercial vehicles operating on our roads."
For more information on commercial vehicle inspections and the EPS Commercial Vehicle Investigation Unit, visit https://www.edmontonpolice.ca/trafficvehicles/trafficsafety/commercialvehicles
Two males facing various charges, following firearm-related incidents in restaurant drive-throughs 
Police seek public's help to ID two remaining suspects
Two men are facing various charges in connection to a pair of firearm-related incidents that occurred in two Edmonton restaurant drive-throughs on Oct. 9.
At approximately 3 a.m., Saturday, Oct. 9, 2021, EPS Southwest Branch patrol members responded to a weapons complaint at a restaurant near 103 Street and 80 Avenue.
It was reported to police that several males, who did not have access to a vehicle, were ordering food at the restaurant's drive-through window. At that time, a 2018 Dodge Durango carrying four males pulled into the drive-through behind them. It is alleged, the 24-year-old driver of the Durango stepped out of the vehicle and approached the complainants, then pointed a firearm at the male complainants, before lowering the weapon and firing a shot at the ground.
The remaining three suspects subsequently exited the vehicle and approached the complainants. Two of the suspects then violently assaulted an 18-year-old male and a 22-year-old male with both complainants falling and striking their heads on the ground. The suspects continued to assault the males while they lay on the ground, before returning to their vehicle.
Paramedics treated and transported the two males to hospital with what appear to be serious, non-life-threatening injuries.
Approximately 25 minutes later, EPS Northwest Branch patrol members responded to a weapons complaint at a restaurant drive-through near 96 Street and 165 Avenue. In this incident, it was reported to police that a male driving an SUV approached the drive-through window demanding a large quantity of food. The male suspect then verbally abused the clerk, before allegedly reaching for and displaying a firearm inside the vehicle, while staring at the restaurant employee. The vehicle subsequently fled the scene.
With the help of surveillance video in the area, EPS investigators were able to confirm that the same 2018 Dodge Durango was involved in both incidents. At approximately 9:30 a.m., Sunday, Oct. 10, 2021, police located the suspect vehicle, and surrounded a residence near 178 Avenue and 103 Street NW.
A search warrant was executed at the home, where investigators recovered a firearm believed to be the weapon used by the suspect male in the two incidents. Police also seized various ammunition and 110 grams of cocaine.
Isiaha Chermak, 24, of Edmonton (the driver) and Darrious Ellis (one of the passengers), have each been charged with aggravated assault and various firearm–related offences.
Investigators are releasing surveillance images of the two other suspect males, who still remain at large. Anyone with information about these two individuals and/or the driver and passenger of the silver Mazda 3 seen in the images, is asked to contact the EPS at 780-423-4567 or #377 from a mobile phone. Anonymous information can also be submitted to Crime Stoppers at 1-800-222-8477 or online at www.p3tips.com/250.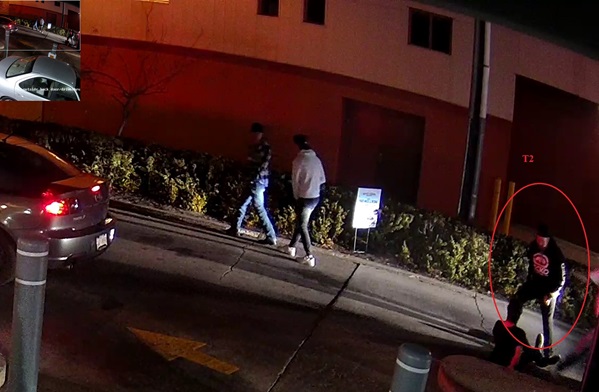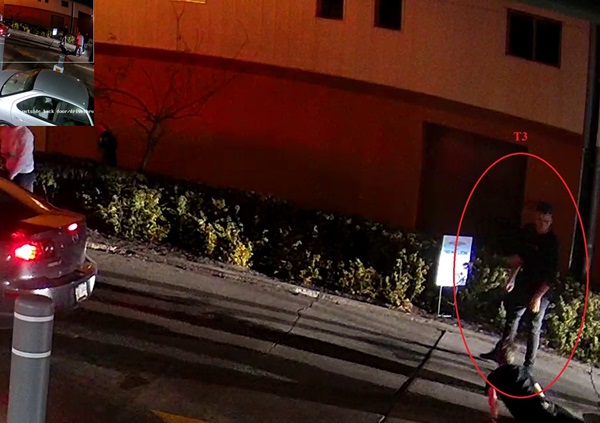 EPS investigators are seeking the public's assistance to identify the two remaining suspects (circled in above photos) involved in a firearm-related assault in a fast food drive-through south of Whyte Avenue at approximately 3 a.m., Oct. 9th. Police would also like to speak to the driver and passenger of the silver Mazda 3, which was also in the drive-through that evening (seen in above photos).
Edmonton Oilers place goalie Mike Smith on IR with lower-body injury
EDMONTON — The Edmonton Oilers have placed goalie Mike Smith on injured reserve with a lower-body injury.
The team has also recalled netminder Stuart Skinner from the Bakersfield Condors in the American Hockey League.
Smith was hurt in the second period of Edmonton's 6-5 win over the Anaheim Ducks on Tuesday. He was replaced in net by Mikko Koskinen.
Head coach Dave Tippett said after the game that Smith "tweaked something" and would see a doctor on Wednesday morning.
Smith, 39, has made three appearances for the Oilers (3-0-0) this season, posting a .920 save percentage and a 3.08 goals-against average.
The native of Kingston, Ont., signed a two-year, US$4.4-million extension with Edmonton in July after tallying a 21-6-2 regular-season record last year with a .923 save percentage and a 2.31 goals-against average.
This report by The Canadian Press was first published Oct. 20, 2021.
The Canadian Press