Police organized crime team takes down trafficking network supplying drugs to inmates at Bowden Institution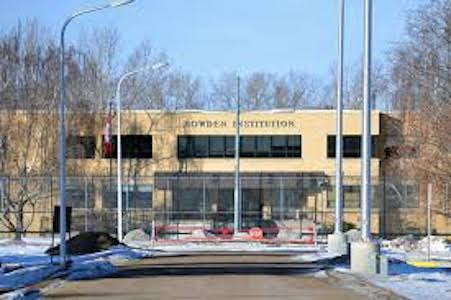 From ALERT – Alberta Law Enforcement Response Team
Project Evolve Dismantles Drug Trafficking Network
Eleven people have been arrested for their alleged role in a drug trafficking network, which operated in the Edmonton area and extended into the Bowden Institution.
Project Evolve was a lengthy and multi-faceted investigation led by ALERT's Edmonton's organized crime team, with the assistance of Correctional Service Canada, St. Albert RCMP, Morinville RCMP, Innisfail RCMP, Edmonton Police Service, and Winnipeg Police Service.
"I want to sincerely thank law enforcement for their incredible job in disrupting a significant drug trafficking network within Alberta's correctional system," said Kaycee Madu, Alberta Minister of Justice and Solicitor General. "ALERT has done a remarkable job partnering with federal, provincial and municipal law enforcement to remove deadly drugs like fentanyl from our prisons. This kind of organized criminal activity has no place in the correctional system."
A total of 60 criminal charges have been laid against 11 suspects allegedly involved in trafficking drugs in the Edmonton area. ALERT alleges the network conspired to smuggle drugs into the prison system and had established connections to Bowden Institution.
Project Evolve resulted in the seizure of drugs and cash worth an estimated $300,000. Search warrants were executed at homes in St. Albert and Edmonton, with the following evidence being seized:
35 grams of fentanyl;
88 grams of methamphetamine;
620 grams of cocaine;
1,341 grams of a cocaine buffing agent;
1,745 grams of cannabis;
a handgun with its serial number removed; and
$206,000 cash.
"This was a very well-organized, well-coordinated group. Their drug activities jeopardized community safety and hurt communities big and small," said Staff Sgt. Blayne Eliuk, ALERT Edmonton. "And by introducing drugs into the prison system, this substantially put the health and safety of not only inmates, but also corrections staff and officers, at risk."
"Organized crime groups who traffic in illicit drugs destroy lives, homes and communities. Drugs and drug addiction contribute to spinoff crimes such as theft and break-and-enters, which result in citizens feeling less safe. Investigations such as this are a positive step towards reducing crime in St. Albert and keeping the community safe," added Const. M-J Burroughs, St. Albert RCMP.
"I'd like to thank ALERT and my team at Bowden Institution for their combined efforts on Project Evolve. Partnerships such as this one between ALERT and Correctional Service Canada demonstrate intergovernmental departments working together to keep Canadians safe," said Lawrence Hartigan, Warden of Bowden Institution.
Project Evolve concluded on December 17, 2020, with several arrests:
David Klassen, a 31-year-old man, currently incarcerated;
Nicolas Moores, a 29-year-old man from Edmonton;
Garreth Curry-McCallum, a 23-year-old man from St. Albert;
Jesse Riedlhuber, a 23-year-old man from Morinville;
Brendan Baer, a 23-year-old man from St. Albert;
Tyler Kemps, a 25-year-old man from Edmonton;
Nolan Arndt, a 24-year-old man from St. Albert;
Tyler Willimont, a 24-year-old man from Edmonton;
Jessa Brianne Ivicak, a 23-year-old woman from Edmonton;
Kolby Gordon, a 23-year-old man from St. Albert; and
Chayce Anthony Krause, a 26-year-old man, currently incarcerated.
Both Klassen and Krause were incarcerated at Bowden Institution during the course of the investigation. Moores is currently serving a federal sentence under the jurisdiction of the Correctional Service Canada as the result of a conviction from a previous and unrelated ALERT investigation.
A full list of charges is available for download here.
Project Evolve began in June 2019.
Members of the public who suspect drug or gang activity in their community can call local police, or contact Crime Stoppers at 1-800-222-TIPS (8477). Crime Stoppers is always anonymous.
ALERT was established and is funded by the Alberta Government and is a compilation of the province's most sophisticated law enforcement resources committed to tackling serious and organized crime.
CN makes rival bid to CP Rail's offer to buy U.S. railway Kansas City Southern
CALGARY — Canadian National Railway Co. made a rival takeover offer Tuesday for Kansas City Southern in a cash-and-stock bid valued at US$33.7 billion.
The offer tops a proposal made last month by Canadian Pacific Railway valued at US$25 billion.
CN chief executive Jean-Jacques Ruest said his railway is ideally positioned to combine with KCS to create a company with broader reach and greater scale.
"CN and KCS have highly complementary networks with limited overlap that will enable them to accelerate growth in single-owner, single-operator, end-to-end service across North America," Ruest said in a statement.
"With safer service and better fuel efficiency on key routes from Mexico through the heartland of America, the result will be a safer, faster, cleaner and stronger railway."
KCS shares were up 14.9 per cent or US$38.23 at US$294.63 in early trading Tuesday.
CN is offering US$200 in cash and 1.059 shares of CN common stock for each KC common share. The proposal was worth about $317 per share based on share prices Tuesday morning.
The CP Rail deal offers 0.489 of a CP share and US$90 in cash for each KCS common share for a value of nearly US$269 per share, based on CP's share price Tuesday.
In a letter to the KCS board of directors, Ruest said the CN offer offers greater value certainty due to the larger cash component. 
"Importantly, the stock component of our proposal provides KCS shareholders with an opportunity to participate in the upside of a stronger, more diversified combined company, with greater scale and a more robust credit profile than the company that would result from a combination of KCS and CP," Ruest wrote.
CN, which plans to assume US$3.8 billion of KCS debt under its plan, said the merger would create significant new revenue opportunities.
"CN and KCS will have a robust network of end-to-end single-line services from Mexico to Canada, with an enhanced ability to connect ports in the Atlantic, Pacific and the Gulf of Mexico," Ruest wrote.
"The combined company will be the premier service-competitive railway to Michigan and Eastern Canada, resulting in better efficiency both in terms of fuel and customer service." 
When CP Rail and KCS announced their friendly deal last month, they said it would create the first rail network connecting Canada, the United States and Mexico.
CP Rail chief executive Keith Creel said when the deal was announced that the transaction would be transformative for North America, providing significant positive impacts for employees, customers, communities, and shareholders.
The combination of CP Rail and KCS would create a combined company will operate more than 32,100 kilometres of rail and generate total revenues of approximately US$8.7 billion based on 2020 figures.
This report by The Canadian Press was first published April 20, 2021.
Companies in this story: (TSX:CP, TSX:CNR)
The Canadian Press
Ontario, Alberta follow Manitoba, B.C. in giving AstraZeneca vaccine to 40 and up
Younger Canadians in several provinces are now able to get the Oxford-AstraZeneca COVID-19 vaccine.
Starting today, those aged 40 and over in Ontario and Alberta can get the shot.
Previously, the minimum age to receive AstraZeneca was 55 because of a slightly elevated risk of an extremely rare blood clot disorder.
British Columbia and Manitoba also dropped the age requirement to 40, starting yesterday.
Quebec says it will be lowering the age for AstraZeneca, although it's not clear what that age will be.
Quebec's director of public health says a recommendation from the province's immunization committee is expected soon and could be put into effect this week.
This report by The Canadian Press was first published April 20, 2021.
The Canadian Press