Police organized crime team takes down trafficking network supplying drugs to inmates at Bowden Institution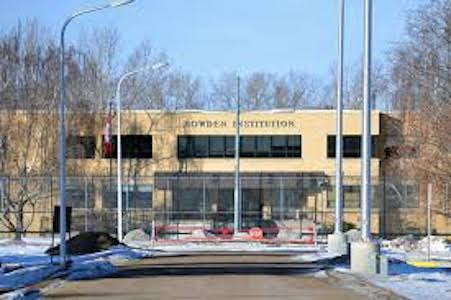 From ALERT – Alberta Law Enforcement Response Team
Project Evolve Dismantles Drug Trafficking Network
Eleven people have been arrested for their alleged role in a drug trafficking network, which operated in the Edmonton area and extended into the Bowden Institution.
Project Evolve was a lengthy and multi-faceted investigation led by ALERT's Edmonton's organized crime team, with the assistance of Correctional Service Canada, St. Albert RCMP, Morinville RCMP, Innisfail RCMP, Edmonton Police Service, and Winnipeg Police Service.
"I want to sincerely thank law enforcement for their incredible job in disrupting a significant drug trafficking network within Alberta's correctional system," said Kaycee Madu, Alberta Minister of Justice and Solicitor General. "ALERT has done a remarkable job partnering with federal, provincial and municipal law enforcement to remove deadly drugs like fentanyl from our prisons. This kind of organized criminal activity has no place in the correctional system."
A total of 60 criminal charges have been laid against 11 suspects allegedly involved in trafficking drugs in the Edmonton area. ALERT alleges the network conspired to smuggle drugs into the prison system and had established connections to Bowden Institution.
Project Evolve resulted in the seizure of drugs and cash worth an estimated $300,000. Search warrants were executed at homes in St. Albert and Edmonton, with the following evidence being seized:
35 grams of fentanyl;
88 grams of methamphetamine;
620 grams of cocaine;
1,341 grams of a cocaine buffing agent;
1,745 grams of cannabis;
a handgun with its serial number removed; and
$206,000 cash.
"This was a very well-organized, well-coordinated group. Their drug activities jeopardized community safety and hurt communities big and small," said Staff Sgt. Blayne Eliuk, ALERT Edmonton. "And by introducing drugs into the prison system, this substantially put the health and safety of not only inmates, but also corrections staff and officers, at risk."
"Organized crime groups who traffic in illicit drugs destroy lives, homes and communities. Drugs and drug addiction contribute to spinoff crimes such as theft and break-and-enters, which result in citizens feeling less safe. Investigations such as this are a positive step towards reducing crime in St. Albert and keeping the community safe," added Const. M-J Burroughs, St. Albert RCMP.
"I'd like to thank ALERT and my team at Bowden Institution for their combined efforts on Project Evolve. Partnerships such as this one between ALERT and Correctional Service Canada demonstrate intergovernmental departments working together to keep Canadians safe," said Lawrence Hartigan, Warden of Bowden Institution.
Project Evolve concluded on December 17, 2020, with several arrests:
David Klassen, a 31-year-old man, currently incarcerated;
Nicolas Moores, a 29-year-old man from Edmonton;
Garreth Curry-McCallum, a 23-year-old man from St. Albert;
Jesse Riedlhuber, a 23-year-old man from Morinville;
Brendan Baer, a 23-year-old man from St. Albert;
Tyler Kemps, a 25-year-old man from Edmonton;
Nolan Arndt, a 24-year-old man from St. Albert;
Tyler Willimont, a 24-year-old man from Edmonton;
Jessa Brianne Ivicak, a 23-year-old woman from Edmonton;
Kolby Gordon, a 23-year-old man from St. Albert; and
Chayce Anthony Krause, a 26-year-old man, currently incarcerated.
Both Klassen and Krause were incarcerated at Bowden Institution during the course of the investigation. Moores is currently serving a federal sentence under the jurisdiction of the Correctional Service Canada as the result of a conviction from a previous and unrelated ALERT investigation.
A full list of charges is available for download here.
Project Evolve began in June 2019.
Members of the public who suspect drug or gang activity in their community can call local police, or contact Crime Stoppers at 1-800-222-TIPS (8477). Crime Stoppers is always anonymous.
ALERT was established and is funded by the Alberta Government and is a compilation of the province's most sophisticated law enforcement resources committed to tackling serious and organized crime.
Mark Simpson, Adam Ruzicka both score twice, Heat down Marlies 8-1
CALGARY — Mark Simpson and Adam Ruzicka each had a pair of goals as the Stockton Heat downed the Toronto Marlies 8-1 on Friday in American Hockey League action.
Martin Pospisil scored once and set up two more for the Heat (2-2-0), who also got goals from Matthew Phillips, Luke Philp and Emilio Pettersen.
Dustin Wolf made 26 saves for the Calgary Flames' AHL affiliate.
Timothy Liljegren found the back of the net for the Marlies (4-4-0), AHL affiliate of the Maple Leafs.
Toronto's Andrew D'Agostini stopped 18-of-26 shots in two periods of work before giving way to Kai Edmonds, who stopped all three shots he faced in relief.
—
This report by The Canadian Press was first published February 26, 2021.
The Canadian Press
Homan remains in top spot after stealing point in 10th end for win over Carey
CALGARY — Ontario's Rachel Homan kicked off play in the championship pool Friday with a 7-6 victory over Chelsea Carey of Team Wild Card One at the Canadian women's curling playdowns.
Carey, who's filling in at skip for Tracy Fleury this week, had hammer in the 10th end but gave up a steal of one when she barely missed a runback double-takeout attempt.
The top-seeded Homan improved to 8-1 along with Canada's Kerri Einarson, who defeated Saskatchewan's Sherry Anderson 10-6.
In other early games at the Markin MacPhail Centre, Alberta's Laura Walker needed an extra end to get by Quebec's Laurie St-Georges 7-6 and Manitoba's Jennifer Jones posted a 12-8 win over Beth Peterson of Team Wild Card Three.
Another draw was scheduled for Friday night and three more draws were set for Saturday.
Homan, a three-time Hearts champion, started slowly by settling for singles in three of the first five ends. Carey, who edged Homan in the 2019 Scotties final, picked up deuces in the second and fourth before giving up a steal in the sixth.
Carey tried to blank the seventh end but her stone hung around for a point. Homan was a tad wide on an up-weight raise attempt in the eighth, allowing Carey to steal for a two-point cushion.
A Homan deuce tied the game but Carey couldn't take advantage of hammer coming home.
Jones, meanwhile, who's aiming for a record seventh national title, stole five points in the 10th end to improve to 7-2. Saskatchewan, Alberta and Quebec were tied in fourth place at 6-3 and the remaining wild-card teams were at 5-4.
The top three teams in the eight-team pool will advance to the playoffs Sunday.
The second- and third-place teams will meet in an afternoon semifinal for a berth in the evening final against the first-place team.
The Hearts winner will return as Team Canada at the 2022 national playdowns in Thunder Bay, Ont. The champion will also earn a berth in the Olympic Trials in November at Saskatoon.
The men's national championship — the Tim Hortons Brier — starts March 5 at the same Canada Olympic Park venue. The Hearts is the first of six bonspiels to be held at the arena through late April.
This report by The Canadian Press was first published Feb. 26, 2021.
Follow @GregoryStrongCP on Twitter.
The Canadian Press