Play Hard, Fight Hard at the Alberta Sports Hall of Fame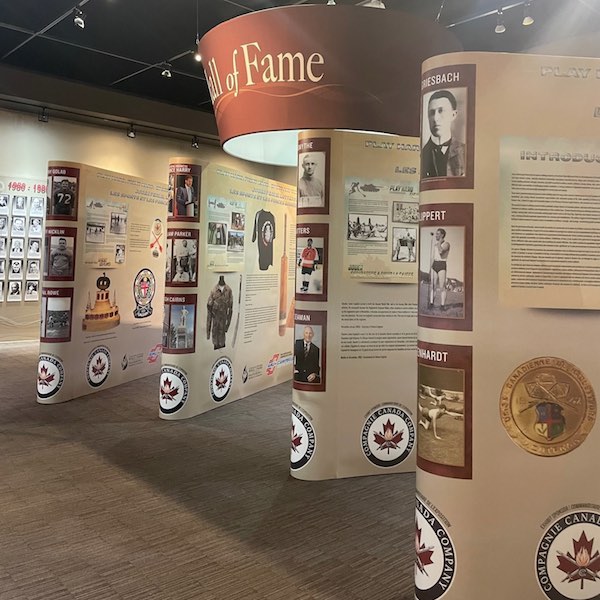 THE HALFTIME REPORT
News from the Alberta Sports Hall of Fame
Time is Running Out to see the Play Hard, Fight Hard Exhibit
The Play Hard, Fight Hard: Sport and the Canadian Military exhibit has been on loan to us since November. It was created through a partnership between The Military Museums in Calgary and Canada's Sports Hall of Fame, Play Hard, Fight Hard: Sport and the Canadian Military explores the relationship between sports and military service. This is a bilingual pop-up travelling exhibit, representing fourteen sports played by military teams and athletes from the 1880s to the present day. It features sections on the Soldier On program, origins of the Paralympic Games, Invictus Games, and 20 videos containing oral histories and Second World War newsreel footage.
This exhibit highlights Alberta Sports Hall of Fame Honoured Members Paul Rowe, Doc Seaman, Alex Decoteau, and Dr. Robert Steadward.
It is currently set up in our Hall of Fame Gallery. See it before it leaves this spring.
Exhibit Highlight: Dr. Willie Littlechild
We have on display this traditional ceremonial Chiefs outfit that was worn by Chief Dan Minde of the Ermineskin Tribe of the Maskwacis Cree Nation. It is on loan to us by his grandson, Honoured Member Dr. Willie Littlechild.
The medal was won by Willie at the World Indigenous Games in Brazil in 2015. It is made of wood from the Amazon Rainforest and contains a drop of water at the centre from the purest water source in the world.
Dr. Willie Littlechild was inducted in 2009 as a Multisport Builder. You can learn more about him by following the link to his profile.
This newsletter is sponsored by G-Force Signs & Graphics.
Honoured Member Highlight – Doug Hansen
Luge Athlete/Builder – Inducted in 1991
Doug Hansen began his luge career in Europe in 1970 as there were no luge tracks in North America. He was a member of the Canadian National Luge Team competing at the 1971 World Championships and the 1972 and 1976 Winter Olympics. The doubles start was revolutionized by his invention of the "doubles start strap."
Provincial Sport Organization: Alberta Luge Association
The Alberta Luge Association ("ALA") has operated as a non-profit provincial sports association promoting the development of Luge training and competition in the province of Alberta. Their mission is to ensure the successful growth of the sport in Alberta through developing athletes, coaches, and volunteers at the recreational and elite levels.
Artifact in Focus!
Luge Championship Plaque.
Grey slate plaque with a black engraved logo that reads "29th Luge World Championships."
Your Donation Helps​
The Alberta Sports Hall of Fame needs your support to continue the ongoing preservation of Alberta's sports history and the development of museum exhibits. We are grateful and appreciative of the generosity of our supporters and friends. We would be happy to assist you in choosing how your personal legacy will be fulfilled and the many options available. Here is some information on donating shares to ASHFM and the benefits to you as a donor.
Saskatchewan entrepreneur says government thwarted his ag-plastics recycling business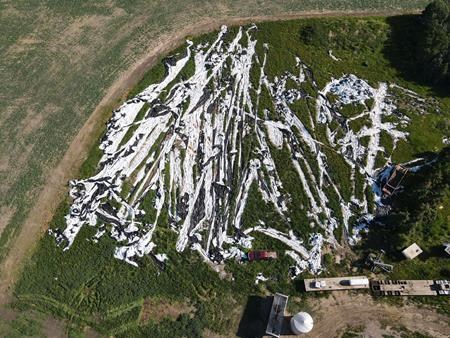 Dallon Leger thought he was part of the solution.
The entrepreneur from Yorkton, Sask., about 190 kilometres northeast of Regina, says he collected more than 1.8 million kilograms of used grain bags over the past few years, helping his neighbours deal with their mounting plastic problem.
Leger's business, EcoGenX, transported the grain bags to a company in the United States that would recycle them. The company would turn the bags into various agricultural plastic products, including new grain bags. EcoGenX would then sell the recycled product in Saskatchewan.
But he says the Saskatchewan government has stifled his business through rules he believes are unfair.
The province recently took Leger to court and won, fining him for not following the province's grain bag regulations. It effectively forced him to close his business.
"I'm not perfect, no entrepreneur is, but my government was my biggest hurdle," said Leger, a farm worker, in an interview earlier this month. "That should never have happened, not when climate change and environment as a whole is the hot topic right now."
Leger pleaded guilty in late April for failing to comply with the government's Agricultural Packaging Waste Stewardship Regulations, therefore violating a section of Saskatchewan's Environment and Management Protection Act.
Court determined he did not operate a product stewardship program that was approved by the environment minister. He was fined $580 and must pay $10,604 to Cleanfarms, a regulated non-profit that also collects grain bags in the province.
Leger explained his lawyer advised him to plead guilty because it wouldn't have been a winning fight.
However, he said the province's position is still not right.
"How can you charge me under the environmental act, find me guilty of anything, when I did no harm to the environment? That says a lot," he said. "I felt I did something good."
The Saskatchewan government regulates the industry, requiring grain bag sellers to participate in an approved product stewardship program.
EcoGenX didn't operate under an approved program.
Environment Minister Dana Skoropad said the legislation is meant to ensure agricultural plastics recycling is sustainable in Saskatchewan.
"The community of sellers of these products is quite small in Saskatchewan, so it's certainly important that all first sellers be compliant with the regulations and a level playing field be existent," Skoropad said. "And that ensures the financial stability and sustainability of the program."
Cleanfarms is the only approved product stewardship program in Saskatchewan, which means grain bag sellers must work with Cleanfarms or get their own program rubber-stamped if they want to participate.
Under the Cleanfarms program, farmers can deliver bags to more than 40 collection points set up by the organization.
Sellers collect an environment handling fee when they sell the bags. The sellers then remit those fees to Cleanfarms so the organization can operate its collection sites.
Leger didn't remit environmental handling fees to Cleanfarms when he sold bags, arguing he didn't need to because his company did all the work in partnership with the American recycler.
"I would travel anywhere in the province, roll up their bags. I would do all the work," he said. "I had the best answer for this fairly large problem — like it's a significant amount of plastic."
The $10,604 Leger is required to pay to Cleanfarms represents the environmental handling fees he was supposed to pay to the organization.
Skoropad said he's open to working with anyone who would meet the requirements in the legislation.
He said Leger did not submit a proposal.
However, Leger said he tried to work with the provincial government but was told the province was not interested in another operator.
"I'm told, 'We have to focus on the sustainability of the current approved program,'" he said. "Well, I'm sorry I'm a threat to this non-profit organization. That's kind of what a business is meant to do, is grow and succeed."
Leger accused the government of siding with Cleanfarms, pointing to past lobbying by CropLife Canada, a sister organization of Cleanfarms.
In 2016, CropLife representatives lobbied Saskatchewan ministers about "promoting the benefits of industry stewardship programs." It noted Cleanfarms had been active in the province.
CropLife, which is based in Ontario, lobbied former environment minister Scott Moe, who's now premier, and former agriculture minister Lyle Stewart. Ted Menzies, CropLife's former president, was among those lobbying. Menzies had previously served as a Conservative MP and cabinet minister before moving to CropLife.
In 2018, the province's Agricultural Packaging Waste Stewardship Regulations came into effect.
"I believe this created a monopoly and gives an out-of-province organization 100 per cent of the money that Saskatchewan farmers pay," Leger said.
Skorpopad denied the accusations.
"Cleanfarms submitted an application to be a product stewardship operator and that would be the extent of my knowledge of that," he said. "As I said before, we're open to working with anyone who would meet the requirements of the regulations on this program."
Skoropad said he doesn't know if there have been previous applications to become an operator. He said there are 14 regulated grain bag sellers in Saskatchewan.
Leger said he has plans to continue fighting his case.
"I was demonized, so to me that's worth continuing to fight for and why I didn't give up."
This report by The Canadian Press was first published May 28, 2023.
Jeremy Simes, The Canadian Press
Drying conditions return in Alberta, crews see more intense fire activity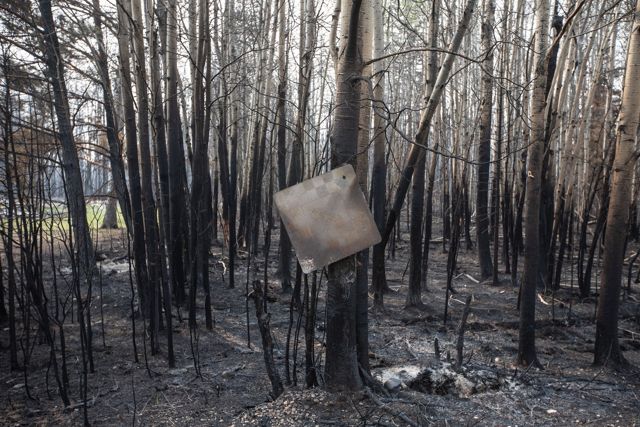 A burnt metal sign hangs from a tree, damaged by recent wildfires, in Drayton Valley Alta., on Wednesday, May 17, 2023. As more wildfire evacuees are being allowed to return home in Alberta, provincial officials warn that warm, dry conditions are returning this weekend in some areas.THE CANADIAN PRESS/Jason Franson
As more wildfire evacuees are being allowed to return home in Alberta, provincial officials warn that warm, dry conditions are returning this weekend in some areas.
Melissa Story with Alberta Wildfire says the elevated fire conditions were anticipated and that crews on the ground are seeing more intense fire activity on the perimeters of wildfires.
But she says most fires haven't grown substantially and she doesn't believe any have jumped their containment lines.
The number of evacuees as of Saturday afternoon stood at 5,257, down from over 7,200 on Wednesday, following cooler and wetter conditions in the last week.
Nearly 50 wildfires in Alberta's forest protection area are burning, with 14 of those listed as out-of-control.
Cyndee Evans, executive director of the Alberta Emergency Management Agency, says the situation remains serious despite recent positive news.
"While we can take heart that more Albertans are starting to return home, we cannot afford to drop our guard. Now is not the time for complacency. Please continue to do your part and help prevent the spread of wildfires and further damage from occurring," Evans told a news conference Saturday.
Story noted that showers were forecast for some parts of Alberta later Saturday, reducing fire danger, but also cautioned they bring the risk of lightning.
Federal Emergency Preparedness Minister Bill Blair said in a tweet Saturday that an extension for the deployment of Canadian Armed Forces personnel to assist in firefighting efforts has been approved.
Story said firefighters from New Zealand were welcomed to the province Friday and that nearly 200 firefighters and support staff from Australia would be arriving this weekend.
Alberta remains under a provincewide state of emergency, although some bans on fires, ATVs and off-highway vehicles have been relaxed in recent days.
Parkland County west of Edmonton lifted a state of local emergency on Friday that had been in place since April 29, and downgraded a fire ban to a fire restriction. It said that meant "safe fires in approved fire pits with a screen are allowed and do not require a permit."
Fires without screens still required permits, however, and open fires in the county are still banned.
The High Level Forest Area wildfire update noted the Pasqua fire located in the community of Fox Lake saw an increase in fire activity after warm and dry weather on Friday, and that temperatures and fire behaviour was expected to pick up on Saturday.
Fox Lake remains evacuated, but residents are being permitted to sign up for tours of the community on Monday to view damage. A statement from the Little Red River Cree Nation said priority will be given to people who have lost their homes.
"Tours will be visual only, as it is still not safe for members to walk around the community or house sites due to hot spots as well as possible toxins and hazards in the areas that have been burned," said a statement posted online by the First Nation on Friday.
This report by The Canadian Press was first published May 27, 2023.