Ontario community urged to change the name of a street named after Nazi battleship captain
From B'nai Brith Canada
B'nai Brith Canada is urging a Greater Toronto Area municipality to rename a street dedicated to a Nazi battleship captain who fought in the Second World War.
Langsdorff Drive, located in Ajax, Ontario, was named in 2007 after Hans Langsdorff, who commanded Nazi German forces at the 1939 Battle of the River Plate. The Town of Ajax is named after the HMS Ajax, a British ship that took part in the engagement.
After losing the encounter, Langsdorff scuttled his ship off the coast of Argentina, allowing its crew to escape rather than face the British fleet again. He then shot himself, leaving a suicide note in which he remarked: "I shall face my fate with firm faith in the cause and the future of the nation and of my Führer."
B'nai Brith's position is that there is no room for monuments or other dedications in Canada honouring Nazi combatants or their collaborators.
In July, Ajax Town Council voted to rename Graf Spee Lane, another street in the municipality named after the Admiral Graf Spee — Langsdorff's ship at the Battle of the River Plate. It is unclear why the name of the ship was deemed inappropriate while the name of its captain was allowed to remain.
"There is no place for streets honouring Nazi combatants in Canada," said Michael Mostyn, Chief Executive Officer of B'nai Brith Canada. "While Hans Langsdorff was attacking Allied shipping in the South Atlantic, his comrades were murdering Jews and Poles en masse in occupied Poland. These were inseparable components of the overall Nazi war effort."
In 2017, B'nai Brith worked with the town of Lachute, Que. to prevent a local ceremony honouring a Nazi pilot. Later that same year, B'nai Brith was asked by local residents in Puslinch, Ont. to convince the local township to rename "Swastika Trail." Though unsuccessful at the time, residents continue to push for change in Puslinch.
Finally, on July 27 of this year, B'nai Brith joined forces with the Canadian Polish Congress to call for the removal of monuments honouring Nazi collaborators in Edmonton and Oakville, Ont.
B'nai Brith also recently published a detailed policy paper on the alarming issue of Nazi glorification in Canada.
An online petition is circulating against Langsdorff Drive in Ajax. B'nai Brith will continue to provide updates as this campaign unfolds.
Saskatchewan premier defends plan to use notwithstanding clause for pronoun policy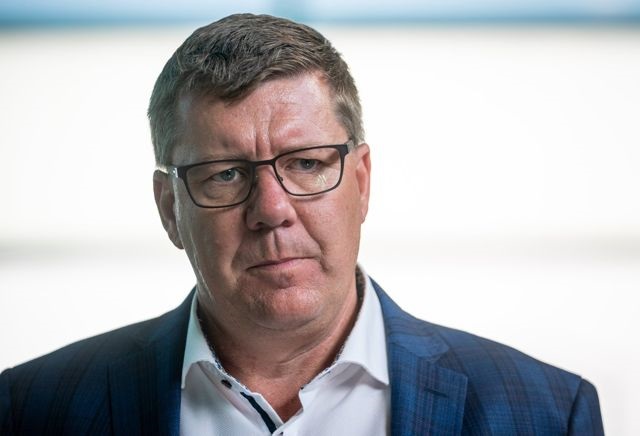 Saskatchewan Premier Scott Moe holds a news conference during a tour at Lakewood Civic Centre in Saskatoon, Sask., on Friday, Sept. 29, 2023. Moe is defending his decision to recall the legislative assembly early and use the notwithstanding clause to ensure the province's pronoun policy stays in place. THE CANADIAN PRESS/Heywood Yu
Saskatoon
Saskatchewan Premier Scott Moe is defending his decision to recall the legislative assembly early and use the notwithstanding clause to ensure the province's pronoun policy in schools stays in place.
Speaking to reporters in Saskatoon, he said he wants to make it clear the policy will go ahead.
"The policy is paused here today," Moe said Friday.
"What we feel is of paramount importance is to provide clarity to parents, to families and ultimately to school divisions and educators that are in our classrooms across the province. This will provide that clarity.
"We've said for a number of weeks now that there are tools available for the government to ensure this policy is in place moving forward for the next number of months and years."
Moe made the announcement Thursday that he plans to use the notwithstanding clause, shortly after a judge granted an injunction to pause the policy that requires parental consent when children under 16 want to go by different names and pronouns at school.
He had said in a statement that he was extremely dismayed by the injunction, calling it judicial overreach, and suggested the policy has strong support from the majority of Saskatchewan residents and parents.
On Friday, Moe added that he wants to provide clarity as soon as possible to families and school divisions.
"The school divisions, up until yesterday, have informed us they've been working on their implementation plans of this policy," he said.
"What pausing the policy means is for a period of time it will not be mandatory to include the parents in some of these discussions."
The legislative assembly is to be recalled on Oct. 10 to use the notwithstanding clause, a provision that allows governments to override certain Charter rights for up to five years.
This report by The Canadian Press was first published Sept. 29, 2023.
Cyberattacks hit military, Parliament websites as India hacker group targets Canada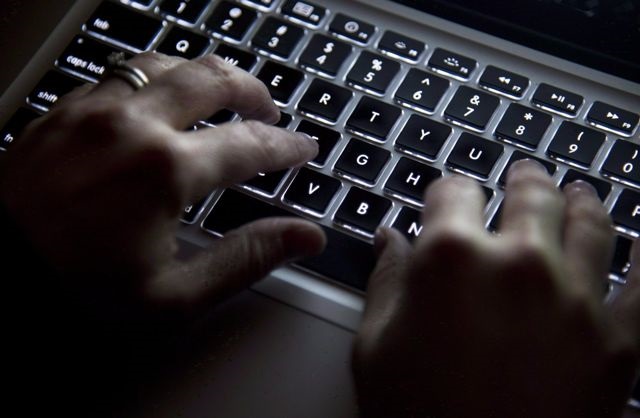 The federal government is coping with apparent cyber attacks this week, as a hacker group in India claims it has sowed chaos in Ottawa. Hands type on a keyboard in Vancouver on Wednesday, December, 19, 2012. THE CANADIAN PRESS/Jonathan Hayward
By Dylan Robertson in Ottawa
The federal government is coping with apparent cyberattacks this week, as a hacker group in India claims it has sowed chaos in Ottawa.
The Canadian Armed Forces said that its website became unavailable to mobile users midday Wednesday, but was fixed within a few hours.
The military said the site is separate from other government sites, such as the one used by the Department of Defence and internal military networks. The incident remains under investigation.
"We have no indication of broader impacts to our systems," said a statement from spokeswoman Andrée-Anne Poulin.
Meanwhile, various pages on the House of Commons website continued to load slowly or incompletely on Thursday due to an ongoing attack that officials say started Monday morning.
The Commons administration said it was facing a distributed denial-of-service attack, which is when bots swarm a website with multiple visits and cause it to stop loading properly.
"House of Commons systems responded as planned to protect our network and IT infrastructure. However, some websites may be unresponsive for a short period," spokeswoman Amélie Crosson said in a written statement Thursday morning.
"The House of Commons IT support team, in collaboration with our partners, have implemented mitigating measures and restored services to appropriate service levels. The IT team is still continuously monitoring for such activities."
She added that the Commons administration is helping their Senate colleagues "to provide guidance and support them to restore services."
Elections Canada also experienced roughly an hour-long denial-of-service attack starting around midnight early Wednesday, Ottawa time.
"This website does not host any sensitive data or information. It is separate from our main website, elections.ca, and is hosted by an external service provider. It is in no way connected to the network that supports elections.ca," the agency wrote in a statement.
"Our systems are monitored in real time both internally, and by the Canadian Cyber Security Centre, enabling us to quickly detect any anomalies on our platforms and systems. They are aware of the incident."
That centre is under the umbrella of the Communications Security Establishment, Canada's signals-intelligence agency.
A hacking group named Indian Cyber Force claimed responsibility for the incidents involving the military and Elections Canada, and it appeared to have managed to infiltrate a handful of websites owned by small businesses in Canada.
The group made reference to Prime Minister Justin Trudeau telling Parliament on Sept. 18 that there were "credible allegations" of Indian involvement in the killing of Sikh independence activist Hardeep Singh Nijjar, who had been wanted by India for years and was gunned down in June outside the temple he led.
The hacking group has posted multiple versions of a message riddled with spelling and grammatical errors onto websites of restaurants and medical clinics.
The affected sites show a message on a black background with green digits, similar to the film "The Matrix," as warlike music plays.
The message described Canada as a haven for terrorists — a "heaven hub," it said in butchered English — and similarly insulted Sikh separatists.
It also criticized Trudeau for "throwing something without any prove," or proof.
The group claimed to have attacked Elections Canada and the Ottawa Hospital, though these sites appeared to be operating normally Thursday morning. The Canadian Press has asked those responsible for these web pages to confirm whether they have been affected.
The hacking group also claimed to have taken down the Global Affairs Canada website for travel advisories, but the department insists this hasn't happened, and the group deleted that claim from its account on the social-media application Telegram.
News of the attacks came as questions abounded over Indian officials' level of co-operation with Canadian officials over Trudeau's allegations — and to what extent allies such as the United States were advocating on Canada's behalf.
On Thursday, U.S. Secretary of State Antony Blinken met with India's foreign-affairs minister Subrahmanyam Jaishankar.
Neither of them made mention of the controversy in Canada when they emerged briefly to pose for photos before their meeting began.
During a State Department briefing prior to that meeting, spokesman Matthew Miller refused to speculate on what the secretary would tell Jaishankar directly.
"What I will say, however, is we have consistently engaged with the Indian government on this question and have urged them to co-operate, and that engagement and urging them to co-operate will continue," Miller said.
"We urge them to co-operate with the Canadian investigation."
Miller flatly refused comment when asked about a television interview last week with U.S. ambassador to Canada David Cohen, who confirmed that Canada received intelligence from one of its Five Eyes security partners.
"I am not going to speak to intelligence matters from the podium."
This report by The Canadian Press was first published Sept. 28, 2023.
— With files from James McCarten in Washington, D.C.