NFL Run/ Pass Maestros: Can't Catch This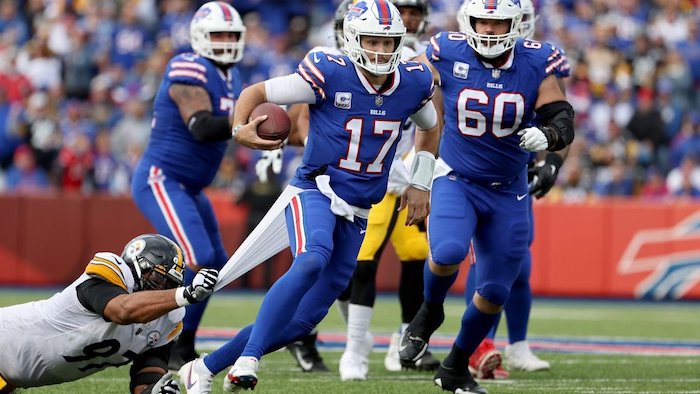 There was a time when the CFL was the league of Air-Raid football. Mobile quarterbacks throwing off the run to receivers spread across the field. Think Warren Moon. Doug Flutie. Jeff Garcia. As we saw in the recent Grey Cup game, CFL teams still spread around the ball, producing last-minute dramatics.
The NFL, by contrast, was always the league of pocket passers, riveted in place throwing rockets to receivers like Lynn Swann or Jerry Rice running proscribed routes. Think Terry Bradshaw. Ben Roethlisberger. Tom Brady. Running from the pocket was never a designed scheme but one of survival from defensive lineman with malicious intent.
NFL QBs have a running tradition going back to Fran Tarkenton in the 1960s, but their rambling was more of a survival instinct in a brutal time. Even when the NFL stuffed shirts allowed Robert Griffin III, Cam Newton, Randall Cunningham, Daunte Culpepper, Vince Young and Michael Vick to break from the pocket their careers were compromised by injuries.
The most notorious might be San Francisco's Colin Kaepernick, who did much to start the read-option craze in the league but ultimately was broken down by injuries in his fourth year as a starter— with three surgeries following the 2015 season. (Kaepernick left football to become the John The Baptist of BLM.)
Then, in act of mercy or perhaps to juice offence, the NFL took pity on the athletic QBs. "It feels like the NFL is in a moment when a defender can get called for roughing the passer or unnecessary roughness simply by breathing hard on the QB," writes Joe Mahoney of SB Nation. "It's a reason why the career longevity for running QBs like Lamar Jackson, Kyler Murray, Jalen Hurts, Justin Fields, Josh Allen, and Taysom Hill should be much longer the career lengths of some of the previous elite dual-threat QBs."
Today's NFL is indeed a changed beast at the QB position. Call it the attack of the Run/ Pass Option. The League is now Brady's Bunch versus Pat's Ma-Homies. Traditional maestros of structured football like Tom Brady against the chaos artists led by Patrick Mahomes, Lamar Jackson, Josh Allen, Kyler Murray and Jalen Hurts. They bob and weave and double back, improvising as they go, forcing defensive backs to cover receivers for as long as 10 seconds.
The Chiefs' genius Mahomes is like a welterweight, rambling from sideline to sideline to keep himself from hard hits as he makes time till Travis Kelce or Marquez Valdes-Scantling get open. Buffalo's Allen, by contrast, is a heavyweight bruiser like Mike Tyson who buys time and crushes opponents by running them over with his 6-3, 235 pound frame. Baltimore's Jackson is a sly middleweight who uses the field the way Floyd Mayweather used the ring.
As the expression goes, "If it's not one thing it's another". Paul Domowich 33rd Team has the numbers: "For the first time in the modern era of the NFL, there currently are seven quarterbacks among the league's top 50 rushers – the Ravens' Lamar Jackson (9th, 480 yards), the Eagles' Jalen Hurts (17th, 432), the Bills' Josh Allen (39th, 269), the Bears' Justin Fields (43rd, 243), the Giants' Daniel Jones (44th, 241), Washington's Taylor Heinicke (45th, 232) and the Chiefs' Patrick Mahomes (48th, 229). Last year, there were six in the top 50.
Six quarterbacks are on pace to have 80-plus rushing attempts this season, including four – Jackson, Hurts, Allen and the Cardinals' Kyler Murray — who are on a 100-carry pace. And a record 11 quarterbacks are on pace to have 25 or more rushing first downs."
Judging by current statistics The Mahomies are in the ascendance while the Brady Bunch is just holding on. Quarterback rushing yards accounted for 15.4 percent of all rushing yards in 2021 (9659 of 62,694 yards). While the percentage of rushing TDs from QBs came down from its record high in 2020, QBs still accounted for 19.4 percent of all rushing TDs in 2021. Through the midway point of the 2022 NFL season quarterbacks have run for 3310 yards which is 14.7 percent of the 22474 rushing yards so far this season."
Brady and the stick-in-the-pockets like Jared Goff, Kirk Cousins and Matthews Stafford are still viable threats, but it's clear that to stay one step ahead of defensive coordinators a QB needs the option of rolling out, isolating a defender and making him choose between the run or pass.
And that requires the athleticism previously left to running backs and receivers. For a glimpse of the future look no further than Caleb Williams of USC, the favourite to win the Heisman Trophy in U.S. college football. Williams is a hybrid of Mahomes and Lamar Jackson who makes wine from Gatorade. His two-TD performance as USC crushed Notre Dame this weekend was his defining moment in capturing the Heisman.
According to CBS: "His 267 total yards are certainly good enough, but his impact clearly went beyond his yardage total. Williams was a force. Entering this game, Williams was already one of the frontrunners for the Heisman Trophy with 3,480 yards passing, 316 yards rushing and 40 total touchdowns. This showing against Notre Dame may have just sealed the deal."
NFL teams will have to wait one more year for the sophomore Williams— who transferred from Oklahoma. But you can bet that— injuries aside—when his time comes he'll go No. 1 in the 2024 draft. He won't be alone, either. There is a posses of mobile QBs circling the airport. Because, as they've learned from this generation of NFL wizards: Catch Me If You Can.
Sign up today for Not The Public Broadcaster newsletters. Hot takes/ cool slants on sports and current affairs. Have the latest columns delivered to your mail box. Tell your friends to join, too. Always provocative, always independent.
Bruce Dowbiggin @dowbboy is the editor of Not The Public Broadcaster A two-time winner of the Gemini Award as Canada's top television sports broadcaster, he's a regular contributor to Sirius XM Canada Talks Ch. 167. Inexact Science: The Six Most Compelling Draft Years In NHL History, his new book with his son Evan, was voted the seventh-best professional hockey book of all time by bookauthority.org . His 2004 book Money Players was voted sixth best on the same list, and is available via http://brucedowbigginbooks.ca/book-personalaccount.aspx
Could AI Make Yesterday Into Today For Culture, Sports & Politics?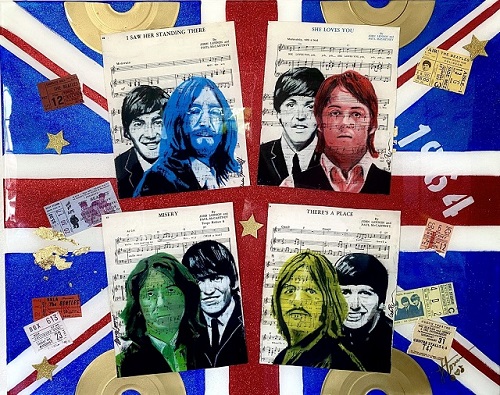 On a recent trip to the Fredericton Playhouse to see PEI's splendid The East Pointers we couldn't help but notice amongst the coming attractions an appearance by the Glenn Miller Orchestra. As far as we know, Miller disappeared over the British Channel in 1944 on his way to play a concert for the troops post D-Day.
Since then a succession of people have carried his musical heritage under the Miller name. Most of them have joined Miller in the great bandstand in the sky. It is safe to say that the number of people who heard anything by Miller himself live are virtually nil. Still, someone is still buying tickets to hear A String of Pearls, Pennsylvania 6-500, Chattanooga Choo-Choo and In The Mood.
Perhaps it was serendipity but seeing that Miller was still a thing came shortly after the arrival of a final Beatles song "Now and Then". It's not as long ago as the final Glenn Miller original cut, but "Now and Then" is the first original Beatles music since the 1970s. Which is when this lacklustre John Lennon composition was born from a demo cut by Lennon.
Its provenance has been talked about by Beatles obsessives ever since. Frankly they'd be excited to hear Lennon/ McCartney read the Liverpool phone book. (Which won't be any less underwhelming than this song.) Now And Then stayed out of the public realm, probably because George Harrison (d. 2001) hated it, and the recording was scratchy at best.
But thanks to the officious Paul McCartney cleaning it up in the studio and AI producing a catchy video to accompany the song "Now and Then" is on the Billboard chart with a bullet. Where it will probably stay for a while. No doubt this artful dodge will put the idea of reviving other dead musical icons into the heads of their colleagues and supporters.
The AI variations already extend past music. "@ilumine_ai This has been my first test of an experiment I'm doing, which is why it might feel a bit rough. It might not seem like it, but this video shows a single, uncut take at normal speed, where I move through a 3D stage that I am generating at will and in real time."
Can some clever soul use AI to create a new Humphrey Bogart movie using previous material? What about reviving Katherine Hepburn from her many films? Could Glenn Miller suddenly emerge from the mists to lead his band in Fredericton? We already know about The Beatles.
There ramifications, says cartoonist/commentator Scott Adams.. "If you let ChatGPT answer without constraints, it gives you the "approved narrative," also known as bullshit. In other words, you can use AI to give you any answer you want on political questions by manipulating the allowed "experts."
No wonder the Screen Actors Guild went on strike this year to protect the properties of stars dead and alive. What security will they have if AI makes them redundant? AI is, in the words of Hunter S. Thompson, "a cruel and shallow money trench, a long plastic hallway where thieves and pimps run free, and good men die like dogs. There's also a negative side."
To say nothing of the AI implications for sports. Can AI replicate the greatest of the past? Already there's a slightly cheesy commercial running in which present-day Wayne Gretzky counsels 18-year-old Wayne Gretzky on the future. But could AI create a better NHL mixing Gretz, Gordie Howe, Bobby Orr and Bobby Hull with the best of today? A league with no injuries, no travel fatigue, no bad coaching? Ditto for the other leagues. An NFL with Joe Montana, an NBA with Michael Jordan, an MLB with Barry Bonds?
In Canadian politics AI could revive Pierre Elliot Trudeau to assist his dimwitted son ("Interest rates are at historic lows," PMJT, 2020). Bill Davis could bring back the days of Blue Ontario. Ralph Klein could recreate the Alberta Advantage. If someone younger and more charismatic pops up you can use them in the present. With an AI figure waiting in the wings for when the real politicians eventually screw up.
In the US-AI, the leading candidates for U.S. president in 2024 are creakingly old. Democrats are in a lather over Joe Biden's decrepit state as he hit 81 this week (he'd be 87 when a possible second term ended). Polls show Americans are not fooled by the grinning Amphetamine Joe staggering up the stairs of Air Force One.
Republicans are alternatively exhilarated and exhausted by the prospect of loopy 78-year-old Donald Trump carrying their banner next November. With Trump it's less age than instability. Were he remotely stable he'd be leading Biden by 15 points in the polls.
In the Senate and House of Representatives octogenarian and nonagenarian members are literally dying at their desks for want of term limits. Across the political spectrum voters and media are asking, "Is this the best we can do?" Some recall the movie Dave where Kevin Kline plays a doppelgänger for a comatose U.S. president. Maybe that might work?
Or what if AI could revive JFK or Ronald Reagan in their primes? Or John McCain and Ruth Bader Ginsberg? "Now and Then" would be an appropriate slogan for re-inserting these tried & true political figures into the present, using their former selves to re-craft today's arguments. (We've seen how it might work since most believe that Biden is simply the conduit for a third Obama term.)
Anything has to be better than two old guys who could've heard "I've Got A Gal In Kalamazoo" when it was originally released by Glenn Miller in 1942.
Sign up today for Not The Public Broadcaster newsletters. Hot takes/ cool slants on sports and current affairs. Have the latest columns delivered to your mail box. Tell your friends to join, too. Always provocative, always independent. https://share.hsforms.com/16edbhhC3TTKg6jAaRyP7rActsj5
Bruce Dowbiggin @dowbboy is the editor of Not The Public Broadcaster A two-time winner of the Gemini Award as Canada's top television sports broadcaster, he's a regular contributor to Sirius XM Canada Talks Ch. 167. Inexact Science: The Six Most Compelling Draft Years In NHL History, his new book with his son Evan, was voted the seventh-best professional hockey book of all time by bookauthority.org . His 2004 book Money Players was voted sixth best on the same list, and is available via http://brucedowbigginbooks.ca/book-personalaccount.aspx
Political Football: The Always-Barking Dog of Bilingualism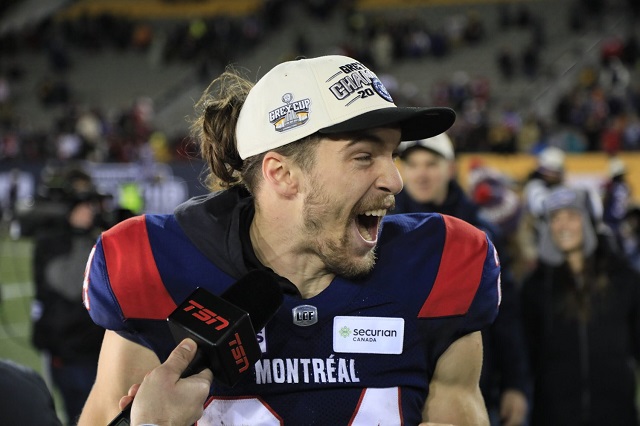 "But you know what, man, keep your English, because we're grabbing the Cup, and we're bringing it to Montreal, and we're bringing it to Quebec, and we're bringing it home!"— from the French rant by Montreal Alouette Marc-Antoine Dequoy
While the 110th Grey Cup win by Montreal over favoured Winnipeg was a classic comeback, it's now being tainted by an issue that's much older than 110 years. Canada's bilingualism/ biculturalism debate. Having already relegated the game to cable-only TSN/ RDS the CFL must have decided that— who cares— we are in Hamilton, Ontario. Why bother with all that annoying bilingual signage?
After all, no one cares that the American band Green Day is playing at halftime of the game when any number of Canadian acts are available for the gig. Who's going to bitch about a few advertisements? Reality check, aisle three. Language grievance is always in season in Québec.
As the French media covering the game noted in the days before the game the signage around the stadium was exclusively English-only. Didier Orméjuste of RDS observed en français, "The CFL is supposed to be a bilingual league but there is not one Coupe Grey sign in the stadium. Can't say I'm surprised."
The league crest at centre field read CFL only. Not LFC. Considering the efforts the CFL has made prostrating itself before the federal policy of bilingualism (for which it receives public money) it was inexcusable. It was a firing offence. Caught with their pants down the CFL rustled up a few signs around Tim Horton's Field and led PA announcements with French. But the damage was done.
Which led to the impassioned rant by Als player Marc-Antoine Duquoy in the moments after the Als' dramatic comeback win. He has since backed off a bit on his comments, saying "I just felt disrespected for me and for my province and for my heritage." Since then Québec media has pummelled the league for its obtuse behaviour.
Anglo Quebecker Andrew Potter wrote, "The message it sends to Quebecers is this: If the rest of Canada can't be bothered, why should they?" Memo to Potter: Not sure where you have been, but the rest of Canada dropped cultural football a while ago as a remnant of another time. They don't care.
Let's be honest, the official bilingual policy we've had was a dry run for the Carbon Tax. It has been a multi-billion dollar sinkhole foisted on the country by Justin Trudeau's daddy. Like all top-down policies it is permanent and immutable. And useless at its stated goal. Quebec clearly doesn't need it. The ROC resents it.
In cloistered Ottawa it still has a political status that far outstrips its usefulness to the nation. While the Trudeau/ Singh cabal are slashing defence spending, no one dares divert a dime from chasing a failed dream of cultural harmony. At these prices, who needs bilingual postal workers in Moose Jaw? Or Anglo bureaucrats in Granby?
It currently serves as a fig leaf to protect the Liberal strongholds of Anglo Quebeckers and Francophone minorities in the Maritimes and Manitoba. In Québec at least, the majority francophones have steadily eroded any sense of language fairness in the province's education, business or cultural sectors. The latest is a crushing tuition hike for out-of-province (read: Anglo) students.
The harried Anglos remaining in the province after decades of diaspora are like the white Rhodesians, voting against their best interests in the faint hope that the Liberals will save their dwindling numbers and make it Expo 67 again.
Living in Quebec, Duquoy can be forgiven for thinking that ROC is as obsessed with B&B as are the hyper-vigilant tongue troopers in Québec, who turn every slight into an excuse for more cultural purity. In fact, the ROC is far more concerned with Québec's permanent dependency on equalization money at the expense of the energy industry it works so fervently to destroy.
The quid pro quo that underpinned the 1960s dreams of B&B— that acceptance of French everywhere would still Québec's drive for sovereignty— is now Alberta and Saskatchewan pointing out the double standards in the current federation while asking, "Why can't we make like Québec with a pension plan, police force and control over immigration?"
Hate to break it to Potter and Duquoy, but most in the West would gladly negotiate a new deal with Québec to re-shape the hollow dream that is Trudeau's Canada. Keep hockey, but work out a deal the way Czechia and Slovakia did to live peaceably in their own way. Make Québec pay for its vanities while ROC hashes out a new working arrangement that reflects the current zeitgeist.
Yes, the CFL booted their Grey Cup presentation. From a business point of view insulting a significant part of your base was capotée. But in its ineptitude the league held up a mirror to the country that thinks you can make this potage of Canadian denial and American cultural pre-eminence still work.
Now, if we can just get Randy Ambrosie and his pals to drop Trudeau's Diversity delusion from its values we might be onto something really valuable.
Sign up today for Not The Public Broadcaster newsletters. Hot takes/ cool slants on sports and current affairs. Have the latest columns delivered to your mail box. Tell your friends to join, too. Always provocative, always independent. https://share.hsforms.com/16edbhhC3TTKg6jAaRyP7rActsj5
Bruce Dowbiggin @dowbboy is the editor of Not The Public Broadcaster A two-time winner of the Gemini Award as Canada's top television sports broadcaster, he's a regular contributor to Sirius XM Canada Talks Ch. 167. Inexact Science: The Six Most Compelling Draft Years In NHL History, his new book with his son Evan, was voted the seventh-best professional hockey book of all time by bookauthority.org . His 2004 book Money Players was voted sixth best on the same list, and is available via http://brucedowbigginbooks.ca/book-personalaccount.aspx