New COVID-19 modelling concludes the most likely scenario is much lower than former numbers
From the Province of Alberta
COVID-19 modelling data update
Revised data show protective measures and the efforts of Albertans are making a critical difference in our fight against COVID-19.
The Government of Alberta has introduced a new "low" modelling scenario estimating 298 Albertans will require hospitalization and 95 will require critical care when the virus reaches its peak. If current trends continue, this scenario will become the most likely scenario for Alberta.
Updated modelling scenarios continue to estimate that Alberta's outbreak will reach its peak in late May. However, the number of Albertans hospitalized at the peak of the virus is predicted to be lower than originally estimated. This reflects Alberta's experience over the past few weeks and the proportion of cases actually entering hospital and intensive care units.
"The data show us that our efforts to lower the peak of the virus are working, but we must remain vigilant. We continue to refine our modelling in order to ensure our health-care system is prepared. While we are still a ways off from returning to our normal way of life, our government is working around the clock on a phased approach to relaunch our economy safely. It is essential Albertans continue to exercise common sense and follow public health guidance so we can get the economy moving again as quickly as possible."
As a result of aggressive public health measures put in place, the probable scenario now estimates 596 people in Alberta will require hospitalization, with 190 requiring critical care on the days when the virus reaches its peak. With Alberta's younger-than-average population and our aggressive testing measures, which are able to catch cases with less severe symptoms, Alberta Health's new "low" scenario is fortunately becoming our most realistic.
Alberta Health has scaled up the capacity of the province's health-care system in order to ensure it is prepared to support patients at the peak of the pandemic in any scenario.
Existing public health measures remain in place to stop the spread of COVID-19.
 Quick facts
The model uses several key assumptions, including:

not all cases are detected
transmission is more common within an age group, rather than between age groups
there is no asymptomatic transmission
people are infectious for five to 10 days
all ICU patients require ventilation
overall, nine per cent of cases are hospitalized and two per cent require ICU, but this varies significantly by age. The low scenario assumes 4.5 per cent of cases are hospitalized and one per cent require ICU, which aligns with actual results.

The most important measure Albertans can take to prevent respiratory illnesses, including COVID-19, is to practise good hygiene.
This includes cleaning your hands regularly for at least 20 seconds, avoiding touching your face, coughing or sneezing into your elbow or sleeve, and disposing of tissues appropriately.
Any individual exhibiting symptoms of COVID-19, including cough, fever, runny nose, sore throat or shortness of breath, is eligible for testing. People can access testing by completing the COVID-19 self-assessment online. A separate self-assessment tool is available for health-care and shelter workers, enforcement and first responders. After completing the form, there is no need to call 811.
#RedDeerStrong – Local business pivots from fire resistant workwear to antimicrobial face masks
Final weekend to see $880,000 dream home and buy tickets to win Red Deer Hospital Lottery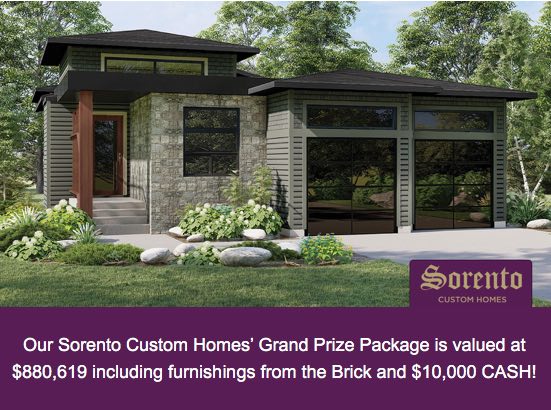 CHECK OUT OUR GREAT TICKET PACKAGES
$25 EACH | 5 FOR $75 | 10 FOR $125 | 25 FOR $250
Total value of the Dream Home prize package is $880,619!
Our Dream Home is open for viewing!
Saturday June 19 and Sunday June 20
(1:00 pm to 5:00 pm each day)
Dads! Enter to win a Father's Day gift basket valued at $400

Plus, Real Country and Z98.9 will be on site June 20 
The Mega Bucks 50 jackpot is the highest ever!
Some ticket packages are still available.
1 for $10   ·   10 for $25
25 for $50   ·   50 for $75
Win half of the current jackpot of:
If you've ordered your tickets prior to receiving this email, thank you and good luck!
If you know someone who would like to show their support for our hospital, click below to forward this email to a friend.
CALL RED DEER & AREA OR TOLL FREE
403.340.1878      1.877.808.9005
Panel says Grassy Mountain coal mine in Alberta Rockies not in public interest
A joint federal-provincial review has denied an application for an open-pit coal mine in Alberta's Rocky Mountains, saying its impacts on the environment and Indigenous rights aren't worth the economic benefits it would bring.
"We are not confident about the technical and economic feasibility of some proposed mitigation measures," the report says.
"We find that this was particularly true for effects on surface water quality, westslope cutthroat trout (and fish and fish habitat more generally), and vegetation."
Riversdale Resources had proposed the Grassy Mountain project in southern Alberta's Crowsnest Pass region. The area has seen mining in the past.
The mine, said Riversdale, would create about 500 jobs during two years of construction and 400 over the 23-year life of the mine. The company said it would pay $1.7 billion in royalties and $35 million in municipal taxes over that time.
It was supported by many in the town of Crowsnest Pass.
But concerns were raised during a hearing about the chance the mine could contaminate headwaters of the Oldman River with selenium. The element commonly found in coal mines is toxic to fish in large doses.
The review panel also heard the mine would damage ecosystems and impair the cultural and physical heritage of three local First Nations.
"The mitigation measures proposed are not sufficient to fully mitigate these effects," says the report.
The panel advises federal Environment Minister Jonathan Wilkinson to turn the mine down. It has also denied the project's permit applications under provincial laws.
The Grassy Mountain mine is the first of a number of coal projects that have been proposed for the mountains and foothills of Alberta's western boundary. At least eight companies have taken large exploration leases.
Earlier this week, Wilkinson announced that any proposals from those exploration leases would be subject to a federal environmental review. He said concerns about selenium prompted the move.
This report by The Canadian Press was first published June 17, 2021.
Bob Weber, The Canadian Press