National Security Breach – Opposition says Trudeau is hiding documents revealing China took deadly viruses from Canadian lab to Wuhan
News Release from the Conservative Party of Canada
Conservative Leader Erin O'Toole calls on Justin Trudeau to release secret national security documents
The Hon. Erin O'Toole, Leader of Canada's Conservatives and the Official Opposition, issued the following statement calling on Justin Trudeau to release the secret documents he has been hiding in an effort to cover up a possible national security breach:
"Today, Canada's Conservatives are demanding that Justin Trudeau release the secret documents he has been hiding from Canadians. These documents are about the transfer of Ebola and Henipah viruses to the Wuhan Institute of Virology in March 2019, and Drs. Xiangguo Qiu and Keding Cheng, who had their security clearances revoked and were fired after the transfer.
"For years, Canada's security services have been warning the government and universities about the risks of research cooperation with communist China. It begs the question of how two scientists with deep connections to the Chinese military were able to obtain a high-level Canadian security clearance to conduct work with dangerous viruses like Ebola.
"Unfortunately, this cover-up should come as no surprise to Canadians. Justin Trudeau reversed a decision to block the sale of a Canadian security firm, ITF Technologies, to a Chinese state-owned enterprise.
"The Prime Minister also refused to ban Huawei, despite being the only Five Eyes country that has not acted.
"But what's even more concerning is the length the Liberals are going to cover up details about the transfer of these dangerous viruses to China.
"This is Justin Trudeau's legacy. More corruption. More scandals. More of the same. There's only one choice to secure Canada's future, and that is Canada's Conservatives."
The Conservative Opposition Day motion can be found here.
'Belfast' wins People's Choice prize at Toronto International Film Festival
TORONTO — "Belfast" from writer-director Kenneth Branagh has won the People's Choice prize at the Toronto International Film Festival.
The Northern Ireland-set family drama was announced as winner of the honour during the TIFF Tribute Awards broadcast on CTV, which marked the end of 10 days of pandemic-tailored in-person screenings and digital at-home viewing.
The prize chosen through online votes is often a predictor of Academy Award success.
Last year's winner, the road drama "Nomadland," won the best-picture Oscar. 
Other previous People's Choice winners that have nabbed best picture include "Green Book," "12 Years a Slave," "The King's Speech" and "Slumdog Millionaire."
This year's People's Choice race had a caveat, though: films that didn't screen on the festival's digital site were not eligible for the prize, including buzzy titles "Spencer" and "Dune."
This report by The Canadian Press was first published Sept. 18, 2021.
Victoria Ahearn, The Canadian Press
Fall commercial vehicle inspection takes more than half of vehicles checked out of service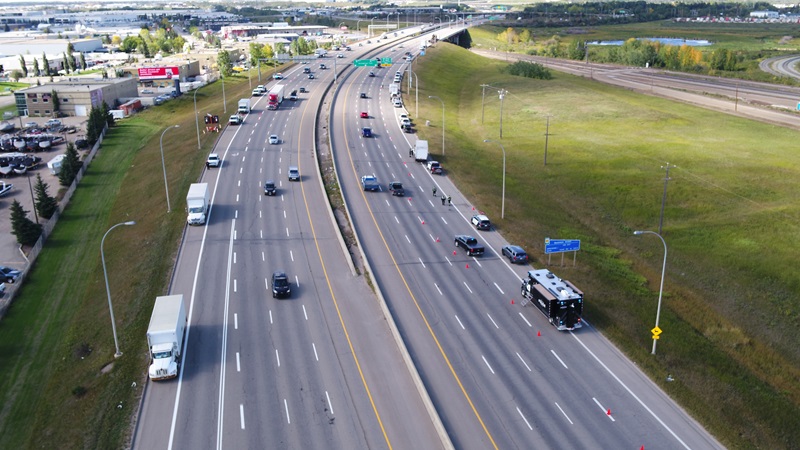 September 17, 2021
The EPS Commercial Vehicle Investigation Unit (CVIU) pulled 112 commercial vehicles off the road for failing to meet various safety compliance regulations during its recent three-day fall inspection event. 
Aerial view of the fall 2021 commercial vehicle inspection
From September 14-16, 2021, CVIU resumed its fall commercial vehicle inspection for the first time since 2019. Working with partners including the Provincial Sheriffs, RCMP, Calgary Police Service, AGLC, Fuel Tax Enforcement and Peace Officers from local counties and Grande Prairie, officers inspected a total of 216 commercial vehicles at three sites around the city. The results are as follows:
65, or 30% of the total 216 vehicles inspected passed the inspection.
112, or 52% of the vehicles were declared out of service, meaning the vehicle had a defect that was an immediate risk to the safety of other road users.
39, or 18% of the vehicles required non-urgent attention.
In total, 601 violations were discovered, resulting in 174 tickets being issued for a total of $56,376.
28 vehicles were towed due to their dangerous condition.
71 breath tests were also administered, resulting in one warning.
Two charges were laid for suspended driving.
Comparing these statistics to those from the 2019 inspection, the out of service rate has increased by 10 per cent, with a similar number of inspections conducted. (In 2019, 231 inspections were completed compared to this year's 216.)
The most dangerous vehicle inspected was a U.S. semi-truck towing heavy trailers that was found to have unsecured cargo, as well as mechanical issues that included brakes and trailer attachment points. The vehicle was towed to a licensed inspection facility and ordered to have a complete annual inspection.
"The bulk of our inspections this year looked at commercial vehicles traveling in and around the City of Edmonton," says Sgt. Dave Beattie, with EPS CVIU. "It's important to note that despite the one very dangerous semi truck we found, most of the long-distance highway trucks we see are in safe condition. So while the results are not indicative of the transport industry as a whole, it shows that there is work to be done within certain sectors. It is my hope that future operations like this, combined with education and collaboration with industry advocates, such as the Alberta Motor Transport Association (AMTA) will go a long way to improving the safety of the commercial vehicles operating on our roads."
For more information on commercial vehicle inspections and the EPS Commercial Vehicle Investigation Unit, visit https://www.edmontonpolice.ca/trafficvehicles/trafficsafety/commercialvehicles