Costumes, props and interactive elements bring the comic book world to life
from Telus World of Science:
Marvel: Universe of Super Heroes features more than 300 artifacts, including some of Marvel's most iconic and sought-after pages, costumes, and props. Spectacular artifacts to thrill both avid collectors, and casual fans—while immersive set pieces, soundscapes, and interactive elements bring the comic book world to life!
The exhibition debuts during Marvel's 80th anniversary year and 10th anniversary of Marvel Cinematic Universe, and chronicles the story of Marvel and its influence on visual culture, while also uncovering the narratives of individual characters such as Captain Marvel, Spider-Man, Black Panther, and Doctor Strange.
Exhibition Highlights:
Interactive elements including the opportunity to travel through the mysterious mirror dimension of Doctor Strange, digitally transform into Iron Man, and pose for selfies alongside life-size representations of Black Panther, Spider-Man, and other iconic Marvel characters.
A fully immersive design with life-size scenes straight from the comic world.
Rare, hand-drawn images of iconic heroes such as Spider-Man, Black Panther, and Captain America—by the artists who first designed them.
Concept sketches, props, and costumes celebrating the 10th anniversary of Marvel Studios.
To get your hotel deal, which includes a discount on exhibit passes and room night(s), visit our hotel partner Edmonton's Best Hotels
For other Things To Do in Edmonton visit exploreedmonton.com
© 2019 MARVEL
Police looking for 2 more suspects in jewelry story armed robbery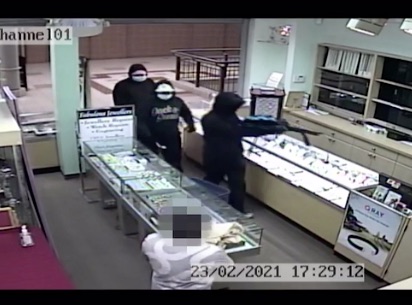 From the Edmonton Police Service
Police arrest two in connection to Bonnie Doon jewelry robbery
TWO SUSPECTS, JEWELRY, REMAIN OUSTANDING
The Edmonton Police Service's Robbery Section has arrested and charged two individuals in connection to a brazen robbery at a southeast Edmonton jewelry store last week.
On Tuesday, Feb. 23, 2021, at approximately 5:30 p.m., three suspects wearing gloves and medical masks entered a south-side jewelry store in a shopping complex near 83 Street and 82 Avenue just before closing.
It was reported to police that one of the suspects then pointed a firearm at the store employee, while the suspects smashed display cases with a sledgehammer and the firearm. The suspects then loaded an estimated $200,000 to $300,000 in jewelry into a pair of blue bins they had brought with them.
The three suspects then fled the store on foot, before getting into a stolen vehicle in the parking lot. The vehicle was driven to a nearby residential area where it was abandoned and lit on fire by the suspects. The three suspects then fled the area in another vehicle, which was being driven by a fourth suspect.
Investigators were able to identify the second suspect vehicle, which led them to an apartment address near 117 Avenue and Groat Road. On Friday, Feb. 26, investigators executed search warrants at several suites at the address, locating evidence allegedly used during the robbery, including the firearm, sledgehammer and approximately $6,000 in stolen jewelry. Two additional firearms were also seized by investigators.
Sylvain Foster, 60, of Edmonton is facing charges of robbery with a firearm (x2) and various other firearm-related offences (x8).
Dustin Logan, 34, of Edmonton, is facing charges of robbery with a firearm (x2), disguise with intent, arson and fail to comply with a probation order.
Robbery Section investigators are also releasing surveillance video today in hopes of identifying the two remaining suspects. The suspects appear in video surveillance taken from the shopping complex parking lot, the jewelry store and a nearby residential neighbourhood, where one of the suspects is seen setting the stolen vehicle on fire, before fleeing the area in a second vehicle being driven by a fourth suspect.
Anyone who is able to help investigators identify the remaining two suspects and/or has information about the jewelry store robbery is asked to contact EPS at 780-423-4567 or #377 from a mobile phone. Anonymous information can also be submitted to Crime Stoppers at 1-800-222-8477 or online at www.p3tips.com/250

Alberta pastor charged with breaking COVID-19 health orders to appeal bail conditions
EDMONTON — An Alberta pastor accused of holding Sunday services that violated COVID-19 rules is to appeal his bail conditions today.
James Coates with GraceLife Church, west of Edmonton, has been in jail for just over two weeks.
Coates is charged with violating Alberta's Public Health Act and with breaking a promise to abide by conditions of his bail release, which is a Criminal Code offence.
The church has been holding services that officials say break public-health orders on attendance, masking and distancing.
A judge has ordered Coates to go to trial in May.
A lawyer with the Justice Centre for Constitutional Freedoms is representing the pastor.
The group says the lawyer will argue that his client's imprisonment and the charge he faces violate his charter freedoms of conscience, religion, association and peaceful assembly.
The judge is also to hear a statement from Coates's wife about the effect the pastor's imprisonment has had on his family and community members.
"Charter freedoms do not disappear because the government declares regular church services to be outlawed, while allowing hundreds of people to fill their local Walmarts," Justice Centre president John Carpay said in a statement.
"Pastor Coates is a peaceful Christian minister. The justice of the peace should not have required him to violate his conscience and effectively stop pastoring his church as a condition to be released. This is a miscarriage of justice."
The church has continued to hold services, even though Coates is in jail. Many gathered again on the weekend as RCMP and Alberta Health Services monitored the situation.
"Observations were again made that the church held a service beyond the designated capacity," the Mounties said in a news release.
"The Parkland RCMP remain engaged in continued consultations with several partner agencies to determine the most productive course of action in relation to the church."
Police fined the church $1,200 in December and a closure order was issued in January.
Coates had been addressing the province's health restrictions in his sermons. He told worshippers that governments exist as instruments of God and there should be unfettered freedom of worship.
This report by The Canadian Press was first published March 4, 2021
Fakiha Baig, The Canadian Press