'More connected': Researchers looking at growing food under solar panels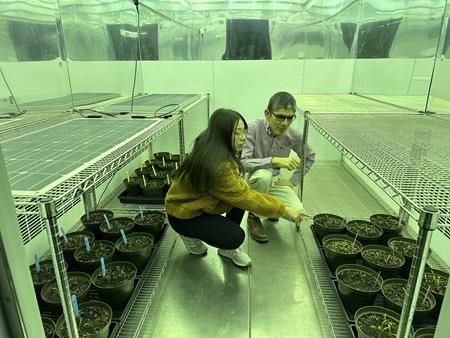 EDMONTON — Lawns, backyards and roofs could be used to produce both solar power and fresh vegetables, University of Alberta researchers say.
Guillermo Hernandez, a soil scientist, and Camila Quiroz, a research intern from Peru, are looking into growing crops under solar panels to improve the use of space in cities and farms.
"We know how to generate electricity from sunlight. We also know how to grow crops," says Hernandez. "But the question is, can we do the two things in the same space?"
Crop harvesting under solar panels is called agrivoltaics, a relatively new concept to improve land-use efficiency by producing energy and food in the same spot.
In a 25-day experiment, Hernandez and Quiroz grew batches of spinach under three systems — thick solar panels, thin solar panels and without solar panels.
The researchers used simulated sunlight in a small room at the university during the Alberta winter.
Quiroz, who is studying energy engineering in Peru, says there weren't any significant differences in taste or nutrition between the spinach grown under solar panels and the batch grown under simulated sunlight.
"I ate some of the solar panel-grown spinach," Quiroz says. "They were sweet. The taste was perfect."
However, the solar panel-grown plants were smaller than the batch grown without the panels.
Quiroz says a "little more time" under the panel would help them mature better.
The researchers are conducting a lab analysis to determine the exact nutritional composition of the three batches, and will be publishing the results in the coming weeks.
Quiroz says agrivoltaics is about more than just optimizing land area.
Solar panels create a microclimate underneath them, shielding plants from direct sunlight and fostering the right temperatures. Greens, berries and broccoli are among the foods that grow well under solar panels.
Quiroz says solar panels could also contribute to higher crop production for certain foods and improve water efficiency.
"Another benefit is the increase the solar energy generation," Quiroz says.
An International Energy Agency report this year said investors are increasingly gravitating towards solar-powered projects, outpacing the spending on fossil fuel projects for the first time.
Hernandez says even though the initial cost of installing solar panels could be high, agrivoltaics has the potential to become a part of the urban landscape in Canada.
"The connection with food is missing in some urban areas."
He says agrivoltaic farming would teach people to grow fresh produce while harnessing solar energy on balconies, backyards and smaller areas.
"People will be able to witness growing their own food, and they will feel more connected to where their food is coming from."
Some provincial governments have been giving rebates and grants to households and institutions for installing solar panels.
Other countries, including South Korea and France, are also experimenting with agrivoltaics.
Hernandez says the next step is to secure funding for research on other vegetables and explore how solar panels work outdoors and at differing heights and angles.
He is also working on a guide for agrivoltaic farming, which would include a list of crops that can be grown under solar panels.
This report by The Canadian Press was first published May 27, 2023.
—-
This story was produced with the financial assistance of the Meta and Canadian Press News Fellowship.
Ritika Dubey, The Canadian Press
Premier Smith introduces Alberta Sovereignty Act to battle Ottawa in net-zero battle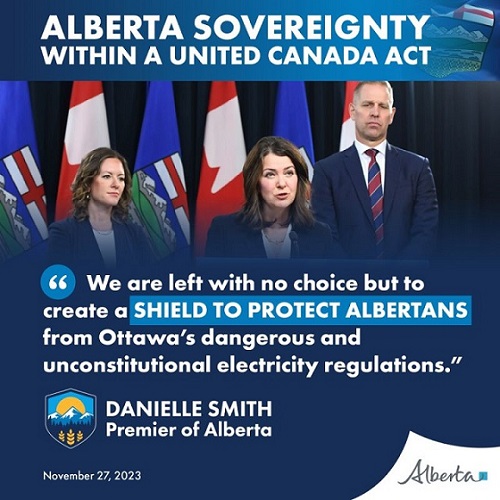 "We are left with no choice but to create a shield to protect Albertans from Ottawa's dangerous and unconstitutional electricity regulations"
Defending Alberta from brownouts, blackouts and soaring costs
Premier Danielle Smith has introduced an Alberta Sovereignty Within a United Canada Act resolution to protect Alberta from the federal government's proposed net-zero electricity grid regulations to ensure Albertans have access to reliable and affordable power when and where they need it.
Alberta's government will not put Albertans and their businesses at risk of freezing in the dark at -30 C due to the federal government's proposed unaffordable, unreliable and unconstitutional Clean Electricity Regulations (CERs).
The federal government has been clear it is unwilling to align its electricity regulations with Alberta's Emissions Reduction and Energy Development Plan as the province works to achieve carbon neutrality by 2050. Instead, the federal government has continued to indicate it will move ahead with its plan to implement unrealistic requirements for a net-zero electricity grid by 2035, regardless of the costs and risks to Albertans.
To protect Albertans from future brownouts, blackouts and soaring costs, Alberta's government has introduced the first Alberta Sovereignty within a United Canada Act resolution. This resolution asks the legislative assembly of Alberta for approval to take strong, effective action over the coming months and years to counteract the harms and risks to Albertans posed by the federal CERs.
"We have tried to work with Ottawa to align their emissions-reduction efforts with our provincial plan to achieve a carbon-neutral power grid by 2050. Unfortunately, after months of meetings, they continue to reject this opportunity and remain committed to an absurdly unrealistic and unattainable goal of a net-zero power grid by 2035. We are left with no choice but to create a shield to protect Albertans from Ottawa's dangerous and unconstitutional electricity regulations. They may be willing to expose Albertans to high costs, blackouts and brownouts, but we are not, and we will continue to ensure Albertans are protected from these destructive and unconstitutional federal policies."
The CERs propose unrealistic rules with Criminal Code violations to achieve net-zero electricity by 2035. Alberta's grid needs more baseload power from natural gas, but these regulations have created uncertainty and are driving away investment. This threatens the reliability and economic well-being of Alberta's homes and businesses.
Alberta does not have enough applications for new natural gas power plants to provide the substantial new generation of power the province needs, primarily due to the investor uncertainty caused by the federal government's extreme policies.
"The courts are on our side, science and logic are on our side, the Constitution is on our side – electricity generation is the jurisdiction of the provinces, not the federal government. It is our responsibility to provide safe, reliable and affordable electricity to all Albertans without interference from Ottawa. This is what we are doing and will continue to do."
"The federal regulations will hurt grid reliability for families and businesses while sending costs soaring. Everything we have seen from Ottawa suggests they simply don't care how these rules will hurt Albertans. We will not put families at risk of rationing power during the coldest days of the year."
If passed, the Alberta Sovereignty Within a United Canada Act resolution will help protect Alberta's electricity grid and ensure that homes and businesses across the province can access reliable, affordable power for decades to come.
The resolution asks Alberta's cabinet to order all provincial entities not to recognize the constitutional validity of, enforce, nor cooperate in the implementation of the CERs in any manner, to the extent legally permissible. This order would not apply to private companies or individuals. The resolution also asks Alberta's government to work with the Alberta Electric System Operator, Alberta Utilities Commission and others to implement various reforms to Alberta's electrical system to ensure grid affordability and reliability.
In addition, the resolution instructs the government to work with industry, regulators and other groups to study the feasibility of establishing a provincial Crown corporation for the purpose of bringing and maintaining more reliable and affordable electricity onto the grid in the event that private generators find it too risky to do so under the CERs.
This Alberta Crown corporation would be a provincial entity and would not recognize the CERs as constitutionally valid. If needed, the Crown corporation would work with industry and other stakeholders to bring on needed electricity onto the grid, either through building new generation or purchasing existing generation assets (i.e. natural gas power plants) that private industry would otherwise not build or shut down due to the uncertainty and penalties established by the CERs. It could also be used as a means of assisting and partnering with industry to de-risk investments in nuclear power and other emerging green generation if needed.
Alberta must be prepared should the CERs lead to divestment in natural gas generation and power plants being turned off in 2035. This initiative would be an important first step towards protecting Albertans' continued access to reliable and affordable electricity should this occur.
The resolution also urges the government to use all legal means necessary to oppose the federal electricity regulation, including legal challenges.
Quick facts
According to the Constitution of Canada, legislating and regulating the development of electricity explicitly falls within the jurisdiction of the province (Section 92A (1) (c)).
Alberta has reduced electricity emissions by 53 per cent since 2005.
Analysis by the Alberta Electric System Operator determined that Alberta would face disproportionate risk and costs, compared with other provinces, as a result of the federal electricity regulations.
Alberta's grid had seven alerts during colder months in 2022 and had three alerts in summer 2023, underscoring the importance of having sufficient stable baseload power sources like gas, hydro and nuclear available year-round. Alberta must continue to rely on a diverse mix of intermittent and baseload options to prevent future brownouts and blackouts and maintain a reliable grid.
The Public Policy Forum previously indicated that the cost of the federal electricity approach could be more than $1 trillion and as high as $1.7 trillion.
Related information
Help Us Preserve Alberta's Sport History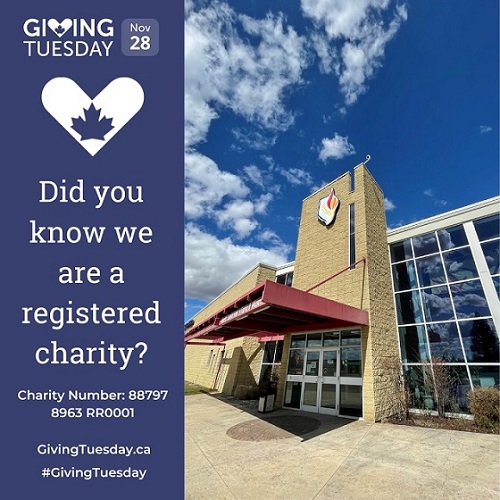 As we approach Giving Tuesday, we invite you to join us in celebrating the spirit of athleticism and honoring the legends who have left an indelible mark on the world of sports. At Alberta's Sports Hall of Fame, we are dedicated to preserving the rich history of sports, recognizing outstanding sports heroes, and inspiring future generations.
Why Support Our Hall of Fame?
Preserving Sporting Legacy: Our Hall of Fame stands as a testament to the achievements, dedication, and passion of athletes and builders who have shaped the landscape of sports. By supporting us, you contribute to the preservation of their legacy for years to come.
Inspiring Future Champions: Every inductee enshrined in our Hall of Fame serves as a source of inspiration for aspiring individuals. Your generosity helps us develop programs that foster the next generation of champions, instilling values of discipline, teamwork, and perseverance.
Community Engagement: We believe in the power of sports to bring communities together. With your support, we can organize events, outreach programs, and educational initiatives that promote inclusivity, diversity, and the joy of sports within our community.
How Your Donation Makes a Difference:
$25: Provides resources for the maintenance and preservation of historical artifacts.
$50: Supports educational programs that introduce schoolchildren to the history and importance of sports.
$100: Contributes to the development of interactive exhibits, making the Hall of Fame an engaging experience for visitors.
$250 and above: Enables us to expand our outreach, bringing the magic of sports to underserved communities.
Join Us on Giving Tuesday:
This Giving Tuesday, be a part of something legendary. Your contribution, no matter the size, makes a significant impact on our ability to celebrate, educate, and inspire through the power of sports.Donate today at
https://www.albertasportshall.ca/
and help us continue the legacy of greatness in sports.Thank you for being a champion of sports history and the people who have made it unforgettable.
With gratitude,
Alberta Sports Hall of Fame Team