MGM, HBO, CBS, Paramount and other studios all working in Alberta right now!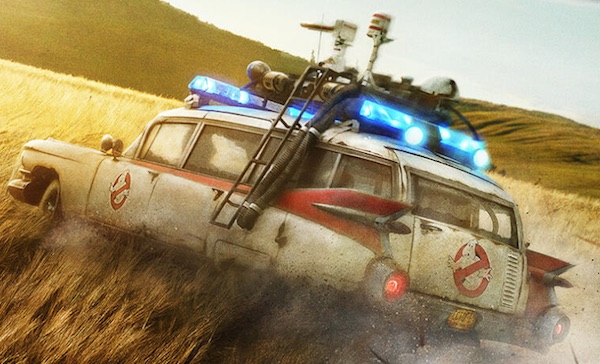 Film credit attracts productions worth nearly $1B
A key part of Alberta's Recovery Plan, the Film and Television Tax Credit is attracting major productions to the province, diversifying the economy and creating thousands of new jobs.
Since the program's launch in January 2020, it has attracted 50 productions to Alberta with total production costs of $955 million, creating 9,000 new direct and indirect jobs in the province.
In March 2021, Alberta's government removed the $10-million per-project cap from the Film and Television Tax Credit to make the province an even more desirable location for larger productions.
Cameras are rolling on film and television productions across Alberta, injecting hundreds of millions of dollars in investment into the economy as these productions hire local crews, actors and extras, and use local businesses.
The Film and Television Tax Credit, combined with Alberta's competitive tax environment, affordable labour costs and breathtaking scenery, has made the province a prime choice for medium and big-budget television and film projects that have a positive impact on Alberta's economy.
HBO is currently filming its new television series The Last of Us in Alberta. The project is the single largest television series production in Canadian history and is expected to create thousands of jobs.
"The boom in our film industry is the perfect example of Alberta's Recovery Plan in action. Thanks to the Film and Television Tax Credit, and our recent improvements to it, we are witnessing a new billion-dollar industry take shape right before our eyes, further diversifying the economy and creating new jobs."
Jason Kenney, Premier
"Alberta is the new Hollywood. With our stunning landscapes, our immense talent and our world-class studios, our province is being showcased on the big screen in a way that it never has before, with thousands of jobs being created in everything from carpentry to catering."
Doug Schweitzer, Minister of Jobs, Economy and Innovation
"Film productions like The Last of Us and Ghostbusters mean thousands of new jobs for rural Albertans both on and off set. With landscapes from the Rocky Mountains to the Prairies, Alberta is becoming a global hub for film. New multimillion-dollar investments in the film industry are getting Albertans back to work and driving Alberta's economic recovery. I look forward to seeing even more of Alberta on the big screen."
Nate Horner, Associate Minister of Rural Economic Development
"From breathtaking landscapes to a skilled and growing workforce, Alberta has much to offer the global production community. The province's enhanced film and television production incentive has also made it an especially attractive destination for HBO. We look forward to filming The Last of Us here, and to working with talented Alberta crews."
Jay Roewe, senior vice-president, Production & Incentives, HBO
"Alberta's Film and Television Tax Credit is a game-changer in terms of production volumes. It has created thousands of well-paying jobs and numerous business opportunities. High-profile projects such as The Last of Us are a major driver of jobs, Alberta businesses and training. Projects like this benefit numerous industries ranging from fabric suppliers to companies in the hospitality industry. Alberta's spectacular landscapes are being shared globally, elevating our economic standing in the global marketplace."
Damian Petti, president, IATSE Local 212
"We are pleased to see the Alberta government is supporting Alberta's creative industries by their recent enhancements of our film and television tax credits and production incentives. From actors to puppeteers to stunt performers, this is fantastic news for ACTRA Alberta performers, our production community and Alberta's economy."
Tina Alford, branch representative, ACTRA Alberta
"Alberta's enhanced incentive program and strong commitment to increasing investment from global studios is working to grow the creative economy and provide unparalleled opportunities for Alberta's creative talent. On behalf of the major studios we represent, we're thrilled that the Alberta government and industry have worked together to create jobs for thousands of skilled Albertans in front of and behind the camera, and to showcase the beauty and talent of Alberta on the global stage."
Wendy Noss, president, MPA-Canada
"HBO is synonymous with quality and The Last of Us has long been touted as one of the most cinematic video game series ever created – a perfect marriage to Alberta's cinematic landscapes, light and picturesque communities. We are grateful to have this tentpole series in the province developing the industry and creating hundreds of jobs for our hard-working and talented crews, as well as a great economic stimulus in communities of southern Alberta. This project, along with enhancements of the Alberta Film and Television Tax Credit, will be looked back on as cornerstone moments in a booming film production sector for years to come."
Brock Skretting, head of advocacy, Keep Alberta Rolling
"The changes to Alberta's Film and Television Tax credit can only be seen as a success story. Not only are we creating good high-paying jobs for Albertans, but it is also an important step in boosting Alberta's economy at time when we need it. No matter what the business is – gas stations, lumberyard, coffee shop – movie money is being spent in Alberta."
Mike Dunphy, business agent, Teamsters Local 362
Quick facts
Alberta's Film and Television Tax Credit, launched in January 2020, offers a refundable Alberta tax credit certificate on eligible Alberta production and labour costs to corporations that produce films, television series and other eligible screen-based productions in the province.
The Film and Television Tax Credit complements the Alberta Made Production Grant, and is part of the government's commitment to grow Alberta's cultural industries by 25 per cent over the next decade.
In 2019, combined consumer spend globally for theatrical and home entertainment reached $101 billion, a 34 per cent increase since 2015.
The film and television industry is experiencing significant growth nationally and globally.

Global spending in the industry is projected to reach about $113 billion by 2022.
It is expected more than $50 billion of that spending will be in North America.

Last year, the Canadian film and television industry was valued at $3 billion and employed more than 54,000 workers.
Every year, Alberta graduates more than 3,000 creative industry professionals from its post-secondary institutions.
According to industry estimates, more than 3,200 Albertans are employed in the province's motion picture and video industry.
According to Statistics Canada data:

Every $1 million of production activity in the screen-based production sector creates about 13 Alberta jobs.
Every $1 million of government investment under the Film and Television Tax Credit program is expected to support about 85 Alberta jobs.

The budget for the Film and Television Tax Credit in 2021-22 is $50 million.
Related information
A look at Alberta Premier Danielle Smith's new cabinet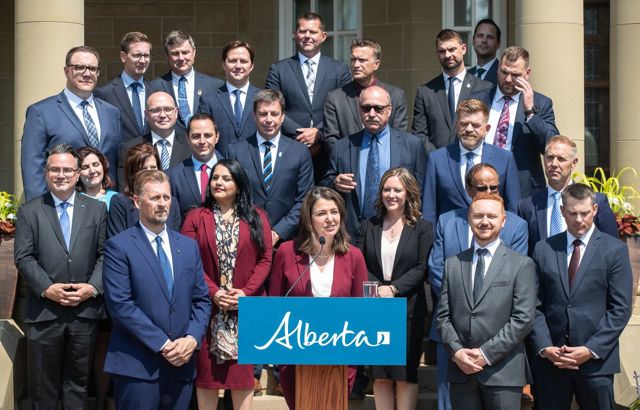 Premier Danielle Smith introduced her cabinet Friday, the second one since taking over as United Conservative Party leader in October. Here are the changes at a glance:
Second in command: Mike Ellis retains his Public Safety and Emergency Services portfolio but is also now deputy premier.
Big promotions: Mickey Amery moves from Children's Services to Justice; Nate Horner moves from Agriculture and Irrigation to Finance; Adriana LaGrange already had a heavyweight title in Education but now takes on enormous responsibilities in Health.
New faces: RJ Sigurdson joins cabinet for the first time in Agriculture and Irrigation; Searle Turton is new in Children and Family Services; Dan Williams gets his first cabinet seat in Mental Health and Addiction.
Returning vets: Jason Nixon, the environment minister and government house leader under former premier Jason Kenney, is back in cabinet handling the Seniors, Community and Social Services post. Ric McIver, dropped from Smith's first cabinet, returns in his old job of Municipal Affairs. Muhammad Yaseen, a former associate minister of immigration, now has full cabinet rank as minister of Immigration and Multiculturalism; Tanya Fir, former economic development minster under Kenney, is back in Arts, Culture and Status of Women portfolio.
Same faces, new jobs: Rebecca Schulz (Environment and Protected Areas), Brian Jean (Energy and Minerals), Nathan Neudorf (Affordability and Utilities), Joseph Schow (Tourism and Sport), Demetrios Nicolaides (Education), Rajan Sawhney (Advanced Education), Matt Jones (Jobs, Economy and Trade), Peter Guthrie (Infrastructure).
Same faces, same jobs: Nate Glubish (Technology and Innovation), Dale Nally (Service Alberta and Red Tape Reduction), Devin Dreeshen (Transportation and Economic Corridors), Todd Loewen (Forestry and Parks).
This report by The Canadian Press was first published June 9, 2023.
Alberta Premier Danielle Smith shuffles familiar faces into new cabinet roles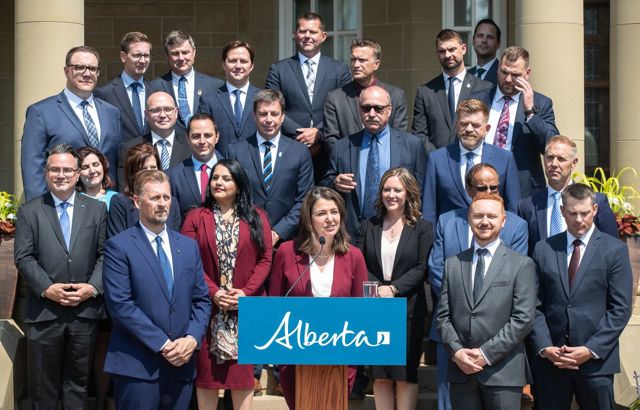 Alberta Premier Danielle Smith introduced her new cabinet Friday, shuffling familiar faces, tinkering with some titles, keeping former leadership rivals close while welcoming back two exiled political veterans.
Smith's 25-member team – down from 27 in her first cabinet last fall – were sworn in during a ceremony at Government House.
"I am so pleased to have this team working with me to deliver on the promises we made to Albertans during the election," Smith said in a news release.
"These are not just our government's priorities, they are Albertans' priorities. The next four years start today, and I can't wait to get back to work with each of my cabinet colleagues."
Nate Horner has been tapped to lead Finance, Mickey Amery takes over in Justice and Adriana LaGrange moves to Health from her old job in Education.
Brian Jean, Rajan Sawhney, Todd Loewen and Rebecca Schulz — all contenders in the United Conservative Party leadership — return to Smith's cabinet table.
Jean will head up Energy and Minerals, Sawhney takes over Advanced Education and Schulz is to lead Environment and Protected Areas.
Loewen returns in the newly renamed Forestry and Parks job.
Smith lost a lot of cabinet experience when veteran ministers retired or were defeated in last month's election. Two returning stalwarts, Jason Nixon and Ric McIver, were dropped from Smith's original cabinet Oct. 24 but are back at the table.
Nixon is in charge of Seniors, Community and Social Services. He was the top lieutenant to former premier Jason Kenney, serving as government house leader and Environment minister. After Kenney quit and Smith took over, Nixon was still viewed in caucus as part of the discredited Kenney administration and was moved to the backbenches.
McIver, with a decade of experience in the legislature under multiple portfolios, is back in his old job of Municipal Affairs.
Other cabinet ministers are also back with big promotions.
Amery, with no cabinet experience until Smith appointed him Children's Services minister last year, takes a big leap forward to Justice.
One of three lawyers in Smith's 48-member caucus, Amery inherits a controversial portfolio. He is the fifth person to hold the job in the last four years under the UCP.
One former UCP justice minister, Kaycee Madu, was found to have tried to interfere in the administration of justice by calling up Edmonton's police chief to complain about a traffic ticket.
Last month, the province's ethics commissioner concluded Smith sought to undermine the rule of law by pressuring Amery's predecessor, Tyler Shandro, to drop a criminal case against a protester at a U.S. border blockade.
LaGrange's Health job is viewed as critical, as Smith pledged to reduce wait times for emergency care and surgeries and to make changes to ensure more Albertans can see a family doctor.
Horner, who earned plaudits for his work in Agriculture and Irrigation, will have to navigate keeping Alberta's books balanced while also finding money to pay for a $1-billion-a-year tax reduction pledge promised by Smith.
Demetrios Nicolaides effectively switches classrooms, moving from Advanced Education to Education.
Matt Jones moves from Affordability and Utilities to the new Jobs, Economy and Trade.
Rick Wilson returns as Indigenous Relations minister. With Nicolaides and LaGrange switching portfolios, he is the only minister named in Kenney's original 2019 cabinet to be in the same job four years later.
Mike Ellis has emerged as a key lieutenant to Smith. The former Calgary police officer returns in the Public Safety and Emergency Services portfolio but is also her deputy premier. He is expected to play a pivotal role in Smith's promised legislation to force addicts into treatment as a last resort.
Devin Dreeshen stays in place as minister for Transportation and Economic Corridors.
Calgary member Tanya Fir's roller-coaster political career is back on the upswing, heading to the newly renamed Arts, Culture and Status of Women ministry.
Fir was part of the Kenney's original cabinet as Economic Development minister, but was dropped from cabinet, brought back in as a Jobs minister only to be dropped by Smith in October.
The Status of Women portfolio is also back on the rise after falling from a cabinet portfolio to an associate ministry under Kenney, then out of cabinet altogether under Smith.
Smith has said because the NDP took all 20 Edmonton seats in the election, she will rely more on cabinet ministers Nate Glubish, Dale Nally and Searle Turton, who represent constituencies near the capital.
Glubish remains in Technology and Innovation and Nally stays as minister for Service Alberta and Red Tape Reduction.
Turton, a second-term member, gets his first cabinet job in the renamed Children and Family Services ministry.
Nathan Neudorf is no longer deputy premier or Infrastructure minister, taking over Affordability and Utilities.
Peter Guthrie moves from Energy to Infrastructure.
Joseph Schow returns as government house leader and as minister for the new Tourism and Sport position.
Calgary backbencher Muhammad Yaseen, previously an associate immigration minister under Kenney, attains full cabinet rank as minister for Immigration and Multiculturalism.
Dan Williams, a second-term MLA, gets his first shot in cabinet with Mental Health and Addiction.
RJ Sigurdson gets his first cabinet assignment, taking over from Horner in Agriculture and Irrigation.
The job titles remain the same for the most part with some slight revisions. Loewen, for example, loses the Tourism responsibility from his old job.
The Jobs, Economy and Northern Development portfolio has dropped Northern Development and will add in Trade responsibilities instead.
The Seniors title, dropped last fall by Smith, returns in Nixon's new job.
The Skilled Trades and Professions portfolio has been dropped all together.
There is still no dedicated Labour ministry.
The government is set to return to the house in October and faces a large 38-member Opposition NDP that, along with sweeping Edmonton, took a big bite out of UCP support in Calgary.
The NDP now represents more than half the seats in Calgary.
Smith's caucus will also be further reduced.
While the UCP won 49 seats in the election, Smith said newly elected Lacombe-Ponoka member Jennifer Johnson is not welcome in caucus given her public comments late last year comparing transgender students to feces in cookie dough. Johnson will sit as an Independent.
UCP member Nathan Cooper is expected to return as Speaker, meaning Smith's team will have an even slimmer majority in the 87-seat legislature.
This report by The Canadian Press was first published June 9, 2023.