LISTEN: TSN's Ray Ferraro along with Kilimanjaro charity-climb participant Cory Clendenning
TSN's Ray Ferraro joins the boys… and brings it… like he always does. No sugar coating anything, AND we had a blast.
Also, Cory Clendenning is gonna climb Mount Kilimanjaro… why? It's for a great cause and he's footing the bill himself.
Plus, the usual BS from the guys.
Who are The OUTSIDERS?
The Outsiders are Edmonton media veterans Bryn Griffiths and Robin Brownlee. Together, they intend to bring us a different perspective on sports gained from decades inside the business. They've been around for a while, and both have rolodexes literally overflowing with the contacts of some amazing sports figures.
This is a new weekly sports podcast with a keen eye on the hottest topics of the week in Canada. Expect them to serve up some outstanding conversations with a sports luminaries new and old.
Above all, expect lots of opinions!
"NOT always right but willing to listen." – Bryn Griffiths
Bryn Griffiths and Robin Brownlee take a weekly look at the World of Sports from their unique perspective. Great guests. Outstanding conversation. Lots of opinion. NOT always right but willing to listen.
Slain officers' families will get $100,000 from Heroes' Fund, Alberta premier says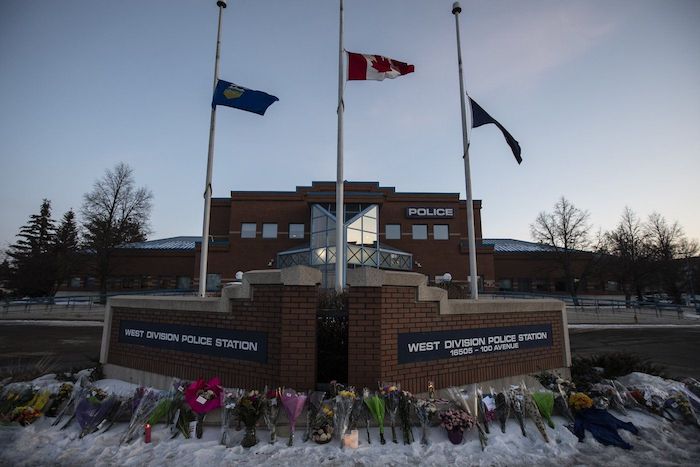 Flowers lie outside a police station for Const. Brett Ryan and Const. Travis Jordan, who were shot and killed while on duty, in Edmonton on March 17, 2023. Alberta Premier Danielle Smith says the officers' families are each to receive $100,000 from the province's Heroes' Fund. THE CANADIAN PRESS/Jason Franson
Edmonton (CP) – Alberta Premier Danielle Smith says the families of two Edmonton police officers who were fatally shot this week will each receive $100,000 from the province's Heroes' Fund.
Smith made the announcement Saturday during her weekly provincewide radio program while addressing the deaths of Const. Brett Ryan and Const. Travis Jordan.
The officers were gunned down Thursday by a teen who later killed himself while they were responding to a non-violent domestic dispute at an apartment building.
"One of the things that we have to support families is our Heroes' Fund — we brought that in in 2020 — so the families will get $100,000 each to be able to help with the costs associated with having to deal with this horrible tragedy," Smith said Saturday.
The fund was established as part of the Ensuring Safety and Cutting Red Tape Act, 2020, and the government's website says it is intended to recognize the sacrifices of first responders who die as a result of performing their duties.
Smith also encouraged people to donate to a GoFundMe for the families of the officers, which has been set up by the Edmonton Police Foundation in partnership with the Edmonton Police Association.
"If people want to provide some support to these grieving widows and their kids, you can go online to GoFundMe and just type in 'Edmonton Police Foundation.' It was already up to, I think, $218,000 before I came on air," she said.
"It's very rare when we lose an officer. It was a really rough week for everybody as we watched this tragedy unfold and got a few more details."
Ryan, 30, a former paramedic, lived just west of Edmonton in Spruce Grove, Alta. A friend said Ryan was married and his wife is expecting their first child.
Jordan, 35, who grew up in Nova Scotia, was remembered as a kind officer who went above and beyond in his job.
Smith also said during the broadcast that a regimental funeral would be held for the officers on March 26. But later in the afternoon, she tweeted the funeral details were "not fully confirmed and finalized at the moment" and asked the public to wait for Edmonton police to provide the date and full details when they become available.
The province's website says the Heroes' Fund is open to the families of police officers, firefighters, paramedics, sheriffs and provincial correction officers. It says eligibility is determined by the Workers' Compensation Board, which it says will identify eligible families using its fatality claim process and administer the funds accordingly.
It notes that between 2010 and 2019, there were 106 first responder deaths in Alberta. It also says the federal Memorial Grant Program for First Responders provides a one-time payment of up to $300,000 to families of first responders who die while on duty.
Edmonton police Deputy Chief Devin Laforce said Friday that police got a call about a non-violent domestic dispute where a mother was having trouble with her son. Ryan and Jordan were gunned down by the teen shortly after they arrived.
The shooter — a 16-year-old boy — briefly struggled for the gun with his 55-year-old mother, before wounding her and then taking his own life.
Laforce said nothing suggested the call would be dangerous or require a high-threat response, but says police had previously visited the apartment for what was categorized as a mental health complaint.
This report by The Canadian Press was first published March 18, 2023.
Evander Kane's hat trick lifts Oilers past Kraken 6-4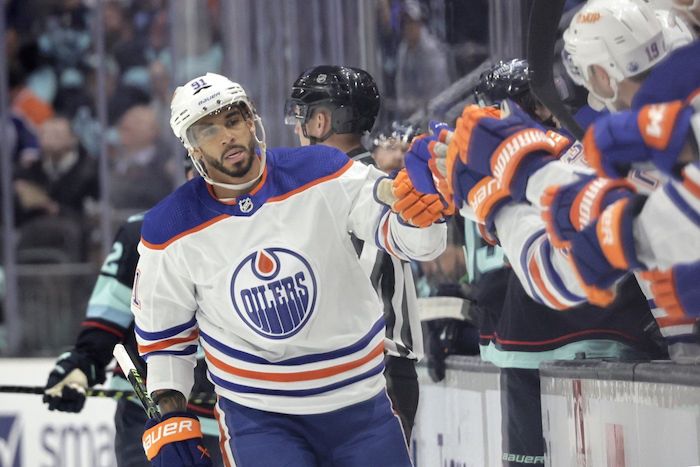 Edmonton Oilers left wing Evander Kane (91) is congratulated after scoring against the Seattle Kraken during the first period of an NHL hockey game, Saturday, March 18, 2023, in Seattle. (AP Photo/John Froschauer)
By Tim Booth in Seattle
SEATTLE (AP) — Evander Kane recorded his second hat trick of the season and the Edmonton Oilers gained some cushion in the Western Conference playoff chase with a 6-4 win over the Seattle Kraken on Saturday.
Kane capped the sixth three-goal game of his career by scoring on an odd-man rush with 9:40 remaining just after a power play for Seattle ended. Kane also scored Edmonton's first goal less than two minutes into the game, and his second goal came 43 seconds into the second period.
Connor McDavid had a goal and two assists, giving him 134 points for the season — the seventh-most points by any player in the past 30 years. McDavid scored his 58th goal of the season on a power play with 3:50 remaining.
The victory moved Edmonton three points ahead of Seattle for the final automatic playoff spot from the Pacific Division. Edmonton has one less game remaining than Seattle, but the Oilers gained the upper hand in the final matchup of the regular season between the teams.
Zach Hyman scored his 30th of the season, Kailer Yamamoto added his ninth and Leon Draisaitl had three assists, giving him 104 points on the season. Mattias Ekholm also chipped in with three assists. Stuart Skinner made 33 saves for Edmonton.
Jaden Schwartz, Jordan Eberle, Oliver Bjorkstrand and Eeli Tolvanen all scored for Seattle, but the Kraken lost for the sixth time in their past seven home games. Vince Dunn extended his points streak to 12 games when he assisted on Seattle's first goal that was tipped in by Schwartz. The goal was originally credited to Dunn, but later changed to Schwartz.
Seattle's Philipp Grubauer made seven saves, but left with 13:30 left in the second period and immediately went down the tunnel to Seattle's locker room. Martin Jones replaced Grubauer and the first shot he faced found the back of the net when Hyman collected a pass from McDavid and flicked a wrist shot over Jones' blocker.
Seattle announced Grubauer left due to a non-COVID illness. Jones made 10 saves.
NOTES
Kane had his first game with multiple goals since returning from wrist surgery after suffering a cut on the wrist by a skate blade Nov. 8 at Tampa Bay. He missed 31 games recovering from the surgery and had scored five goals in the 14 games played since he returned. … Seattle F John Hayden went limping to the locker room with 7:45 left in the second period after a fight with Klim Kostin. Hayden fell awkwardly on his right leg during the fight. He did not return.
UP NEXT
Oilers: Host San Jose on Monday.
Kraken: At Dallas on Tuesday.
___
AP NHL: https://apnews.com/hub/nhl and https://twitter.com/AP_Sports