Larger Heliport Now Open At Rocky Health Centre
Residents in the Rocky Mountain House Region now have improved access to critical care, thanks to the new, larger heliport now being operational. Officials with Alberta Health Services have shared the following news release outlining those details:
The new and bigger heliport at the Rocky Mountain House Health Centre is now operational.
Transport Canada has issued a flight certificate confirming air ambulance helicopters, including STARS, can now land at the Alberta Health Services (AHS) facility.
"We are pleased to announce the heliport is operational in time for the August long weekend," says Kerry Bales, Chief Zone Officer of AHS Central Zone. "It has been a lengthy process but we have very much appreciated the collaboration with the town and community."
The new heliport can accommodate both models of STARS helicopters: the BK 117 and the AW139. A town-owned water tower near the flight path had to be removed or painted before Transport Canada could give approval to land at the heliport. The tower was dismantled this spring; the Transport Canada inspection occurred July 26.
"A super job well done," says Rocky Mountain House Mayor Fred Nash. "It's been a pleasure working with the professionalism of Alberta Health Services for the betterment of the town of Rocky Mountain House, the county and the many visitors who come here."
Until now, all STARS helicopters were landing at the Rocky Mountain House airport, located about eight kilometres from the health centre. Ground ambulances were used to transport patients to and from the health centre and airport.
"The ability to have all sizes of medevac helicopters land right here at the Rocky Mountain House Health Centre will improve access for patients who need critical care transport," says Bales.
STARS helicopters are more than an ambulance in the air; they are sophisticated medical environments brought directly to the patient. This can mean the difference in the health outcome of a patient when time is of the essence.
On board, a full array of medications and equipment is at the disposal of the air medical crew. STARS personnel are able to administer life-saving drugs, defibrillate a patient's heart, transfuse blood, and peer inside a patient using portable ultrasound.
"Many lives have been saved because of our ability to provide transport and medical expertise to critically ill and injured patients via air ambulance," says Mike Lamacchia, Vice President of Alberta and Saskatchewan Operations at STARS.
AHS' Emergency Medical Services (EMS) team, including dispatch services, ground ambulances and fixed-wing air ambulances, work with STARS as a key partner to provide an integrated emergency medical response service. STARS physicians, nurses, paramedics and pilots work with a team of dedicated support staff and community partners to be there for Albertans and to save lives 24/7.
AHS spent $430,000 to pay for the tower demolition and the relocation of the town, county and regional fire communication antennas that were located on top of the tower.
Alberta Health Services is the provincial health authority responsible for planning and delivering health supports and services for more than four million adults and children living in Alberta. Its mission is to provide a patient-focused, quality health system that is accessible and sustainable for all Albertans.
Tentative $161.5M settlement reached in WVa opioid trial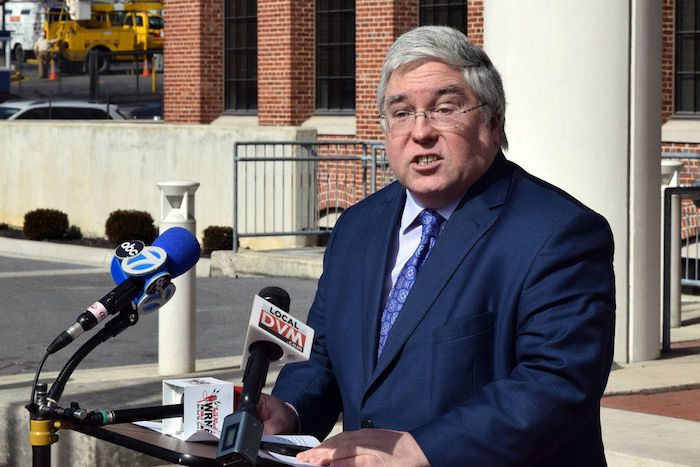 By John Raby in Charleston
CHARLESTON, W.Va. (AP) — Attorneys for the state of West Virginia and two remaining pharmaceutical manufacturers have reached a tentative $161.5 million settlement just as closing arguments were set to begin in a seven-week trial over the opioid epidemic, Attorney General Patrick Morrisey said Wednesday.
Morrisey announced the development in court in the state's lawsuit against Teva Pharmaceuticals Inc., AbbVie's Allergan and their family of companies. The judge agreed to put the trial on hold to give the parties the opportunity to work out a full settlement agreement in the upcoming weeks.
"Today does represent a very big day for our state," Morrisey said later at a news conference.
The trial started April 4. The lawsuit accused the defendants of downplaying the risks of addiction associated with opioid use while overstating the benefits.
Under the tentative deal, West Virginia would receive more than $134.5 million in cash, while Teva would supply the state with $27 million worth of Narcan, a medication that can reverse opioid overdoses, restore breathing and bring someone back to consciousness.
By reaching a settlement, "it obviously puts us in a position where we mitigate risk," Morrisey said. "We could win if we kept going to trial. I think we would have won. No guarantees, of course. But then we might be subject to five years of appeals and then we wouldn't see any resources for five years."
"I want to make sure we start to put feet on the ground now. And I want to see resources targeted to this epidemic now."
Under a plan announced by Morrisey in February, 72.5% of the settlement will go to a nonprofit foundation established to distribute money in opioid-related litigations, 24.5% would be allocated to local governments and 3% would go to the state. The foundation would consist of an 11-member board, including five state appointees and representatives from six regions of the state. The board members will have expertise in fields such as mental health, substance misuse and law enforcement.
West Virginia had reached a $99 million settlement withdrugmaker Johnson & Johnson's subsidiary Janssen Pharmaceuticals Inc. last month over the drugmaker's role in perpetuating the opioid crisis in the state that has long led the nation in drug overdose deaths.
Before the trial started, Morrisey's office announced the state settled part of the lawsuit involving another defendant, Endo Health Solutions, for $26 million.
In separate, similar lawsuits, the state of West Virginia previously reached a $37 million settlement with McKesson Corp. in 2019, and $20 million with Cardinal Health Inc. and $16 million with AmerisourceBergen Drug Co. in 2017.
After years of lawsuits, drugmakers, distribution companies and some pharmacies have been settling cases over the toll of opioids.
In deals finalized this year, the three biggest distribution companies and drugmaker Johnson & Johnson agreed to settlements totaling $26 billion over time. OxyContin maker Purdue Pharma is in court trying to win approval for a national settlement including up to $6 billion in cash, plus using future profits from a remade version of the company to fight the opioid crisis.
In other settlements this year, the distributors have agreed to pay Washington state, which did not participate in the national settlement with them, more than $500 million, and a group of companies are sending $276 million to Alabama.
In all, proposed and finalized settlements, judgements and criminal penalties over opioids have reached more than $47 billion since 2007. Much of the money is to be used only to address the crisis, which has been linked to the deaths of more than 500,000 Americans in the last two decades. A relatively small portion of the settlement money – at least $750 million in the Purdue deal – is to be paid to individual victims and their survivors.
In Charleston, a separate bench trial wrapped up last summer in a federal lawsuit accusing AmerisourceBergen, Cardinal Health and McKesson of fueling the opioid crisis in Cabell County and the city of Huntington. That judge has not indicated when he will rule.
___
Associated Press writer Geoff Mulvihill contributed to this report.
Alberta reporting two probable cases of mystery liver disease in patients under 16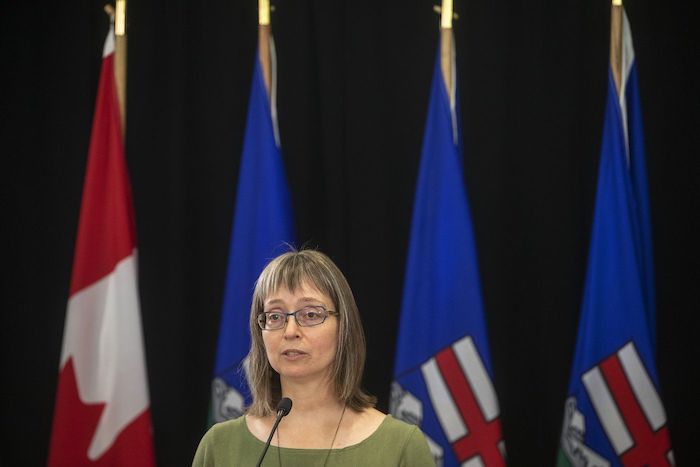 By Daniela Germano in Edmonton
Alberta's chief medical officer of health says there are two probable cases of severe acute hepatitis of unknown origin in children in the province.
Dr. Deena Hinshaw says both children are under 16.
She says one of the patients was treated, discharged from hospital and is doing well.
Hinshaw says the other patient remains in hospital.
She says she cannot provide more details due to patient confidentiality.
Toronto's Hospital for Sick Children said Tuesday it had identified seven probable cases of the liver disease.
The hospital, also known as SickKids, said the mysterious cases were identified between Oct. 1, 2021, and April 30, 2022, and reported to Public Health Ontario.
SickKids said it remains to be seen whether that number is an increase in cases of unknown origin compared with similar periods in previous years, or if any of the cases will be confirmed to have a new cause.
Manitoba also said a probable case was reported in that province in recent weeks.
Hinshaw said Alberta shared information late last week with clinicians on what to look for and how to report severe acute hepatitis of unknown cause in children.
The province has been working closely with federal, provincial and territorial officials to monitor emerging information, she said.
"We've also been working to align our reporting criteria with the other provinces and territories — in this case the current World Health Organization and Public Health Agency of Canada definitions," she said at a news conference.
"This will allow us to consistently report case information to the federal government and help contribute to the global body of work to understand more about this condition."
The definition for possible cases is broad, Hinshaw said, as any child with severe liver inflammation with unknown cause is being counted.
"I'd like to make it clear to parents that this reporting does not necessarily mean that there is an elevated risk in the community or that you should take different steps if your children are sick."
The World Health Organization said last week it had reports of almost 300 probable cases in 20 countries. More than 100 possible cases have emerged among children in the United States, including five deaths.
Dr. Theresa Tam, Canada's chief public health officer, said this week that even before the pandemic, about half of all pediatric hepatitis cases that are severe would have no known cause.
Federal health officials are still investigating whether any of these cases are linked in any way, she said.
This report by The Canadian Press was first published May 11, 2022.