Joint Police Operation seizes 2 million in drugs and cash, bringing down a BC-Alberta drug "pipeline"
From ALERT (Alberta Law Enforcement Response Team) : Several Albertans arrested
Project Elder Disrupts B.C.-Alberta Drug Pipeline
A two-year investigation by ALERT has cut off a drug pipeline between British Columbia and Alberta. More than $2 million in drugs and cash was seized and a dozen suspects have been arrested.
Project Elder was an ALERT Edmonton investigation that probed interprovincial, wholesale drug distribution. ALERT alleges that a high volume of drugs were being shipped to Alberta involving a complex scheme that included vehicles equipped with hidden compartments.
ALERT alleges the drugs were being shipped to Edmonton and Calgary with further distribution points across the province.
"Organized crime groups don't respect borders, which is why we need agencies like ALERT that work with law enforcement partners in other jurisdictions to investigate, disrupt and dismantle serious criminal activity such as organized crime and illegal drug trafficking. I want to thank investigators from ALERT and the other organizations involved in Project Elder for their outstanding and tireless work on this long and complex operation that maintains Albertans' confidence in our law enforcement agencies' abilities to ensure they are safe, secure and protected in their communities," said Hon. Doug Schweitzer, Minister of Justice and Solicitor General.
Project Elder concluded on June 5, 2019, with several arrests taking place. Additional arrests and search warrants were staggered over the course of the investigation and took place in Edmonton, Calgary, Innisfail, and Vancouver.
Two homes, two businesses and multiple vehicles were searched. The drugs alone have an estimated street value of $1.5 million. Items seized include:
9.3 kilograms of cocaine;
17.2 kilograms of a cocaine buffing agent;
6.0 kilograms of methamphetamine;
684 grams of fentanyl powder;
$514,335 cash;
a handgun with suppressor and expanded magazine; and
5 vehicles with hidden compartments.
ALERT used a number of sophisticated techniques and specialized resources to dismantle the group. Project Elder relied heavily on the assistance of: Edmonton Police Service; CFSEU-BC; North Vancouver RCMP; RCMP E-Division; Innisfail RCMP; RCMP Federal Serious and Organized Crime; and Alberta Sheriffs surveillance team.
Project Elder dates back to March 2017 when investigators targeted an Edmonton-based drug trafficking group. ALERT was able to expand the scope of that initial investigation and identified the group's suspected B.C.-based supplier.
ALERT alleges that Neil Kravets coordinated the supply of drugs from B.C. and oversaw the group's activities. The 28-year-old man from North Vancouver has subsequently been charged with instructing a criminal organization, among a host of other charges.
Eleven suspects with Kravets's alleged drug network were arrested, many of whom were charged with participation in a criminal organization and conspiracy to traffic cocaine, methamphetamine, and fentanyl.
A total of 59 charges have been laid against:
Neil Kravets, 28, from North Vancouver;
Brandon Worsley, 29, from Edmonton;
Joseph Nicholson, 29, from Airdrie;
Brandon Brown, 22, from Edmonton;
Richard Sansoucy, 56, from Edmonton;
Gregory Ewald, 44, from Edmonton;
Fayiz Moghrabi, 28, from Vancouver;
Randolph Chalifoux, 37, from Edmonton;
Suk Han, 35, from Vancouver;
Andy Estrada, 29, from Edmonton;
Daniel Estrada Sr., 58, from Edmonton; and
Moshe Banin, 31, from Edmonton;
Members of the public who suspect drug or gang activity in their community can call local police, or contact Crime Stoppers at 1-800-222-TIPS (8477). Crime Stoppers is always anonymous.
ALERT was established and is funded by the Alberta Government and is a compilation of the province's most sophisticated law enforcement resources committed to tackling serious and organized crime. Members of Calgary Police Service, Edmonton Police Service, Lethbridge Police Service, Medicine Hat Police Service, and RCMP work in ALERT.
Reports: Flames closing in on signing UFA forward Nazem Kadri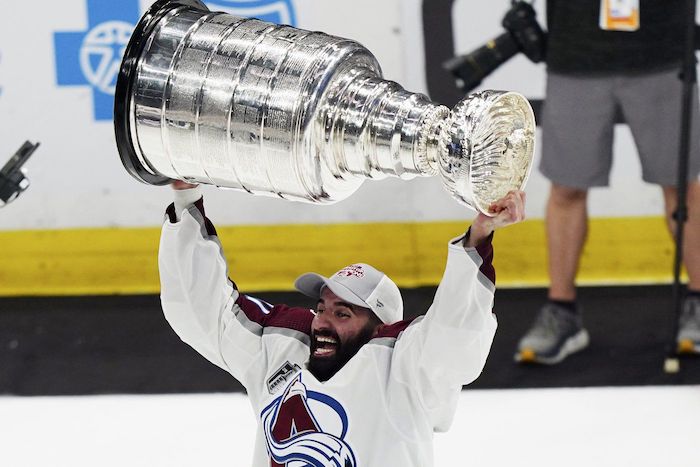 The Calgary Flames are closing in on a deal to sign unrestricted free agent Nazem Kadri, according to multiple media reports.
Sportsnet reported the deal is for seven years at US$7 million per season.
The Flames, according to Sportsnet and TSN, are moving forward Sean Monahan to the Montreal Canadiens to create salary cap space for Kadri's contract. Details of that trade have not been released.
The 32-year-old Kadri was one of the biggest names available in free agency after an All-Star season with Colorado that ended with the Avalanche winning the Stanley Cup.
Kadri had 87 points (28 goals, 59 assists) in 71 games for the Avalanche in 2021-22.
He added 15 points (seven goals, eight assists) in 16 playoff games, including the overtime winner in Game 4 of the Stanley Cup final against Tampa Bay. That was his return to action after being injured in Game 3 of the Western Conference final after being hit from behind by Edmonton forward Evander Kane.
Kadri's signing would be the latest chapter of a chaotic off-season for the Flames.
Calgary lost leading scorer and Hart Trophy candidate Johnny Gaudreau to the Columbus Blue Jackets early in free agency, then was informed that star forward Matt Tkachuk would not sign a contract extension after the upcoming season.
The Flames dealt Tkachuk to Florida for a package that included forward Jonathan Huberdeau, who had 115 points last season, and defenceman Mackenzie Weegar.
The Flames then locked up Huberdeau long-term with an eight-year, US$84-million contract extension.
Monahan, selected sixth overall by the Flames in the 2013 NHL Entry Draft, has played nine seasons in Calgary. The three-time 30-goal scorer tallied just eight goals and 15 assists for 23 points in 65 games last season.
This report by The Canadian Press was first published Aug. 18, 222.
'Sorry': Crown calls for harsh sentence for Calgary man in multimillion-dollar fraud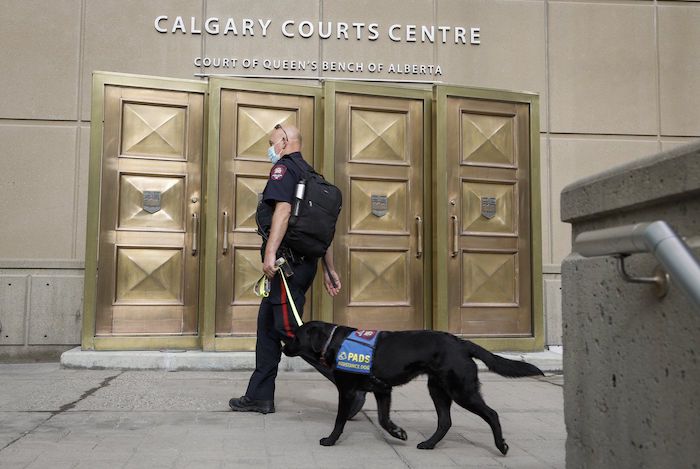 By Bill Graveland in Calgary
The Crown asked for a sentence of 10 to 12 years Wednesday for a Calgary man who bilked clients out of millions of dollars in a Ponzi scheme.
Arnold Breitkreutz, 74, was convicted on June 29 of fraud over $5,000 for what the Crown described as a multimillion-dollar scheme in which investors believed they were putting money into safe first mortgages.
Court heard the money from his company, Base Financial, was instead loaned to an energy industry promoter and used in a risky oil play in Texas that was secured against oil-and-gas leases and equipment.
"The Crown submits that this actually was a trust situation," said Crown prosecutor Shelley Smith, who told court that Breitkreutz was held in "high regard" by many clients after successfully running a mortgage-broker business for years.
Smith said during the period of the offence, between May 1, 2014, and Sept. 30, 2015, investors provided Breitkreutz with more than $21.4 million as a result of his "deceit."
"The scheme was due to collapse at some point, but the fraud persisted for a period of 17 months," she said.
"False contracts were distributed to investors, T5 (investment income tax slips) were also distributed to investors providing a gloss of legality to the scheme. With respect to the large number of victims in this case, 107 individuals were defrauded money."
Smith is also asking that Breitkreutz pay restitution of more than $3.1 million.
The court received 29 victim impact statements. Two of the victims were in court to read them.
William Janman and his wife invested nearly $3 million with Breitkreutz and trusted him so much they would invite him to barbecues and out to dinner.
"We will never in our lifetime recover from this loss. We find ourselves struggling with unmatched loss on a daily basis instead of enjoying the end of our life and retirement," he told the court.
He said he and his wife have experienced guilt, shame, self-blame and depression.
"The nightmare continues."
Another investor, whose identity is protected by a publication ban, said she feels like a fool for ignoring her initial intuition after putting her finances and company at risk.
"Who would have believed that ignoring that niggly feeling would lead to the near collapse of our business and devastating financial impacts to all of our employees," she said.
"Please remember all the victims. I ask that you sentence Arnold Breitkreutz to the fullest extent of the law so he may think of all the lives that he has damaged."
Breitkreutz's lawyer said his client should serve a sentence in the five-to-eight-year range and anything above that would be unfair considering his age.
Cale Ellis-Toddington said the operations of his client were not complex and the well-heeled investors knew what they were getting into.
"It wasn't a matter of trust. You look at the evidence of the investors and they said 'I don't really trust Arnold, but the fact of the matter is I was getting a great return on my investment and that's why I invested,'" he said.
Ellis-Toddington said his client was not motivated by greed but was trying to get his investor's money back. He said his client's level of moral blameworthiness is low.
But Queen's Bench Justice Colin Feasby questioned that argument.
"Is it not an abuse of trust to raise money on both the explicit and implicit representation that you are a mortgage broker dealing in Alberta mortgages and then to bait-and-switch and put that money into a Texas investment?" he asked.
"Another way to look at it is: He was running Ponzi schemes and kept kicking things down the road so he never had to have a day of reckoning."
Breitkreutz, who has been in custody since he was found guilty, offered a brief apology.
"I can feel your loss and for that I'm unbelievably and indescribably sorry. It was not my intention when I accepted your money," he said.
"I put your money in the same place that I put my own. Nonetheless, I feel for you deeply, as much as I can and I'm sorry."
Feasby is to deliver his sentence on Friday.
This report by The Canadian Press was first published Aug. 17, 2022.