Insubordination: Why Black NBA Stars Don't Buy The Vax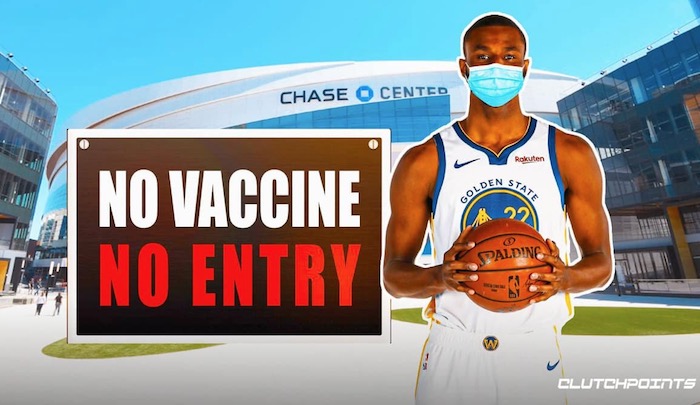 Canadian NBA star Andrew Wiggins was supposed to be known as a superstar when he was drafted No. 1 overall by Cleveland in the 2014 draft. Now, after seven seasons of mixed playing results, he may instead be best known as the guy who said no to the NBA on their mandatory vaccination rules.
In a delicious irony, he exposed the patronizing double standard of hyper-liberal white NBA media— which fanatically protects black players through every hypocrisy. Until now. And Wiggins, inadvertently, exposed the dirty secret about vaccine resistance: it's not Ted Nugent, bow-hunting whites leading the idealogical resistance.
It's people in the black community who, by a large margin, are telling Joe Biden and his liberal pals (gasp) that, while everyone else submits, dissent is their God-given right in America. In New York City, devastated in 2020 by Covid-19 and governor Andrew Cuomo's ineptitude, roughly 72 percent of black New York City residents aged 18-44 are now banned banned from entering dining establishments, because they remain stubbornly unvaccinated.
In Florida, Black people have received 9 percent of vaccinations, while they make up 15 percent of cases, 17 percent of deaths, and 15 percent of the total population. (White people received a higher share of vaccinations compared to their share of cases in most states reporting data. )
The percentage of white people who have received at least one COVID-19 vaccine dose (53 percent) was 1.2 times higher than the rate for Black people (45 percent) as of September 20, 2021. This despite the pleading from race hustlers like CNN's Don Lemon ('It's Not About Freedom, It Is About Public Health') to force blacks to submit to the pressure for a jab.
Wiggins, now with the Golden State Warriors, refused to take the vaccine since his request for a religious exemption was denied. League rules say Warriors players must follow the guidelines of California, the home state of the Warriors. No needle, no playing at the Chase Center for Wiggins. That led the media in squishy NoCal to ask Wiggins' teammate Draymond Green if he'll pressure Wiggins to take the jab.
They didn't get what they expected— or wanted. "It's not my place or my business on whether he gets vaccinated or not — it's your own personal choice at the end of the day what you do with your body. It's not my place to tell him what he should or shouldn't do with his. Because he's not going to come tell me what I should do with my body." [UPDATE: Golden State coach Steve Kerr now says Wiggins has had the vax. Wiggins insists he was forced. ]
Vax nothwithstanding, Green says, "We're dealing with something that, to me, feels like (it) has turned into a political war, when you're talking about vaccinated [people] and non-vaccinated [people]," "I think there is something to be said for people's concern about something that's being pressed so hard. Like, why are you pressing this so hard? You're pressing and pressing and pressing."
Green continued, "You say we live in the land of the free. Well, you're not giving anyone freedom, because you're making people do something essentially… That goes against everything America stands for."
In Washington, Wizards star Bradley Beal echoed Green's comments. "I would like an explanation to people with vaccines – why are they still getting COVID if that's something that we are supposed to highly be protected from?… It's funny that it only reduces your chances of going to the hospital. It doesn't eliminate anybody from getting COVID. Right?"
"Some people have bad reactions to the vaccine," Beal said. "Nobody likes to talk about that. And what happens if one of our players gets the vaccine and they can't play after that or they have complications after that? Because there are cases like that. But I feel we don't talk about those as heavily, because they're so minute maybe. But they are existent."
Fellow NBA stars Kyrie Irving and Jonathan Isaac echoed Beal and Green on their right to decide. (Here's Isaac dunking on Rolling Stone . Worse for vax boosters, the league's bell cow, LeBron James, echoed the feminist diktat that it wasn't his place to tell anyone what they can take in their body.
That brought out the hate from the press box, a hive of liberal/ progressive white thought if there ever was one.
"Draymond Green joins All-Hypocrisy team for vaccine stance" bugled there New York Daily News.
"Stop letting NBA anti-vaxxers spout COVID-19 misinformation" announced Yahoo.
"Bradley Beal Smugly Parades Ignorance On Covid Vaccines" pronounced Mediaite.
"On vaccines, NBA players are being told to shut up and dribble" noted the Washington Examiner.
The supposed kill shot in all these jeremiads is the new dagger of promoting "misinformation" (as if the Media Party didn't do exactly that on Jussie Smollett, the Covington Kids, RussiaGate, Hunter Biden's laptop and 150 more. ) "Misinformation" now being the all-purpose cleanser for thought disapproved by Facebook, Twitter, Wikipedia and other tech oligarchs.
For the righteous knowledge industry, hearing both sides is now a quaint artifact of the past, like John Phillip Souza band music. As we wrote Nov. 23, 2020. "The sale has been made by those in authority. They call the shots. No one is allowed to dissent. That was the end game. And there's no going back when the Woke media warns you that resistance will invite the cancel culture to ruin your life. This is the new reality. Get used to it. And if you value your freedoms, tough luck."
Almost a year later black NBA stars, of all people, are the ones making this point to the civil libertarians or free-speech liberals that freedom is for everyone, not just for those with whom you agree. Who'd have thunk' that?
Bruce Dowbiggin @dowbboy is the editor of Not The Public Broadcaster (http://www.notthepublicbroadcaster.com). The best-selling author of Cap In Hand is also a regular contributor to Sirius XM Canada Talks Ch. 167. A two-time winner of the Gemini Award as Canada's top television sports broadcaster, his new book with his son Evan is called InExact Science: The Six Most Compelling Draft Years In NHL History is now available on http://brucedowbigginbooks.ca/book-personalaccount.aspx
Get Back: Imagining The Real John Lennon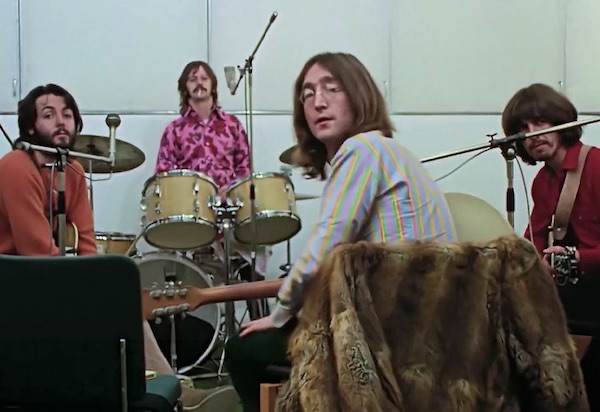 Get Back, Peter Jackson's new documentary on The Beatles taping their Let It Be album in 1969 has revelations for all generations of Beatles fans. Using video shot at the time for an earlier Michael Lindsay-Hogg film Jackson captures the creative process of the band in all its tortured glory.
Watching the four men create, procrastinate, argue, harmonize, feud and eventually part ways puts meat on the bones of their legend— particularly for those who came to their music since the band split up in1969-70. Seeing them in the context of the time reinforces their astounding productivity and creativity.
While there are have been endless tribute bands since, The Beatles themselves almost came out of thin air. They didn't discover rock and roll fire but they harnessed it to establish a template often imitated but never quite duplicated. The anticipation of a new album like Revolver (their best) was a cultural event for which there's no modern equivalent. After they split up members of the group never achieved quite the success they enjoyed as a foursome (George Harrison fans might contest this.).
Jackson's documentary does establish one salient fact. Yoko Ono did not break up The Beatles. Nor did Linda Eastman nor George Harrison nor Paul McCartney. The Brutus in this plot was John Lennon, the quixotic blunt edge of the group. Distracted and disillusioned in the film, Lennon creates the fissures that finally result in dissolution.
Nursing a nasty heroin addiction as the band starts recording, Lennon is starting the slow-motion breakdown that leads to his later incarnations as Ghandi, Gene Vincent, Randall McMurphy and finally martyred Jesus figure. He can't concentrate on anything for more that a few minutes. He wants Phil Spector, the Rasputin of rock, to produce the album. He wants Allen Klein to mange Apple, their creative company. He wants to play a public concert.
Eventually it all gets to be too much for the other Beatles. Harrison chafes to record his own music, Ringo feels bored, while McCartney wearies of trying to hold the whole business operqtion together. Lennon, meanwhile, wants to hang with the New York crowd that Yoko has introduced to him.
At its heart the band dramas were about Lennon and loyalty to The Beatles brand. His current beatific image is nothing like the man we see in Get Back. In 1969 he was the scruffy guy who'd written songs like Run For Your Life ("I'd rather see you dead, little girl, than to be with another man") and dumped his wife Cynthia for Yoko. (John singing "I'm in love for the first time" about Yoko must have been comforting for his ex-wife Cynthia and son Julian.)
His pacifist politics are summed up in Revolution ("If you talk about destruction, don't you know you can count me out") He liked getting in the face of authority. "Once they've got you violent, then they know how to handle you. The only thing they don't know how to handle is non-violence and humour."
And he famously debated his popularity versus that of Jesus. There were seams and creases to the man in the studioi who later became the sloppy drunk pal of Harry Nilsson, boozing themselves to oblivion. It wouldn't be an understatement to say he was the least loveable of The Beatles in his day— an image he was okay with, apparently.
So Lennon would probably hate the people who define him now by Imagine, the song he wrote that has been sanitized by the establishment. Imagine is what you'd get if Karl Marx met Sesame Street
Imagine no possessions
I wonder if you can
No need for greed or hunger
A brotherhood of man
Imagine all the people
Sharin' all the world?
No possessions? Kids who can't go ten feet without checking for their iPhone sing this tripe without irony. Remember that Apple's name and its iconic startup tone are Beatle tributes. There's more.
Imagine there's no countries
It isn't hard to do
Nothing to kill or die for
And no religion too
Imagine all the people
Livin' life in peace?
This is how we got Facebook censoring the posts of people who might actually prefer borders and religion. (Frankly this is the part I blame on Yoko.) And this verse prefiguring post-1980s marketing.
You may say I'm a dreamer
But I'm not the only one
I hope someday you'll join us
And the world will live as one
Because Lennon was shot to death by one of his lunatic fans— precluding any second act to his llfe— we now see him as corporatized John, smoothed out to be marketable like Big Macs and Apple tablets. As Jackson shows he was anything but a bite-sized commodity.
Watching Lennon still fascinate the public 40-plus years after his murder suggests one lyric that might serve as epitaph: "It's not like me to pretend. But I'll get you, I'll get you in the end. Yes I will, I'll get you in the end. Oh yeah." Get Bak to that.
Bruce Dowbiggin @dowbboy is the editor of Not The Public Broadcaster (http://www.notthepublicbroadcaster.com). The best-selling author was nominated for the BBN Business Book award of 2020 for Personal Account with Tony Comper. A two-time winner of the Gemini Award as Canada's top television sports broadcaster, he's also a regular contributor to Sirius XM Canada Talks Ch. 167. His new book with his son Evan Inexact Science: The Six Most Compelling Draft Years In NHL History is now available on http://brucedowbigginbooks.ca/book-personalaccount.aspx
No News Is Good News: When Facts Don't Matter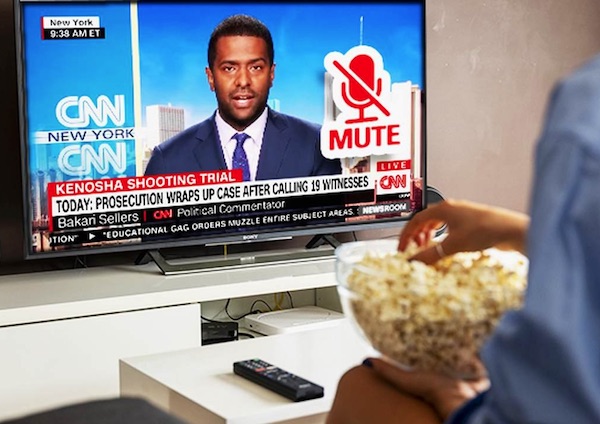 The facts are crystal clear. The man travelled across state lines with an unregistered gun to take part in a political demonstration in Kenosha, Wisconsin. When the demonstration turned into a riot he found himself confronted by another person wielding a weapon. He pointed his gun first at the person.
But Kyle Rittenhouse shot him in the arm before he could pull the trigger. The person in question is People's Revolution member Gaige Grosskreutz. Grosskreutz,, who has arrests for domestic abuse, prowling, trespass, two DUIs, felony burglary and two charges of carrying a firearm while intoxicated, travelled from Illinois with an illegal handgun and later was a key witness in Rittenhouse's trial, inadvertently sinking the prosecution by admitting he pointed his gun first.
If the news about crossing state lines with an unregistered gun etc sounds familiar, it's because that was the much-repeated media allegation against then-17-year-old Rittenhouse. The charge was a lie about Rittenhouse (he obtained his registered AR-15 in Wisconsin) but true of Grosskreutz who had no permit for his gun. Yet Rittenhouse was, predictably, the person Wisconsin state attorneys charged, not Grosskreutz.
Another lie receiving considerable international media play was that Rittenhouse shot and killed three black men. (All victims were white men with criminal records. One survived.) Or the MSNBC Joe Scarborough claim that Rittenhouse sprayed bullets widely. Or that Rittenhouse was a known white supremacist and the episode was an assault on BLM supporters.
Or that Jacob Blake, whose shooting by police inspired the spasm of violence in Kenosha, was an innocent father killed by cops. Blake, who is alive, was not, as media portrayed him, another urban black saint like George Floyd, but a sexual-assault perp who attacked police then tried to escape in a stolen car with three kids. As we wrote in August 2020, "To celebrate this creep downtown Kenosha was burned, businesses destroyed, at least two people killed and $2 million raised."
For these reasons consumers of liberal media outlets watching the Rittenhouse trial were bewildered by discrepancies between the evidence and what they'd been continually fed by their favourite talking heads on TV.However you feel about the case— and feelings are very strong— the least the media could do is get the facts right to condemn Rittenhouse. But when the U.S. president pre-judges those facts there's more safety in the company of online liars and dissemblers. (Canadian media gleefully picked up on all the Rittenhouse lies and spread them gratuitously.)
The taking-sides pattern continues in nearby Waukesha, Wisconsin, where a career criminal names Darrel Brooks drove his SUV through a Christmas parade of kids, families and grannies, killing six and injuring dozens more. Because Brooks is black and has said clever stuff like "KNOCK WHITE PEOPLE DA FUC- OUT", this mass murder is receiving something less than Rittenhouse blanket coverage from your legacy media. Page 22 in the NY Times. The Washington Post call is it a "tragedy caused by a SUV". Go figure.
We have entered a time where narratives supersede facts in reporting. Newspapers refuse contrary stories or do only white-on-black crime, not the 94 percent of blacks who murder other blacks. Twitter bans inconvenient research or videos that upset the Covid establishment. Donald Trump is the most prominent example of Big Tech making a non-person for his questioning the 2020 presidential election results. There are dozens more.
In a typical Canadian example of censoring the news, a recent CBC PEI story on a handful of positive Covid cases (none of them hospitalized) drew comments on its website comparing PEI's stringent efforts to stop the virus with those of Florida where the state has been open for some time. The comments were taken down. So was an inquiry to CBC about why the comments were nuked. Standards and practices, don't you know. But Biden's libels on Rittenhouse remain on CBC media.
The difference from a decade ago is that media has succumbed to the mission creep of self worship. Where once stories were assembled to create a picture of the day's news, stories are now assembled to support a preordained picture. One that flatters the cult of journalists with their moral superiority.
And so what is that narrative? Is it racial? Gender fluidity? Binary? All of the above? The new reality is class— a generation of educated whites, many in the knowledge, government or media industries. Their Woke opinions are like the electric cars, private schools, summer cottages, pink pussy hats and other trappings they accumulate to cement their superior status. Talismans of their significance.
Probably the distinctive feature of the new journalism— entrenched by the Trump tenure— is to flatter these people by punching down on lesser educated whites for their gullibility and lack of class consciousness. Witness Stephen Colbert, Samantha Bee, SNL.
As Barack Obama so wittily observed, they are the people who "cling to their guns and religion", making them perfect targets for wags such as Howard Stern who is, apparently, now tired of liberalism. "I used to be into freedom, but I'm not anymore." Stern said. "I don't feel good about what's going on in my country. I might have to run just to clean this f**king mess up.".
Kyle Rittenhouse, whose tears were labelled white privilege, was the perfect embodiment of the 75 million "guns and religion" crowd who voted for Donald Trump in 2020. So Rittenhouse, not black sexual-assault guy Jacob Blake, served as the show-trial for people looking out for the latest hot take.
Biden's plummeting polling seems to say that, in America at least, the media's means of dividing cultures is not working. But the 12 months till the 2022 midterms is a long time in politics. And the media has its ways. With facts a fungible commodity, we wouldn't bet against the culture war getting hotter before it ever cools down.
Bruce Dowbiggin @dowbboy is the editor of Not The Public Broadcaster (http://www.notthepublicbroadcaster.com). The best-selling author of Cap In Hand was nominated for the BBN Business Book award of 2020 for Personal Account with Tony Comper. A two-time winner of the Gemini Award as Canada's top television sports broadcaster, he's also a regular contributor to Sirius XM Canada Talks Ch. 167. His new book with his son Evan Inexact Science: The Six Most Compelling Draft Years In NHL History is now available on http://brucedowbigginbooks.ca/book-personalaccount.aspx