How Canadian Dairy Farms Can Adjust to New Dairy Demand
How Canadian Dairy Farms Can Adjust to New Dairy Demand
Many changes occurred around the world as a result of the coronavirus pandemic. In Canada, while schools and businesses closed, consumers flocked to the supermarkets to buy essentials.
Perishable goods flew off the shelves, resulting in limits being placed on items like dairy and poultry. The standard distribution system schedule put in place for dairy products could not keep up with buyers' increased shopping.
While retail demand from grocers skyrocketed, orders from the foodservice industry plummeted. This has resulted in unforeseen fluctuations in the dairy market.
Hotels, restaurants, schools and eateries are closed or operating at limited capacity. As a result, there is now an enormous surplus of milk that has nowhere to go. Farmers are not equipped with storage spaces to accommodate the excess supply. Unlike agriculture products like potatoes, milk has to be sold immediately or risk spoilage.
Cows will continue producing milk, regardless of fluctuations in the market. While farmers have the option to reduce the size of their herd or change diet or nutrition, these things could prove detrimental when the market stabilizes.
The Supply Management System
A supply management system controls production quotas and imports for Canadian dairy, chicken, turkey and eggs. It was established in the1970s to coordinate production and demand while simultaneously controlling imports. By operating under this method, prices are stabilized for both producers and consumers.
A national agency represents each industry, and they are in charge of setting production levels that match provincial demand. Farmers in each province are allocated production quotas that are meant to prevent surpluses or shortages.
The original quotas were based on consumer needs pre-pandemic. As a result of these unforeseen events, farmers must now adjust to the new Canadian dairy demand. Here are four main ways farmers can adapt to the changing times.
Dump the Milk
Producers say that discarding raw milk is inevitable at this stage. Farmers are reporting that they have been asked to take turns dumping milk. Although they're paid for it, the waste could amount to as much as 5 million litres every week.
This disposal method is unsustainable and should only be utilized while the market is above capacity. Cows must continue to be milked to keep them comfortable and healthy, and production must continue to ensure product availability in retail stores.
Donate to Food Banks
Rather than dumping milk, some farmers have begun donating to food banks to support Canadians in need. While this is a positive form of dispersing the milk surplus, it has the potential to overwhelm food banks that may not have the storage capacity to support this influx.
Additionally, the raw milk provided from farmers must be processed, which complicates the standard donation process.
Improve Operations
Dairy farmers should focus on improving operations to become more efficient and cost-effective. Many producers have begun investing in updated equipment and robotics to save time and money. Competition is set to increase as a result of import growth projected for the next decade. To maintain a market edge, operations should be improved and simplified wherever possible.
Expand or Retire
In 2019, the Canadian federal government announced an aid package valued at $1.75 billion to compensate supply-managed dairy producers over an eight-year period. The Dairy Direct Payment Program is one part of this aid package and provides $345 million payments as compensation during 2019 and 2020.
The aid package was proposed as a result of import shifts. The Canadian government has opened part of its domestic market to foreign producers as part of several free-trade negotiations. To adapt to increased competition from foreign products, Canadian producers should plan to expand their operations or retire. Larger farms will be able to sustain demand while simultaneously upgrading their methods to be constantly improving.
Smaller producers may not be able to afford the necessary production updates to keep up with competitors.
Future Demand
These are unprecedented circumstances. As schools, businesses and restaurants reopen, dairy demand will increase. With indoor capacity requirements and shifts in consumer trends, consumption levels will undoubtedly continue to fluctuate.
While farmers should take steps to dispose of surplus responsibly, they should not halt production or decrease their operation size.
Read more from Emily Folk
I'm Emily Folk, and I grew up in a small town in Pennsylvania. Growing up I had a love of animals, and after countless marathons of watching Animal Planet documentaries, I developed a passion for ecology and conservation. You can read more of my work by clicking this link: Conservation Folks.
Canadian Federal Government Taking Measures to Reduce Impact of COVID-19 on Agriculture
USAID head urges crisis-hit Sri Lanka to tackle corruption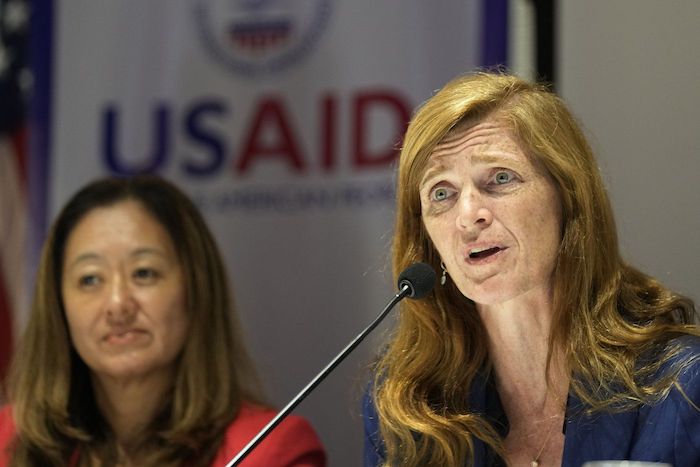 By Krishan Francis in Colombo
COLOMBO, Sri Lanka (AP) — A visiting U.S. diplomat on Sunday urged Sri Lankan authorities to tackle corruption and introduce governance reforms alongside efforts to uplift the country's economy as a way out of its worst crisis in recent memory.
USAID Administrator Samantha Power told reporters that such moves will increase international and local trust in the government's intentions.
"Assistance alone would not put an end to this country's woes," Power said. "I stressed to the Sri Lankan president in my meeting earlier today that political reforms and political accountability must go hand in hand with economic reforms and economic accountability."
She said that international investor confidence will increase as the government tackles corruption and proceeds with long sought governance reforms. "As citizens see the government visibly following through on the commitment to bring about meaningful change, that in turn increases societal support for the tough economic reforms ahead," she said.
During her two-day visit, Power announced a total of $60 million in aid to Sri Lanka. After meetings with farmers' representatives at a rice field in Ja-Ela, outside of the capital Colombo on Saturday, she announced $40 million to buy agrochemicals in time for the next cultivation season.
Agricultural yields dropped by more than half for the past two cultivation seasons because authorities had banned the imports of chemical fertilizers ostensibly to promote organic farming. She said that according to the World Food Program, more than 6 million people — nearly 30% of Sri Lanka's population — are currently facing food insecurity and require humanitarian assistance.
On Sunday, she said an additional $20 million will be given to provide emergency humanitarian assistance to vulnerable families.
Sri Lanka has faced its worst crisis after it defaulted on foreign loans, causing shortages of essentials like fuel, medicines and some food items.
It has reached a preliminary agreement with the International Monetary Fund for a $2.9 billion package to be disbursed over four years. However, the program hinges on Sri Lanka's international creditors giving assurances on loan restructuring. Sri Lanka's total foreign debt is more than $51 billion of which $28 billion must be repaid by 2027.
Power said that the U.S. stands ready to assist with debt restructuring and reiterated that it is imperative that China, one of the island nation's bigger creditors, cooperate in this endeavor.
Infrastructure like a seaport, airport and a network of highways built with Chinese funding did not earn revenue and are partly blamed for the country's woes.
Saskatchewan warns that federal employees testing farmers' dugouts for nitrogen levels could be arrested for trespassing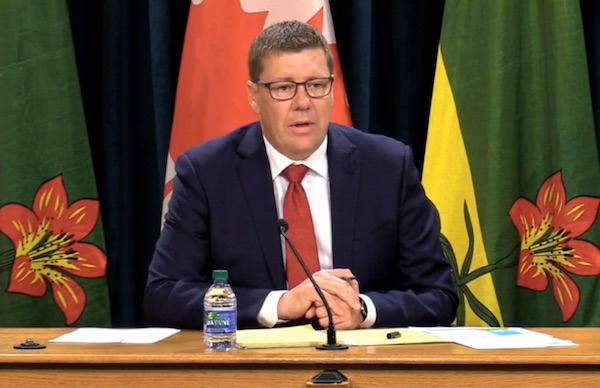 An escalating battle between Western Premiers and the federal government over restricting the use of nitrogen fertilizer has reached a new level of tension.
Premier Scott Moe
is demanding to know why federal employees of Environment Minister Steven Guilbeault are "trespassing" on private land in Saskatchewan. Moe signed a strongly worded letter (below) from Jeremy Cockrill, the Minister in charge of Saskatchewan's Water Security Agency.
The letter dated Sunday, August 21st states farmers from at least 3 different communities in southern Saskatchewan have reported Government of Canada employees in marked vehicles have been trespassing on their private land. When confronted, the agents have admitted to testing dugouts for nitrogen levels.
On his official Facebook page Moe says
"We are demanding an explanation from federal Minister Guilbeault on why his department is trespassing on private land without the owners' permission to take water samples from dugouts."
We are demanding an explanation from federal Minister
Steven Guilbeault
on why his department is trespassing on private land without the owners' permission to take water samples from dugouts. We have received reports of this occurring in several places throughout our province.
We have advised the federal government that this should cease immediately and if it does not, it will be considered a violation of the province's Trespass Act.
Violating this Act is serious, including a maximum penalty of $25,000 for repeat offenders, up to six months imprisonment following a conviction for a first or subsequent trespass offence, and a $200,000 maximum penalty for any corporation that counsels and/or aids in the commission of that offence.
Anyone wishing to report an incident of trespassing on private land can call 1-855-559-5502
Saskatchewan Premier Scott Moe has already
flatly said no thanks
to a federal initiative to restrict the use of fertilizer by up to 30%.
Premier Moe is not alone in this battle with Ottawa. Alberta's Premier Jason Kenney has already weighed in on the nitrogen restrictions in this strongly worded video shared two weeks ago.
Ottawa's planned attack on fertilizer will hurt our farmers.

It needs to stop.

Less fertilizer means less food.

Europe shut in about 50% of its fertilizer production.

Canada should not repeat the same mistake. pic.twitter.com/BztOiC1CPd

— Jason Kenney 🇺🇦 (@jkenney) July 27, 2022
The letter from Saskatchewan comes on the heals of another strongly worded letter from Manitoba's Agriculture Minister Heather Stefanson. In Stephanson's letter to Prime Minister Trudeau, she says this is no time to cut food supply and raise the price of groceries.