Have your say on provincial and federal firearms policy
From Alberta Government:
Albertans can now speak up about provincial firearms policy and the federal government's "gun grab."
Albertans are encouraged to share their opinions through an online survey and through two telephone town hall events being held on Nov. 17 and 23. Information on participating in these activities is available through the Alberta Firearms Advisory Committee website. Each town hall will be able to accommodate 1,000 people and will be filled on a first-come, first-served basis.
"The Government of Alberta is committed to protecting public safety and ensuring law-abiding firearms owners are respected. Recent legislation announced by the federal government would punish hard-working farmers, hunters and other lawful gun owners, while failing to address the true problem: the flow of illegal firearms throughout Canada from south of the border. Albertans must be heard, and these consultations will help Alberta's government develop a responsible firearms-use policy that deters criminals without attacking law-abiding gun owners – and in turn free up the courts for serious matters."
Kaycee Madu, Minister of Justice and Solicitor General
The Alberta Firearms Advisory Committee, chaired by Brooks-Medicine Hat MLA Michaela Glasgo, is examining the impact of the federal ban of more than 1,500 firearms. In light of this ban, the committee will consider how provincial firearms policies can best meet the needs of law-abiding Albertans. This work will support responsible gun owners, as will the establishment of a provincial firearms office and the appointment of a chief provincial firearms officer (CPFO).
An implementation team has been set up to oversee the transition to the provincial firearms office, and this winter they will begin a process to identify a suitable CPFO. The Chief Provincial Firearms Office will be operational next summer.
"This engagement will help the committee develop recommendations on how the province of Alberta can better assert itself in areas of provincial jurisdiction. Alberta's long history of responsible firearms ownership by law-abiding citizens deserves respect; so do Albertans' property rights. The committee will also make recommendations on how a Chief Provincial Firearms Officer can strengthen the administration of the firearms program to improve services for gun owners."
MLA for Brooks-Medicine Hat Michaela Glasgo, chair of the Alberta Firearms Advisory Committee.
"I encourage gun owners across Alberta to make their voices heard because we are stronger together. I also commend the provincial government's decision to set up a Chief Provincial Firearms Office and appoint a Chief Provincial Firearms Officer. This is a great way to support the hundreds of thousands of law-abiding firearms owners in Alberta. Safe use of our firearms is ingrained in Alberta's culture – it is part of who we are."
David Schoenberg, north central zone director of the International Practical Shooting Confederation, Alberta
Quick Facts
On May 1, 2020, the federal government prohibited buying, using and selling thousands of firearms.
The federal Canadian Firearms Program is responsible for the administration of the Firearms Actand regulations, and works closely with partners and stakeholders to promote firearms safety.
The program's latest report highlights the following:

3,427 firearms were seized by public service agencies in Alberta during 2018. Nationally, 25,430 were seized.
Across Canada, between 2014 and 2018, 84,576 firearms registrations were refused or revoked.
There are 316,791 licensed firearms owners in Alberta.
At the end of December 2018, there were 218,305 firearms registered to businesses or individuals in the province
'Flared back up': Alberta town of 8,400 evacuated for second time due to fire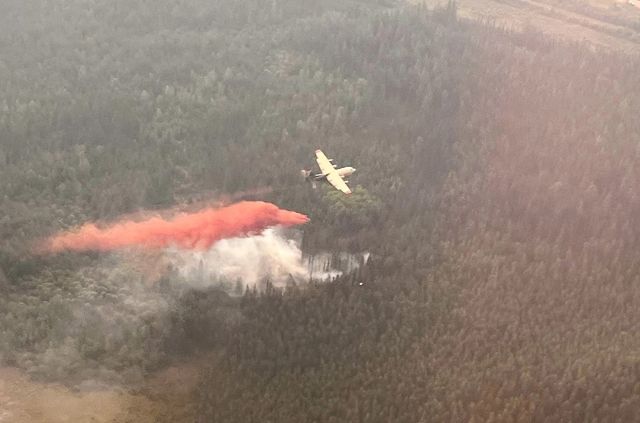 Airtankers work on a wildfire near Edson, Alta., in a Friday, June 9, 2023, handout photo. The town was evacuated Friday night due to an out-of-control wildfire. THE CANADIAN PRESS/HO-Government of Alberta Fire Service
Edson
A town in western Alberta was under an evacuation order late Friday due to an out-of-control wildfire — its second such order this spring.
Local officials issued the evacuation for Edson and parts of Yellowhead County.
"We're still evacuating the community and evacuating the hospital," said Edson mayor Kevin Zahara.
"All things considered, so far so good — but the next 72 hours are going to be critical for us. We have a lot of warm temperatures in the forecast and it's windy here right now.
"It's going to be dependent on those winds and the weather on how this fire behaves."
Alberta government officials said the fire burning near the community of about 8,400 jumped fire guards and moved closer to populated areas, including the town. They warned that there could be impacts to roads and highways if the fire crossed the guards and blocks evacuation routes.
"Because that fire is so out of control, some of the forestry crews have had to back off," said Luc Mercier, chief administrative officer for Yellowhead County, in a video statement on one of the town's Facebook pages. "They can't fight that fire."
Mercier said the fire could threaten Highway 16, the main east-west route in the area.
"We have significant concerns with egress along Highway 16 in the coming days," he said. "The next 36 hours will be paramount with the winds coming forward."
An update issued at 11 p.m. said live embers and flames were seen in Willmore Park, meaning the fire had crossed the river. The notice said if people had not left the area yet, "now is the time." Officials said emergency crews were busy with fire operations and would not be able to respond if people needed help.
The Edson area, about 190 kilometres west of Edmonton, saw four new fire starts on Friday, said Mercier.
An unprecedented start to the wildfire season led Alberta to bring in a provincewide state of emergency on May 6. At one point, about 29,000 people were out of their homes in various communities.
The state of emergency was lifted last week.
On Friday afternoon, before the evacuation order was issued for Edson and the surrounding area, about 3,500 Albertans remained out of their homes.
Evacuation buses were leaving from three points in Yellowhead County and five in Edson. An evacuation centre was being set up in Edmonton's Expo Centre.
Zahara said there had been little threat in the area as recently as four days ago. Hot weather and high winds put a stop to that.
"This fire has flared back up," Zahara said.
"It's really important people adhere to the evacuation order."
He said no services, including fire and medical, would be available in Edson until further notice.
Edson was evacuated for three days in early May by another wildfire.
Zahara said at the time that he thought there was a good chance the town would be lost to the flames.
That evacuation took a heavy financial toll on townspeople through loss of income and unexpected expenses such as hotel rooms, he said.
— By Bob Weber in Edmonton
This report by The Canadian Press was first published June 9, 2023.
A look at Alberta Premier Danielle Smith's new cabinet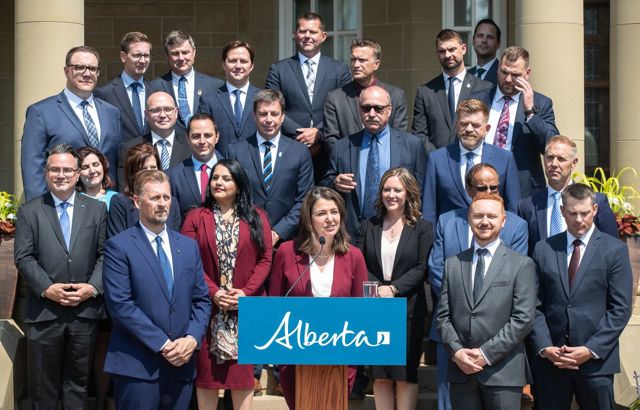 Premier Danielle Smith introduced her cabinet Friday, the second one since taking over as United Conservative Party leader in October. Here are the changes at a glance:
Second in command: Mike Ellis retains his Public Safety and Emergency Services portfolio but is also now deputy premier.
Big promotions: Mickey Amery moves from Children's Services to Justice; Nate Horner moves from Agriculture and Irrigation to Finance; Adriana LaGrange already had a heavyweight title in Education but now takes on enormous responsibilities in Health.
New faces: RJ Sigurdson joins cabinet for the first time in Agriculture and Irrigation; Searle Turton is new in Children and Family Services; Dan Williams gets his first cabinet seat in Mental Health and Addiction.
Returning vets: Jason Nixon, the environment minister and government house leader under former premier Jason Kenney, is back in cabinet handling the Seniors, Community and Social Services post. Ric McIver, dropped from Smith's first cabinet, returns in his old job of Municipal Affairs. Muhammad Yaseen, a former associate minister of immigration, now has full cabinet rank as minister of Immigration and Multiculturalism; Tanya Fir, former economic development minster under Kenney, is back in Arts, Culture and Status of Women portfolio.
Same faces, new jobs: Rebecca Schulz (Environment and Protected Areas), Brian Jean (Energy and Minerals), Nathan Neudorf (Affordability and Utilities), Joseph Schow (Tourism and Sport), Demetrios Nicolaides (Education), Rajan Sawhney (Advanced Education), Matt Jones (Jobs, Economy and Trade), Peter Guthrie (Infrastructure).
Same faces, same jobs: Nate Glubish (Technology and Innovation), Dale Nally (Service Alberta and Red Tape Reduction), Devin Dreeshen (Transportation and Economic Corridors), Todd Loewen (Forestry and Parks).
This report by The Canadian Press was first published June 9, 2023.