Four tips for preventing and handling Cyberbullying
This article is published with permission from SOS SAFETY MAGAZINE.
NOVEMBER 30, 2019
Growing up in the digital age has both pros and cons. On one hand, your child has access to an enormous amount of information that can guide their learning and connect them with many opportunities. On the other hand, there are people who use the internet with cruel intent to harm others with minimal or no consequences.
Cyberbullying is one of the negative effects of being able to access the internet at our fingertips. Bullying that was once done at school and could be monitored is now happening at all times online.
To help prevent cyberbullying and properly handle cases of online harassment, here are 4 suggestions for parents to consider.
Create Awareness
While kids may be aware that cyberbullying is occurring, parents are often left in the dark. Panda Security found that 76% of parents claimed their child has never been cyberbullied.
While such a large percentage of parents don't think their child is being cyberbullied, stats on cyberbullying tell an entirely different story. The National Crime Prevention Center reported that 43% of teens were victims of cyberbullying in the last year and Pew Research Center found that 59% of teens have been a target of cyberbullying.
There is a clear gap between how often parents think cyberbullying is occurring and how much it actually is. In order to close this gap, there needs to be more awareness and understanding of the topic.
Report Cyberbullies
With a screen hiding their identity, cyberbullies feel safe to harass without consequences. To combat this, we must encourage kids to report cyberbullies. There are a few reasons these bullies aren't reported.
To start, there is a fear of retaliation. Kids would rather keep quiet than be labelled a snitch or accidentally encourage the bully to take further action. Many cyberbullies are kids from school so they may also fear an in-school issue if they report the online issue.
In addition to this, kids feel ashamed. Being a victim of mean comments can be embarrassing and hard to bring up to adults. Bullies play on people's insecurities on purpose so that people will be less likely to report them.
While these worries and concerns aren't something you, as a parent, can control, you can control your reaction when your child tells you about a bully. A common fear many kids have is of how an adult will react or if they will be believed. Reassuring your child of your support will help them feel comfortable reporting these cyberbullies.
Take the Right Action
If your child told you they were cyberbullied, how would you react? When surveyed about reacting to a cyberbully on social media, 73% of parents said they would block the bully's profile, 56% would report them to the social platform and 50% would file a complaint with the school.
While 58% of parents would reach out to the bully's parents, only 24% would reach out to the bully directly. This shows that there may not be a proper consequence given to the bully.
Taking the right action is important so that the bully knows what they did is wrong. If the cyberbully isn't directly addressed and reported, they could continue harassing other kids. Be sure you're aware of the laws and regulations for bullying in your state.
Have Open Conversations
One of the most important things you can do is to have an open conversation with your child about cyberbullying. Panda Security found that 41% of parents have never had a conversation with their child about bullying. Of these parents who haven't had a conversation with their kids about cyberbullying, 51% were dads and 65% were moms.
Parents would rather regulate their children's online activity than have an open discussion with them. While regulations can help, there are many ways that kids can get around them. In addition, online monitoring doesn't catch everything.
Keeping an open dialogue about bullying will help your kids feel more comfortable coming to you if there ever is an issue. Taking this preventative measure is healthier than simply being reactionary.
To open up this conversation, here are 8 suggestions for talking about cyberbullying.
Talk about how you read about a rise in cyberbullying and stats that go along with it.
Discuss examples of cyberbullying that you've witnessed or heard of.
Ask if your kid has witnessed cyberbullying. Rather than directly asking if they have been a victim, let them open up about a friend or classmate.
Assure them that if they were cyberbullying you would want to know so that you could support them.
Let them know your policy on cyberbullying. What exactly would you do if they were cyberbullied and what would you do if they were caught being a bully.
Emphasize how important it is to keep their device safe and secure.
Be open with them about how you plan on monitoring their device to keep it safe.
Ensure that your child knows that they have your support and you're on their team.
Cyberbullying is an issue that many parents are facing or might face in the future. Being prepared and letting your child know you are there for them can make all the difference.
Learn more about SOS Safety Magazine, an amazing free resource in our community.
Regulator rules in favour of Trans Mountain route deviation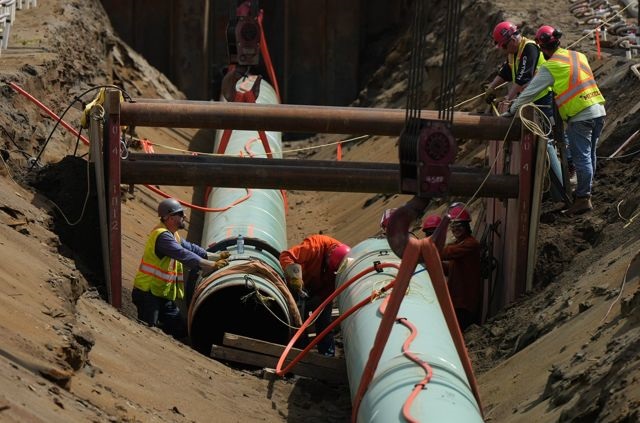 Workers place pipe during construction of the Trans Mountain pipeline expansion on farmland, in Abbotsford, B.C., on Wednesday, May 3, 2023. THE CANADIAN PRESS/Darryl Dyck
By Amanda Stephenson in Calgary
The Canada Energy Regulator has approved Trans Mountain Corp.'s application to modify the pipeline's route, a decision that could spare the government-owned pipeline project from an additional nine-month delay.
The regulator made the ruling Tuesday, just one week after hearing oral arguments from Trans Mountain and a B.C. First Nation that opposes the route change.
It didn't release the reasons for its decision Tuesday, saying those will be publicized in the coming weeks.
By siding with Trans Mountain Corp., the regulator is allowing the pipeline company to alter the route slightly for a 1.3-kilometre stretch of pipe in the Jacko Lake area near Kamloops, B.C., as well as the construction method for that section.
Trans Mountain Corp. had said it ran into engineering difficulties in the area related to the construction of a tunnel, and warned that sticking to the original route could result in up to a nine-month delay in the pipeline's completion, as well as an additional $86 million more in project costs.
Trans Mountain has been hoping to have the pipeline completed by early 2024.
But Trans Mountain's application was opposed by the Stk'emlúpsemc te Secwépemc Nation, whose traditional territory the pipeline crosses and who had only agreed to the originally proposed route.
In their regulatory filing, the First Nation stated the area has "profound spiritual and cultural significance" to their people, and that they only consented to the pipeline's construction with the understanding that Trans Mountain would minimize surface disturbances by implementing specific trenchless construction methods.
The Stk'emlúpsemc te Secwépemc argued that Trans Mountain never said its originally proposed construction method was impossible, only that it couldn't be done in time to meet a Jan. 1 in-service date for the pipeline.
The First Nation didn't respond to a request for comment by publication time.
The Trans Mountain pipeline is Canada's only pipeline system transporting oil from Alberta to the West Coast. Its expansion, which is currently underway, will boost the pipeline's capacity to 890,000 barrels per day (bpd) from 300,000 bpd currently.
The pipeline — which was bought by the federal government for $4.5 billion in 2018 after previous owner Kinder Morgan Canada Inc. threatened to scrap the pipeline's planned expansion project in the face of environmentalist opposition and regulatory hurdles — has already been plagued by construction-related challenges and delays.
Its projected price tag has since spiralled: first to $12.6 billion, then to $21.4 billion and most recently to $30.9 billion (the most recent capital cost estimate, as of March of this year).
Keith Stewart with Greenpeace Canada said it's alarming to see the regulator over-rule the wishes of Indigenous people in order to complete a pipeline on deadline.
"Every Canadian should be outraged that our public regulator is allowing a publicly owned pipeline to break a promise to Indigenous people to protect lands of spiritual and cultural significance," Stewart said.
The federal government has already approved a total of $13 billion in loan guarantees to help Trans Mountain secure the financing to cover the cost overruns.
Trans Mountain Corp. has blamed its budget problems on a variety of factors, including inflation, COVID-19, labour and supply chain challenges, flooding in B.C. and unexpected major archeological discoveries along the route.
Given the Canadian regulatory system has a reputation for being slow and cumbersome, it was surprising to see the Canada Energy Regulator rule so quickly on Trans Mountain's route deviation request, said Richard Masson, executive fellow with the University of Calgary's School of Public Policy.
"It's a challenging decision to have to make, when you've got a $30 billion pipeline that needs to be completed," Masson said.
"If there's no feasible way to do that tunnel, then I guess you have to allow for this."
Masson added that if the regulator had denied Trans Mountain's request, it would have been bad news for taxpayers as well as the federal government, which is seeking to divest the pipeline and has already entered into negotiations with several interested Indigenous-led buyers.
It also would have been bad news for Canadian oil companies, who have been eagerly anticipating the pipeline's start date to begin shipping barrels to customers.
"If this can result in the pipeline being completed by year-end and started up in the first quarter, that's good news. The world is still looking for oil, and oil prices are up at US$90 a barrel," Masson said.
This report by The Canadian Press was first published Sept. 25, 2023.
Partial settlement approved in lawsuit against Calgary Stampede over abuse of boys
Calgary
A judge has approved a partial settlement in a class-action lawsuit against the Calgary Stampede that alleged the organization allowed a performance school staffer to sexually abuse young boys.
Phillip Heerema received a 10-year prison sentence in 2018 after pleading guilty to charges including sexual assault, sexual exploitation, child pornography and luring.
Heerema admitted to using his position with the Young Canadians School of Performing Arts, which performs each year in the Calgary Stampede Grandstand Show, to lure and groom six boys into sexual relationships.
The school is operated by the Calgary Stampede Foundation.
Court of King's Bench Justice Alice Woolley approved the deal in which the Stampede has agreed to pay 100 per cent of the damages.
Hearings on the amount will take place on Dec. 14 and 15.
This report by The Canadian Press was first published Sept. 25, 2023