Fortress Australia Gets Its Scalp, Tosses Djoker Out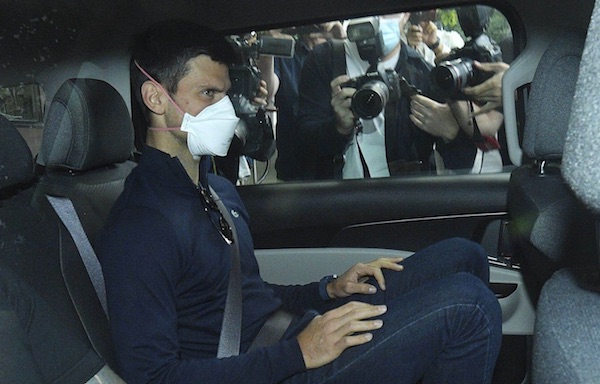 The ceremony of innocence is drowned;
The best lack all conviction, while the worst
Are full of passionate intensity. —W.B. Yeats
There has always been a large reservoir of affection for Australia in the West. The sun-kissed land down under. Kangaroos. Beaches. Crocodile Dundee. Aussie Rules Football. Men At Work. Foreigners embraced all the clichés gleefully.
The Australian Open tennis tournament was part of that scenario. The first Grand Slam, played in scorching sunshine while the Northern Hemisphere freezes in January. TV coverage was laced with tourist entreaties to fly 14 hours to the Great Barrier Reef and Gold Coast.
But with the nation's behaviour in fighting Covid-19, this is all (in the words of Yeats) "changed, changed utterly." The fever-swamp regime now running the nation has gone off the rails with detention camps for unvaxxed, flying squads of police roaming the streets and total lockdowns in emulation of the Chinese.
Australia's heavy-handed "cures" for Covid would make Curfew Quebec look a model of tolerance. While America is moving away from draconian lockdowns, (Associated Press is now asking its writers to play down Covid numbers) Australia is still singing from the 2020 WHO hymn book that pretends lockdowns save lives. For example, mask mandates were recently re-imposed when five— count 'em— five local cases were spotted in Perth.
Look, Australia is entitled to run their nation any way they want. They have the constitutional right to act like so many scared kookaburras in the face of a virus that will spare 99.98 percent of them. But don't push the "shrimp on the bar-b" hokum on the world when the tennis begins.
This whack-a-mole mania culminated in Sunday's expulsion of Covid rebel Novak Djokovic. After granting the No. 1 men's player in the world a visa to play, Australia's Minister of Immigration Alex Hawke said he had cancelled the 34-year-old's visa for a second time on "health and good order grounds, on the basis that it was in the public interest to do so". He said Djokovic's example was— wait for it— a threat to his people.
Good order? Hawke and his government have to lock up the population because their Island Fortress strategy isn't enough to curb Omicron's arrival. Yet Djokovic is the threat, not their frantic search for a fifth column of viral killers in Canberra.
Djoker knew he was going into headwinds as he sought to play in the Open as an unvaccinated player. He was less than forthcoming on his entry documents. So his highly political stance made him a target. But a threat to the people of Australia? Please. (The cops escorting him to the airport was reminiscent of Judy Garland being shooed from the country in the 1960s for being too drunk to perform.)
The Australian PM Scott Morrison, with his eyes on re-election, greeted the expulsion, mumbling about needing to "keep our borders strong and keep Australians safe… It's now time to get on with the Australian Open and get back to enjoying tennis over the summer."
Djokovic's argument is that the Australian government that initially granted him a visa is now using him as an easy target to whip the natives in line. The independent, unapologetic Djokovic has certainly served the Aussie politicians well as a convenient whipping boy for the petrified millions who put their faith in governments and health "experts" to save them from the dreaded virus.
(Sounds like France, which never misses an opportunity to enforce the status quo, will emulate Australia by banning an unvaxxed Djokovic if he ventures there in June for the French Open.)
The "burn the witch" frenzy feeds into the non-vaxxed insanity currently underway in Canada and the U.S. There are demands that those who declined the juice be denied healthcare or fined or have their taxes audited. Immunity is dismssed. Cobbled hospital numbers are conflated with truths. Instead, images of gap-toothed hillbillies saturate progressive media who find their allies have been unable to halt the virus as promised.
Inconveniently, polling by Abacus in Canada has shown that the typical anti-vaxxer is not a swaggering tennis player, a bow hunter or toothless yokel but is in fact a 42-year-old Ontario white woman who votes Liberal.
The bright side of this Kafkaesque farce is that Omicron is fading like old Xmas decorations. Many are predicting that it is peaking now and will be a spent force by February. The tinpot tyrants in Australia, having booted Djokovic, will need something else to reinforce their desperate grasp on power.
Ditto here in North America. Unless a follow-up variant can be swiftly produced (remember that subsequent viruses are always weaker) Skippy and Biden will be left to explain their enforced vaccines and virus solutions to a public disinterested in their ongoing need for power.
To use a tennis analogy they'll be down two breaks and facing Djokovic's best serve. Should be entertaining.
Bruce Dowbiggin @dowbboy is the editor of Not The Public Broadcaster (http://www.notthepublicbroadcaster.com). The best-selling author was nominated for the BBN Business Book award of 2020 for Personal Account with Tony Comper. A two-time winner of the Gemini Award as Canada's top television sports broadcaster, he's also a regular contributor to Sirius XM Canada Talks Ch. 167. His new book with his son Evan Inexact Science: The Six Most Compelling Draft Years In NHL History is now available on http://brucedowbigginbooks.ca/book-personalaccount.aspx
The Californication Of Toronto: Urban Nowhere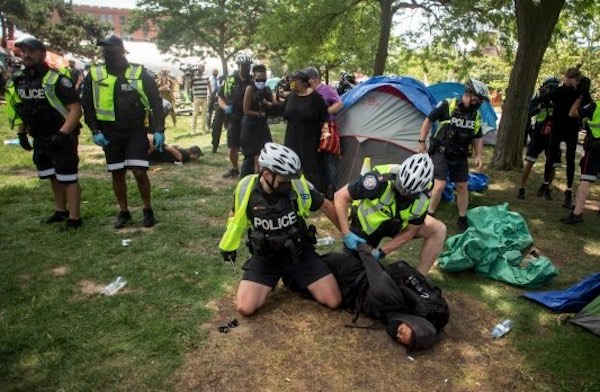 Last weekend I talked on the phone with my broadcasting friend Andrew Krystal about the state of Toronto— including his beloved Maple Leafs. Little did I know it was to be our final conversation; Andrew died just a few minutes after as he walked home in Yorkville.
In his inimitable way Andrew had been giving me the gears for criticizing Toronto after I'd spent so many years there. "You made your name here. You are a product of Toronto," he pointed out above the din in a local Toronto bar.
Indeed I was a product of the Toronto I left behind in 1998. As I told him, that Toronto— the Little City That Could—is long gone. Replaced by something… else. As we shouted to make ourselves heard I told him that Toronto now reminds me of the California nightmare described in a recent Matt Taibbi piece on Substack. "California is what happens when new money becomes old money."
Taibbi quoted Swedish writer Malcom Keune: "California shifted mid century from being the US's fastest-growing state — 50% population growth between 1950 and 1960 — to a state that is somehow, improbably, shrinking… mostly because of the regulations the state's inhabitants put in place that block the housing that's required to support California's economic success. As a result, California has lost the "technology" of being able to affordably house its inhabitants…
To use a California literary reference, that meant no more living off the "fat of the land," for with the well of plenty drying, even elites are now forced to feed off each other. In such a society, he wrote, "belligerence is not a choice," and "you need to dispossess others" to get ahead, because "not doing so means losing your own way of life."
The Diaspora of middle-class Californians to Texas, Montana, Florida, Tennessee, Colorado and elsewhere has been mirrored by the thousands of successful businesses such as Tesla, Oracle, Hewlitt-Packard and many more also leaving the state, taking with them tens of thousands of excellent jobs. Leaving behind a titled elite and a serving class— many just arrived in the state.
The desire to make California a morally pure progressive paradise has turned into open drug use on streets, collapsing infrastructure and sclerotic one-party rule. "California announced a high-speed train in 1996 and the current plan is for service on the L.A-San Francisco line to begin in 2033. One executive I spoke with described the state's development as "frozen in aspic."
One reason is strangulation by bureaucracy. "Institutions everywhere are filling up with employees bearing skills "orthogonal" to the bureaucratic mission," Kyeyune writes, "part of what's been packaged as progress but feels more like a vast jobs program for otherwise unemployable pseudo-intellectuals. "Hire us, pay us, give us and our clients sinecures at your expense, "or we will make life difficult for you."
As I told Andrew, "It doesn't take a great leap to see these descriptions applying to Toronto as it came into its new status as a progressive cosmopolitan haven." The Toronto of today, like California, is moving forward and backward at the same time. A champion in its day for fighting apartheid in South Africa, the same city now proudly celebrates segregated commencement sessions .
The source of Toronto's entitlement was the stopping of the Spadina Expressway in the 1970s, the singular NIMBY resistance to growing the city at the expense of leafy neighbourhoods. Since then attempts to move newcomers around the heart of privilege have produced gridlock.
The result? Stratospheric housing prices in a city that resisted growth even as it imported hundreds of thousands to serve as its worker drones. The basic roof-over-one's-head now is exclusive to aging Boomers squatting on their cashboxes while their children and newcomers move two hours away (if lucky) or mortgage themselves to the real-estate lottery.
Like Hollywood, Toronto's hip class is besotted by Woke culture. Instead of Hollywood, Toronto is an IT factory married to media elites. But this success a two-edged sword for liberals— as California discovered. The Golden State "began to worry about how to balance the proceeds of its mastery of lowbrow markets with the desire of its most influential inhabitants to maintain reputations for the latest in progressive attitudes".
Toronto's IT culture has opinions; they're just all virtually the same. None may say a negative word for fear of being banished to Barrie or London or (gasp) Alberta to find a living. It is a self-imposed gag order.
Exit strategies? Like California, Toronto's business Diaspora to its suburbs and beyond has been replaced by a tax base resting on rapacious condo construction and gentrification. Its attempts to replace cars with rapid transit, such as the Eglinton subway project, mirror California's rapid-rail project. No one in office wants to make hard decisions about the Gardiner Expressway, so they put off the inevitable.
Once a bastion of security, Toronto's street crime is blighting the city. No wonder the middle class is cashing out its homes and heading to Northern Ontario, PEI, Alberta and the U.S.
Like the California elite in Silicon Valley, Toronto's Family Compact has shown its survival skills in the Trudeau years, returning Captain Blackface to power on three occasions in a Faustian bargain to preserve its status. With the reality sleeping on homeless sidewalks, Toronto's nomenklatura moved "to dispossess others" to get ahead, because not doing so meant losing their own way of life.
The accelerator for decline has been the gelding of its media. With government now pumping billions into media based in the city, there is a homogeneity of thought in coverage. Reporters who were once independent and cranky now see their best interests served in building echo chambers for the government/ corporate crowd. In California there are at least some people such as Taibbi defying the Media Party directives. For how long not one knows.
I will miss Andrew but in many respects. I'm just glad he won't be around to see what will happen to the city where he was raised and where he revelled in the last days of old Toronto.
Bruce Dowbiggin @dowbboy is the editor of Not The Public Broadcaster (http://www.notthepublicbroadcaster.com). The best-selling author was nominated for the BBN Business Book award of 2020 for Personal Account with Tony Comper. A two-time winner of the Gemini Award as Canada's top television sports broadcaster, he's also a regular contributor to Sirius XM Canada Talks Ch. 167. His new book with his son Evan Inexact Science: The Six Most Compelling Draft Years In NHL History is now available on http://brucedowbigginbooks.ca/book-personalaccount.aspx
Big Can Be Beautiful. It Can Also Take Your Life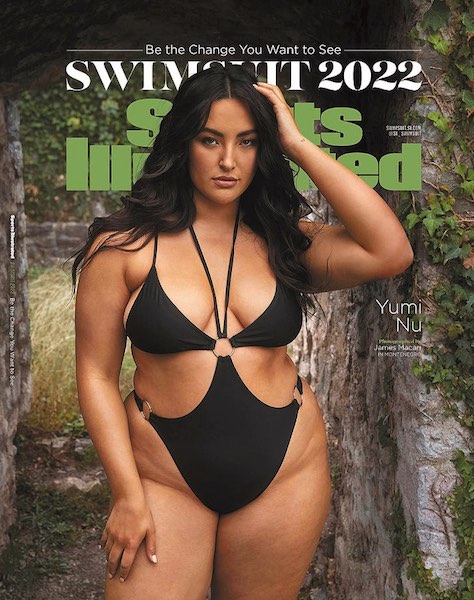 When we go to our local swimming pool there is ample evidence of the fat of the land (including your correspondent). The display of plus-sized pork among our fellow swimmers (most 50+) is breathtaking. The Parnassus of lard has to be the 60-ish gentleman who wears a Speedo on his 375-pound-plus body as he swims laps. We assume there's a Speedo in there somewhere, captured by rolling mounds of cellulite on his glutes.
While alarming to see so many who've lost the battle to fat, at least these souls are making the attempt to stay healthy. God bless them. When we see them lower themselves into the pool we have to wonder at those who've completely given up on the concept of a healthy figure. How do they live?
The notion of what constitutes a beautiful body is in the news again as Sports Illustrated featured plus-sized model Yumi Nu on the cover of its annual swimsuit edition. The swimsuit edition is the annual display of beautiful female bodies that traditionally sent nuns and librarians into a censorship fury worthy of Twitter. (And found its way between the mattresses of teenaged boys.)
In what is clearly Woke symbolism, Time Warner's magazine is attempting to placate another stigmatized group— plus-sized women— by displaying Nu in all her rounded beauty. "See, it's normal to be wearing XXX-sized clothing" is the message. (The magazine also features Elon Musk's mother and four NBA models in the edition).
This comes at a time when plus-sized rapper Cardi B has made highly sexualized twerking a thing in her graphic videos. It seems to now be hip to placate people who've lost the battle against Cheetos in a masturbatory celebration of a blubbery freedom.
Canadian author/ psychologist Dr. Jordan Peterson spoke for those not amused by SI's project. "Sorry. Not beautiful. And no amount of authoritarian tolerance is going to change that. It's a conscious progressive attempt to manipulate & retool the notion of beauty, reliant on the idiot philosophy that such preferences are learned and properly changed by those who know better."
But there was a cascade of approval for SI's choice, recognizing that beauty is in the eye of the beholder. Many found Nu stunning and sexy. Feminists applauded her acceptance of bodaciousness. Fair enough.
Two quibbles. One small and the other massive. First— this will be lost on feminists— the SI Swimsuit edition was created in the 1960s to defeat a stereotype that fit sportswomen were tomboys, unattractive and vaguely butch. In their own way, the early SI models destroyed those stereotypes while pleasuring hetero men. They convinced women that muscles aren't a bringdown.
The more significant point— lost on SI and Time Warner— is that the time of Covid, with its choked hospitals and healthcare system, is hardly the moment to celebrate people who exceed their body-fat index. In fact it might be described as a reckless message that allows people with hereditary or cultural vulnerability to diabetes, stroke and heart attacks to put off weight reduction.
As we wrote last October, obesity is the silent killer of millions infected with the virus. But one buried by governments, media and health authorities who decided to make vaccine-resisters the real villain of the piece.
"Friends and neighbours we have thought otherwise sane are now seriously demanding that unvaccinated people be sent to the back of the line for health care till all the vaccinated people are satisfied. This triage is equal measures of fear, spite and blithering ignorance of the facts of single-payer health.
Take this example: one of the factors established very early in the pandemic was the vulnerability of obese and morbidly obese— especially in the elderly. The AMA reports, "The vast majority—78%—of U.S. patients hospitalized with COVID-19 were overweight or had obesity. The numbers for intensive care, invasive mechanical ventilation and death were nearly the same."
According to the CDC, 42.4 percent of U.S. adults have obesity. While some are obese for genetic or disease-related reasons, the vast proportion of the obesity is lifestyle induced. The World Obesity Federation has shown that death rates from COVID-19 have been 10 times higher in countries where more than half of the population is overweight.
Yet there is no call from the media and its acolytes to punish the obese for clogging the healthcare system. No demand they be put to the back of the line. Why? Because it doesn't suit the narrative of right-wing extremism the way that non-vaxxers do. Too many allies of Woke land— in and out of politics— would be shoved down the line if fat were targeted.
University of Oxford researchers found, "Excess weight is a modifiable risk factor, and investment in the treatment of overweight and obesity and long-term preventive strategies could help reduce the severity of COVID-19 disease."
Yet when was the last time you heard Justin Trudeau or president Joe Biden suggest dropping weight to lessen the burden on healthcare? The last time would be the first time, as they have been mute on lifestyle adaptions to clear the ICUs.
It goes the same for smokers, drinkers, drug abusers and more who— under Canada's healthcare rulers— receive the same treatment in emergency rooms as do those who live clean. According to the howler monkeys of vaccine enforcement only non-vaxxers should be culled from the herd for flooding ICUs."
It's not the first time that Wokedom has stifled information contrary to their societal control. It won't be the last. In the battle of the bulge it's not a fashion statement. It's a matter of life and death. It's also a matter of saving the healthcare system.
Bruce Dowbiggin @dowbboy is the editor of Not The Public Broadcaster (http://www.notthepublicbroadcaster.com). The best-selling author was nominated for the BBN Business Book award of 2020 for Personal Account with Tony Comper. A two-time winner of the Gemini Award as Canada's top television sports broadcaster, he's also a regular contributor to Sirius XM Canada Talks Ch. 167. His new book with his son Evan Inexact Science: The Six Most Compelling Draft Years In NHL History is now available on http://brucedowbigginbooks.ca/book-personalaccount.aspx