Fortress Australia Gets Its Scalp, Tosses Djoker Out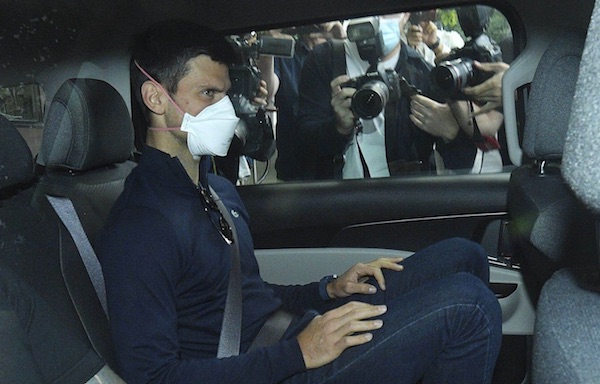 The ceremony of innocence is drowned;
The best lack all conviction, while the worst
Are full of passionate intensity. —W.B. Yeats
There has always been a large reservoir of affection for Australia in the West. The sun-kissed land down under. Kangaroos. Beaches. Crocodile Dundee. Aussie Rules Football. Men At Work. Foreigners embraced all the clichés gleefully.
The Australian Open tennis tournament was part of that scenario. The first Grand Slam, played in scorching sunshine while the Northern Hemisphere freezes in January. TV coverage was laced with tourist entreaties to fly 14 hours to the Great Barrier Reef and Gold Coast.
But with the nation's behaviour in fighting Covid-19, this is all (in the words of Yeats) "changed, changed utterly." The fever-swamp regime now running the nation has gone off the rails with detention camps for unvaxxed, flying squads of police roaming the streets and total lockdowns in emulation of the Chinese.
Australia's heavy-handed "cures" for Covid would make Curfew Quebec look a model of tolerance. While America is moving away from draconian lockdowns, (Associated Press is now asking its writers to play down Covid numbers) Australia is still singing from the 2020 WHO hymn book that pretends lockdowns save lives. For example, mask mandates were recently re-imposed when five— count 'em— five local cases were spotted in Perth.
Look, Australia is entitled to run their nation any way they want. They have the constitutional right to act like so many scared kookaburras in the face of a virus that will spare 99.98 percent of them. But don't push the "shrimp on the bar-b" hokum on the world when the tennis begins.
This whack-a-mole mania culminated in Sunday's expulsion of Covid rebel Novak Djokovic. After granting the No. 1 men's player in the world a visa to play, Australia's Minister of Immigration Alex Hawke said he had cancelled the 34-year-old's visa for a second time on "health and good order grounds, on the basis that it was in the public interest to do so". He said Djokovic's example was— wait for it— a threat to his people.
Good order? Hawke and his government have to lock up the population because their Island Fortress strategy isn't enough to curb Omicron's arrival. Yet Djokovic is the threat, not their frantic search for a fifth column of viral killers in Canberra.
Djoker knew he was going into headwinds as he sought to play in the Open as an unvaccinated player. He was less than forthcoming on his entry documents. So his highly political stance made him a target. But a threat to the people of Australia? Please. (The cops escorting him to the airport was reminiscent of Judy Garland being shooed from the country in the 1960s for being too drunk to perform.)
The Australian PM Scott Morrison, with his eyes on re-election, greeted the expulsion, mumbling about needing to "keep our borders strong and keep Australians safe… It's now time to get on with the Australian Open and get back to enjoying tennis over the summer."
Djokovic's argument is that the Australian government that initially granted him a visa is now using him as an easy target to whip the natives in line. The independent, unapologetic Djokovic has certainly served the Aussie politicians well as a convenient whipping boy for the petrified millions who put their faith in governments and health "experts" to save them from the dreaded virus.
(Sounds like France, which never misses an opportunity to enforce the status quo, will emulate Australia by banning an unvaxxed Djokovic if he ventures there in June for the French Open.)
The "burn the witch" frenzy feeds into the non-vaxxed insanity currently underway in Canada and the U.S. There are demands that those who declined the juice be denied healthcare or fined or have their taxes audited. Immunity is dismssed. Cobbled hospital numbers are conflated with truths. Instead, images of gap-toothed hillbillies saturate progressive media who find their allies have been unable to halt the virus as promised.
Inconveniently, polling by Abacus in Canada has shown that the typical anti-vaxxer is not a swaggering tennis player, a bow hunter or toothless yokel but is in fact a 42-year-old Ontario white woman who votes Liberal.
The bright side of this Kafkaesque farce is that Omicron is fading like old Xmas decorations. Many are predicting that it is peaking now and will be a spent force by February. The tinpot tyrants in Australia, having booted Djokovic, will need something else to reinforce their desperate grasp on power.
Ditto here in North America. Unless a follow-up variant can be swiftly produced (remember that subsequent viruses are always weaker) Skippy and Biden will be left to explain their enforced vaccines and virus solutions to a public disinterested in their ongoing need for power.
To use a tennis analogy they'll be down two breaks and facing Djokovic's best serve. Should be entertaining.
Bruce Dowbiggin @dowbboy is the editor of Not The Public Broadcaster (http://www.notthepublicbroadcaster.com). The best-selling author was nominated for the BBN Business Book award of 2020 for Personal Account with Tony Comper. A two-time winner of the Gemini Award as Canada's top television sports broadcaster, he's also a regular contributor to Sirius XM Canada Talks Ch. 167. His new book with his son Evan Inexact Science: The Six Most Compelling Draft Years In NHL History is now available on http://brucedowbigginbooks.ca/book-personalaccount.aspx
We Have Met The Goalies, And The Goalies Have Won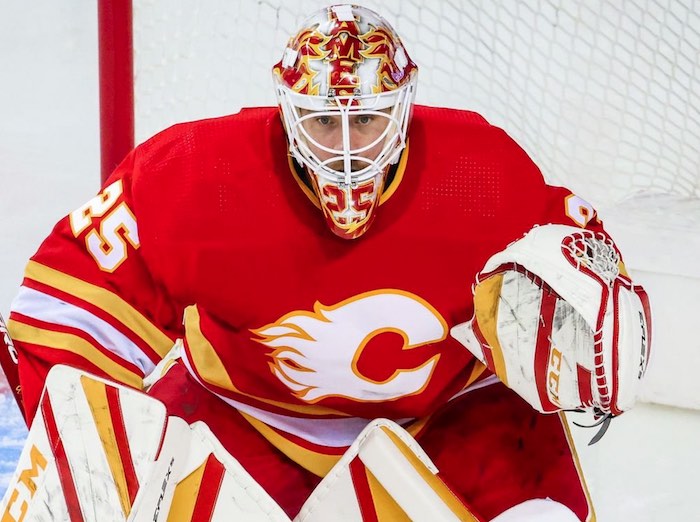 The NHL's problem, Boston Bruins GM legend Harry Sinden told us years ago, is that there are 30 teams. But just one Stanley Cup. That makes for a lot of disappointment.
As Toronto fans can now attest, that disappointment stings worst when you have a team with a likely Hart Trophy winner and an impressive regular season. By rights a healthy Leafs squad should have disposed of the defending champions from Tampa Bay, who finished five points below them in the standings.
But the NHL is no place for favourites. Analytics have found that, generally, you'd have to play a best-of-51 series before the higher-seeded NHL team would have the advantage. (The NBA is much more favourable to the chalk.) So, given enough time Toronto would have outlasted the Lightning. It could/ would have taken till August to do so, however.
Why? Because the NHL— despite fitful attempts to redress this discrepancy— has created a Frankenstein playoff model that allows lesser teams to clog the ice, funnel shots from bad angles and get away with fouls that wouldn't stand in the regular season. Using the rules today, a defensive-minded team can clog the front of the net, blocking as many shots as does their goalie.
In Toronto's Game 7 loss to Tampa, the Leafs directed 57 shots at impenetrable goalie Andrei Vasilevsky. He stopped 30 of 31 that reached him. His defence almost matched him, blocking 26 shots. (Toronto blocked 13 shots while goalie Campbell stopped 20 of 22 shots that rewashed him.)
Toronto buzzed the scoring zone, dominating puck possession. They dominated faceoffs, winning 61.8 percent. In the end it meant zilch, be cause Vasilevsky was a brick wall.
It was the same for the Pacific Conference champion Calgary Flames against 23-year-old goalie Jake Oettinger and the Dallas Stars— who only snuck over .500 on the final day of the season. In Game 7 Calgary sent 129 shots toward the net, with Oettinger making 64 saves into OT. And his defence blocked 32 Calgary shots on Sunday.
On average the Flames outshot the Stars (272 shots) by over 20 shots in each of the seven games. Yet the lower-rated Dallas almost escaped with the series win, because Oettinger was otherworldly. It took a bad-angle goal from Johnny Gaudreau in OT to propel the favoured Flames to a Round 2 Battle of Alberta with Edmonton.
The NHL shows no inclination to reward hight-ranked teams, preferring to lionize the grinders and bangers by letting them hit opponents late and charging guys along the boards. If there were a goal that epitomized this credo it has to be Gm.4 of the Kings/ Oilers series when Carl Grundstrom slid on his belly into goalie Mike Smith, pushing the puck under the Oilers goalie with a two-handed shove. Ugly? Yes, but effective against the massive goalies.
Of course, what are scorers to do when faced with 6-foot-5 goalies like Smith and his towering peers blotting out the sun? The epidemic of skilled giants wearing huge equipment has led to teams not shooting till they can screen the goalie or knock in a rebound. It was something we wrote about in February of 2021 following publication of an article by Ken Dryden in The Atlantic entitled "Hockey Has a Gigantic-Goalie Problem".
"The problem isn't the game. The problem is the goalie, who is changing the game", declared Dryden. "This game, one that allows for such speed and grace, one that has so much open ice, is now utterly congested… Never in hockey's history has a tail so wagged the dog."
Dryden reviews the evolution of the position from goalies' bodies protruding above the cross bar to having their entire body below it. "Pads that had been made of heavy leather, deer hair, and felt were replaced with nylon, plastic, and foam rubber. These lighter materials, which made the pads less awkward to move around in and less tiring to wear, could then also be made bigger. And bigger equipment, covering a body now in position below the bar, filled even more space."
Dryden explains how a properly positioned 6-foot-3 or taller goalie can now block all avenues for the puck— from his knees. "But really, in that equipment, with those body strategies, why get up? Why move? What better puck-blocking position could he take?"
The response from coaches and shooters? "Rush the net with multiple offensive players, multiple defensive players will go with them, multiple arms, legs, and bodies will jostle in front of the goalie, and the remaining shooters, distant from the net, will fire away hoping to thread the needle, hoping the goalie doesn't see the needle being threaded, because if he does, he'll stop it
It's not a formula Dryden likes. "All the players' amazing skills, developed in hours of practice, visualizing and dreaming in basements, on roads and local rinks, in drills with coaches and expert teachers, their minds and hands now able to move as fast as their feet, to find and use all the open ice that is there. But with so little open ice where open ice matters, for what?"
He contrasts how basketball solved its size problem: introducing the three-point line to open up scoring in what was becoming a stalemate beneath the hoop. "If a big guy can't pass and shoot, there's no place for him. With big guys dispersed and away from the basket, little guys now even get rebounds. All 10 players are involved. All 10 players can have a role. All 10 players, on the best teams, and on even better teams in the future, need to have a role to win. This NBA game, played on a much smaller surface than a hockey rink, is now far more open, much less congested."
Dryden's solution is a reluctant one. "The clever cat-and-mouse game between goalies and shooters has run its constructive course. The goalies, by winning, have changed the game." So the net must be made bigger. "Maybe only six inches or a foot wider, maybe only six inches higher. And only for those in junior and college leagues and above."
Whether the NHL can see beyond its cherished myths of grinders and role players to admit it has a problem is the question. A question that, as long as Gary Bettman is commissioner, will never be answered.
Bruce Dowbiggin @dowbboy is the editor of Not The Public Broadcaster (http://www.notthepublicbroadcaster.com). The best-selling author was nominated for the BBN Business Book award of 2020 for Personal Account with Tony Comper. A two-time winner of the Gemini Award as Canada's top television sports broadcaster, he's also a regular contributor to Sirius XM Canada Talks Ch. 167. His new book with his son Evan Inexact Science: The Six Most Compelling Draft Years In NHL History is now available on http://brucedowbigginbooks.ca/book-personalaccount.aspx
Pfizer Pflunks: How Sports Finally Rejected The Covid Hustle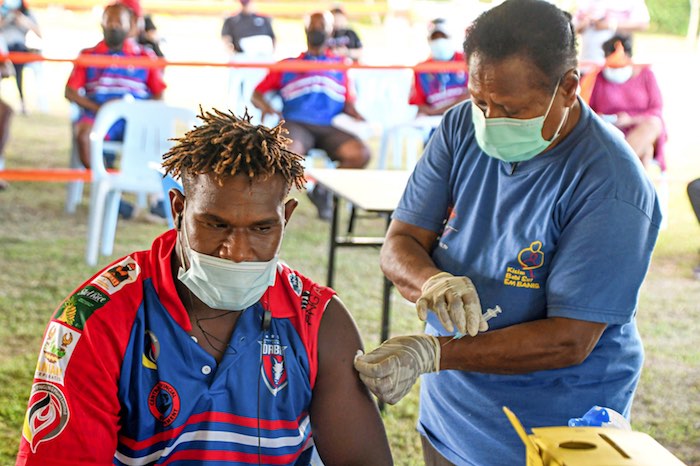 "We didn't understand that it's a fairly low fatality rate & that it's a disease mainly in the elderly, kind of like flu is, although a bit different than that… Shutting down schools was a bad call; it didn't stop case growth and the education deficit will take years to recover from it".— Bill Gates, May 2022
These are the first NHL playoffs since 2019 not completely blighted by the miseries of Covid-19 protocols. For the past two postseason sessions, the NHL— like its sister leagues— has been obsessed with the test-and-trace strategy recommended by the WHO, CDC, Health Canada and other regulatory bodies. (And by people like Jeffery Epstein's pal Bill Gates.)
This resulted in "bubble cities", draconian quarantine practices and the dreaded testing regimen imposed by PCR testing. By testing healthy young athletes at elevated cycles this produced a flood of minute samples of a virus that were, pace Bill Gates, a "kind of flu" that few could pass on to the general public.
The insane panic surrounding this process was exacerbated by the scribblers of the media who, currying favour with liberal authorities, rejected any alternatives. As a result, healthy players were locked up in hotels with nothing better to do than play games before empty arenas and then scuttle back to the hotel like mice retreating to their burrows. Or remain bunkered at home.
Even by 2021, when, test-and-trace was shown to be useless stopping a pandemic, the NHL and the rest of sports continued to play whack-a-mole with anyone who had a speck of the virus. Players were quarantined, teams played with depleted lineups, fans were not allowed to see games live.
None of which did anything to curb the death rate among those who were, as Gates allows, most vulnerable. So athletes, children and healthy adults were treated like a scurvy crew. To distract people, media ginned up stories about the exceptions to this pattern to keep their pals in the fear business happy.
Adding to the misery was the new autocracy of vaccines. First one shot, then two, then boosters, then more boosters. All pushed by government advertising that branded objectors as some form of vermin (see Justin Trudeau's libel of the truckers convoy as he hid). The Maoist conformity this produced was backed up with travel bans and ostracization.
Anyone daring to present contrary evidence—or mention healthy athletes dying post-vaccine— was instantly made a non-person by the Theresa Tam health bureaucracy who'd taken their marching orders from the Chinese. Social media cancelled critics like Alex Berenson, the Barrington Declaration, Ivor Cummins and Dr. Robert Malone for injecting some doubt about the forced lockdowns and mandatory vaccine regime.
For much of 2020 and early 2021, when someone tried to point out that Sweden had taken a different course at far less social disruption they were labelled as killers and subversives by the Hollywood elite.
Eventually the absurd testing mechanisms and arbitrary suspensions to the "Covid List" grew too absurd for some. As we wrote last December, Detroit Red Wings GM Steve Yzerman finally said, enough is enough:
"At the end of the day, I think — and now I'm getting political — but at the end of the day our players are testing positive with very little symptoms, if any symptoms at all. I don't see it as a threat to their health at this point. I think you might take it a step further and question why are we even testing, for guys that have no symptoms."
This skepticism extended past hockey to, "…the NFL where games are being delayed because hundreds of players and staff— many of them asymptomatic— have tested positive using the NFL's mandatory PCR testing. Tampa Bay Bucs coach Bruce Arians told reporters, "If you're asymptomatic, you should be allowed to play."
Slowly, the leagues pulled back, even as radicals in healthcare and media still shrieked about the deaths that stadiums and arenas full of maskless people would produce. The leagues made the call that the virus and its variants were epidemic and— as the data showed— highly unlikely to affect a demographic like trained athletes.
Yes, people in risk groups would still get sick. Some would die. But test-and-trace was ineffectual in halting any of it. So were masks on airplanes.
As a result, the public's unwavering trust in the white lab coats and the politicians who slavishly followed them was shaken. What if all the sacrifices meant nothing? What if, as Gates now allows, the official diagnosis of the Covid-19 panic was a massive over-reaction? Treating every demographic the same was madness?
What if vaccines sold as a panacea by governments across much of the Western world, were also a fraud imposed on citizens? After much effort to hide the truth for 75 years, Pfizer was forced to show that it knew their vaccine— one Trudeau is using to impose three-year travel bans on dissenters— only had about 12 percent efficacy in the short term. This when the CDC, Tam, Fauci, and all the Twitter doctors swore it was 95 percent effective. And that pregnant mothers were at risk of miscarriage, despite protestations from officials.
Likewise, the Johnson & Johnson vaccine has been withdrawn; the FDA cited Johnson & Johnson's #COVID-19 vaccine due to risk of blood clots. Data from the VAERS (Vaccine Adverse Event Reporting System) shows vaccine injuries occurring regularly not only from Pfizer Vaccines, but from all the "benign" mMRV-2 vaccines sold by governments in advertising and directives.
This is just the tip of the iceberg. In the coming years we will learn— despite the strenuous efforts of the guilty— that elected officials and drug manufacturers hid far worse outcomes about their prescriptions. That they suppressed alternative treatments. They'll reluctantly do this because all vaccine users signed off on their products as experimental. They can't be sued— government saw to that.
Leaving only elected officials like Trudeau, whose government still labels its draconian measures as "life saving". By then he'll be in a cozy sinecure created for him by the World Economic Fund. Good luck extraditing him. And society will swear not to do this again. Till the Climate Hustle cranks up.
Bruce Dowbiggin @dowbboy is the editor of Not The Public Broadcaster . (The best-selling author was nominated for the BBN Business Book award of 2020 for Personal Account with Tony Comper). A two-time winner of the Gemini Award as Canada's top television sports broadcaster, he's also a regular contributor to Sirius XM Canada Talks Ch. 167. His new book with his son Evan Inexact Science: The Six Most Compelling Draft Years In NHL History is now available on http://brucedowbigginbooks.ca/book-personalaccount.aspx