Find This Beautiful? It Probably Depends On How You Vote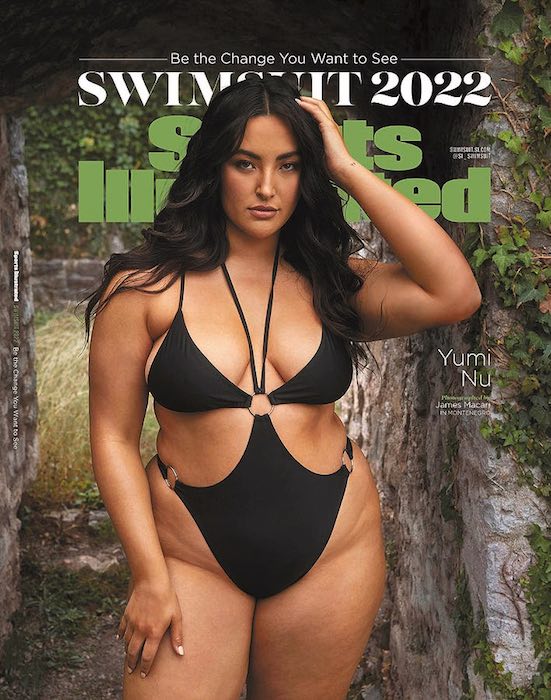 Sign up today for Not The Public Broadcaster newsletters. Hot takes/ cool slants on sports and current affairs. Have the latest columns delivered to your mail box. Tell your friends to join, too. Always provocative, always independent.
Today's children are 30% less aerobically fit than their parents were at their age, a new study (has) found. The study points to climate change and rising temperatures adversely affecting childhood obesity, as children spend less time exercising outdoors.— CBS News
Nice that CBS cares about obesity. Predicably, they tie it to their pet obsession of climate change. Just another indication that even when something deserves attention it must be tortured beyond all logic by the credentialed cliques.
For proof how far this can go look only to Friday's release by the U.S. Center For Disease Control that announced— Jumpin' Jehosaphat!—non-vaccinated people should have the same protocols as vaccinated people. Kids can stay in classes after being exposed to the virus. And screening is no longer necessary for this without symptoms.
The admission that non-vaxxed are not the scourge of society or students not a vector for infection would have had you fired from your job by Justin Trudeau or banned from social media giants just a year ago. Today? Meh. Those waiting for apologies or getting their job back had better get a chair. Could be a while.
But social stigmatizing of the unclean has become routine in the age of 21 genders and travel bans. Debunking centuries of Judea-Christian learning and tradition is a party game for the Stephen Colbert set. (Remember when comedians made jokes, not lists of those to be cast into hell?)
Which brings us back to obesity. In May we noted that, far from it being a problem, it was now body affirming when practiced by the correct people. Even if obese people constituted the largest risk group for Covid-19.
"The notion of what constitutes a beautiful body is in the news again as Sports Illustrated featured plus-sized model Yumi Nu on the cover of its annual swimsuit edition. The swimsuit edition is the annual display of beautiful female bodies that traditionally sent nuns and librarians into a censorship fury worthy of Twitter. (And found its way between the mattresses of teenaged boys.)
In what is clearly Woke symbolism, Time Warner's magazine is attempting to placate another stigmatized group— plus-sized women— by displaying Nu in all her rounded beauty. "See, it's normal to be wearing XXX-sized clothing" is the message.
Canadian author/ psychologist Dr. Jordan Peterson spoke for those not amused by SI's project: "Sorry. Not beautiful. And no amount of authoritarian tolerance is going to change that. It's a conscious progressive attempt to manipulate & retool the notion of beauty, reliant on the idiot philosophy that such preferences are learned & properly changed by those who know better."
But there was a cascade of approval for SI's choice, recognizing that beauty is in the eye of the beholder. Many found Nu stunning and sexy. Feminists applauded her acceptance of bodaciousness. Fair enough.
Two quibbles. One small and the other massive. First— this will be lost on feminists— the SI Swimsuit edition was created in the 1960s to defeat a stereotype that fit sportswomen were tomboys, unattractive and vaguely butch. In their own way, the early SI models destroyed those stereotypes. They convinced women that muscles aren't a bringdown.
The more significant point— lost on SI and Time Warner— is that the time of Covid, with its choked hospitals and healthcare system, is hardly the moment to celebrate people who exceed their body-fat index. In fact it might be described as a reckless message that allows people with hereditary or cultural vulnerability to diabetes, stroke and heart attacks to put off weight reduction.
As we wrote last October, obesity is the silent killer of millions infected with the virus. But one buried by governments, media and health authorities who decided to make vaccine-resisters the real villain of the piece.
"Friends and neighbours we have thought otherwise sane are now seriously demanding that unvaccinated people be sent to the back of the line for health care till all the vaccinated people are satisfied. This triage is equal measures of fear, spite and blithering ignorance of the facts of single-payer health.
Take this example: one of the factors established very early in the pandemic was the vulnerability of obese and morbidly obese— especially in the elderly. The AMA reports, "The vast majority—78%—of U.S. patients hospitalized with COVID-19 were overweight or had obesity. The numbers for intensive care, invasive mechanical ventilation and death were nearly the same."
According to the CDC, 42.4 percent of U.S. adults have obesity. While some are obese for genetic or disease-related reasons, the vast proportion of the obesity is lifestyle induced. The World Obesity Federation has shown that death rates from COVID-19 have been 10 times higher in countries where more than half of the population is overweight.
Yet there is no call from the media and its acolytes to punish the obese for clogging the healthcare system. No demand they be put to the back of the line. Why? Because it doesn't suit the narrative of right-wing extremism the way that non-vaxxers do. Too many allies of Woke land— in and out of politics— would be shoved down the line if fat were targeted.
University of Oxford researchers found, "Excess weight is a modifiable risk factor, and investment in the treatment of overweight and obesity and long-term preventive strategies could help reduce the severity of COVID-19 disease."
Yet when was the last time you heard Justin Trudeau or president Joe Biden suggest dropping weight to lessen the burden on healthcare? The last time would be the first time, as they have been mute on lifestyle adaptions to clear the ICUs.
It goes the same for smokers, drinkers, drug abusers and more who— under Canada's healthcare rules— receive the same treatment in emergency rooms as do those who live clean. According to the howler monkeys of vaccine enforcement only non-vaxxers should be culled from the herd for flooding ICUs."
It's not the first time that Wokedom has stifled information contrary to their societal control. It won't be the last. In the battle of the bulge it's not a fashion statement. It's a matter of life and death. It's also a matter of saving the healthcare system."
Bruce Dowbiggin @dowbboy is the editor of Not The Public Broadcaster (http://www.notthepublicbroadcaster.com). A two-time winner of the Gemini Award as Canada's top television sports broadcaster, he's a regular contributor to Sirius XM Canada Talks Ch. 167. Inexact Science: The Six Most Compelling Draft YearsIn NHL History, , his new book with his son Evan, was voted the eighth best professional hockey book of by bookauthority.org . His 2004 book Money Players was voted seventh best, and is available via http://brucedowbigginbooks.ca/book-personalaccount.aspx
NHL: Everyone Wears The Ribbon Part Deux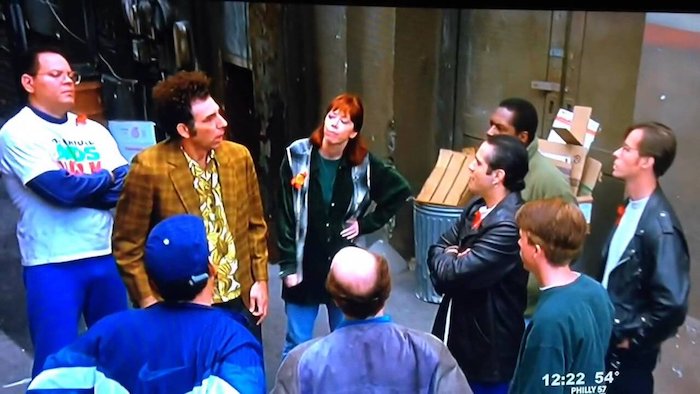 In the classic 1987 Seinfeld episode The Sponge, Kramer is harassed by AIDS Walk organizers for refusing to wear a ribbon as he walks in the event
VOLUNTEER: But you have to wear an AIDS ribbon.
KRAMER: I have to?
VOLUNTEER: Yes.
KRAMER: Yeah, see, that's why I don't want to.
VOLUNTEER: But everyone wears the ribbon. You must wear the ribbon!
KRAMER: You know what you are? You're a ribbon bully (walks away).
Kramer supports AIDS research, but he doesn't support meaningless symbols. So some aggressive AIDS walkers eventually track him down and beat him in an alley for not going along with the mob. Comedian and curmudgeon George Carlin summed up Kramer's resistance: "Religion is like a pair of shoes…..Find one that fits for you, but don't make me wear your shoes." But these days you must wear the shoes of the cool kids or suffer the consequences.
Naturally, progressives pushing their myriad causes fail to see the irony— even as they laugh at the skit. Since when was it a cultural crime that 100 percent of people don't agree on any position? You don't demand everyone eat meat, worship God or write with your left hand. Why do we demand unanimity on Woke catechism? But white- guilt liberals now look for any excuse for indignation.
The last group you'd have expected to adopt the You Must Wear A Ribbon tactic is the NHL. But no, the league that forgot Don Cherry is once again forcing its sanctity on players who dare to say "No, thanks" to wearing LGBTQ+2 sweaters as part of inclusivity promotions. This time San Jose goalie James Reimer said his Christian religious beliefs preclude him from taking part in their costume drama.
Needless to say the cascade of "homophobia" and "intolerance" cries from the AIDS walkers… er, the LGBTQ+2 media lobby… came down on Reimer's head. His team and the league huffed and puffed about their virtue, but, thankfully, declined the calls for Reimer to be perp-walked to centre ice. Social media was another story, insisting he wear the ribbon.
Here's what we wrote in January, the last time the NHL virtue soldiers jammed their holiness down other people's throats over a Philadelphia Flyer who said, "Nyet". "As Canada's Justice Minister in the 1960s, Pierre Trudeau articulated the essence of liberal tolerance with his "government has no place in the bedrooms of the nation". Sixty years later, PET's son Justin would like to amend that to "the government has no place in the bedrooms of the nation— unless those people are saying nasty things about me."
What once was a proud definition of liberty has transformed into a confidence game run for the Woke elite and its friends in the Media Party. Example this week: The Philadelphia Flyers— in keeping with their conversion to ESG colossus— staged a Gay Pride night. As part of the promotion they wore rainbow-coloured jerseys in warmup.
All except Ivan Provorov, who is Russian Orthodox. His religion is not slack-jawed with Progressive awe at same-sex marriage. So (while he wished no one ill), he refused to join the parade. Cue the Church ladies of the sporting press. "Adam Proteau: Ivan Provorov has the right to any opinion he chooses. And we have the right to have any opinion on Ivan Provorov that we choose. Like this: he's a shameful human being whose homophobia is only going to get more shameful over the years."
Fine. Then answer this: If an NHL team held a Christian night, and players were forced to wear jerseys with a crucifix, would you defend a player who opted out because of his conscience? Or would you go full Proteau and say he's a "shameful human being whose religious intolerance is only going to get more shameful over the years"?
No one in the chattering class wants to take that on, of course. They don't see that rights that work for them also must work for people they consider heretics… Meanwhile, the unwashed mass… responded with their wallets. Provorov jerseys sold out on the NHL Shop and Fanatic."
But your elites want everyone to wear the ribbon. Or take a vaccine. Or wear a mask. Or, in the case of this December column, the NHL announcing it's now a non-binary league. "… the NHL's sudden conversion to trans orthodoxy is also highly instructive on how deep the tentacles of this ideology have attached themselves in ordinary culture. The NHL? Men-as-women playing against biological women? Until this radical chic agitprop thrust itself to the fore the last few years this was unthinkable for the NHL or its fans. Laughable. Fantastical.
But now you have a league HQ embedded in the heart of Manhattan— where the global media, business and arts community have already succumbed to the intimidation of cultural blackmail. The NHL's sponsors, suppliers, broadcast partners and just plain neighbours have also taken the Trans Kool Aid. At some point the NHL's surrender must have seemed inevitable— even for a league that asks its employees to never back down to bullies.
Seeing Bettman— who has epitomized stubborn resistance in his denial of the science of CTE brain trauma— crumble before the forces of approved speech is instructive to those who think this leaky scow can still be turned around quickly. Or that the forces of objective media might raise a whimper about being."
Media so embedded in its own vanity it hurts. "Sticks and stones may hurt journalists' bones but names are first-degree murder. So save a prayer for poor Mr. Bettman. He held out longer than some before accepting the white guilt hemlock. Having known his desire to be the longest-serving commissioner in history he's probably now wishing he'd quit his job three seasons ago. Because he'll never wash away his cisgender privilege now."
It's telling that the thought police have made organized religion an underdog. James Reimer wanted nothing more than to be left alone with his Christian beliefs. In 2023 that is enough to get you cancelled.
Sign up today for Not The Public Broadcaster newsletters. Hot takes/ cool slants on sports and current affairs. Have the latest columns delivered to your mail box. Tell your friends to join, too. Always provocative, always independent. https://share.hsforms.com/16edbhhC3TTKg6jAaRyP7rActsj5
Bruce Dowbiggin @dowbboy is the editor of Not The Public Broadcaster A two-time winner of the Gemini Award as Canada's top television sports broadcaster, he's a regular contributor to Sirius XM Canada Talks Ch. 167. Inexact Science: The Six Most Compelling Draft Years In NHL History, his new book with his son Evan, was voted the fifth-best professional hockey book of all time by bookauthority.org. His 2004 book Money Players was voted sixth best on the same list, and is available via http://brucedowbigginbooks.ca/book-personalaccount.aspx
Referee Complaint Department: You Can't Say That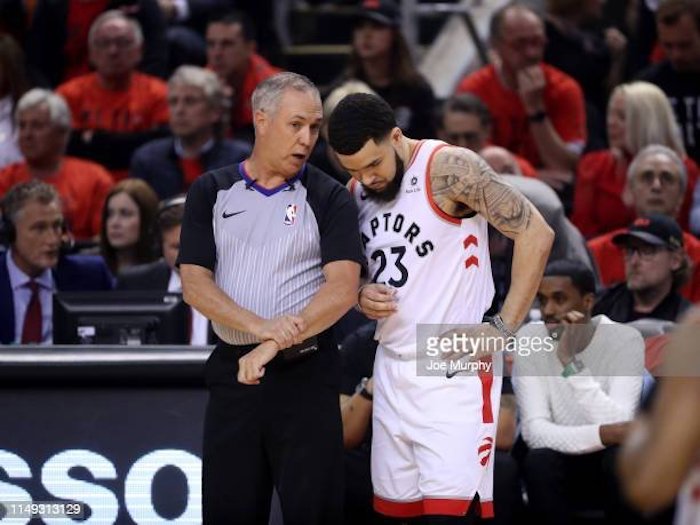 Hear us with Peter Mansbridge on The Bridge at SiriusXM Canada Talks Ch. 167. Here's the link.
Received a call from my old colleague Peter Mansbridge who has been noticing that refereeing criticism has raised its head as the NHL and NBA seasons come to their conclusions. He'd seen the intemperate rant from Raptor Fred Vanvleet about the swagger of certain referees not adding to the credibility of their work.
"I thought Ben Taylor was f—ing terrible tonight," he riffed. "I thought that, on most nights, out of the three [officials], there's one or two that just f— the game up. It's been like that a couple of games in a row." Vanvleet admitted he was willing to take the fine that came from ripping NBA refs. Sure enough, the league reciprocated by docking him $30 K for his musings. It was as predictable as it was entertaining.
Peter was wondering if the Raptors star had a legitimate beef with a league that has had gambling scandals with referees (hello Tim Donaghy). He'd also noted, as a season ticket holder in Toronto, that the NHL's referees sometimes act as if they believe they are the reason the fans tune in. This sentiment gained credibility in 2021 when soon-to-be-former referee Tim Peel was caught on mic saying that, to balance a game, he wanted to give a penalty to Nashville regardless of no infraction.
We were unable to reassure Peter that this tension would resolve, as the influence of legal gambling has put results and the men who call them under ever-greater scrutiny. With the new massive revenues coming from casinos and online gambling advertising the leagues have an added imperative to guarantee the integrity of results by creating a surveillance state on refs and players.
The late pass-interference call against Philadelphia in the Super Bowl that swung tens (maybe) hundreds of millions in bets is indicative of the tightrope they now face. You take house money, you had better keep the house happy. Made worse when these calls are handled by part-time NFL referees or NHL refs who never face the media over their calls.
Lamenting the officials' work is an age-old issue. In an earlier age, the vagaries were put down to "puck luck" or "bad breaks". With little recourse, coaches, GMs and players bit a lip and hoped next time they'd be the beneficiaries. The gripes increased as leagues began using referees to create more scoring or prevent injuries, manipulating results. Fans noticed, and did not like it.
In December of 2018 we wrote, "It is a cliché in city planning that, adding roads to prevent congestion, in fact ends up in more cars and more congestion. IDLM was reminded of this seeming contradiction while watching another episode of Law & Order: NFL Crappy Refereeing. In this week's episode, what was considered pass interference on Thursday is Saturday's "let 'em play"… Attempts to clarify what constitutes a catch open new vistas for opaqueness. Not a good look.
The reason for much of this confusion lies with the league's attempt to prevent injuries by adding a new rules to their rule book. As this (manipulation) has done to city streets, the additional nuance and subtext has only produced greater congestion in games. Endless referee conferences. Players dumbfounded. TV announcers criticizing.
And still the bodies are broken, the injury lists groan with victims and the fans simmer in disappointment. As they like to say, Epic Fail… The NFL has long been lauded for its ability to gerrymander the rules of its sport to encourage scoring and more dynamic plays. The result, however, is a rule book that more resembles the IRS tax code than any sporting competition.
"As Al Michaels laments, the flow of games is constantly interrupted by a scrum of referees huddling to divine which of the million NFL bylaws been breached. The (now Vegas) Raiders recently chalked up a record 23 (!) penalties accepted in a single game. As a result, games are unwatchable tedious.
"On most occasions there is some foul detected. But the proliferation of penalties says that the game might be too difficult to play by the Spanish Inquisition standards of the rule book. Any game that has more than five flags per team is a problem the league needs to address. And don't get us started about consistency from one officiating crew to the next."
And that was 2018. Multiply the additional rules and complexities inflicted upon referees by leagues. Add in the visibility created by gamblers parsing every minute trend for an advantage. Increase the number of cameras covering a game by ten. Then season with analytics. It's a recipe for conspiracy theories.
So, yes, Peter, the issues with refereeing have never been more prominent. But blame the leagues, not their employees, for making them worse.
Sign up today for Not The Public Broadcaster newsletters. Hot takes/ cool slants on sports and current affairs. Have the latest columns delivered to your mail box. Tell your friends to join, too. Always provocative, always independent. https://share.hsforms.com/16edbhhC3TTKg6jAaRyP7rActsj5
Bruce Dowbiggin @dowbboy is the editor of Not The Public Broadcaster A two-time winner of the Gemini Award as Canada's top television sports broadcaster, he's a regular contributor to Sirius XM Canada Talks Ch. 167. Inexact Science: The Six Most Compelling Draft Years In NHL History, his new book with his son Evan, was voted the seventh-best professional hockey book of all time by bookauthority.org . His 2004 book Money Players was voted sixth best on the same list, and is available via http://brucedowbigginbooks.ca/book-personalaccount.aspx