Feds can't say which regulations to cut greenhouse gas emissions are working: audit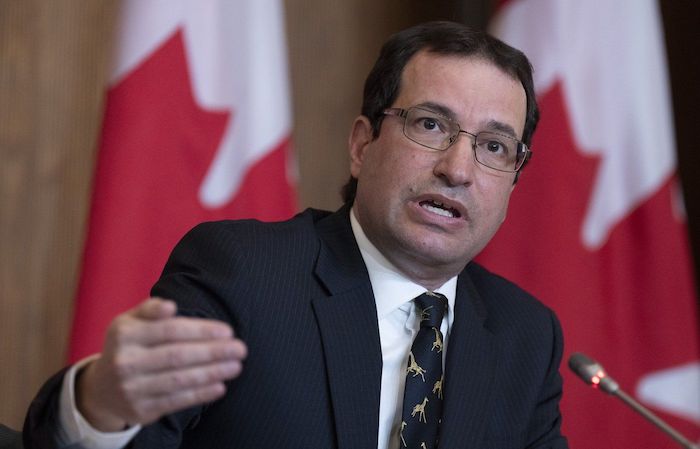 Environment Commissioner Jerry DeMarco speaks during a news conference in Ottawa, Tuesday, April 26, 2022. THE CANADIAN PRESS/Adrian Wyld
Ottawa
Environment Commissioner Jerry DeMarco says the federal government doesn't know how well its regulations are working to reduce greenhouse-gas emissions.
One of his spring audits issued today looks at five regulations intent on reducing emissions from cars and trucks, power plants and oil and gas production.
DeMarco says while Environment and Climate Change Canada used scientific modelling to estimate how many emissions each of the regulations would eliminate, it did not measure or report whether it was actually happening.
DeMarco says that means the government simply doesn't know if the policies it's enforcing are actually working.
Canada's overall emissions have fallen in recent years, but the department told him it is difficult to determine how much can be attributed to individual policies because some of them overlap.
While emissions from electricity generation have fallen in recent years, those coming from vehicles and the oil and gas industry have both increased.
This report by The Canadian Press was first published April 20, 2023.
Cost of living: Pepsi and Coca-Cola absent in meeting with federal industry minister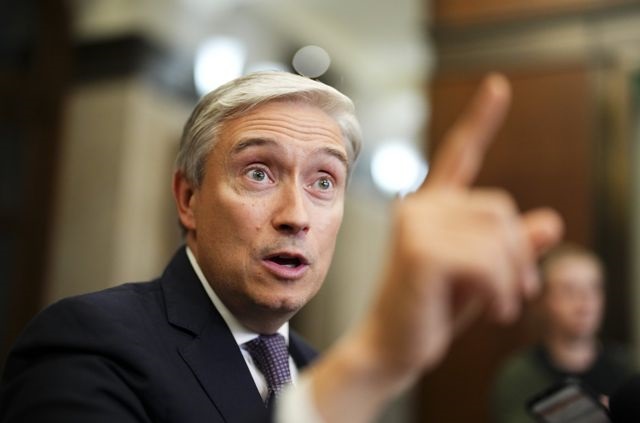 Innovation, Science and Industry Minister Francois-Philippe Champagne speaks to reporters in the foyer of the House of Commons on Parliament Hill in Ottawa on Tuesday, Sept. 19, 2023. Canada's industry minister made a point of calling out Pepsi and Coca-Cola for not sending representatives to a meeting he convened on Monday with manufacturing companies to discuss stabilizing grocery prices. THE CANADIAN PRESS/Sean Kilpatrick
Canada's industry minister made a point of calling out Pepsi and Coca-Cola for not sending representatives to a meeting he convened on Monday with manufacturing companies to discuss stabilizing grocery prices.
François-Philippe Champagne singled out the two companies when asked by a journalist what the consequences would be if major industry players did not succeed in stopping high inflation.
"This morning, (their CEOs) did not attend the meeting," Champagne said of beverage giants Pepsi and Coca-Cola.
"I intend to call on them and I will continue to do so. … I don't stop," he told reporters.
The Canadian leaders of seven international manufacturing companies, including Nestlé and Kraft Heinz, met with Champagne.
He summoned them to answer to Prime Minister Justin Trudeau's call earlier this month for Canadian grocers to come up with a plan to stabilize prices by Thanksgiving.
If major grocers fail to deliver ideas, Champagne said, "the consequence is for all 40 million Canadians because we will be able to see who is taking action and who is not."
A government source told The Canadian Press that the CEOs of Pepsi and Coca-Cola responded to the federal government summons by stating they were not available Monday. The source was granted anonymity because they were not allowed to speak publicly about the matter.
It's unclear, however, whether another meeting between major food companies and the government will take place.
Monday's meeting brought together top Canadian executives from McCain, Unilever, Nestlé, Lactalis, Lassonde, Kraft Heinz, and Smucker Foods.
All avoided speaking with journalists. The CEO of the Food, Health & Consumer Products of Canada association, Michael Graydon, attended the meeting and agreed to answer questions on their behalf.
Graydon called the meeting "very productive."
"We're very much about co-operation and support, collaboration," he said. "It's an industry that needs to align and work collectively to find a solution."
He said manufacturers want to collaborate with other players in the supply chain, such as major retailers like Loblaw and Costco, whose leaders Champagne met with one week earlier.
In a statement, Pepsi said it is open to meeting with Champagne.
"We are pleased that our industry association, FHCP, led a productive conversation with the government and representatives from industry today," it said.
"We were not able to attend today's meeting, but we offered to meet with the minister. We are committed to collaborating with the government to identify solutions during this challenging time for Canadians."
Trudeau has said that if the government isn't satisfied with what major grocers come up with to stabilize prices, he would intervene, including with tax measures.
Graydon said it remains to be seen how detailed the plans will be by the government's Thanksgiving deadline.
"We'll have to see whether, you know, the detail of how much completeness can be done by that time. But I think everybody's working very hard to achieve that," Graydon said.
Champagne said he is happy Graydon "wants to do something," because "it's a gain for Canadians."
"It's clear that what's important is that we have timelines, work plans, and obviously concrete actions," the minister said.
This report by The Canadian Press was first published Sept. 25, 2023.
Alberta set to release report on whether to ditch CPP for provincial pension plan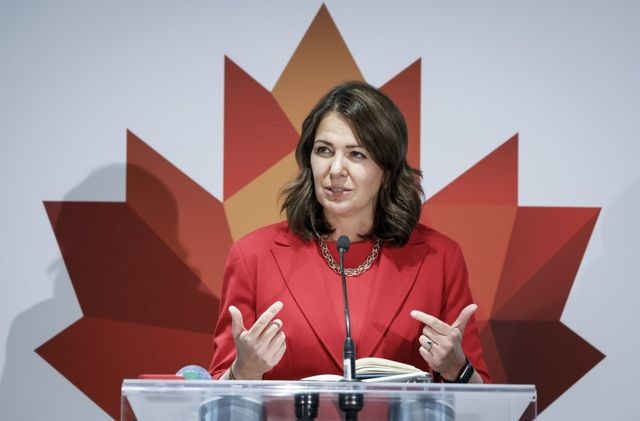 Alberta Premier Danielle Smith speaks to the media in Calgary, Alta., Monday, Sept. 18, 2023. THE CANADIAN PRESS/Jeff McIntosh
By Dean Bennett in Edmonton
The Alberta government is set to release its long-promised report on whether the province should quit the Canada Pension Plan and pursue its own provincial program.
United Conservative Premier Danielle Smith, along with Finance Minister Nate Horner and panel chair Jim Dinning, are to release the report at a news conference in Calgary on Thursday.
The Opposition NDP says it has received leaked details of what is coming and says Albertans should prepare for some financial flim-flam on the potential benefits.
NDP finance critic Shannon Phillips says the report relies on an outdated financial withdrawal formula dating back to the CPP's creation in the mid 1960s.
"The report is expected to claim Alberta is owed hundreds of billions of dollars from the fund," Phillips said in a statement Tuesday.
"However, if every province used this formula, it would total nine times what is currently invested in the CPP."
The Opposition NDP has accused Smith of playing politics with nest-egg savings, by using an Alberta pension plan to create a wedge issue with the federal government.
The NDP said the idea is offside with public sentiment, given opinion polls suggest ditching CPP is deeply unpopular with Albertans.
Horner's office did not immediately return a request for an interview.
Economist Trevor Tombe said he's interested in how the province plans to balance the potential short-term benefit of a young, prosperous Alberta leaving the CPP versus the long-term volatility that comes with fluctuations in demographics and the economy combined with a smaller pool of capital.
Tombe, with the University of Calgary, said the report could launch a multi-year political and legal battle over how a province can leave the CPP, what it gets and what the effect would be on other provinces.
"The CPP's assets this year are pegged at $530 billion, a pretty significant amount of funds at stake," said Tombe.
The report is being done by Lifeworks, formerly known as Morneau Shepell, which helps companies with employee and family assistance plans, absence management, pension benefits administration and retirement planning.
Smith has said regardless of the report's conclusions, Albertans would have the final say in a referendum.
Both Smith and her predecessor, Jason Kenney, have extolled the potential of a go-it-alone program, given Alberta's wealth and comparatively young population.
The issue has waxed and waned for the last two decades amid concerns Alberta puts in far more than it gets out and may benefit from a stand-alone benefit program such as in Quebec.
The UCP government began studying the Alberta option in earnest in June 2020 under Kenney. Later that year, the outside consultant was hired to study the benefits and drawbacks.
In March 2021, Kenney said work on the report was almost done and his government was just weeks away from announcing next steps. The report never materialized.
In February, Smith's office said the report was being updated to reflect new figures on the CPP.
Should it take steps to exit the CPP, Alberta would be charting new territory given that Quebec did not exit the plan, but rather didn't join it when the CPP was created.
The pension plan is part of a suite of measures championed by the UCP to carve out some space between Alberta and the federal government.
Other potential measures include a provincial police force and a separate revenue collection agency.
The provincial police force idea was spelled out in mandate letters to ministers when Smith first took office late last year, but disappeared from the revised mandate letters when she reshuffled her cabinet after winning the May 29 provincial election.
Last month, Justice Minister Mickey Amery said the provincial police force idea is not dead and said his department would continue to consult with Albertans on where they want to go with policing.
This report by The Canadian Press was first published Sept. 20, 2023.