Ethics prof at one of Canada's oldest universities on temporary paid leave for stance against forced vaccinations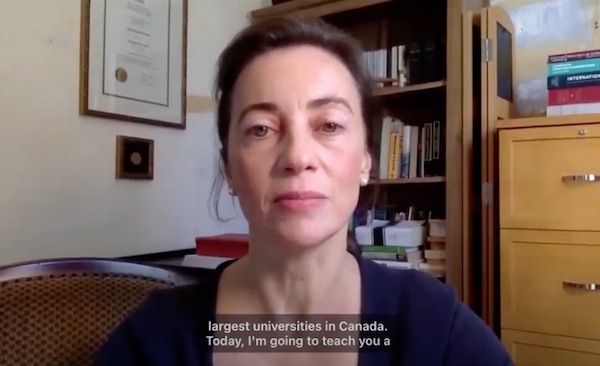 Huron University in London, Ontario, was incorporated way back in 1863 as one of the founding colleges of Western University. Western is one of the largest universities in Canada.
On the University's website under academic objectives, Huron University strongly encourages "critical thinking through excellent teaching and research". But it appears critical thinking may have landed a university ethics professor in a career ending dilemma. Dr. Julie Ponesse has been teaching Ethics at Huron for 20 years. Dr. Ponesse says the University of Western Ontario has barred her from campus and put her on temporary paid leave for taking an ethical stance against the University's vaccine policy.
Here is the first measure of that policy as highlighted on the University website.
Mandatory Vaccination on Campus: Huron and its affiliate partners are implementing a vaccination policy which will require proof of vaccination or have an exemption in order to come on campus, including living in residence. Those with an exemption must be tested for COVID-19 twice weekly. There is no testing option for those who choose not to be vaccinated. Those without proof of vaccination or an exemption will not be permitted on campus.
Professor Ponesse says just a few days before the school year began, she was mandated by her employers to take the vaccine immediately. As an Ethics educator she decided it was her job to teach her students it's ethically wrong to force people to take a vaccine. Instead of lining up for the jab, Dr. Ponesse went to her office and recorded a video which has now been seen across Canada tens of thousands of times. At the end of the video a statement appears indicating Professor Julie Ponesse was dismissed by her employers on September 7.
The video is being shared and commented on by Canadians from coast to coast, in various social media platforms. It's a fascinating discussion on ethics in a terribly confusing and controversial time, by an experienced ethics professor who has courageously put her ethics ahead of her career.

The video has been taken down by both Facebook and Twitter for statements Ponesse makes about the effectiveness of vaccines. This video was reloaded to Facebook. Supporters of Dr. Ponesse have also posted it to Instagram. We've posted two links in case one is taken down yet again.
Fully vaccinated with negative tests in hand, Calgary mom and daughters forced into quarantine on return to Canada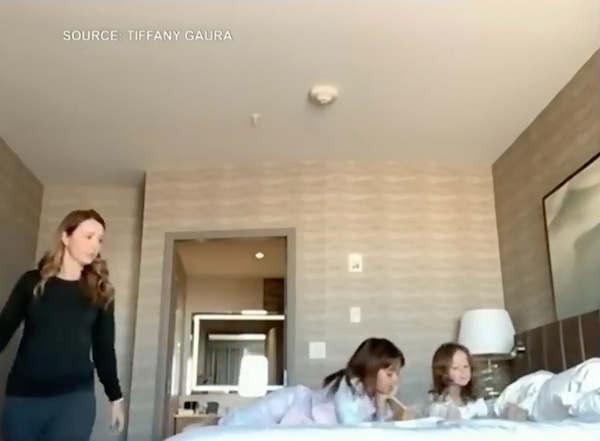 This article consists of the facebook posts of Calgary mother Tiffany Gaura. Tiffany and her two daughters happened to be travelling home from a visit with her husband who is working in Cairo, when the Canadian government announced strict travel restrictions against those traveling from 'some' countries where the new Omicron virus has been found. Gaura has given us permission to use her posts in this article and has filled in a few small gaps for us. She's hoping Canadian officials will show more flexibility, especially considering they've established restrictions on travellers coming from only a select few of the countries where Omicron has turned up. Gaura is especially frustrated since Omicron is already in Canada and travellers from Europe and the United States are not quarantined on arrival.
Day 1 – Dec 4, 6:37 PM – Shock and Awe
This is a tough post for me. Today we traveled back to Canada from Cairo. We came early to complete the new quarantine requirement given Egypt has been listed as a "Country of Concern". I am FULLY VACCINATED. We had PCR tests in Cairo and Frankfurt. We have an empty home to go to here in Calgary.
Upon arrival in YYC, we were taken by CBSA (Canadian Border Services) to PHAC (Public Health Canada) screening. It was a 15 minute interrogation about my history with Covid (none), my plans in Canada and my testing and vaccination. They read me my rights and told me I was entitled to a lawyer. They told me the fine for breaking quarantine is up to $750,000. We had a dedicated escort throughout, ensuring we weren't escaping. Secondary unexplained screening at customs, and a PCR on arrival. We weren't allowed to make any stops or get anything to eat or drink. The whole process took about 2 hours.
We were transported in a dedicated vehicle to the Westin Airport Hotel in Calgary. The Government of Canada as contracted the entire hotel as a "secure quarantine location". The parking lot is blocked with No Trespassing signs. We were met by the Red Cross of Canada employees in HazMat suits.
We were processed and taken to an isolation floor. We cannot go outside. We cannot leave our room. We cannot get deliveries or packages. We cannot consume anything from offsite. We only get the meals they send us (it's now 6:30pm and we have not had anything to eat or drink since we landed at 3pm). They have no cups for water in the room. I requested some but to no avail. Once we get our test results (presumably negative, and can take up to 72 hours) we must contact the Red Cross who will coordinate with Quarantine Officers for our release, that can take 48 hours (they say). They will provide us dedicated transport to our quarantine location (our home) where we must complete our 14 days in isolation. We must also take another test on Day 8.
This is happening, right now, in Canada, two years into a pandemic to vaccinated individuals. I don't have the words to express this well. I waver back and forth between rage, embarrassment and disbelief. This will change my life, I have no doubt.
Day 2 – Dec 5, 11:17 AM = Frustration sets in
Next time you think about making a donation to the Canadian Red Cross, keep in mind that your donation dollars are going to things like supervising fully vaccinated travellers in mandatory government quarantine facilities. I'm sure there are other organizations that could use your money.
Day 3.- Dec 6. 11:22 AM = Canadian Quarantine for Fully Vaccinated Travelers With Negative Covid Tests
– We still have no PCR results, because apparently in Canada it takes 72 hours to get results in 2021. Or maybe they just want us to stay here longer.
– The food is horrible. It arrives cold and has limited nutritional value. It's not FoodSafe for sure. I may call public health.
– No fruits or vegetables (aside from potatoes). No beverages are offered, so it's tap water for the win. No wait, I did get some coffee filters and packaged creamer. It's gross.
– The hotel gives a number for people to call so they can speak to us BUT they won't actually put any calls through to our room. When you call they just say they will pass the message on to the Red Cross who will send us the message
– The kids are going stir crazy. No fresh air, no physical activity. We are doing yoga and school work, I brought a few card games, but that can only fill so many hours of the day with no space or freedom to roam.
– We have only one bed in the hotel room so we all sleep together.
– I asked for tampons, it took 24 hours to receive them.
– We have a window to nothing. Can't see the parking lot or any coming and goings from the site. I wonder if they give rooms that have a view to that.
This interview was conducted by the CBC while Tiffany and her children were still in quarantine.
Day 4 – Dec 7 – Third Negative Test Results Finally Come After More Than 3 Days.
4 days in quarantine. We left when we got our results. I made a choice to leave after I was unable to contact anyone at either PHAC or the Red Cross who could give us any information about being released by a quarantine office.
This interview was conducted by the CTV in the hours after Tiffany and her children returned home after 4 days in quarantine.
Ivermectin and Molnupiravir: How does the widely used drug compare to the new drug in treating Covid-19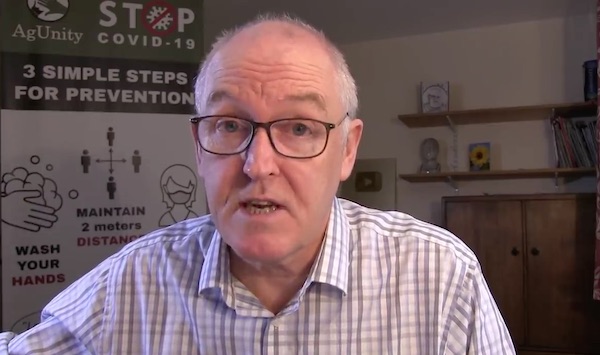 John Campbell has been making videos to teach common people about the world of medicine for over 20 years. After a career of teaching nurses, Campbell discovered a real need for medical information described in a way most anyone can understand. In the nearly two years that John Campbell has been making videos explaining information about covid his viewership has exploded, commonly reaching hundreds of thousands and even millions of views. People around the world have expressed a thirst for knowledge about the latest information around covid from a trusted source.
You can see a list of John Campbell's videos here.
A number of weeks ago, John Campbell released this presentation. It's a comparison of a drug that has been widely used but also widely criticized in treating covid around the world, with a new drug which is expected to soon gain widespread approval. Despite the success of Ivermectin, an inexplicable wave of opposition has resulted in a miserable failure by public health and politicians to adopt this extremely safe and effective treatment. While that's extremely frustrating, it does appear Molnupiravir is on the fast track to approval. Molnupiravir may be slightly less effective and astronomically more expensive than Ivermectin, it should be effective enough to reduce the fear surrounding the virus that has killed so many. With the reduction of fear citizens should be able to expect restrictions around masks, and movement, and businesses to become voluntary. A successful treatment should also allow governments to back off mandates around vaccinations in favour of a voluntary approach. Could the end of the divisive restrictions finally be on the horizon? This video contains some of the most exciting and promising news to come since the beginning of our covid disaster.
Here's a look at Ivermectin compared with Molnupiravir. Hopefully our public health officials and political decision makers are paying attention.